Abstract
The valuable properties of aptamers, such as specificity, sensitivity, stability, cost-effectiveness and design flexibility, have favoured their use as biorecognition elements in biosensor development. These synthetic affinity probes can be developed for almost any target molecule, covering a wide range of applications in fields such as clinical diagnosis and therapy, environmental monitoring and food control. The combination of aptamers with high-performance electrochemical transducers, with their inherent high sensitivities, fast response times and simple equipment, has already provided several electrochemical aptamer-based sensors. Moreover, the small size and versatility of aptamers allow efficient immobilisations in high-density monolayers, an important feature towards miniaturisation and integration of compact electrochemical devices. This review describes the state-of-the-art of electrochemical aptamer-based sensors, entering into the details of the different strategies and types of electrochemical transduction and also considering their advantages when applied to the analysis of complex matrices.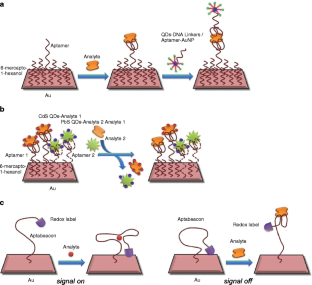 References
1.

Bakker E, Qin Y (2006) Electrochemical sensors. Anal Chem 78:3965–3983

2.

Campàs M (2002) DNA sensors: a review. Anal Lett 35:1875–1894

3.

Junhui Z, Hong C, Ruifu Y (1997) DNA based biosensors. Biotech Adv 15:43–58

4.

Kleinjung F, Klussmann S, Erdmann VA, Scheller FW, Fürste JP, Bier FF (1998) High-affinity RNA as a recognition element in a biosensor. Anal Chem 70:328–331

5.

Potyrailo RA, Conrad RC, Ellington AD, Hieftje GM (1998) Adapting selected nucleic acid ligands (aptamers) to biosensors. Anal Chem 70:3419–3425

6.

Luzi E, Minunni M, Tombelli S, Mascini M (2003) New trends in affinity sensing: aptamers for ligand binding. TrAC 22:810–818

7.

Ellington AD, Szostak JW (1990) In vitro selection of RNA molecules that bind specific ligands. Nature 346:818–822

8.

Tuerk C, Gold L (1990) Systematic evolution of ligands by exponential enrichment: RNA ligands to bacteriophage T4 DNA polymerase. Science 249:505–510

9.

Stoltenburg R, Reinemann C, Strehlitz B (2007) SELEX—a (r)evolutionary method to generate high-affinity nucleic acid ligands. Biomol Eng 24:381–403

10.

Göringer HU, Homann M, Lorger M (2003) In vitro selection of high-affinity nucleic acid ligands to parasite target molecules. Int J Parasitol 33:1309–1317

11.

James W (2000) Aptamers. In: Meyers RA (ed) Encyclopedia of analytical chemistry. Wiley, Chichester, pp 4848–4871

12.

Palecek E, Fojta M (1994) Differential pulse voltammetric determination of RNA at the picomole level in the presence of DNA and nucleic acid component. Anal Chem 66:1566–1571

13.

Wang J (1999) Electroanalysis and biosensors. Anal Chem 71:328–332

14.

Wang J (2000) Survey and summary: from DNA biosensors to gene chips. Nucleic Acids Res 28:3011–3016

15.

Mairal T, Oezalp VC, Sanchez PL, Mir M, Katakis I, O'Sullivan CK (2008) Aptamers: molecular tools for analytical applications. Anal Bioanal Chem 390:989–1007

16.

Ikebukuro K, Kiyohara C, Sode K (2005) Novel electrochemical sensor system for protein using the aptamers in sandwich manner. Biosens Bioelectron 20:2168–2172

17.

Tyagi S, Kramer FR (1996) Molecular beacons: probes that fluoresce upon hybridization. Nat Biotechnol 14:303–308

18.

Yamamoto R, Kumar PKR (2000) Molecular beacon aptamer fluoresces in the presence of Tat protein of HIV-1. Genes Cells 5:389–396

19.

Ikebukuro K, Kiyohara C, Sode K (2004) Electrochemical detection of protein using a double aptamer sandwich. Anal Lett 37:2901–2909

20.

Mir M, Vreeke M, Katakis I (2006) Different strategies to develop an electrochemical thrombin aptasensor. Electrochem Commun 8:505–511

21.

Feng K, Kang Y, Zhao J-J, Liu Y-L, Jiang J-H, Shen G-L, Yu R-Q (2008) Electrochemical immunosensor with aptamer-based enzymatic amplification. Anal Biochem 378:38–42

22.

Centi S, Bonel SL, Tombelli S, Palchetti I, Mascini M (2009) Detection of C reactive protein (CRP) in serum by an electrochemical aptamer-based sandwich assay. Electroanalysis 21:1309–1315

23.

Centi S, Tombelli S, Minunni M, Mascini M (2007) Aptamer-based detection of plasma proteins by an electrochemical assay coupled to magnetic beads. Anal Chem 79:1466–1473

24.

Polsky R, Gill R, Kaganovsky L, Willner I (2006) Nucleic acid-functionalized Pt nanoparticles: catalytic labels for the amplified electrochemical detection of biomolecules. Anal Chem 78:2268–2271

25.

Numnuam A, Chumbimuni-Torres KY, Xiang Y, Bash R, Thavarungkul P, Kanatharana P, Pretsch E, Wang J, Bakker E (2008) Aptamer-based potentiometric measurements of proteins using ion-selective microelectrodes. Anal Chem 80:707–712

26.

Sharon E, Freeman R, Tel-Vered R, Willner I (2009) Impedimetric or ion-sensitive field-effect transistor (ISFET) aptasensors based on the self-assembly of Au nanoparticle-functionalized supramolecular aptamer nanostructures. Electroanalysis 21:1291–1296

27.

Wang J, Meng W, Zheng X, Liu S, Li G (2009) Combination of aptamer with gold nanoparticles for electrochemical signal amplification: application to sensitive detection of platelet-derived growth factor. Biosens Bioelectron 24:1598–1602

28.

Ding C, Ge Y, Lin J-M (2010) Aptamer based electrochemical assay for the determination of thrombin using the amplification of the nanoparticles. Biosens Bioelectron 25:1290–1294

29.

Zhang Y-L, Pang P-F, Jiang J-H, Shen G-L, Yu R-Q (2009) Electrochemical aptasensor based on proximity-dependent surface hybridization assay for protein detection. Electroanalysis 21:1327–1333

30.

He P, Shen L, Cao Y, Li D (2007) Ultrasensitive electrochemical detection of proteins by amplification of aptamer–nanoparticle bio bar codes. Anal Chem 79:8024–8029

31.

Papamichael KI, Kreuzer MP, Guilbault GG (2007) Viability of allergy (IgE) detection using an alternative aptamer receptor and electrochemical means. Sensor Actuat B-Chem 121:178–186

32.

Hansen JA, Wang J, Kawde A-N, Xiang Y, Gothelf KV, Collins G (2006) Quantum-dot/aptamer-based ultrasensitive multi-analyte electrochemical biosensor. J Am Chem Soc 128:2228–2229

33.

Wu Z-S, Guo M-M, Zhang S-B, Chen C-R, Jiang J-H, Shen G-L, Yu R-Q (2007) Reusable electrochemical sensing platform for highly sensitive detection of small molecules based on structure-switching signalling aptamers. Anal Chem 79:2933–2939

34.

Lu Y, Zhu N, Yu P, Mao L (2008) Aptamer-based electrochemical sensors that are not based on the target binding-induced conformational change of aptamers. Analyst 133:1256–1260

35.

Fukasawa M, Yoshida W, Yamazaki H, Sode K, Ikebukuro K (2009) An aptamer-based bound/free separation system for protein detection. Electroanalysis 21:1297–1302

36.

Xiao Y, Lubin AA, Heeger AJ, Plaxco KW (2005) Label-free electronic detection of thrombin in blood serum by using an aptamer-based sensor. Angew Chem Int Ed 44:5456–5459

37.

White RJ, Phares N, Lubin AA, Xiao Y, Plaxco KW (2008) Optimization of electrochemical aptamer-based sensors via optimization of probe packing density and surface chemistry. Langmuir 24:10513–10518

38.

Xiao Y, Piorek BD, Plaxco KW, Heeger AJ (2005) A reagentless signal-on architecture for electronic, aptamer-based sensors via target-induced strand displacement. J Am Chem Soc 127:17990–17991

39.

Zuo X, Song S, Zhang J, Pan D, Wang L, Fan C (2007) A target-responsive electrochemical aptamer switch (TREAS) for reagentless detection of nanomolar ATP. J Am Chem Soc 129:1042–1043

40.

Lai RY, Plaxco KW, Heeger AJ (2007) Aptamer-based electrochemical detection of picomolar platelet-derived growth factor directly in blood serum. Anal Chem 79:229–233

41.

Radi AE, Acero Sánchez JL, Baldrich E, O'Sullivan CK (2006) Reagentless, reusable, ultrasensitive electrochemical molecular beacon aptasensor. J Am Chem Soc 128:117–124

42.

Acero Sánchez JL, Baldrich E, Radi AEG, Dondapati S, Lozano SP, Katakis I, O'Sullivan CK (2006) Electronic "off-on" molecular switch for rapid detection of thrombin. Electroanalysis 18:1957–1962

43.

Baker BR, Lai RY, Wood MS, Doctor EH, Heeger AJ, Plaxco KW (2006) An electronic, aptamer-based small-molecule sensor for the rapid, label-free detection of cocaine in adulterated samples and biological fluids. J Am Chem Soc 128:3138–3139

44.

Ferapontova EE, Olsen EM, Gothelf KV (2008) An RNA aptamer-based electrochemical biosensor for detection of theophylline in serum. J Am Chem Soc 130:4256–4258

45.

Rankin CJ, Fuller EN, Hamor KH, Gabarra SA, Shields TP (2006) A simple fluorescent biosensor for theophylline based on its RNA aptamer. Nucleosides Nucleotides Nucleic Acids 25:1407–1424

46.

Ferapontova EE, Gothelf KV (2009) Optimization of the electrochemical RNA-aptamer based biosensor for theophylline by using a methylene blue redox label. Electroanalysis 21:1261–1266

47.

Lu Y, Li X, Zhang L, Yu P, Su L, Mao L (2008) Aptamer-based electrochemical sensors with aptamer-complementary DNA oligonucleotides as probe. Anal Chem 80:1883–1890

48.

Cheng AKH, Sen D, Yu H-Z (2009) Design and testing of aptamer-based electrochemical biosensors for proteins and small molecules. Bielectrochemistry 77:1–12

49.

Kim YS, Jung HS, Matsuura T, Lee HY, Kawai T, Gu MB (2007) Electrochemical detection of 17β-estradiol using DNA aptamer immobilized gold electrode chip. Biosens Bioelectron 22:2525–2531

50.

Cheng AKH, Ge BX, Yu HZ (2007) Aptamer-based biosensors for label-free voltammetric detection of lysozyme. Anal Chem 79:5158–5164

51.

Le Floch F, Ho HA, Leclerc M (2006) Label-free electrochemical detection of protein based on a ferrocene-bearing cationic polythiopene and aptamer. Anal Chem 78:4727–4731

52.

Evtugyn GA, Porfireva AV, Hianik T, Cheburova MS, Budnikov HC (2009) Potentiometric DNA sensor based on electropolymerized phenothiazines for protein detection. Electroanalysis 21:1300–1308

53.

Dua Y, Chena C, Li B, Zhoua M, Wanga E, Dong S (2010) Layer-by-layer electrochemical biosensor with aptamer-appended active polyelectrolyte multilayer for sensitive protein determination. Biosens Bioelectron 25:1902–1907

54.

Tuite E, Norden B (1994) Sequence-specific interaction of methylene blue with polynucleotides and DNA: a spectroscopic study. J Am Chem Soc 116:7548–7556

55.

Kelley SO, Boon EM, Barton JK, Jackson NM, Hill MG (1999) Single-base mismatch detection based on charge transduction through DNA. Nucleic Acids Res 27:4830–4837

56.

Erdem A, Kerman K, Meric B, Akarca US, Ozsoz M (2000) Novel hybridization indicator methylene blue for the electrochemical detection of short DNA sequences related to the hepatitis B virus. Anal Chim Acta 422:139–149

57.

Rohs R, Sklenar H, Lavery R, Röder B (2000) Methylene blue binding to DNA with alternating GC base sequence: a modeling study. J Am Chem Soc 122:2860–2866

58.

Hianik T, Ostatna V, Zajacova Z, Stoikova E, Evtugyn G (2005) Detection of aptamer–protein interactions using QCM and electrochemical indicator methods. Bioorg Med Chem Lett 15:291–295

59.

Kang Y, Feng K-J, Chen J-W, Jiang J-H, Shen G-L, Yu R-Q (2008) Electrochemical detection of thrombin by sandwich approach using antibody and aptamer. Bioelectrochemistry 73:76–81

60.

Kawde A-N, Rodriguez MC, Lee TMH, Wang J (2005) Label-free bioelectronic detection of aptamer–protein interactions. Electrochem Commun 7:537–540

61.

Erdem A, Karadeniz H, Mayer G, Famulok M, Caliskan A (2009) Electrochemical sensing of aptamer–protein interactions using a magnetic particle assay and single-use sensor technology. Electroanalysis 21:1278–1284

62.

So H-M, Won K, Kim YH, Kim B-K, Ryu BH, Na PS, Kim H, Lee J-O (2005) Single-walled carbon nanotube biosensors using aptamers as molecular recognition elements. J Am Chem Soc 127:11906–11907

63.

Maehashi K, Katsura T, Kerman K, Takamura Y, Matsumoto K, Tamiya E (2007) Label-free protein biosensor based on aptamer-modified carbon nanotube field-effect transistors. Anal Chem 79:782–787

64.

Maehashi K, Matsumoto K, Takamura Y, Tamiya E (2009) Aptamer-based label-free immunosensors using carbon nanotube field-effect transistors. Electroanalysis 21:1285–1290

65.

Lee H-S, Kim KS, Kim C-J, Hahn SK, Jo M-H (2009) Electrical detection of VEGFs for cancer diagnoses using anti-vascular endothelial growth factor aptamer-modified Si nanowire FETs. Biosens Bioelectron 24:1801–1805

66.

Xu D, Xu D, Yu X, Liu Z, He W, Ma Z (2005) Label-free electrochemical detection for aptamer-based array electrodes. Anal Chem 77:5107–5113

67.

Rodriguez MC, Kawde A-N, Wang J (2005) Aptamer biosensor for label-free impedance spectroscopy detection of proteins based on recognition-induced switching of the surface charge. Chem Commun 34:4267–4269

68.

Pan C, Guo M, Nie Z, Xiao X, Yao S (2009) Aptamer-based electrochemical sensor for label-free recognition and detection of cancer cells. Electroanalysis 21:1321–1326

69.

Radi A-E, Acero Sánchez JL, Baldrich E, O'Sullivan CK (2005) Reusable impedimetric aptasensor. Anal Chem 77:6320–6323

70.

Evtugyn G, Porfireva A, Ivanov A, Konovalova O, Hianik T (2009) Molecularly imprinted polymerized methylene green as a platform for electrochemical sensing of aptamer–thrombin interactions. Electroanalysis 21:1272–1277

71.

Cai H, Lee TM-H, Hsing I-M (2006) Label-free protein recognition using an aptamer-based impedance measurement assay. Sensor Actuat B-Chem 114:433–437

72.

Lee JA, Hwang S, Kwak J, Park SII, Lee SS, Lee K-C (2008) An electrochemical impedance biosensor with aptamer-modified pyrolyzed carbon electrode for label-free protein detection. Sensor Actuat B-Chem 129:372–379

73.

Hianik T, Porfireva A, Grman I, Evtugyn G (2008) Aptabodies—new type of artificial receptors for detection proteins. Prot Pept Lett 15:799–805

74.

Hianik T, Porfireva A, Grman I, Evtugyn G (2009) EQCM biosensors based on DNA aptamers and antibodies for rapid detection of prions. Prot Pept Lett 16:363–367

75.

Xu Y, Yang L, Ye X, He P, Fang Y (2006) An aptamer-based protein biosensor by detecting the amplified impedance signal. Electroanalysis 18:1449–1456

76.

Zayats M, Huang Y, Gill R, Ma C, Willner I (2006) Label-free and reagentless aptamer-based sensors for small molecules. J Am Chem Soc 128:13666–13667

77.

Shen L, Chen Z, Li Y, Jing P, Xie S, He S, He P, Shao Y (2007) A chronocoulometric aptamer sensor for adenosine monophosphate. Chem Commun 2169–2171

78.

Li B, Du Y, Wei H, Dong S (2007) Reusable, label-free electrochemical aptasensor for sensitive detection of small molecules. Chem Commun 3780–3782

79.

Bang GS, Cho S, Kim B-G (2005) A novel electrochemical detection method for aptamer biosensors. Biosens Bioelectron 21:863–870

80.

Xiao Y, Uzawa T, White RJ, DeMartini D, Plaxco KW (2009) On the signaling of electrochemical aptamer-based sensors: collision- and folding-based mechanisms. Electroanalysis 21:1267–1271
Acknowledgements
Dr. Prieto-Simón is grateful to the Ministerio de Ciencia e Innovación for a Juan de la Cierva fellowship supporting her research at the IBEC. Dr. Campàs acknowledges financial support from the Ministerio de Ciencia e Innovación and the Fondo Social Europeo through the Ramón y Cajal programme as well as the Instituto Nacional de Investigación y Tecnología Agraria y Alimentaria through the FEDER-RTA2008-00084-00-00 project.
About this article
Cite this article
Prieto-Simón, B., Campàs, M. & Marty, JL. Electrochemical aptamer-based sensors. Bioanal Rev 1, 141–157 (2010). https://doi.org/10.1007/s12566-010-0010-1
Received:

Accepted:

Published:

Issue Date:
Keywords
Aptamer

Biosensor

Electrochemical detection

Aptabeacon

Redox label