Abstract
Despite academic efforts to study the Indus Valley Civilization (IVC), there have as yet been no successful attempts to unveil the IVC people's craniofacial appearance. We investigated the IVC cemetery area of Rakhigarhi site, which was estimated to be of 2273 ± 38 and 2616 ± 73 years BCE. By craniofacial reconstruction (CFR) procedure using computed tomography (CT) data of two Rakhigarhi skulls (A1 BR02 and A2 BR36), we successfully reconstructed the faces of the IVC individuals who were buried about 4500 years ago. This is the first attempt to unveil scientifically accurate representations of IVC people's actual facial morphology.
Access options
Buy single article
Instant access to the full article PDF.
USD 39.95
Price excludes VAT (USA)
Tax calculation will be finalised during checkout.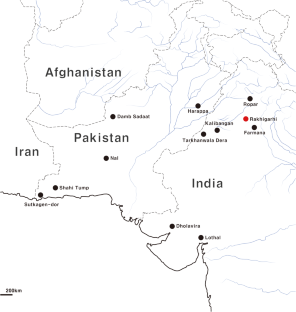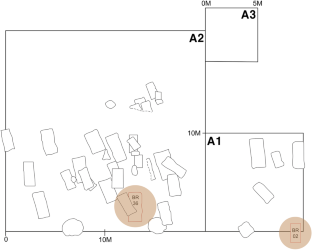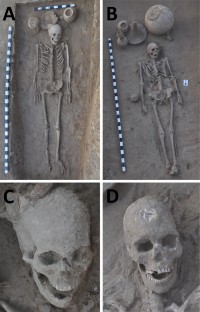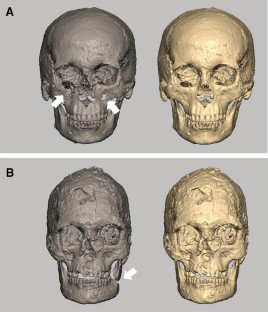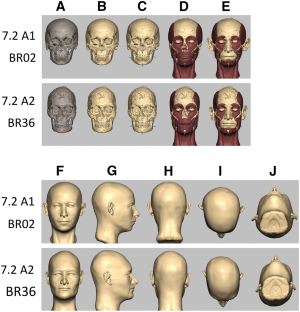 References
Angel JL (1978) Restoration of head and face for identification. In: Proceedings of the 30th annual meeting of the American Academy of Forensic Sciences. American Academy of Forensic Sciences, St. Louis

Buikstra JE and Ubelaker DH (1994) Standards for data collection from human skeletal remains. In: Proceedings of a seminar at the field museum of natural history (Arkansas Archaeological Survey Research Series no. 44). Arkansas Archaeological Survey, Fayetteville

Claes P, Vandermeulen D, De Greef S, Willems G, Clement JG, Suetens P (2010) Bayesian estimation of optimal craniofacial reconstructions. Forensic Sci Int 201:146–152

During Caspers ECL (1985) The "Priest King" from Moenjo-daro: an iconographic assessment. Annali dell'Instituto Universitario Orientale 45:19–24

Fedosyutkin BA, Nainys JV (1993) The relationship of skull morphology to facial features. In: İşcan MY, Helmer RP (eds) Forensic analysis of the skull. Wiley-Liss, New York

Fernandes CM, Serra Mda C, da Silva JV, Noritomi PY, Pereira FD, Melani RF (2012) Tests of one Brazilian facial reconstruction method using three soft tissue depth sets and familiar assessors. Forensic Sci Int 214:211.e1–7

Guyomarc'h P, Dutailly B, Couture C, Coqueugniot H (2012) Anatomical placement of the human eyeball in the orbit-validation using CT scans of living adults and prediction for facial approximation. J Forensic Sci 57:1271–1275

Kenoyer JM, Price TD, Burton JH (2013) A new approach to tracking connections between the Indus Valley and Mesopotamia: initial results of strontium isotope analyses from Harappa and Ur. J Archaeol Sci 40:2286–2297

Krogman WM, İşcan MY (1986) The human skeleton in forensic medicine. Charles C. Thomas Pub. Ltd., Springfield

Lee WJ, Wilkinson CM, Hwang HS (2012) An accuracy assessment of forensic computerized facial reconstruction employing cone-beam computed tomography from live subjects. J Forensic Sci 57:318–327

Lukacs JR (2017) Dental adaptations of Bronze Age Harappans: occlusal wear, crown size, and dental pathology. Int J Paleopathol 18:69–81

Rynn C, Wilkinson CM, Peters HL (2009) Prediction of nasal morphology from the skull. Forensic Sci Med Pathol 6:20–34

Sahni D, Sanjeev Singh G, Jit I, Singh P (2008) Facial soft tissue thickness in northwest Indian adults. Forensic Sci Int 176:137–146

Schug GR (2017) A hierarchy of values: the bioarchaeology of order, complexity, health, and trauma at Harappa. In: Klaus H, Harvey AR, Cohen MN (eds) Bones of complexity: osteological indicators of emergent heterarchy and hierarchy. University Press of Florida, Gainesville

Shinde VS (2016) Current perspectives on the Harappan civilization. In: Schug GR, Walimbe SR (eds) A companion to South Asia in the past. Wiley-Blackwell, Hoboken

Shinde VS, Kim YJ, Woo EJ, Jadhav N, Waghmare P, Yadav Y, Munshi A, Chatterjee M, Panyam A, Hong JH, Oh CS, Shin DH (2018) Archaeological and anthropological studies on the Harappan cemetery of Rakhigarhi. India PLoS One 13:e0192299

Wilkinson CM (2004) Forensic facial reconstruction. Cambridge University Press, Cambridge

Wilkinson CM (2014) A review of the changing culture and social context relating to forensic facial depiction of the dead. Forensic Sci Int 245:95–100

Wilkinson CM, Motwani M, Chiang E (2003) The relationship between the soft tissues and the skeletal detail of the mouth. J Forensic Sci 48:728–732

Woo EJ, Waghmare P, Kim Y, Jadhav N, Jung G-U, Lee WJ, Yadav Y, Munshi A, Chatterjee M, Panyam A, Hong JH, Oh CS, Shin DH, Shinde V (2018) Assessing the physical and pathological traits of human skeletal remains from cemetery localities at the Rakhigarhi site of the Harappan Civilization. Anthropol Sci 126:111–120
Acknowledgements
This study was supported in part by a Grant of the National Geographic Society (Asia 21-15). The authors can declare that they have no involvement in organizations or entities with any financial or non-financial interest in the subject matter or materials discussed in this manuscript.
Ethics declarations
Conflict of interest
The authors can declare that they have no involvement in organizations or entities with any financial or non-financial interest in the subject matter or materials discussed in this manuscript.
Additional information
Publisher's Note
Springer Nature remains neutral with regard to jurisdictional claims in published maps and institutional affiliations.
Electronic supplementary material
Below is the link to the electronic supplementary material.
Supplementary file1 (MP4 29370 kb)
Supplementary file2 (MP4 28771 kb)
About this article
Cite this article
Lee, W.J., Shinde, V., Kim, Y.J. et al. Craniofacial reconstruction of the Indus Valley Civilization individuals found at 4500-year-old Rakhigarhi cemetery. Anat Sci Int 95, 286–292 (2020). https://doi.org/10.1007/s12565-019-00504-3
Received:

Accepted:

Published:

Issue Date:

DOI: https://doi.org/10.1007/s12565-019-00504-3
Keywords