Abstract
Injection with monosodium iodoacetate (MIA) is widely used to produce osteoarthritis (OA). Ultrathin sheet plastination has been used to study the morphology of structures, with strong application in anatomical education and research. Our aim was to carry out, for the first time, ultrathin sheet plastination of rat humeral joints to observe the neovascularization provoked by OA. We injected 0.1 mL of MIA into the left humeral joints of ten Sprague–Dawley rats. The right shoulders of the same rats were used as control. Sixteen weeks after the injection, the animals were euthanized and were given an immediate red epoxy resin injection through the thoracic aorta. The samples were fixed in 10% formalin, prior to the plastination process, without decalcification. Samples were dehydrated with acetone (100%) at − 25 °C, for 10 days. Later, for degreasing, samples were immersed in methylene chloride at room temperature during 1 week. Forced impregnation was performed inside a stove within a vacuum chamber. The plastinated blocks obtained were cut with a slow velocity diamond blade saw. Slices were placed in curing chambers to achieve curing and final tissue transparentation. 230 μm thickness slices were obtained. The slices were analyzed under magnifying glass and microscope, achieving visualization of OA neovascularization. The cartilage affected by OA loses its ability to remain avascular, and blood vessels invade it from the subchondral bone to the calcified and uncalcified cartilage. Ultra-thin sheet plastination is useful to observe articular cartilage neovascularization, caused by OA induced with MIA in humeral rat joint.
This is a preview of subscription content, log in to check access.
Access options
Buy single article
Instant access to the full article PDF.
US$ 39.95
Price includes VAT for USA
Subscribe to journal
Immediate online access to all issues from 2019. Subscription will auto renew annually.
US$ 99
This is the net price. Taxes to be calculated in checkout.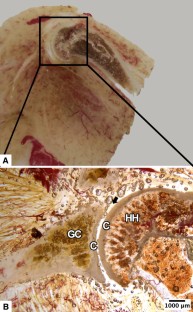 References
Adds PJ, Al-Rekabi A (2014) 3-D reconstruction of the ethmoidal arteries of the medial orbital wall using BiodurVR E12. J Plastination 26:5–10

Arnts H, Kleinnijenhuis M, Kooloos JG, Schepens-Franke AN, van Cappellen van Walsum AM (2014) Combining fiber dissection, plastination, and tractography for neuroanatomical education: revealing the cerebellar nuclei and their white matter connections. Anat Sci Educ 7:47–55

Bendele AM (2001) Animal models of osteoarthritis. J Musculoskelet Neuronal Interact 1:363–376

Bernal-Mañas CM, Gonzalez-Sequeros O, Moreno-Cascales M, Sarria-Cabrera R, Latorre-Reviriego RM (2016) New anatomo-radiological findings of the lateral pterygoid muscle. Surg Radiol Anat 38:1033–1043

Bromley M, Bertfield H, Evanson JM, Woolley DE (1985) Bidirectional erosion of cartilage in the rheumatoid knee joint. Ann Rheum Dis 44(10):676–681

Cledes G, Felizardo R, Foucart JM, Carpentier P (2006) Validation of a chemical osteoarthritis model in rabbit temporomandibular joint: a compliment tobiomechanical models. Int J Oral Maxillofac Surg 35:1026–1033

Cook P, Al-Ali S (1997) Submacroscopic interpretation of human sectional anatomy using plastinated E12 sections. J Int Soc Plastination 12:17–27

Eckel HE, Sittel C, Walger M, Sprinzl G, Koebke J (1993) Plastination: a new approach to morphological research and instruction with excised larynges. Ann Otol Rhinol Laryngol 102:660–665

Elnady F, Sora MC (2009) Anatomical exploration of a dicephalous goat kid using sheet plastination (E12). Congenit Anom 49:66–70

Fasel J, Mohler R, Lehmann B (1988) A technical note for improvement of the E12 technique. J Int Soc Plastination 2:4–7

Fenwick SA, Gregg PJ, Rooney P (1999) Osteoarthritic cartilage loses its ability to remain avascular. Osteoarthr Cartil 7:441–452

Fritsch H (1996) Sectional anatomy of connective tissue structures in the hindfoot of the newborn child and the adult. Anat Rec 246:147–154

Fritsch H, Pinggera GM, Lienemann A, Mitterberger M, Bartsch G, Strasser H (2006) What are the supportive structures of the female urethra? Neurourol Urodyn 25:128–134

Guingamp C, Gegout-Pottie P, Philippe L, Terlain B, Netter P, Gillet P (1997) Mono-iodoacetate-induced experimental osteoarthritis: a dose-response study of loss of mobility, morphology, and biochemistry. Arthritis Rheumatol 40:1670–1679

Johnson G, Zhang M, Barnett R (2000) A comparison between epoxy resin slices and histology sections in the study of spinal connective tissue structure. J Int Soc Plastination 15:10–13

Leaper M, Zhang M, Dawes PJ (2005) An anatomical protrusion exists on the posterior hypopharyngeal wall in some elderly cadavers. Dysphagia 20:8–14

Lyons TJ, McClure SF, Stoddart RW, McClure J (2006) The normal human chondroosseous junctional region: evidence for contact of uncalcified cartilage with subchondral bone and marrow spaces. BMC Musculoskelet Disord 7:52

Marks DL, Chaney EJ, Boppart SA (2008) Plastinated tissue samples as three-dimensional models for optical instrument characterization. Opt Express 16:16272–16283

Ottone NE, Cirigliano V, Bianchi HF et al (2015) New contributions to the development of a plastination technique at room temperature with silicone. Anat Sci Int 90:126–135

Ottone NE, del Sol M, Fuentes R (2016) Report on a sheet plastination technique using commercial epoxy resin. Int J Morphol 34:1039–1043

Ottone NE, Baptista C, Latorre R, Bianchi HF, Del Sol M, Fuentes R (2018a) E12 sheet plastination: techniques and applications. Clin Anat 31:742–756

Ottone NE, Vargas CA, Veuthey C, Del Sol M, Fuentes R (2018b) Epoxy sheet plastination on a rabbit head-new faster protocol with Biodur® E12/E1. Int J Morphol 36:441–446

Qiu MG, Zhang SX, Liu ZJ et al (2003) Plastination and computerized 3D reconstruction of the temporal bone. Clin Anat 16:300–303

Qiu MG, Zhang SX, Liu ZJ et al (2004) Three-dimensional computational reconstruction of lateral skull base with plastinated slices. Anat Rec A Discov Mol Cell Evol Biol 278:437–442

Scali F, Pontell ME, Nash LG, Enix DE (2015) Investigation of meningomyovertebral structures within the upper cervical epidural space: a sheet plastination study with clinical implications. Spine J 15:2417–2424

Sittel C, Eckel HE, Ricke S, Stennert E (1997) Sheet plastination of the larynx for whole-organ histology. Acta Anat 158:74–80

Soal S, Pollard M, Burland G, Lissaman R, Wafer M, Stringer MD (2010) Rapid ultrathin slice plastination of embalmed specimens with minimal tissue loss. Clin Anat 23:539–544

Sora MC (2007) Epoxy plastination of biological tissue: E12 ultra-thin technique. J Int Soc Plastination 22:40–45

Sora MC, Cook P (2007) Epoxy plastination of biological tissue: E12 technique. J Int Soc Plastination 22:31–39

Sora MC, Genser-Strobl B (2005) The sectional anatomy of the carpal tunnel and its related neurovascular structures studied by using plastination. Eur J Neurol 12:380–384

Sora MC, Brugger PC, Strobl B (2002a) Shrinkage during E12 plastination. J Int Soc Plastination 17:23–27

Sora MC, Strobl B, Fo€rster-Streffleur S, Staykov D (2002b) Aortic arch variation analyzed by using plastination. Clin Anat 15:379–382

Sora MC, Strobl B, Radu J (2004) High temperature E12 plastination to produce ultra-thin sheets. J Int Soc Plastination 19:22–25

Sora MC, Genser-Strobl B, Radu J, Lozanoff S (2007) Three-dimensional reconstruction of the ankle by means of ultrathin slice plastination. Clin Anat 20:196–200

Sora MC, Jilavu R, Matusz P (2012) Computer aided three-dimensional reconstruction and modeling of the pelvis, by using plastinated cross sections, as a powerful tool for morphological investigations. Surg Radiol Anat 34:731–736

Soslowsky LJ, Carpenter JE, DeBano CM, Banerji I, Moalli MR (1996) Development and use of an animal model for investigations on rotator cuff disease. J Shoulder Elb Surg 5:383–392

Steinke H (2001) Plastinated body slices for verification of magnetic resonance tomography images. Ann Anat 183:275–281

Suri S, Walsh D (2012) Osteochondral alterations in osteoarthritis. Bone 51:204–211

Thorpe Lowis CG, Zhang M, Amin NF (2016) Fine configuration of thoracic type II meningeal cysts: macro- and microscopic cadaveric study using epoxy sheet plastination. Spine 41:E1195–E1200

Vargas CA, Ottone NE, Veuthey CI (2017) Technical protocol for infiltration of the humeral joint in a rat animal model. Biomed Res 28:3603–3606

von Hagens G (1986) Biodur epoxy resins for plastination. In: von Hagens G (ed) Heidelberg plastination folder. Collection of technical leaflets of plastination. Biodur Products, Heidelberg, pp 8.1–9.14

von Hagens G, Tiedemann K, Kriz W (1987) The current potential of plastination. Anat Embryol 175:411–421

Walsh DA, Bonnet CS, Turner EL et al (2007) Angiogenesis in the synovium and at the osteochondral junction in osteoarthritis. Osteoarthr Cartil 15:743–751

Wang X, Kou X, He D et al (2012) Progression of cartilage degradation, bone resorption and pain in rat temporomandibular joint osteoarthritis induced by injection of iodoacetate. PLoS One 7:e45036

Weber W, Henry RW (1993) Sheet plastination of body slices: E12 technique, filling method. J Int Soc Plastination 7:16–22
Acknowledgements
This work was supported by a grant from the Dental School of Universidad de La Frontera: "Research and Productivity Internationalization Project 2018" (Proyecto Internacionalización para Investigación y Productividad 2018, Facultad de Odontología, Universidad de La Frontera) and a grant from Dirección de Investigación, Universidad de La Frontera, Project DIUFRO FONDOS PROPIOS; Grant number: DFP16-0012.
Ethics declarations
Conflict of interest
The authors declare that they have no conflict of interest.
Ethical approval
This study was approved by the Scientific Ethics Committee of Universidad de La Frontera (Decision N°084/17 of 9 August 2017).
Additional information
Publisher's Note
Springer Nature remains neutral with regard to jurisdictional claims in published maps and institutional affiliations.
About this article
Cite this article
Vargas, C.A., Baptista, C.A.C., del Sol, M. et al. Development of an ultrathin sheet plastination technique in rat humeral joints with osteoarthritis induced by monosodium iodoacetate for neovascularization study. Anat Sci Int 95, 297–303 (2020). https://doi.org/10.1007/s12565-019-00500-7
Received:

Accepted:

Published:

Issue Date:
Keywords
Plastination

Ultrathin

Osteoarthritis

Animal model

Epoxy