Abstract
Proximally, the arrector pili muscle (APM) attaches to the follicular stem cell niche in the bulge, but its distal properties are comparatively unclear. In this work, a novel method employing an F-actin probe, phalloidin, was employed to visualize the APM anatomy. Phalloidin staining of the APM was validated by comparison with conventional antibodies/stains and by generating three-dimensional reconstructions. The proximal attachment of the APM to the bulge in 8 patients with androgenic alopecia was studied using Masson's trichrome stain. Phalloidin visualized extensive branching of the APM. The distal end of the human APM exhibits a unique "C"-shaped structure connecting to the dermal–epidermal junction. The proximal APM attachment was observed to be lost or extremely miniaturized in androgenic alopecia. The unique shape, location, and attachment sites of the APM suggest a significant role for this muscle in maintaining follicular integrity. Proximally, the APM encircles the follicular unit and only attaches to the primary hair follicle in the bulge; this attachment is lost in irreversible hair loss. The APM exhibits an arborized morphology as it ascends toward the epidermis, and anchors to the basement membrane.
Access options
Buy single article
Instant access to the full article PDF.
USD 39.95
Price excludes VAT (USA)
Tax calculation will be finalised during checkout.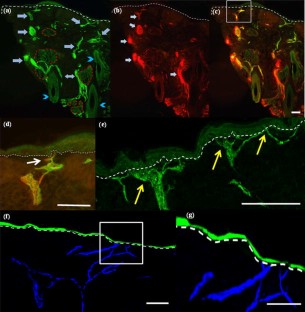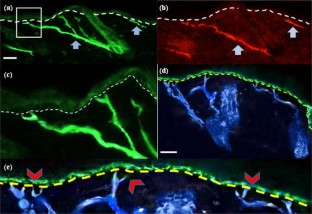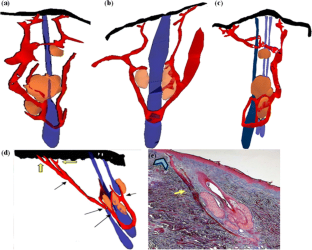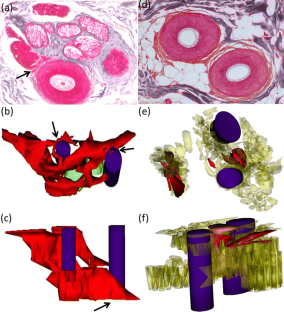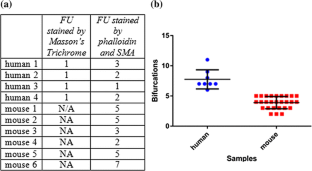 Abbreviations
APM:

Arrector pili muscle

SMA:

Smooth muscle α-actin

AGA:

Androgenic alopecia

FU:

Follicular unit

3D:

Three-dimensional

PBS:

Phosphate-buffered saline

ORS KC:

Outer root sheath keratinocytes
References
Barcaui CB, Pineiro-Maceira J, De Avelar Alchorne MM (2002) Arrector pili muscle: evidence of proximal attachment variant in terminal follicles of the scalp. Br J Dermatol 146:657–658

Black J, Dykes A, Thatcher S et al (2009) FRET analysis of actin–myosin interaction in contracting rat aortic smooth muscle. Can J Physiol Pharmacol 87:327–336

Clifton MM, Mendelson JK, Mendelson B (2000) Immunofluorescent microscopic investigation of the distal arrector pilli: a demonstration of the spatial relationship between α5β1 integrin and fibronectin. J Am Acad Dermatol 43:19–23

Kim JN, Lee JY, Shin KJ et al (2014) Morphological and morphometric study of the androgenetic alopecic scalp using two- and three-dimensional analysis comparing regional differences. Br J Dermatol 170:1313–1318

Kobayashi K, Rochat A, Barrandon Y (1993) Segregation of keratinocyte colony-forming cells in the bulge of the rat vibrissa. Proc Natl Acad Sci USA 90:7391–7395

Kwon O, Phillips CL, Molitoris BA (2002) Ischemia induces alterations in actin filaments in renal vascular smooth muscle cells. Am J Physiol Ren Physiol 282:1012–1019

Lavker RM, Sun TT (1982) Heterogeneity in epidermal basal keratinocytes: morphological and functional correlations. Science 215:1239–1241

Lesson TS, Lesson CR, Paparo AA (1988) Text/atlas of histology. W.B. Saunders Co., Philadelphia, pp 125–135

Lunstrum GP, Sakai LY, Keene DR et al (1986) Large complex globular domains of type VII procollagen contribute to the structure of anchoring fibrils. J Biol Chem 261:9042–9048

Mecklenburg L, Linek M, Tobin DJ (2009) Hair loss disorders in domestic animals. Wiley–Blackwell, Ames, p 44

Mendelson JK, Smoller BR, Mendelson B, Horn TD (2000) The microanatomy of the distal arrector pili: possible role for α1β1 and α5β1 integrins in mediating cell-cell adhesion and anchorage to the extracellular matrix. J Cutan Pathol 27:61–66

Narisawa Y, Kohda H (1993) Arrector pili muscle surrounds human facial vellus hair follicles. Br J Dermatol 129:138–139

Narisawa Y, Hashimoto K, Kohda H (1994) Two- and three-dimensional observations of human terminal and vellus hair follicles. J Dermatol Sci 7:13–19

Narisawa Y, Hashimoto K, Kohda H (1996) Merkel cells participate in the induction and alignment of epidermal ends of arrector pili muscles of human fetal skin. Br J Dermatol 134:494–498

Ohyama M (2007) Advances in the study of stem-cell-enriched hair follicle bulge cells: a review featuring characterization and isolation of human bulge cells. Dermatology 214:342–351

Oshima H, Rochat A, Kedzia C et al (2001) Morphogenesis and renewal of hair follicles from adult multipotent stem cells. Cell 104:233–245

Poblet E, Ortega F, Jiménez F (2002) The arrector pilli muscle and the follicular unit of the scalp: a microscopic anatomy study. Dermatol Surg 28:800–803

Sinclair RD (2014) Alopecia areata and suicide of children. Med J Aust 200:145

Song WC, Hu KS, Koh KS (2005) Multiunit arrector pili muscular structure as a variation observed by using computer-based three-dimensional reconstruction. Cell Tissue Res 322:335–337

Song W, Hwang WJ, Shin C, Koh KS (2006) A new model for the morphology of the arrector pilli muscle in the follicular unit based on three-dimensional reconstruction. J Anat 208:643–648

Tiede S, Kloepper JE, Whiting DA, Paus R (2007) The follicular trochanter: an epithelial compartment of the human hair follicle bulge region in need of further characterization. Br J Dermatol 157:1013–1016

Torkamani N, Rufaut NW, Jones L, Sinclair RD (2014a) Beyond goosebumps: does the arrector pili muscle have a role in hair loss? Int J Trichol 6:88–94

Torkamani N, Rufaut NW, Jones L, Sinclair R (2014b) Destruction of the arrector pili muscle and fat infiltration in androgenic alopecia. Br J Dermatol 170:1291–1298

Torkamani N, Rufaut N, Jones L, Sinclair R (2016) Epidermal cells expressing stem cell markers in non-glabrous skin exist in direct proximity with the distal end of the arrector pili muscle. Stem Cells Int 1286315

Toyoshima KE, Asakawa K, Ishibashi N et al (2012) Fully functional hair follicle regeneration through the rearrangement of stem cells and their niches. Nat Commun 3:784

Wang X, Shi Y, Zhou Q et al (2012) Detailed histological structure of human hair follicle bulge region at different ages: a visible niche for nesting adult stem cells. J Huazhong Univ Sci Technol Med Sci 32:648–656

Yazdabadi A, Whiting D, Rufaut NW, Sinclair R (2012) Arrector pili muscle and alopecia. Int J Trichol 4:154–157
Acknowledgments
The authors would like to thank A/Prof. Robert Kapsa and Dr. Anita Quigley of the Centre for Neuroscience and Neurology Research, St Vincent's Hospital Melbourne, for providing access to laboratory facilities and technical assistance. Niloufar Torkamani was supported by a University of Melbourne International Research Scholarship, a John Hayden Scholarship, and an Alwyn Stewart Memorial Trust Fund Faculty of Medicine Research Scholarship (University of Melbourne).
Ethics declarations
Funding
This study was funded by a University of Melbourne International Research Scholarship, a John Hayden Scholarship, and an Alwyn Stewart Memorial Trust Fund Faculty of Medicine Research Scholarship (University of Melbourne).
Conflict of interest
The authors declare that they have no conflict of interest.
About this article
Cite this article
Torkamani, N., Rufaut, N., Jones, L. et al. The arrector pili muscle, the bridge between the follicular stem cell niche and the interfollicular epidermis. Anat Sci Int 92, 151–158 (2017). https://doi.org/10.1007/s12565-016-0359-5
Received:

Accepted:

Published:

Issue Date:

DOI: https://doi.org/10.1007/s12565-016-0359-5
Keywords
Arrector pili muscle

Phalloidin

Stemcells