Abstract
Hardening of the human hair shaft during cornification results from the bonding of keratins and keratin-associated proteins. In situ hybridization and light immunocytochemical studies have shown the general distribution of different keratins and some associated proteins but not determined their ultrastructural localization. I report here the localization of hair keratins, two high-sulfur keratin-associated proteins and sulfhydryl oxidase has been studied under the transmission electron microscope in the cornification zone of the human hair. The ultrastructural study on keratin distribution in general confirms previous light microscopic studies. Sulfur-rich KAP1 is mainly cortical but the labeling disappears in fully cornified cortical cells while a diffuse labeling is also present in differentiating cuticle cells. Sulfur-rich K26 immunolocalization is only detected in the exocuticle and endocuticle. Sparse labeling for sulfhydryl oxidase occurs in differentiating cortical cells but is weak and uneven in cuticle cells and absent in medulla and inner root sheath. Labeling disappears in the upper fully cornified cortex and cuticle. The observations indicate that sulfhydryl oxidase and keratin associated proteins are initially produced in the cytoplasm among keratin bundles accumulating in cortical and cuticle cells but these proteins undergo changes during the following cornification that alter the epitopes tagged by the antibodies.
Access options
Buy single article
Instant access to the full article PDF.
USD 39.95
Price excludes VAT (USA)
Tax calculation will be finalised during checkout.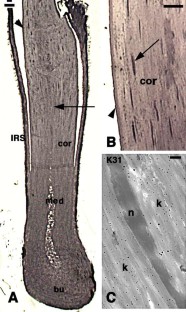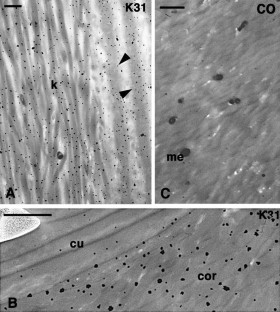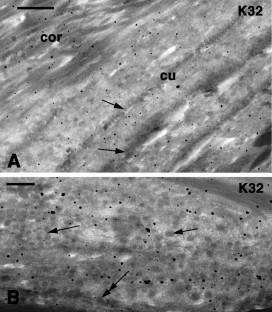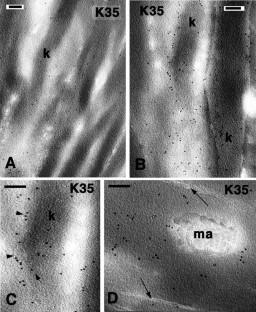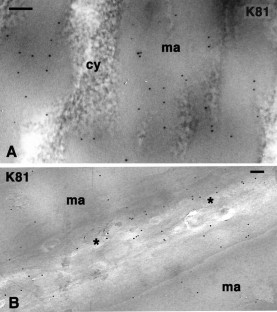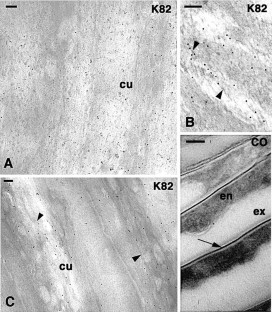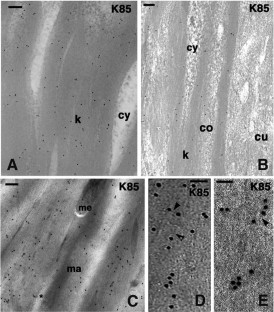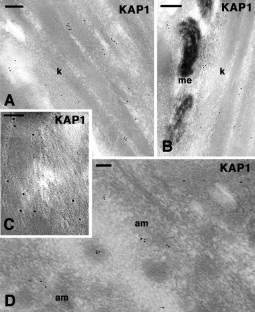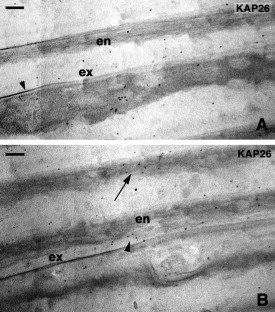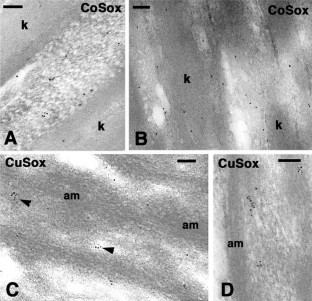 References
Alibardi L (2012) Perspectives on hair evolution based on some comparative studies on vertebrate cornification. J Exp Zool 318B:325–343

Eckhart L, Lippens S, Tschachler E, Declercq W (2013) Cell death by cornification. Biochim Biophys Acta 1833:3471–3480

Fraser RDB, MacRae TP, Rogers GE (1972) Keratins: their composition, structure and biosynthesis. Charles C Thomas, Springfield

Gillespie J (1991) The structural proteins of hair: isolation, characterization and regulation of biosynthesis. In: Goldsmith LA (ed) Physiology, biochemistry and molecular biology of the skin. Oxford University Press, Oxford, pp 625–659

Jones LN, Rogers GE, Rufaut N, Sinclair RD (2010) Location of keratin-associated proteins in developing fiber cuticle cells using immunoelectron microscopy. Int J Trichol 2:89–95

Langbein L, Schweizer J (2005) The keratins of the human hair follicle. Int Rev Cytol 243:1–78

Langbein L, Rogers MA, Winter H, Praetzel S, Beckhaus U, Rackwitz HR, Schweizer J (1999) The catalog of human hair keratins. I. Expression of the nine type I members in the hair follicle. J Biol Chem 274:19874–19884

Langbein L, Rogers MA, Winter H, Praetzel S, Schweizer J (2001) The catalog of human hair keratins. II. Expression of the six type II members in the hair follicle and the combined catalog of human type I and II keratins. J Biol Chem 276:35123–35132

Moll R, Divo M, Langbein L (2008) The human keratins: biology and pathology. Histochem Cell Biol 19:705–733

Morioka K (2005) Hair follicle. Differentiation under the electron microscope. An atlas. Springer SBM, Tokyo

Powell B, Rogers GE (1994) Differentiation in hard keratin tissues: hair and related structure. In: Leigh I, Lane B, Watt F (eds) The keratinocyte handbook. Cambridge University Press, Cambridge, pp 401–436

Rogers GE (2004) Hair follicle differentiation and regulation. Int J Dev Biol 48:163–170

Rogers GE, Dunn S, Powell B (1998) Late events and the regulation of keratinocyte differentiation in hair and feather follicles. In: Chuong CM (ed) Molecular basis of epithelial appendage morphogenesis. RG Landed Company, Orlando

Rogers MA, Langbein L, Praetzel-Wunder S, Winter H, Schweizer J (2006) Human hair keratin-associated proteins (KAPs). Int Rev Cytol 251:209–263

Rogers MA, Langbein L, Praetzel-Wunder S, Giehl K (2008) Characterization and expression analysis of the hair keratin associated protein KAP26.1. Br J Dermatol 159:725–729

Schweizer J, Bowden PE, Coulombe PA, Langbein L, Lane EB, Magin TM, Maltais L, Omary MB, Parry DAD, Rogers MA, Wright MW (2006) New consensus nomenclature for mammalian keratins. J Cell Biol 174:169–174

Shimomura Y, Aoki N, Schweizer J, Langbein L, Rogers MA, Winter H, Ito M (2002) Polymorphisms in the human high sulfur hair keratin associated protein (KAP) 1 gene family. J Biol Chem 47:45493–45501

Takamori K, Thorpe JM, Goldsmith LA (1980) Skin sulfhydryl oxidase purification and some properties. Bioch Biophys Acta 615:309–323

Taneda A, Ogawa H, Hashimoto K (1980) The histochemical demonstration of protein-bound sulfhydryl groups and disulphide bonds in human hair by a new staining method (DACM staining). J Inv Dermatol 75:365–369

Wang H, Parry DA, Jones LN, Idler WW, Marekov LN, Steinert PM (2000) In vitro assembly and structure of trichocyte keratin intermediate filamento: a novel role for stabilization by disulfide bonding. J Cell Biol 151:1459–1468
Acknowledgments
The present ultrastructural study was completely supported by Comparative Histolab.
Ethics declarations
Conflict of interest
I declare that I have no conflicts of interest in the present manuscript.
About this article
Cite this article
Alibardi, L. Ultrastructural localization of hair keratins, high sulfur keratin-associated proteins and sulfhydryl oxidase in the human hair. Anat Sci Int 92, 248–261 (2017). https://doi.org/10.1007/s12565-016-0330-5
Received:

Accepted:

Published:

Issue Date:

DOI: https://doi.org/10.1007/s12565-016-0330-5
Keywords