Abstract
Monosodium glutamate (MSG) is believed to exert deleterious effects on various organs, including the hippocampus, likely via the oxidative stress pathway. Garlic (Alium sativum L.), which is considered to possess potent antioxidant activity, has been used as traditional remedy for various ailments since ancient times. We have investigated the effects of black garlic, a fermented form of garlic, on spatial memory and estimated the total number of pyramidal cells of the hippocampus in adolescent male Wistar rats treated with MSG. Twenty-five rats were divided into five groups: C− group, which received normal saline; C+ group, which was exposed to 2 mg/g body weight (bw) of MSG; three treatment groups (T2.5, T5, T10), which were treated with black garlic extract (2.5, 5, 10 mg/200 g bw, respectively) and MSG. The spatial memory test was carried out using the Morris water maze (MWM) procedure, and the total number of pyramidal cells of the hippocampus was estimated using the physical disector design. The groups treated with black garlic extract were found to have a shorter path length than the C− and C+ groups in the escape acquisition phase of the MWM test. The estimated total number of pyramidal cells in the CA1 region of the hippocampus was higher in all treated groups than that of the C+ group. Based on these results, we conclude that combined administration of black garlic and MSG may alter the spatial memory functioning and total number of pyramidal neurons of the CA1 region of the hippocampus of rats.
Access options
Buy single article
Instant access to the full article PDF.
USD 39.95
Price includes VAT (USA)
Tax calculation will be finalised during checkout.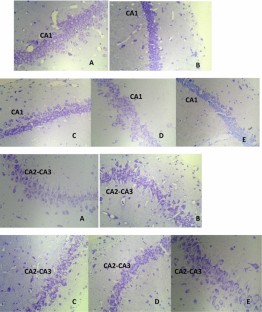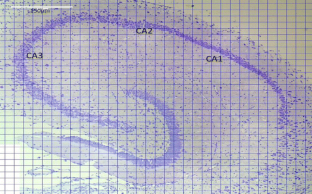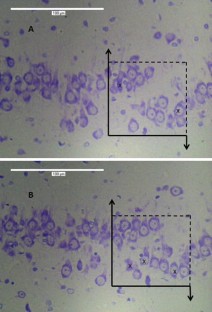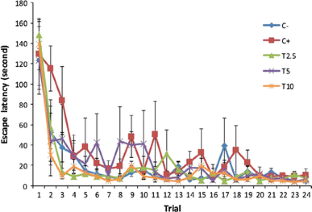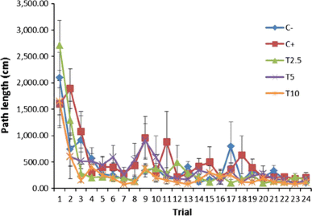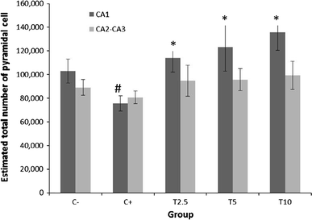 References
Afzal M, Ali M, Thomson M, Armstrong D (2000) Garlic and its medicinal potential. Infammopharmacology 8:123–148

Amagase H, Petesch B, Matsuura H, Kasuga S, Itakura Y (2001) Intake of garlic and its bioactive components. J Nutr 131:955S–962S

Aminuddin M, Partadiredja G, Sari DCR (2014) The effects of black garlic (Allium sativum L.) ethanol extract on the estimated total number of Purkinje cells and motor coordination of male adolescent Wistar rats treated with monosodium glutamate. Anat Sci Int. doi:10.1007/s12565-014-0233-2

Andersen P, Morris R, Amaral D, Bliss T, O'Keefe J (2007) The hippocampus book. Oxford University Press, New York

Atif F, Yousuf S, Agrawal S (2009) S-allyl L-cysteine diminishes cerebral ischemia-induced mitochondrial dysfunctions in hippocampus. Brain Res 1265:128–137

Auer RN, Jensen ML, Whishaw IQ (1989) Neurobehavioral deficit due to ischemic brain damage limited to half of the CA1 sector of the hippocampus. J Neurosci 9:1641–1647

Balazs R, Bridges R, Cotman C (2006) Excitatory amino acid transmission in health and disease. Oxford University Press, New York

Bartsch T, Schonfeld R, Muller FJ et al (2010) Focal lesions of human hippocampal CA1 neurons in transient global amnesia impair place memory. Science 328:1412–1415

Bedi KS (1991) Early-life undernutrition causes deficits in rat dentate gyrus granule cell number. Experientia 47:1073–1074

Bernaudin M, Nouvelot A, MacKenzie E, Petit E (1998) Selective neuronal vulnerability and specific glial reactions in hippocampal and neocortical organotypic cultures submitted to ischemia. Exp Neurol 150:30–39

Blaylock RL (1997) Excitotoxin: the taste that kills. Health Press, Santa Fe

Bonthius DJ, West JR (1990) Alcohol-induced neuronal loss in developing rats: increased brain damage with binge exposure. Alcohol Clin Exp Res 14:107–118

Bonthius DJ, West JR (1991) Permanent neuronal deficits in rats exposed to alcohol during the brain growth spurt. Teratology 44:147–163

Bonthius DJ, Woodhouse J, Bonthius NE, Taggard DA, Lothman EW (2001) Reduced seizure threshold and hippocampal cell loss in rats exposed to alcohol during the brain growth spurt. Alcohol Clin Exp Res 25:70–82

Borek C (2001) Antioxidant health effects of aged garlic extract. J Nutr 131:1010S–1015S

Butler T, Self R, Smith K et al (2010) Selective vulnerability of hippocampal cornu ammonis 1 pyramidal cells to excitotoxic insult is associated with the expression of polyamine-sensitive N-methyl-d-aspartate-type glutamate receptors. J Neurosci 165:525–534

Colin-Gonzalez AL, Santana RA, Silva-Islas CA, Chanez-Cardenas ME, Santamaria A, Maldonado PD (2012) The antioxidant mechanisms underlying the aged garlic extract- and S-allylcysteine-induced protection. Oxid Med Cell Long 2012:1–16

Collison KS, Maqbool Z, Saleh SM et al (2009) Effect of dietary monosodium glutamate on trans fat-induced nonalcoholic fatty liver disease. J Lipid Res 50:1521–1537

Craig L, Hong N, Kopp J, McDonald R (2008) Selective lesion of medial septal cholinergic neurons followed by a mini-stroke impairs spatial learning in rats. Exp Brain Res 193:29–42

Cronberg T, Jensen K, Rytter A, Wieloch T (2005) Selective sparing of hippocampal CA3 cells following in vitro ischemia is due to selective inhibition by acidosis. Eur J Neurosci 22:310–316

Elefteriou F, Takeda S, Liu X, Armstrong D, Karsenty G (2003) Monosodium glutamate-sensitive hypothalamic neurons contribute to the control of bone mass. Endocrinology 144:3842–3847

Eweka AO, Om'Iniabohs FAE (2006) Histological studies of the effects of monosodium glutamate on the cerebellum of adult Wistar rats. Internet J Neurol 8(2)

Fang YZ, Yang S, Wu G (2002) Free radicals, antioxidants, and nutrition. Nutrition 18:872–879

Farombi EO, Onyema OO (2006) Monosodium glutamate-induced oxidative damage and genotoxicity in the rat: modulatory role of vitamin C, vitamin E and quercetin. Hum Exp Toxicol 25:251–259

Fiacco TA, Rosene DL, Galler JR, Blatt GJ (2003) Increased density of hippocampal kainate receptors but normal density of NMDA and AMPA receptors in a rat model of prenatal protein malnutrition. J Comp Neurol 456:350–360

Freeman M (2006) Reconsidering the effect of monosodium glutamate: a literature review. J Am Acad Nurse Prac 18:482–486

Gee C, Benquet P, Raineteau O, Rietschin L, Kirbach S, Gerber U (2006) NMDA receptors and the differential ischemic vulnerability of hippocampal neurons. Eur J Neurosci 23:2595–2603

Grady MS, Charleston JS, Maris D, Witgen BM, Lifshitz J (2003) Neuronal and glial cell number in the hippocampus after experimental traumatic brain injury: analysis by stereological estimation. J Neurotrauma 20:929–941

Gundersen HJ, Jensen EB (1987) The efficiency of systematic sampling in stereology and its prediction. J Microsc 147(Pt 3):229–263

Hashem HE, El-Din Safwat MD, Algaidi S (2012) The effect of monosodium glutamate on the cerebellar cortex of male albino rats and the protective role of vitamin C (histological and immunohistochemical study). J Mol Hist 43:179–186

Herguido MJ, Carceller F, Roda JM, Avendano C (1999) Hippocampal cell loss in transient global cerebral ischemia in rats: a critical assessment. Neuroscience 93:71–80

Howard CV, Reed MG (2005) Unbiased stereology. Three-dimensional measurement in microscopy. BIOS Scientific Publishers, Oxford

Ide N, Lau B (2001) Garlic compound minimize intracellular oxidative stress and inhibit nuclear factor-kB activation. J Nutr 131:1020S–1026S

Kandel E, Schwartz J, Jessel T (2000) Principles of neural science. McGraw-Hill, New York

Kato H, Kogure K, Araki T, Liu XH, Kato K, Itoyama Y (1995) Immunohistochemical localization of superoxide dismutase in the hippocampus following ischemia in a gerbil model of ischemic tolerance. J Cereb Blood Flow Metab 15:60–70

Kim J, Kang O, Gweon O (2013) Comparison of phenolic acids and flavonoids in black garlic at different thermal processing steps. J Funct Foods 5:80–86

Korbo L, Ladefoged O, Lam HR, Ostergaard G, West MJ, Arlien-Soborg P (1996) Neuronal loss in hippocampus in rats exposed to toluene. Neurotoxicology 17:359–366

Langston RF, Stevenson CH, Wilson CL, Saunders I, Wood ER (2010) The role of hippocampal subregions in memory for stimulus associations. Behav Brain Res 215:275–291

Lee I, Hunsaker MR, Kesner RP (2005) The role of hippocampal subregions in detecting spatial novelty. Behav Neurosci 119:145–153

Lister JP, Blatt GJ, DeBassio WA et al (2005) Effect of prenatal protein malnutrition on numbers of neurons in the principal cell layers of the adult rat hippocampal formation. Hippocampus 15:393–403

Mathew BC, Biju RS (2008) Neuroprotective effects of garlic. A review. Libyan J Med 3:23–33

Matsuyama T, Shimizu S, Nakamura H, Michishita H, Tagaya M, Sugita M (1994) Effects of recombinant superoxide dismutase on manganese superoxide dismutase gene expression in gerbil hippocampus after ischemia. Stroke 25:1417–1423; discussion 1424

Mattiasson G, Friberg H, Hansson M, Elmer E, Wieloch T (2003) Flow cytometric analysis of mitochondria from CA1 and CA3 regons of rat hippocampus reveals differences in permeability transition pore activation. J Neurochem 87:532–544

Michel RP, Cruz-Orive LM (1988) Application of the Cavalieri principle and vertical sections method to lung: estimation of volume and pleural surface area. J Microsc 150(Pt 2):117–136

Miki T, Harris SJ, Wilce P, Takeuchi Y, Bedi KS (2000) Neurons in the hilus region of the rat hippocampus are depleted in number by exposure to alcohol during early postnatal life. Hippocampus 10:284–295

Miki T, Harris SJ, Wilce PA, Takeuchi Y, Bedi KS (2004) Effects of age and alcohol exposure during early life on pyramidal cell numbers in the CA1–CA3 region of the rat hippocampus. Hippocampus 14:124–134

Morihara N, Hayama M, Fujii H (2011) Aged garlic extract scavenges superoxide radicals. Plant Foods Hum Nutr 66:17–21

Mursito B, Jenie U, Mubarika S, Kardono L (2011) Lowering cholesterol effect of beta-glucans isolated of Termitomyces eurrhizus extracts by oral administration to rats. J Pharmacol Toxicol 6:90–96

Nakazawa K, Quirk MC, Chitwood RA et al (2002) Requirement for hippocampal CA3 NMDA receptors in associative memory recall. Science 297:211–218

Nakazawa K, McHugh TJ, Wilson MA, Tonegawa S (2004) NMDA receptors, place cells and hippocampal spatial memory. Nat Rev Neurosci 5:361–372

Noor N, Mourad I (2010) Evaluation of antioxidant effect of Nigella sativa oil on monosodium glutamate-induced oxidative stress in rat brain. J Am Sci 6:13–19

Numagami Y, Ohnishi ST (2001) S-Allylcysteine inhibits free radical production, lipid peroxidation and neuronal damage in rat brain ischemia. J Nutr 131:1100S–1105S

Olsen GM, Scheel-Kruger J, Moller A, Jensen LH (1994) Relation of spatial learning of rats in the Morris water maze task to the number of viable CA1 neurons following four-vessel occlusion. Behav Neurosci 108:681–690

Onaolopo O, Onaolopo A (2011) Acute low dose monosodium glutamate retards novelty induced behaviours in male Swiss albino mice. J Neurosci Behav Health 3:51–56

Pamidiboina V, Razdan R, Hariprasad M (2010) Evaluation of the antihyperlipidemic, cardioprotective activity of a polyherbal formulation. Int J Pharm Pharm Sci 10:86–91

Park J-H, Park YK, Park E (2009) Antioxidative and antigenotoxic effects of garlic (Allium sativum L.) prepared by different processing methods. Plant Foods Hum Nutr 64:244–249

Partadiredja G, Bedi KS (2010) Undernutrition during the gestation and suckling periods does not cause any loss of pyramidal neurons an the CA2–CA3 region of the rat hippocampus. Nutr Neurosci 13:1–7

Partadiredja G, Bedi KS (2011) Mice undernourished before, but not after, weaning perform better in motor coordination and spatial learning tasks than well-fed controls. Nutr Neurosci 14:129–137

Partadiredja G, Miller R, Oorschot DE (2003) The number, size, and type of axons in rat subcortical white matter on left and right sides: a stereological, ultrastructural study. J Neurocytol 32:1165–1179

Puica C, Craciun C, Borsa C, Rusu C, Roman C (2009) Histological and ultrastructural studies concerning the protective effect of some micronutrients-antioxidant factors, against L-monosodium glutamate administration on some brain and pituitary structures in prepubertal supercuni rabbits. Vasile Goldis seria Stiintele Vietji 19:259–274

Ramsden M, Berchtold NC, Patrick Kesslak J, Cotman CW, Pike CJ (2003) Exercise increases the vulnerability of rat hippocampal neurons to kainate lesion. Brain Res 971:239–244

Rao R, de Ungria M, Sullivan D et al (1999) Perinatal brain iron deficiency increases the vulnerability of rat hippocampus to hypoxic ischemic insult. J Nutr 129:199–206

Ritchie LJ, De Butte M, Pappas BA (2004) Chronic mild stress exacerbates the effects of permanent bilateral common carotid artery occlusion on CA1 neurons. Brain Res 1014:228–235

Saleem S, Ahmad M, Ahmad A et al (2006) Behavioral and histologic neuroprotection of aqueous garlic extract after reversible focal cerebral ischemia. J Med Food 9:537–544

Sand J (2005) A short history of MSG. J Food Cult 5:38–49

Sarnyai Z, Sibille E, Pavlides C, Fenster R, McEwen B, Toth M (2000) Impaired hippocampal-dependent learning and functional abnormalities in the hippocampus in mice lacking serotonin1A receptors. Neurobiology 97:14731–14736

Sato E, Kohno M, Hamano H, Niwano Y (2006) Increased anti-oxidative potency of garlic by spontaneous short-term fermentation. Plant Foods Hum Nutr 61:157–160

Singh P, Mann KA, Mangat HK, Kaur G (2003) Prolonged glutamate excitotoxicity: effects on mitochondrial antioxidants and antioxidant enzymes. Mol Cell Biochem 243:139–145

Sousa N, Paula-Barbosa MM, Almeida OF (1999) Ligand and subfield specificity of corticoid-induced neuronal loss in the rat hippocampal formation. Neuroscience 89:1079–1087

Stanika R, Winters C, Pivovarova N, Andrews S (2010) Differential NMDA receptor-dependent calcium loading and mitochondrial dysfunction in CA1 vs CA3 hippocampal neurons. Neurobiol Dis 37:403

Sterio DC (1984) The unbiased estimation of number and sizes of arbitrary particles using the disector. J Microsci 134(Pt 2):127–136

Tattelman E (2005) Health effects of garlic. Am Fam Phys 72:103–106

Tran TD, Kelly SJ (2003) Critical periods for ethanol-induced cell loss in the hippocampal formation. Neurotoxicol Teratol 25:519–528

Tsien JZ, Huerta PT, Tonegawa S (1996) The essential role of hippocampal CA1 NMDA receptor-dependent synaptic plasticity in spatial memory. Cell 87:1327–1338

Wang D, Feng Y, Liu J et al (2010) black garlic (Allium sativum) extracts enhance the immune system. Med Arom Plant Sci Biotech 4:37–40

Wang X, Michaelis E (2010) Selective neuronal vulnerablity to oxidative stress in the brain. Front Aging Neurosci 2:12

Wang X, Pal R, Chen XW, Limpeanchob N, Kumar KN, Michaelis EK (2005) High intrinsic oxidative stress may underlie selective vulnerability of the hippocampal CA1 region. Brain Res Mol Brain Res 140:120–126

Wang X, Zaidi A, Pal R et al (2009) Genomic and biochemical approaches in the discovery of mechanisms for selective neuronal vulnerability to oxidative stress. BMC Neurosci 10:12

Wang Y, Qin Z-H (2010) Molecular and cellular mechanisms of excitotoxic neuronal death. Apoptosis 15:1382–1402

Wilde GJ, Pringle AK, Wright P, Iannotti F (1997) Differential vulnerability of the CA1 and CA3 subfields of the hippocampus to superoxide and hydroxyl radicals in vitro. J Neurochem 69:883–886

Xavier GF, Oliveira-Filho FJ, Santos AM (1999) Dentate gyrus-selective colchicine lesion and disruption of performance in spatial tasks: difficulties in "place strategy" because of a lack of flexibility in the use of environmental cues? Hippocampus 9:668–681

Xiong JS, Branigan D, Li M (2009) Deciphering the MSG controversy. Int J Clin Exp Med 2:329–336
Acknowledgements
This research was funded by grant no. LPPM-UGM/700/BID.I/2012 of Universitas Gadjah Mada. The preparation of this manuscript was partially funded by SAME project of DGHE, the Ministry of Education and Culture, the Republic of Indonesia. The authors would like to thank M. Aminuddin, Titis Nurmasitoh, Suparno (Department of Physiology, Faculty of Medicine, UGM), Sumaryati (Department of Histology and Cellular Biology, Faculty of Medicine, UGM), and Ari (Biological Pharmacy Laboratory of Medical Faculty of UII) for their technical assistance.
About this article
Cite this article
Hermawati, E., Sari, D.C.R. & Partadiredja, G. The effects of black garlic ethanol extract on the spatial memory and estimated total number of pyramidal cells of the hippocampus of monosodium glutamate-exposed adolescent male Wistar rats. Anat Sci Int 90, 275–286 (2015). https://doi.org/10.1007/s12565-014-0262-x
Received:

Accepted:

Published:

Issue Date:
Keywords
Monosodium glutamate

Black garlic

Spatial memory

Pyramidal cells

Hippocampus