Abstract
The northern pike (Esox lucius) is a fresh water species belonging to the Esocidae family. It is a carnivorous fish feeding mostly on invertebrates and fishes. Due to the scantiness of relevant literature regarding the morphology of the tongue in fish we carried out this study with the aim of providing information on the dorsal surface morphology and histological structures of the tongue in E. lucius. The tongues of five E. lucius were examined using light- and scanning electron- microscopy (SEM) techniques. The SEM studies revealed the presence of numerous teeth, longitudinal mucosal strands and scattered taste buds spread on the tongue surface. Histological studies using hematoxylin and eosin and Masson's trichrome staining showed that the musculature was not visible in the tongue of E. lucius. The tongue is composed of mucosa, and submucosa supported by osteocartilagionous skeleton. The mucosa consists of several layers of unicellular mucous cells interrupted by numerous teeth. The derivation of teeth from the underlying bronchial skeleton was visible in longitudinal section. The scattered taste buds with a typical onion shape were also present. Overall, the morphological features of the E. lucius tongue together suggested its mechanical and sensory roles. The findings of this study together with morphological and physiological data from other fishes contribute to the knowledge of the nutrition and feeding behavior in aquaculture species.
Access options
Buy single article
Instant access to the full article PDF.
USD 39.95
Price excludes VAT (USA)
Tax calculation will be finalised during checkout.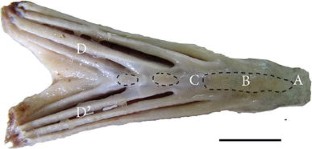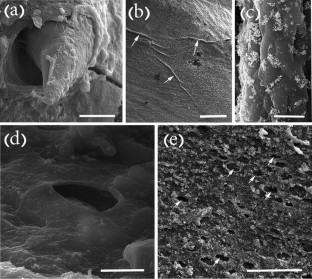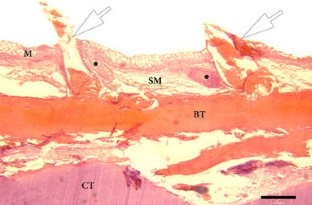 References
Abbate F, Germana GP, de Carlos F, Montalbano G, Laura R, Levanti MB, Germana A (2006) The oral cavity of the adult zebrafish (Danio rerio). Anat Histol Embryol 35:299–304

Abbate F, Guerrera MC, Montalbano G, Ciriaco E, Germanà A (2012a) Morphology of the tongue dorsal surface of gilthead seabream (Sparus aurata). Microsc Res Tech 75:1666–1671

Abbate F, Guerrera MC, Montalbano G, De Carlos F, Suárez AÁ, Ciriaco E, Germanà A (2012b) Morphology of the European sea bass (Dicentrarchus labrax) tongue. Microsc Res Tech 75:643–649

Buddington RK, Kuzmina V (2000) Digestive system. In: Ostrander GK (ed) The laboratory fish. Academic, Baltimore

Camp AL, Konow N, Sanford CP (2009) Functional morphology and biomechanics of the tongue bite apparatus in salmonid and osteoglossomorphfishes. J Anat 214:717–728

Craig JF (2008) A short review of pike ecology. Hydrobiologia 601:5–16

Eurrell JAC (2004) Veterinary histology. Teton NewMedia, Jackson

Fishelson L, Delarea Y, Zverdling A (2004) Taste bud form and distribution on lips and in the oropharyngeal cavity of cardinal fish species (Apogonidae, Teleostei), with remarks on their dentition. J Morph 259:316–332

Genten F, Terwinghe E, Danguy A (2009) Atlas of fish histology. Science, New Hampshire

Herold RC, Landino L (1970) The development and mature structure of dentine in the pike, Esox lucius, analyzed by bright field, phase and polarization microscopy. Archs oral biol 15:747–760

Hilton EJ (2001) Tongue bite apparatus of osteoglossomorph fishes: variation of a character complex. Copeia 2:372–381. doi: http://dx.doi.org/10.1643/0045-8511(2001)001[0372:TBAOOF]2.0.CO;2

Holzman R, Collar DC, Price SA, Hulsey CD, Thomson RC, Wainwright PC (2012) Biomechanical trade-offs bias rates of evolution in the feeding apparatus of fishes. Philos Trans R Soc Lond, Ser B 279:1287–1292

Horn MH (1998) Feeding and digestion. In: Evans DH (ed) The physiology of fishes. CRC, New York, pp 43–63

Jakubowski M, Whitear M (1990) Comparative morphology and cytology of taste buds in teleosts. Z Mikrosk-Anat Forsch 104:529–560

Jollie M (1975) Development of head skeleton and pectoral girdle in Esox. J Morph 147:61–88

Kapoor BG, Khanna B (1994) The alimentary canal of teleosts: a brief survey of structure and function. In: Singh HR (ed) Advances in fish biology. Hindustan, Delhi, pp 12–24

Kapoor BG, Smit H, Verighina IA (1975) The alimentary canal and digestion in teleosts. Adv Mar Biol 13:109–239

Kasumyan AO (1997) Gustatory reception and feeding behavior in fish. J Ichthyol 37:72–86

Khanna SS (1968) The structure and distribution of the taste buds and the mucus secreting cells in the buccopharynx of some Indian teleosts (Pisces). Studies DSB Govt College Nanital India 5:143–148

Konow N, Sanford CP (2008) Biomechanics of convergently derived prey-processing mechanism in fishes: evidence from comparative tongue bite apparatus morphology and raking kinematics. J Exp Biol 211:3378–3391

Kottelat M, Freyhof J (2007) Handbook of European freshwater fishes. Kottelat, Cornol

Kruse KC, Stone BM (1984) Largemouth bass (Micropterus salmoides) learn to avoid feeding on toad (Bufo) tadpoles. Anim Behav 32:1035–1039

Kubitza F, Lovshin LL (1997) The use of freeze-dried krill to feed train largemouth bass (Micropterus salmoides): feeds and training strategies. Aquaculture 148:299–312

Laikre L, Miller LM, Palmé A, Palm S, Kapuscinski AR, Thoresson G, Ryman N (2005) Spatial genetic structure of northern pike (Esox lucius) in the Baltic Sea. Mol Ecol 14:1955–1964

Mescher AL (2013) Janqueira's basic histology: text and atlas, 13th edn. MacGraw-Hill, New York

Pinky Mitta S, Ojha J, Mittal A (2002) Scanning electron microscopic study of the structures associated with lips of an Indian hill Stream fish Garralamata (Cyprinidae, Cypriniformes). Eur J Morphol 40:161–169

Reutter K, Witt M (1993) Morphology of vertebrate taste organs and their nerve supply. In: Simon SA, Roper SD (eds) Mechanisms of taste transduction. CRC, Boca Raton, pp 29–82

Reutter K, Boudriot F, Witt M (2000) Heterogeneity of fish taste bud ultrastructure as demonstrated in the holosteans Amia calva and Lepisosteus oculatus. Phil Trans R Soc Lond B 355:1225–1228

Sinha GM, Chakrabarti P (1986) Scanning electron microscopic studies on the mucosa of the digestive tract in Mystus aor (Hamilton). Proc Indian Natl Sci Acad B 52:267–273

Sire JY, Allizard F (2001) A fourth teleosts lineage possessing extra-oral teeth: the genus Atherion (teleostei; Atheriniformes). Europ J Morph 39:295–305

Sire JY, Marin S, Allizard F (1998) Comparison of teeth and dermal denticles (Odontodes) in the teleost Denticeps clupeoides (Clupeomorpha). J Morph 237:237–255

Yashpal M, Kumari U, Mittal S, Mittal AK (2006) Surface architecture of the mouth cavity of a carnivorous fish Rita rita (Hamilton, 1822) (Siluriformes, Bagridae). Belg J Zool 136:155–162

Yashpal M, Kumari U, Mittal S, Mittal AK (2009) Morphological specializations of the oral cavity in relation to the food and feeding habit of a carp Cirrhinus mrigala: a scanning electron microscopic investigation. J Morphol 270:714–728
About this article
Cite this article
Sadeghinezhad, J., Rahmati-holasoo, H., Fayyaz, S. et al. Morphological study of the northern pike (Esox lucius) tongue. Anat Sci Int 90, 235–239 (2015). https://doi.org/10.1007/s12565-014-0254-x
Received:

Accepted:

Published:

Issue Date:

DOI: https://doi.org/10.1007/s12565-014-0254-x
Keywords
Northern pike

Tongue

Scanning electron microscopy

Histology