Abstract
The morpho-structural characteristics of the vallate papillae of the tongue of rat, dog, donkey and buffalo were investigated by macroscopy and their microstructure by light and scanning electron microscopy (SEM). The numbers of vallate papillae varied among the different species. In rat, a single vallate papilla surrounded by incomplete groove and an annular fold was observed. Taste buds were detected along the entire length of the medial and lateral groove epithelium, but not in the papillary dome. In dog, some papillae lacking the annular pad had irregular ridges and grooves toward the center of the papillary surface, while other papillae had small secondary papillary grooves arising from the center of the papilla. Taste buds were located in the medial and lateral epithelium of both primary and secondary grooves as well as in the dome epithelium. In donkey, two papillae were frequently observed around the midline of the tongue root, and an additional papilla was found occasionally in the middle and associated with secondary papilla. In buffalo, several papillae were relatively small and variable in shape. With SEM, small ridges and grooves were found in the papillae of donkey and buffalo. In both species, taste buds were constantly observed along the medial wall epithelium, but no taste buds were found in the lateral wall. We conclude that the vallate papillae exhibited peculiar characteristics, which are species specific and might have a correlation with the variable feeding habits among these animals.
Access options
Buy single article
Instant access to the full article PDF.
US$ 39.95
Tax calculation will be finalised during checkout.
Subscribe to journal
Immediate online access to all issues from 2019. Subscription will auto renew annually.
US$ 79
Tax calculation will be finalised during checkout.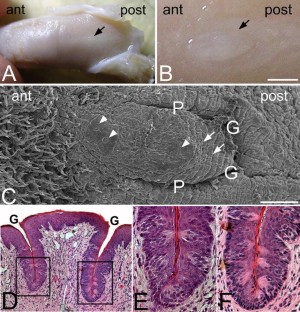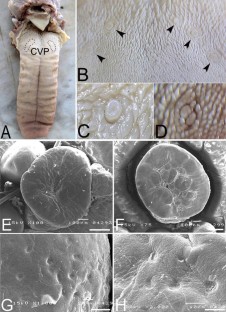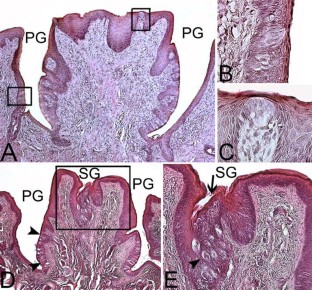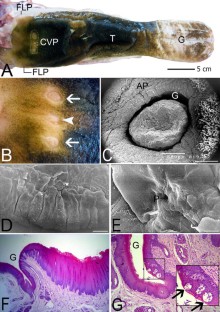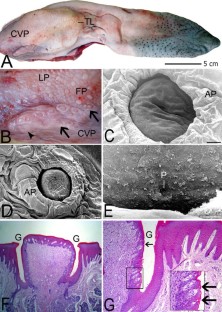 References
Abd-Elnaeim MM, Zayed AE, Leiser R (2002) Morphological characteristics of the tongue and its papillae in the donkey (Equus asinus): a light and scanning electron microscopical study. Ann Anat 184:473–480

AhPin P, Ellis S, Arnott C, Kaufmann MH (1989) Prenatal development and innervation of the circumvallate papilla in the mouse. J Anat 162:33–42

Asami Y, Asami T, Kobayashi K (1995) Light microscopic and scanning electron microscopic studies on the lingual papillae and stereo structure of the connective tissue cores in cattle. Shigaku (Odontology) 82:1223–1244

Bargmann W (1981) Histologia y anatomia microscopica humana. Expaxs, Barcelona (Quoted by Chamaro et al. 1986)

Chamorro CA, de Paz P, Sandoval J, Fernandez J (1986) Comparative scanning electron-microscopic study of lingual papillae in two species of domestic mammals (Equus caballus and Bos taurus). 1. Gustatory papillae. Acta Anat 125:83–87

Chamorro CA, Fernandez JG, de Paz P, Pelaez B, Sandoval J (1994) Scanning electron-microscopy of wild boar and pig lingual papillae. Histol Histopathol 9:657–667

Chou HC, Chien CL, Lu KS (2001) The distribution of PGP9: 5, BDNF and NGF in the vallate papilla of adult and developing mice. Anat Embryol 204:161–169

El Sharaby AA, Alsafy MA, El-Gendy SA, Wakisaka S (2012) Morphological characteristics of the vallate papillae of the one-humped camel (Camelus dromedarius). Anat Histol Embryol 41(6):402–409. doi:10.1111/j.1439-0264.2012.01149.x

El-Sharaby A, Ueda K, Wakisaka S (2001) Differentiation of the lingual and palatal gustatory epithelium of the rat as revealed by immunohistochemistry of α-gustducin. Arch Histol Cytol 64:401–409

Emura S, Tamada A, Hayakawa D, Chen H, Shoumura S (2000a) Morphology of the dorsal lingual papillae in the barbary sheep Ammotragus lervia. Okajimas Folia Anat Jpn 77(2–3):39–45

Emura S, Tamada A, Hayakawa D, Chen H, Shoumura S (2000b) Morphology of the dorsal lingual papillae in the bush dog (Speothos venaticus). Okajimas Folia Anat Jpn 77:137–142

Emura S, Okumura T, Chen H (2008) Morphology of the lingual papillae and their connective tissue cores in the Cape Hyrax. Okajimas Folia Anat Jpn 85:29–34

Erdunchaolu E, Takehana K, Yamamoto E, Kobayashi A, Cao G, Baiyin Ueda H, Tangkawattana P (2001) Characteristics of dorsal lingual papillae of the bactrian camel (Camelus bactrianus). Anat Histol Embryol 30:147–151

Fahrennbach WH, Knutson DD (1975) Surface adaptation of the vertebrate epidermis to friction. J Invest Dermatol 65:39–44

Hard-af-Segerstated C, Hellekant G (1989) The sweet taste in the calf, II. Glossopharyngeal nerve responses to taste stimulation of the tongue. Physiol Behav 45:1043–1047

Hosley MA, Oakley B (1987) Postnatal development of the vallate papillae and taste buds in rat. Anat Rec 218:216–222

Inatomi M, Kobayashi K (1999) Comparative morphological studies on the tongue and lingual papillae of the Japanese black bear (Carnivora) and the Mountain goat (Artiodactyla). Shigaku (Odontology) 87:313–328

Iwasaki S (2002) Evolution of the structure and function of the vertebrate tongue. J Anat 20:1–13

Iwasaki S, Miyata K, Kobayashi K (1988) Scanning electron microscopic study of the dorsal lingual surface of the squirrel monkey. Acta Anat 132:225–229

Iwasaki S, Yoshizawa H, Kawahara I (1997) Study by scanning electron microscopy of the morphogenesis of three types of lingual papilla in the rat. Anat Rec 247:528–541

Kobayashi K, Miyata K, Takahashi K, Iwasaki S (1988) Developmental and morphological changes in dog lingual papillae and their connective tissue papillae. In: Regeneration and development, Proceedings of the 6th international M. Singer Symposium, Maebashi, Japan, pp 609–618

Kobayashi K, Mitaka K, Asami T, Kitajima K, Takahashi K, Iwasaki S, Sasagawa I (1989a) Three-dimensional structure of the connective tissue core of the lingual papillae in the crab-eating macaque (Macaca fascicularis). Shigaku 77(4):1308–1317

Kobayashi K, Miyata K, Iwasaki S, Takahashi K (1989b) Three-dimensional structure of the connective tissue papillae of the tongue in Suncus murinus. Jpn J Oral Biol 31(4):363–371

Kubota K (1988) Guide book of anatomy—the way to clarification of the mastication system. Nihon-Shika-Hyoron, Tokyo, pp 50–65

Kumar P, Kumar S, Singh S (1998) Tongue papillae in the goat: a scanning electron microscopic study. Anat Histol Embryol 27:355–357

Kurtul I, Atalgin SH (2008) Scanning electron microscopic study on the structure of the lingual papillae of the Saanen goat. Small Rumin Res 80:52–56

Miyata K, Iwasaki S, Takahashi K (1990) Three-dimensional structure of the connective tissue papillae of tongue in Suncus murinus. Jpn J Oral Biol 31:363–371

Omran SN (1978) Morphological and histochemical studies on the tongue of camel (Camelus dromedarius). MVS Thesis, Vet Med Baghdad, Iraq

Prakash P, Rao GS (1980) Anatomical and neurohistological studies on the tongue of the Indian buffalo (Bubalus bubalis). Acta Anat 107:373–383

Qayyum MA, Beg ANM (1975) Anatomical and neurohistological observations on the tongue of the Indian goat, Capra aegagrus. Acta Anat 93:554–567

Qayyum MA, Fatani JA, Mohajir AM (1988) Scanning electron microscopic study of the lingual papillae of the one-humped camel Camelus dromedarius. J Anat 160:21–26

Scala G, Mirabella N, Corona M, Pelagalli GV (1995) Morphostructural characteristics of the vallate papillae in Bos taurus. Ital J Anat Embryol 100(Suppl 1):359–365

Sperry DG, Wassersug RT (1976) A proposed function for microridges on epithelial cells. Anat Rec 185:253–258

Tadjalli M, Pazhoomand R (2004) Tongue papillae in lambs: a scanning electron microscopic study. Small Rumin Res 54:157–164

Wakisaka S, Daikoku H, Miyawaki Y, Youn SH, Maeda T, Kurisu K (1998) Immunohistochemical observation of growth-associated protein 43 (GAP-43) in the developing circumvallate papilla of the rat. Cell Tissue Res 293:499–507
About this article
Cite this article
El Sharaby, A.A., El-Gendy, S.A., Alsafy, M.A. et al. Morphological variations of the vallate papillae in some mammalian species. Anat Sci Int 89, 161–170 (2014). https://doi.org/10.1007/s12565-013-0215-9
Received:

Accepted:

Published:

Issue Date:
Keywords
Tongue

Vallate papilla

Taste buds

Morphology

Scanning electron microscopy