Abstract
The role of transitional vertebra in spondylolisthesis is still an enigma. Theoretically, obstruction of movements in the L5-S1 joint should provoke hypermobility at the L4–L5 vertebrae, thus leading to the development of spondylolisthesis. The aim of this study was to inquire whether a positive association exists between sacralization and spondylolisthesis. For this purpose, CT images of 436 consecutive patients were examined for the presence of sacralization and spondylolisthesis. The sample was divided into two groups: a sacralization group and non-sacralization group. Independent variables considered were age, sex and degree of lordosis. Sacralization was found in 13.1 % of the individuals examined. It was found to be gender- and age-independent (P > 0.05), Spondylolisthesis was identified in 7.3 % of the individuals examined and found to be gender independent (P > 0.05), and age dependent (P < 0.05). No association between the presence of sacralization and spondylolisthesis was found. The mean lordosis angle in the spondylolisthesis group was 60.41° compared with 50.84° in patients without spondylolisthesis. No association was found between sacralization and the angle of lordosis (P > 0.05). The current study did not reveal an association between sacralization and spondylolisthesis and as such sacralization should not be considered an etiology for the development of degenerative spondylolisthesis.
Access options
Buy single article
Instant access to the full article PDF.
US$ 39.95
Tax calculation will be finalised during checkout.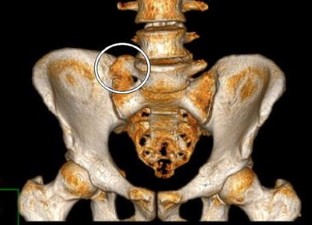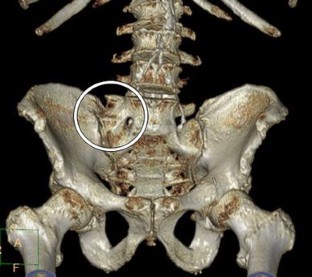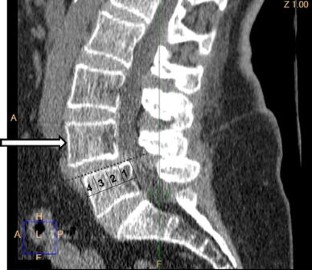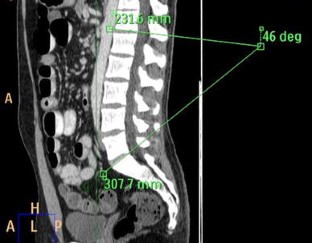 References
Aihara T, Takahashi K, Ogasawara A et al (2005) Intervertebral disc degeneration associated with lumbosacral transitional vertebrae: a clinical and anatomical study. J Bone Joint Surg Br 87(5):687–691

Been E, Li L, Hunter DJ et al (2011) Geometry of the vertebral bodies and the intervertebral discs in lumbar segments adjacent to spondylolysis and spondylolisthesis: pilot study. Eur Spine J 20(7):1159–1165

Bron JL, van Royen BJ, Wuisman PI (2007) The clinical significance of lumbosacral transitional anomalies. Acta Orthop Belg 73:687–695

Castellvi AE, Goldstein LA, Chan DP (1984) Lumbosacral transitional vertebrae and their relationship with lumbar extradural defects. Spine 9:493–495

Cinotti G, Postacchini F, Fassari F et al (1997) Predisposing factors in degenerative spondylolisthesis. A radiographic and CT study. Int Orthop 21(5):337–342

Delport EG, Cucuzzella TR, Kim N et al (2006) Lumbosacral transitional vertebrae: incidence in a consecutive patient series. Pain Physician 9:53–56

Elsawaf A, Mastronardi L, Roperto R et al (2009) Effect of cervical dynamics on adjacent segment degeneration after anterior cervical fusion with cages. Neurosurg Rev 32(2):215–224

Frymoyer JW, Hanley EN Jr, Howe J et al (1979) A comparison of radiographic findings in fusion and nonfusion patients ten or more years following lumbar disc surgery. Spine 4(5):435–440

Funao H, Tsuji T, Hosogane N et al (2012) Comparative study of spinopelvic sagittal alignment between patients with and without degenerative spondylolisthesis. Eur Spine J 21(11):2181–2187

Gillet P (2003) The fate of the adjacent motion segments after lumbar fusion. J Spinal Disord Tech 16(4):338–345

Hammerberg KW (2005) New concepts on the pathogenesis and classification of spondylolisthesis. Spine 30(6):S4–S11

Harrison DE, Harrison DD, Cailliet R et al (2001) Radiographic analysis of lumbar lordosis: centroid, Cobb, TRALL, and Harrison posterior tangent methods. Spine 26(11):E235–E242

Hughes RJ, Saifuddin A (2004) Imaging of lumbosacral transitional vertebrae. Clin Radiol 59:984–991

Kim YH, Lee PB, Lee CJ et al (2008) Dermatome variation of lumbosacral nerve roots in patients with transitional lumbosacral vertebrae. Anesth Analg 106:1279–1283

Konin GP, Walz DM (2010) Lumbosacral transitional vertebrae: classification, imaging findings, and clinical relevance. AJNR Am J Neuroradiol 31(10):1778–1786

Kong CG, Park JS, Park JB (2008) Sacralization of L5 in radiological studies of degenerative spondylolisthesis at L4-L5. Asian Spine J 2(1):34–37

Lee CH, Park CM, Kim KA et al (2007) Identification and prediction of transitional vertebrae on imaging studies: anatomical significance of paraspinal structures. Clin Anat 8:905–914

Luk KD, Ho HC, Leong JC (1986) The iliolumbar ligament. A study of its anatomy, development and clinical significance. J Bone Joint Surg Br 68(2):197–200

Luoma K, Vehmas T, Raininko R et al (2004) Lumbosacral transitional vertebra: relation to disc degeneration and low back pain. Spine 29(2):200–205

Otani K, Konno S, Kikuchi S (2001) Lumbosacral transitional vertebrae and nerve-root symptoms. J Bone Joint Surg Br 83:1137–1140

Paraskevas G, Tzaveas A, Koutras G et al (2009) Lumbosacral transitional vertebra causing Bertolotti's syndrome: a case report and review of the literature. Cases J 2:8320

Schuller S, Charles YP, Steib JP (2011) Sagittal spinopelvic alignment and body mass index in patients with degenerative spondylolisthesis. Eur Spine J 20(5):713–719

Sealey RJ, Myerson MS, Molloy A et al (2009) Sagittal plane motion of the hindfoot following ankle arthrodesis: a prospective analysis. Foot Ankle Int 30(3):187–196

Taskaynatan MA, Izci Y, Ozgul A et al (2005) Clinical significance of congenital lumbosacral malformations in young male population with prolonged low back pain. Spine 30:E210–E213

Vergauwen S, Parizel PM, van Breusegem L et al (1997) Distribution and incidence of degenerative spine changes in patients with a lumbo-sacral transitional vertebra. Eur Spine J 6(3):168–172

Yamamoto I, Panjabi MM, Oxland TR et al (1990) The role of the iliolumbar ligament in the lumbosacral junction. Spine 15(11):1138–1141
Acknowledgment
The authors thank Mrs. Phyllis Curchack Kornspan for her editorial services.
Conflict of interest
None.
About this article
Cite this article
Dar, G., Peled, N. The association between sacralization and spondylolisthesis. Anat Sci Int 89, 156–160 (2014). https://doi.org/10.1007/s12565-013-0213-y
Received:

Accepted:

Published:

Issue Date:
Keywords
Sacralization

Spondylolisthesis

Stability

Lumbar lordosis

Transitional vertebra

Transition zone