Abstract
The purpose of this study was to describe the computed tomographic (CT) anatomy of normal donkey head cavities to be used as a basis for interpretation of CT images of donkey. Six adult donkeys' heads of undetermined sex were used in this study. The donkey heads were divided into three regions—nasal, orbital, and cranial—to show the morphology of the following cavities: nasal cavity, paranasal sinuses, orbital cavity, oral cavity, pharyngeal cavity, especially the guttural pouch, cranial cavity and temporomandibular joint. The donkey head had six pairs of sinuses: three paranasal (the frontal, maxillary and sphenopalatine sinuses) and three nasal (dorsal, middle and ventral conchal) sinuses. The maxillary sinus was subdivided into rostral and caudal compartments by a thin incomplete bony septum that was identified and labeled according to cheek teeth landmarks. The topographic description and relationship between the nasal, oral, orbital, cranial, temporomandibular joint, pharyngeal cavities and paranasal sinuses were demonstrated. The articular disc, articular surface and joint capsule of the temporomandibular joint were indicated easily in our CT and cross sectional images.
Access options
Buy single article
Instant access to the full article PDF.
US$ 39.95
Tax calculation will be finalised during checkout.
Subscribe to journal
Immediate online access to all issues from 2019. Subscription will auto renew annually.
US$ 79
Tax calculation will be finalised during checkout.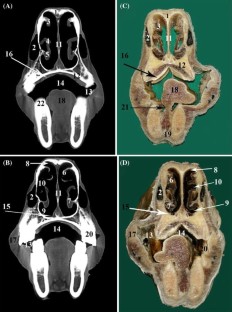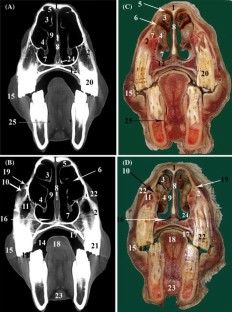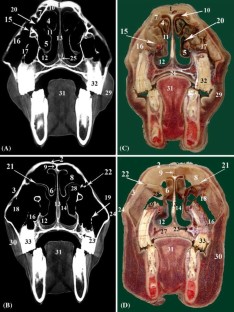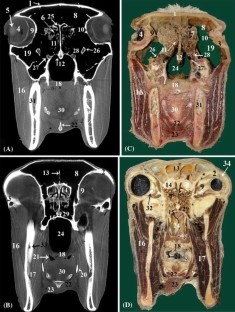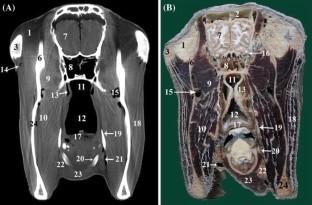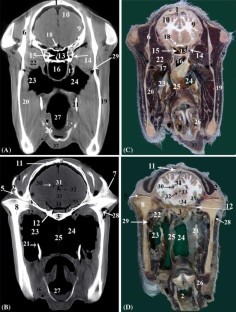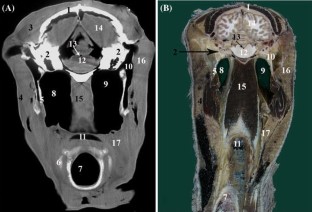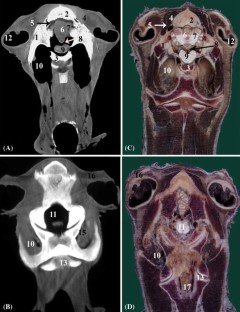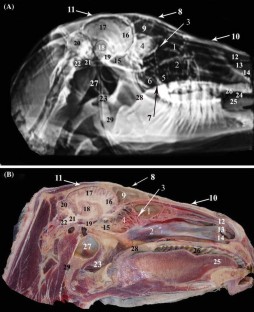 References
Alsafy MAM, El-Kammar MH, El-Gendy SAA (2008) Topographical anatomy, computed tomography, and surgical approach of the guttural pouches of the donkey. J Equine Vet Sci 28(4):215–222

Alsafy MAM, El-Gendy SAA, El Sharaby AA (2012) Anatomic reference for computed tomography of paranasal sinuses and their communication in the Egyptian Buffalo (Bubalus bubalis). Anat Histol Embryol 42:220–231

Arencibia A, Vazquez JM, Rivero MA, Latorre R, Sanoval JA, Vilar JM, Ramirez G (2000) Computed tomography of normal cranioencephalic structures in two horses. Anat Histol Embryol 29:295–299

Arencibia A, Rivero MA, Gil F, Ramirez JA, Corbera JA, Ramirez G, Vazquez JM (2005) Anatomy of the cranioencephalic structures of the Camel (Camelus dromedarius L.) by imaging techniques: a magnetic resonance imaging study. Anat Histol Embryol 34:52–55

Arencibia A, Blanco D, Gonzalez N, Rivero MA (2012) Computed tomography and magnetic resonance imaging features of the temporomandibular joint in two normal camels. Anat Res Int 2012:242065. doi:10.1155/2012/242065

Budras KD, Sack WO, Rock S (2001) Anatomy of the horse—an illustrated text, 3rd edn. Schlutersche, Hannover

Budras KD, Habel RE, Wunsche A, Buda S (2003) Bovine anatomy—an illustrated text, 1st edn. Schlutersche, Hannover, pp 34–35

Gibbs C (1999) Dental imaging. In: Baker GJ, Easley J (eds) Equine dentistry. Saunders, Philadelphia, pp 139–169

Hathcock JT, Pugh DG, Cartee RE, Hammond L (1995) Computed tomography of the llama head: technique and normal anatomy. Vet Radiol Ultrasound 36:290–296

Marshall K, Zahra A (2000) Gender issues in donkey use in rural Ethiopia. In: Starkey P, Fielding D (eds) Donkeys, people and development. Are source book of the Animal Traction Network for Eastern and Southern Africa (ATNESA). ACP-EU Technical Centre for Agricultural and Rural Cooperation (CTA). Wageningen, The Netherlands, pp 64–70

Morrow KL, Park RD, Spurgeon TL, Stashak TS, Arceneaux B (2000) Computed tomographic imaging of the equine head. Vet Radiol Ultrasound 41(6):491–497

Nickel R, Schummer A, Seiferle E (1986) The anatomy of the domestic animals. Volume I. The locomotor system of domestic mammals. Translation from the 5th German edition. Parey, Berlin, pp 137–158

Omar A, Khdr I, Kamel A, Abdel-Maaboud M, El-Seddawy F (1985) Surgical and anatomical studies of the paranasal sinuses of the donkey. The Nineth Scientific Conference of the Egyptian society of histology and cytology. Held at Faculty of Medicine, Al-Azhar University, 26 December 1985

Probst A, Henninger W, Willmann M (2005) Communications of normal nasal and paranasal cavities in computed tomography of horses. Vet Radiol Ultrasound 46(1):44–48

Solano M, Brawer RS (2004) CT of the equine head: technical considerations, anatomical guide and selected diseases. Clin Tech Equine Pract 3:374–388

Starkey P (1997) Donkey work. In: Svendsen ED (ed) The professional handbook of the donkey, 3rd edn. Whittet, London, pp 183–206

Thiemann AK, Bell NJ (2001) The peculiarities of donkey respiratory disease. In: Lekeux P (ed) Equine respiratory diseases. International Veterinary Information Service (http://www.ivis.org), Ithaca
About this article
Cite this article
El-Gendy, S.A.A., Alsafy, M.A.M. & El Sharaby, A.A. Computed tomography and sectional anatomy of the head cavities in donkey (Equus asinus). Anat Sci Int 89, 140–150 (2014). https://doi.org/10.1007/s12565-013-0209-7
Received:

Accepted:

Published:

Issue Date:
Keywords
Computed tomography

Sectional anatomy

Head cavities

Donkey

Head

Nasal cavity