Abstract
A leptomeningeal mass was encountered during microdissection of a 63-year-old male cadaver, located dorsal to the left side of the medulla oblongata. The structure was compressing the posterior inferior cerebellar artery (PICA) and was composed of cerebellar-like tissue. Immunohistochemistry for S100 protein, glial fibrillary acidic protein and neurofilaments (NF, the triplet proteins and the 200 kD antibody) on paraffin-embedded samples confirmed the cerebellar heterotopion. Abundant Lewy-like degenerative bodies were also identified within the heterotopion; they were positive for the NF triplet and negative for the 200 kD neurofilaments. Purkinje cells were rare. This is the first evidence of a leptomeningeal cerebellar heterotopia in contact with PICA in adult. Such subtentorial heterotopias, even if rare, should be searched for during clinical, paraclinical and surgical explorations of the posterior fossa.
Access options
Buy single article
Instant access to the full article PDF.
USD 39.95
Price includes VAT (USA)
Tax calculation will be finalised during checkout.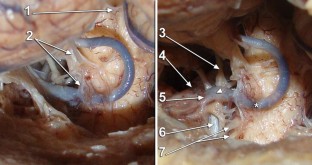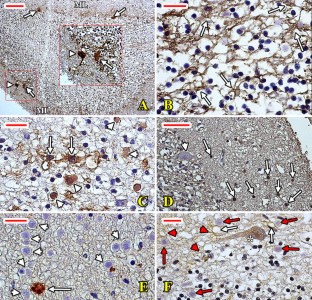 References
Billings KJ, Danziger FS (1973) Cerebellar heterotopia. Case report. J Neurosurg 38:218–220

Chang AH, Kaufmann WE, Brat DJ (2001) Ectopic cerebellum presenting as a suprasellar mass in infancy: implications for cerebellar development. Pediatr Dev Pathol 4:89–93

Farhat SM, Hudson JS (1969) Extracerebral brain heterotopia. Case report. J Neurosurg 30:190–194

Goldman JE, Yen SH, Chiu FC, Peress NS (1983) Lewy bodies of Parkinson's disease contain neurofilament antigens. Science 221:1082–1084

Guibaud L, Devonec S, Desportes V, Roth P, Gaucherand P, Pracros JP (2005) Extracerebellar ectopic brain tissue in the posterior fossa. Ultrasound Obstet Gynecol 26:687–689

Hill WD, Arai M, Cohen JA, Trojanowski JQ (1993) Neurofilament mRNA is reduced in Parkinson's disease substantia nigra pars compacta neurons. J Comp Neurol 329:328–336

Marubayashi T, Matsukado Y (1978) Intracranial extracerebral brain heterotopia. Case report. J Neurosurg 48:470–474

Muzumdar D, Michaud J, Ventureyra EC (2006) Anterior cranial base glioneuronal heterotopia. Childs Nerv Syst 22:227–233

Nishio S, Mizuno J, Barrow DL, Takei Y, O'Brien MS (1988) Intracranial extracerebral glioneural heterotopia. Childs Nerv Syst 4:244–248

Oya S, Kawahara N, Aoki S et al (2005) Intracranial extracerebral glioneuronal heterotopia. Case report and review of the literature. J Neurosurg 102:105–112

Ozgen B, Oguz KK, Canyigit M, Mocan MC, Irkec M (2007) Intracranial extracerebral glioneuronal heterotopia with fetal laminar organization on MR imaging. Pediatr Radiol 37:717–719

Patel S, Barkovich AJ (2002) Analysis and classification of cerebellar malformations. Am J Neuroradiol 23:1074–1087

Wakai S, Nakamura K, Arai T, Nagai M (1983) Extracerebral neural tissue mass in the middle cranial fossa extending into the oropharynx in a neonate. Case report. J Neurosurg 59:692–696

Walsh L (2003) Congenital malformations of the human brainstem. Semin Pediatr Neurol 10:241–251
Acknowledgments
This study was supported by the Sectoral Operational Programme Human Resources Development (SOP HRD), financed by the European Social Fund and by the Romanian Government under contract number POSDRU/89/1.5/S/64153.
About this article
Cite this article
Rusu, M.C. Adult leptomeningeal cerebellar heterotopia in contact with the posterior inferior cerebellar artery. Anat Sci Int 88, 101–105 (2013). https://doi.org/10.1007/s12565-012-0138-x
Received:

Accepted:

Published:

Issue Date:
Keywords
Lewy body

Posterior cranial fossa

Vertebral artery

Accessory nerve

Brainstem