Abstract
The cleavage pattern of a vertebrate's embryo is either holoblastic (complete) or meroblastic (partial). Sturgeon and other basal bony fishes represent a transition of the cleavage pattern. To understand the transition, it is essential to develop an effective technique for the inhibition of specific blastomere cleavage. So far, various studies have demonstrated that diatom-derived polyunsaturated aldehyde (PUA), 2,4-decadienal (DD)—a model aldehyde for experimental studies—adversely affects the developing embryos of several aquatic species. In this study, we employed DD for inhibition of cleavage of a definite blastomere in sturgeon embryos under various conditions. The effective treatment was found to be a combination of DD injection (0.01 v/v) and visible light (44.86–91.15 W m−2). Notably, DD injection or light irradiation alone cannot inhibit cleavage. Furthermore, spatial RNA localization analysis using quantitative polymerase chain reaction (qPCR)-tomography revealed that the localized pattern of selected maternal messenger ribonucleic acids (mRNAs) remained constant along the animal–vegetal (A-V) axis, which suggests that RNA localization is completed by the end of oogenesis and that early embryonic cleavage is not required for A-V asymmetry preservation.
Access options
Buy single article
Instant access to the full article PDF.
US$ 39.95
Tax calculation will be finalised during checkout.
Subscribe to journal
Immediate online access to all issues from 2019. Subscription will auto renew annually.
US$ 79
Tax calculation will be finalised during checkout.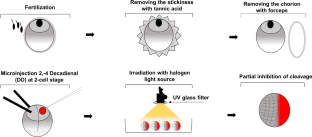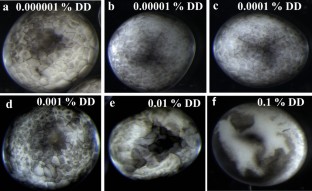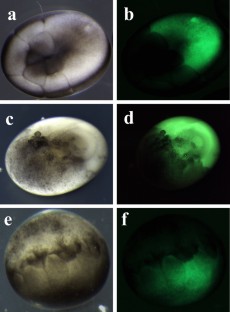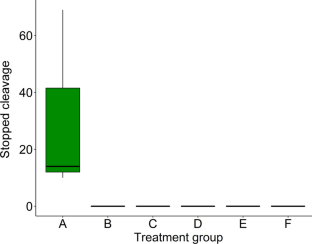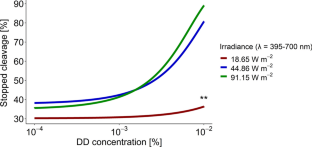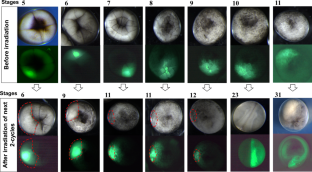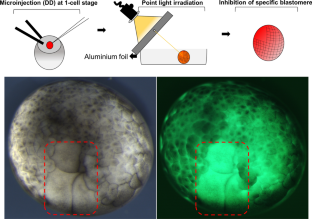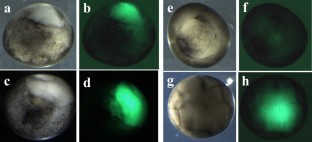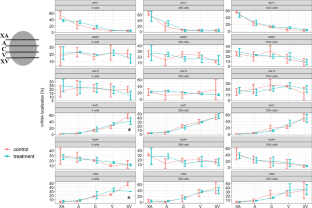 References
Amores A, Force A, Yan YL, Joly L, Amemiya C, Fritz A, Ho RK, Langeland J, Prince V, Wang YL, Westerfield M, Ekker M, Postlethwait JH (1998) Zebrafish hox clusters and vertebrate genome evolution. Science 282:1711–1714

Ballard WW (1986) Stages and rates of normal development in the holostean fish, Amia calva. J Exp Zool 238:337–354

Ballard WW, Ginsburg AS (1980) Morphogenetic movements in acipenserid embryos. J Exp Zool 213:69–103

Baloch AR, Fu M, Rodina M, Metscher B, Tichopád T, Shah MA, Fran R, Psěnička M (2019) Delivery of iron oxide nanoparticles into primordial germ cells in sturgeon. Biomolecules 333:1–10

Bartsch P, Gemballa S, Piotrowski T (1997) The embryonic and larval development of Polypterus senegalus cuvier, 1829: Its staging with reference to external and skeletal features, behaviour and locomotory habits. Acta Zool 78:309–328

Bolker JA (1993) Gastrulation and mesoderm morphogenesis in the white sturgeon. J Exp Zool 266:116–131

Bolker JA (1994) Comparison of gastrulation in frogs and fish. Integr Comp Biol 34:313–322

Bonaventura R, Poma V, Russo R, Zito F, Matranga V (2006) Effects of UV-B radiation on development and hsp70 expression in sea urchin cleavage embryos. Mar Biol 149:79–86

Buchholz DR, Singamsetty S, Karadge U, Williamson S, Langer CE, Elinson RP (2007) Nutritional endoderm in a direct developing frog: a potential parallel to the evolution of the amniote egg. Dev Dyn 236:1259–1272

Caldwell GS, Olive PJWW, Bentley MG (2002) Inhibition of embryonic development and fertilization in broadcast spawning marine invertebrates by water soluble diatom extracts and the diatom toxin 2-trans,4-trans decadienal. Aquat Toxicol 60:123–137

Caldwell GS, Bentley MG, Olive PJW (2004) First evidence of sperm motility inhibition by the diatom aldehyde 2 E, 4 E -decadienal. Mar Ecol Prog Ser 273:96–108

Castellano I, Ercolesi E, Romano G, Ianora A, Palumbo A, Palumbo A (2015) The diatom-derived aldehyde decadienal affects life cycle transition in the ascidian Ciona intestinalis through nitric oxide/ERK signalling. Open Biol 5:1–10

Chiu CH, Dewar K, Wagner GP, Takahashi K, Ruddle F, Ledje C, Bartsch P, Scemama JL, Stellwag E, Fried C, Prohaska SJ, Stadler PF, Amemiya CT (2004) Bichir HoxA cluster sequence reveals surprising trends in ray-finned fish genomic evolution. Genome 14:11–17

Cooper MS, Virta VC (2007) Evolution of gastrulation in the ray-finned (actinopterygian) fishes. J Exp Zool B Mol Dev Evol 308:591–608

Cutignano A, D'Ippolito G, Romano G, Lamari N, Cimino G, Febbraio F, Nucci R, Fontana A (2006) Chloroplastic glycolipids fuel aldehyde biosynthesis in the marine diatom Thalassiosira rotula. ChemBioChem 7:450–456

Fontana A, D'Ippolito G, Cutignano A, Romano G, Lamari N, Gallucci AM, Cimino G, Miralto A, Lanora A (2007) LOX-induced lipid peroxidation mechanism responsible for the detrimental effect of marine diatoms on zooplankton grazers. ChemBioChem 8:1810–1818

Ginsburg AS, Dettlaff TA (1991) The Russian sturgeon Acipenser Güldenstädti. Part I. Gametes and early development up to time of hatching. In: Dettlaff T.A., Vassetzky S.G. (eds) Animal Species for Developmental Studies. Springer, Boston, pp 15–65

Haccard O, Sarcevic B, Lewellyn A, Hartley R, Roy L, Izumi T, Erikson E, Maller JL (1993) Induction of metaphase arrest in cleaving Xenopus embryos by MAP kinase. Science 262:1262–1265

Hansen E, Even Y, Genevière AM (2004) The α, β, γ,∂-unsaturated aldehyde 2-trans-4-trans-decadienal disturbs DNA replication and mitotic events in early sea urchin embryos. Toxicol Sci 81:190–197

Hurley IA, Mueller RL, Dunn KA, Schmidt EJ, Friedman M, Ho RK, Prince VE, Yang Z, Thomas MG, Coates MI (2007) A new time-scale for ray-finned fish evolution. Proc Royal Soc B 274:489–498

Ianora A, Zoologica S, Dohrn A (2003) The effects of diatoms on copepod reproduction: a review. Phycologia 42:351–363

Karasiewicz J, Sottyfiska MS (1986) Effects of cytochalasin B on the cleavage furrow in mouse blastomeres. Wilehm Roux Arch Dev Biol 195:137–141

Li FC, Wang J, Wu MM, Fan CM, Li X, He JM (2017) Mitogen-activated protein kinase phosphatases affect UV-B-induced stomatal closure via controlling NO in guard cells. Plant Physiol 173:760–770

Long WL, Ballard WW (2001) Normal embryonic stages of the longnose gar Lepisosteus osseus. BMC Dev Biol 1:6. https://doi.org/10.1186/1471-213X-1-6

Mann DG (1999) The species concept in diatoms. Phycologia 38:437–495

Masui Y (2000) The elusive cytostatic factor in the animal egg. Nat Rev Mol Cell Biol 1:228–231

Minarik M, Stundl J, Fabian P, Jandzik D, Metscher BD, Psenicka M, Gela D, Osorio-pérez A, Arias-rodriguez L, Horácek I, Cerny R (2017) Pre-oral gut contributes to facial structures in non-teleost fishes. Nature 547:209–212

Miralto A, Barone G, Romano G, Poulet SA, Ianora A, Russo GL, Buttino I, Mazzarella G, Laablr M, Cabrini M, Glacobbe MG (1999) The insidious effect of diatoms on copepod reproduction. Nature 402:173–176

Okado H, Takahashi K (1988) A simple "neural induction" model with two interacting cleavage-arrested ascidian blastomeres. Proc Natl Acad Sci U S A 85:6197–6201

Pocherniaieva K, Psenicka M, Sidova M, Havelka M, Saito T, Sindelka R, Kaspar V (2018) Comparison of oocyte mRNA localization patterns in sterlet Acipenser ruthenus and African clawed frog Xenopus laevis. J Exp Zool B Mol Dev Evol 330:181–187

Pohnert G (2000) Wound-activated chemical defense in unicellular planktonic algae. Angew Chem Int Ed 39:4352–4354

Poulet S, Lange M, Cordevant C, Adolph S, Cueff A, Pohnert G, Lumineau O (2007) Are volatile unsaturated aldehydes from diatoms the main line of chemical defence against copepods? Mar Ecol Prog Ser 245:33–45

Ravi V, Venkatesh B (2008) Rapidly evolving fish genomes and teleost diversity. Curr Opin Genet Dev 18:544–550

Romano G (2003) A marine diatom-derived aldehyde induces apoptosis in copepod and sea urchin embryos. J Exp Biol 206:3487–3494

Romano G, Miralto A, Ianora A (2010) Teratogenic effects of diatom metabolites on sea urchin Paracentrotus lividus embryos. Mar drugs 8:950–967

Romano G, Costantini M, Buttino I, Ianora A, Palumbo A (2011) Nitric oxide mediates the stress response induced by diatom aldehydes in the sea urchin Paracentrotus lividus. PLoS ONE 6(10):e25980. https://doi.org/10.1371/journal.pone.0025980

Rooney RD, Tuazon PT, Meek WE, Carroll EJ, Hagen JJ, Gump EL, Monnig CA, Lugo T, Traugh JA (1996) Cleavage arrest of early frog embryos by the G protein-activated protein kinase PAK I. J Biol Chem 271:21498–21504

Rutz J, Maxeiner S, Juengel E, Bernd A, Kippenberger S, Zöller N, Chun FKH, Blaheta RA (2019) Growth and proliferation of renal cell carcinoma cells is blocked by low curcumin concentrations combined with visible light irradiation. Int J Mol Sci 20(6):1464. https://doi.org/10.3390/ijms20061464

Sabharwal T, Sathasivan K, Mehdy MC (2017) Defense related decadienal elicits membrane lipid remodeling in the diatom Phaeodactylum tricornutum. PLoS ONE. https://doi.org/10.1371/journal.pone.0178761

Sagata N, Watanabe N, Vande Woude GF, Ikawa Y (1989) The c-mos proto-oncogene product is a cytostatic factor responsible for meiotic arrest in vertebrate eggs. Nature 342:512–518

Saito T, Psenicka M (2015) Novel technique for visualizing primordial germ cells in sturgeons (Acipenser ruthenus, A. gueldenstaedtii, A. baerii, and Huso huso). Biol Reprod 93:1–7

Saito T, Psěnička M, Goto R, Adachi S, Inoue K, Arai K, Yamaha E, Pšenička M, Goto R, Adachi S, Inoue K, Arai K, Yamaha E (2014) The origin and migration of primordial germ cells in sturgeons. PLoS ONE 9(2):e86861. https://doi.org/10.1371/journal.pone.0086861

Saito T, Hilal G, Iegorova V, Rodina M, Psenicka M (2018) Elimination of primordial germ cells in sturgeon embryos by ultraviolet irradiation. Biol Reprod 99:556–564

Sander K (1997a) "Mosaic work" and "assimilating effects" in embryogenesis: Wilhelm Roux's conclusions after disabling frog blastomeres. In: Sander K et al (eds) Landmarks in Developmental Biology 1883–1924: Historical Essays from Roux's Archives. Springer, Berlin Heidelberg, pp 13-15. https://doi.org/10.1007/978-3-642-60492-8_5

Sander K (1997b) Shaking a concept: Hans Driesch and the varied fates of sea urchin blastomeres. In: Sander K et al (eds) Landmarks in Developmental Biology 1883–1924: Historical Essays from Roux's Archives. Springer, Berlin Heidelberg, pp 29–31. https://doi.org/10.1007/978-3-642-60492-8_10

Siegfried W, De L, Luchtel D, Bluemink JG (1973) The action of cytochalasin B during egg cleavage in Xenopus laevis: dependence on cell membrane permeability. Dev Biol 31:163–177

Sindelka R, Sidova M, Svec D, Kubista M (2010) Spatial expression profiles in the Xenopus laevis oocytes measured with qPCR tomography. Methods 51:87–91

Takeuchi M, Takahashi M, Okabe M, Aizawa S (2009) Germ layer patterning in bichir and lamprey; an insight into its evolution in vertebrates. Dev Biol 332:90–102

Takeuchi M, Okabe M, Aizawa S (2009) The genus Polypterus (Bichir); a fish group diverged at the stem of ray-finned fishes (Actinopterygii). Cold Spring Harb Protoc. https://doi.org/10.1101/pdb.emo117

Tosti E, Romano G, Buttino I, Cuomo A, Ianora A, Miralto A (2003) Bioactive aldehydes from diatoms block the fertilization current in ascidian oocytes. Mol Reprod Dev 66:72–80

Valles JM, Jordan WB, Mowry KL, Lin K, Denegre JM (2002) Cleavage planes in frog eggs are altered by strong magnetic fields. Proc Natl Acad Sci U S A 95:14729–14732

Wishart DS, Tzur D, Knox C (2007) HMDB: The Human Metabolome Database. Nucleic Acids Res (2012-09-11). Metabocard for (E,E)-2,4-Decadienal (HMDB0036598). https://hmdb.ca/metabolites/HMDB0036598

Yew N, Oskarsson M, Daar I, Blair DG, Vande Woude GF (1991) mos gene transforming efficiencies correlate with oocyte maturation and cytostatic factor activities. Mol Cell Biol 11:604–610

Zhao C, Zhang L, Shi D, Chi X, Yin D, Sun J, Ding J, Yang M, Chang Y (2018) Carryover effects of short-term UV-B radiation on fitness related traits of the sea urchin Strongylocentrotus intermedius. Ecotoxicol Environ Saf 164:659–664
Acknowledgements
The authors are grateful to all lab members of the Laboratory of Germ Cells, Faculty of Fisheries and Protections of Waters, University of South Bohemia in Ceske Budejovice for their help during the experiments. The authors thank the Ministry of Education, Youth and Sports of the Czech Republic project CENAKVA (LM2018099), Biodiversity (CZ.02.1.01/0.0/0.0/16_025/0007370), Czech Science Foundation (20-23836S) and Grant Agency of the University of South Bohemia (036/2020/Z) for their financial support.
Ethics declarations
Conflict of interest
All authors declare that they have no conflict of interest.
Additional information
Publisher's Note
Springer Nature remains neutral with regard to jurisdictional claims in published maps and institutional affiliations.
Electronic supplementary material
Below is the link to the electronic supplementary material.
Supplementary file2 (MPEG 14760 KB)
About this article
Cite this article
Shah, M.A., Saito, T., Šindelka, R. et al. Novel technique for definite blastomere inhibition and distribution of maternal RNA in sterlet Acipenser ruthenus embryo. Fish Sci 87, 71–83 (2021). https://doi.org/10.1007/s12562-020-01481-7
Received:

Accepted:

Published:

Issue Date:
Keywords
Cleavage pattern inhibition

2,4-Decadienal

Light irradiation

qPCR /tomography

RNA localization

Sterlet Acipenser ruthenus