Abstract
Arsenic toxicity in an aquatic environment is a major concern, and its elimination has become a global challenge. In the current study, histopathology, serum biomarkers and cytokine gene expression were comparatively examined in fish fed with a control diet or diets containing Chlorella vulgaris (Ch) after exposure to sodium arsenite (NaAsO2) in Nile tilapia (Oreochromis niloticus) with the aim of evaluating the protective role of Ch against arsenite-induced toxicity. Severe histopathological alterations were evident in fish exposed to 7 ppm (parts per million) arsenite for 21 days, compared to unexposed fish. Levels of serum biomarkers ALT, AST, ALP, urea and creatinine were increased, but the levels of Na+, total proteins, albumins and globulins were decreased. Moreover, the expression of all the cytokine genes examined, including IL-1β (7-fold), TNF-α (14-fold) and TGF-β1 (13-fold), were significantly upregulated after arsenite exposure. However, in fish fed with diets containing 5% or 10% Ch, the histopathological alterations in the gills, liver and head kidney were reduced, the biomarkers were stabilized, and the upregulation of cytokine gene expression was lowered, with the high Ch diet (10%) showing more prominent effects. These results suggest the protective and therapeutic roles of Ch as a feed supplement in Nile tilapia against arsenic induced toxicity.
Access options
Buy single article
Instant access to the full article PDF.
USD 39.95
Price excludes VAT (USA)
Tax calculation will be finalised during checkout.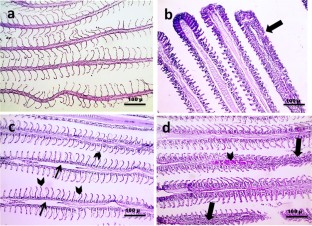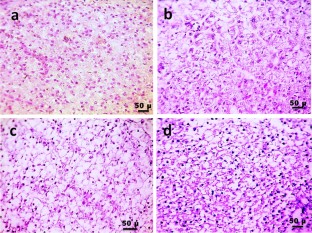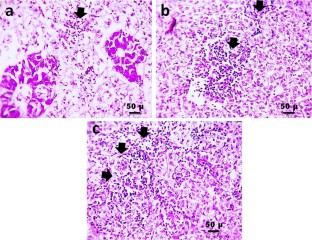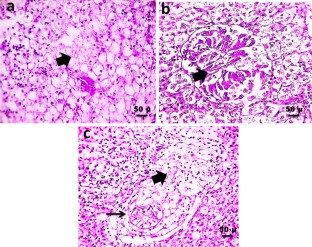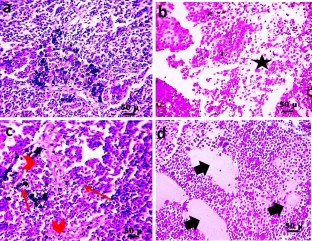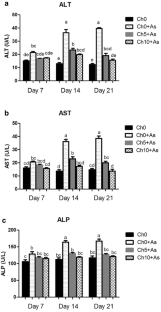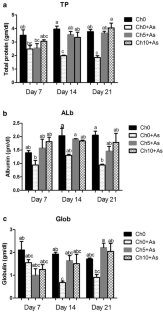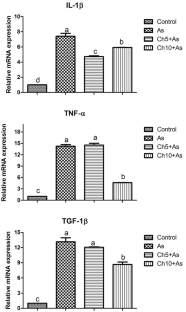 References
Abdel-Tawwab M, Mousa MA, Ahmad MH, Sakr SF (2007) The use of calcium pre-exposure as a protective agent against environmental copper toxicity for juvenile Nile tilapia, Oreochromis niloticus (L.). Aquaculture 264:236–246

Ahmed MK, Habibullah-Al-Mamun M, Parvin E et al (2013) Arsenic induced toxicity and histopathological changes in gill and liver tissue of freshwater fish, tilapia (Oreochromis mossambicus). Exp Toxicol Pathol 65:903–909

Aly HA, El-Shitany NA, El-Beshbishy HA, Ashour OM (2015) Ameliorative effect of lycopene against 2, 3, 7, 8-tetrachlorodibenzo-p-dioxin-induced rat liver microsomal toxicity: an in vitro study. Toxicol Ind Health 31:938–950

Andrews SR, Sahu NP, Pal AK, Kumar S (2009) Haematological modulation and growth of Labeo rohita fingerlings: effect of dietary mannan oligosaccharide, yeast extract, protein hydrolysate and chlorella. Aquac Res 41:61–69

Aruljothi B (2014) Effect of arsenic on lipid peroxidation and antioxidants system in fresh water fish, labeo rohita. Int J Mod Res Rev 2:15–19

ATSDR (2002) Toxicological profile for arsenic. agency for toxic substances and disease registry. Washington, DC, SUDHHS, PHS

Avigliano E, Schenone NF, Volpedo AV, Goessler W, Cirelli AF (2015) Heavy metals and trace elements in muscle of silverside (Odontesthes bonariensis) and water from different environments (Argentina): aquatic pollution and consumption effect approach. Sci Total Environ 506:102–108

Bancroft D, Stevens A, Turner R (1996) Theory and practice of histological techniques. Churchill Livingstone, New York

Bengwayan PT, Laygo JC, Pacio AE, Poyaoan JLZ, Rebugio JF, Yuson ALL (2010) A comparative study on the antioxidant property of Chlorella (Chlorella sp.) tablet and glutathione Tablet. Int Sci Res J 2:25–32

Benhamed S, Guardiola FA, Martínez S et al (2016) Exposure of the gilthead seabream (Sparus aurata) to sediments contaminated with heavy metals down-regulates the gene expression of stress biomarkers. Toxicol Rep 3:364–372

Benli AÇK, Köksal G, Özkul A (2008) Sublethal ammonia exposure of Nile tilapia (Oreochromis niloticus L.): effects on gill, liver and kidney histology. Chemosphere 72:1355–1358. https://doi.org/10.1016/j.chemosphere.2008.04.037

Camargo MM, Martinez CB (2007) Histopathology of gills, kidney and liver of a Neotropical fish caged in an urban stream. Neotrop Ichthyol 5:327–336

Capkin E, Birincioglu S, Altinok I (2009) Histopathological changes in rainbow trout (Oncorhynchus mykiss) after exposure to sublethal composite nitrogen fertilizers. Ecotoxicol Environ Saf 72:1999–2004

Cheng D, Wan Z, Zhang X, Li J, Li H, Wang CJN (2017) Dietary Chlorella vulgaris ameliorates altered immunomodulatory functions in cyclophosphamide-induced immunosuppressive mice. Nutrients 9:708

Cobbina SJ et al (2015) A multivariate assessment of innate immune-related gene expressions due to exposure to low concentration individual and mixtures of four kinds of heavy metals on zebrafish (Danio rerio) embryos. Fish Shellfish Immunol 47:1032–1042

Correia TG, Narcizo AdM, Bianchini A, Moreira RG (2010) Aluminum as an endocrine disruptor in female Nile tilapia (Oreochromis niloticus). Comp Biochem Physiol C Toxicol Pharmacol 151:461–466

Crestani M et al (2007) Effect of clomazone herbicide on biochemical and histological aspects of silver catfish (Rhamdia quelen) and recovery pattern. Chemosphere 67:2305–2311

Datta S, Saha DR, Ghosh D, Majumdar T, Bhattacharya S, Mazumder S (2007) Sub-lethal concentration of arsenic interferes with the proliferation of hepatocytes and induces in vivo apoptosis in (Clarias batrachus) L. Comp Biochem Physiol C Toxicol Pharmacol 145:339–349

Duker AA, Carranza E, Hale M (2005) Arsenic geochemistry and health. Environ Int 31:631–641

Elgaml SA, Khalil R, Hashish EA, El-Murr A (2015) Protective effects of selenium and alpha-tocopherol against lead-induced hepatic and renal toxicity in Oreochromis Niloticus. J Aquac Res Dev 6:2

Elia AC et al (2018) A comparative study on subacute toxicity of arsenic trioxide and dimethylarsinic acid on antioxidant status in Crandell Rees feline kidney (CRFK), human hepatocellular carcinoma (PLC/PRF/5), and epithelioma papulosum cyprini (EPC) cell lines. J Toxicol Environ Health A 81:333–348

Figueiredo-Fernandes A, Ferreira-Cardoso JV, Garcia-Santos S, Monteiro SM, Carrola J, Matos P, Fontaínhas-Fernandes A (2007) Histopathological changes in liver and gill epithelium of Nile tilapia, Oreochromis niloticus, exposed to waterborne copper. Pesquisa Veterinária Brasileira 27:103–109

Fırat Ö, Cogun HY, Yüzereroğlu TA, Gök G, Fırat Ö, Kargin F, Kötemen Y (2011) A comparative study on the effects of a pesticide (cypermethrin) and two metals (copper, lead) to serum biochemistry of Nile tilapia, Oreochromis niloticus. Fish Physiol Biochem 37:657–666

Geist J, Werner I, Eder KJ, Leutenegger CM (2007) Comparisons of tissue-specific transcription of stress response genes with whole animal endpoints of adverse effect in striped bass (Morone saxatilis) following treatment with copper and esfenvalerate. Aquat Toxicol 85:28–39

Ghorbel I, Maktouf S, Fendri N, Jamoussi K, Ellouze Chaabouni S, Boudawara T, Zeghal N (2015) Coexposure to aluminum and acrylamide disturbs expression of metallothionein, proinflammatory cytokines and induces genotoxicity: biochemical and histopathological changes in the kidney of adult rats. Environ Toxicol 31:1044–1058

Gonzalez HO, Roling JA, Baldwin WS, Bain LJ (2006) Physiological changes and differential gene expression in mummichogs (Fundulus heteroclitus) exposed to arsenic. Aquat Toxicol 77:43–52

Guerriero G, Avino M, Zhou Q, Fugelstad J, Clergeot PH, Bulone V (2010) Chitin synthases from Saprolegnia are involved in tip growth and represent a potential target for anti-oomycete drugs. PLoS Pathog. https://doi.org/10.1371/journal.ppat.1001070

Hamias R, Wolak T, Huleihel M, Paran E, Levy-Ontman OJB (2018) Red alga polysaccharides attenuate angiotensin II-induced inflammation in coronary endothelial cells. J Biochem Biophys Res Commun 500:944–951

Harvey R, Kubena L, Elissalde M (1994) Influence of vitamin E on aflatoxicosis in growing swine. Am J Vet Res 55:572–577

Hasegawa T et al (1997) Effect of hot water extract of Chlorella vulgaris on cytokine expression patterns in mice with murine acquired immunodeficiency syndrome after infection with Listeria monocytogenes. Immunopharmacology 35:273–282

Hwang P, Tsai Y (1993) Effects of arsenic on osmoregulation in the tilapia Oreochromis mossambicus reared in seawater. Mar Biol 117:551–558

Jancsó Z, Hermesz E (2015) Impact of acute arsenic and cadmium exposure on the expression of two haeme oxygenase genes and other antioxidant markers in common carp (Cyprinus carpio). J Appl Toxicol 35:310–318

Jiang G et al (2003) Effect of arsenic trioxide on cytokine expression by acute promyelocytic leukemia cells. Chin Med J 116:1639–1643

Jin Y, Liu Z, Liu F, Ye Y, Peng T, Fu Z (2015) Embryonic exposure to cadmium (II) and chromium (VI) induce behavioral alterations, oxidative stress and immunotoxicity in zebrafish (Danio rerio). Neurotoxicol Teratol 48:9–17

Kabilan N et al (2013) The combined effects of mercury chloride and cadmium chloride metals on plasma electrolytes of a fish, Lates Calcarifer. Int J Anal Bioanal Chem 3:183–188

Kamat JP, Boloor KK, Devasagayam TP (2000) Chlorophyllin as an effective antioxidant against membrane damage in vitro and ex vivo. Mol Cell Biol Lipids 1487:113–127

Kan Y, Cengiz EI, Ugurlu P, Yanar M (2012) The protective role of vitamin E on gill and liver tissue histopathology and micronucleus frequencies in peripheral erythrocytes of Oreochromis niloticus exposed to deltamethrin. Environ Toxicol Pharmacol 34:170–179

Karan V, Vitorović S, Tutundžić V, Poleksić V (1998) Functional enzymes activity and gill histology of carp after copper sulfate exposure and recovery. Ecotoxicol Environ Saf 40:49–55

Kavitha C, Malarvizhi A, Senthil Kumaran S, Ramesh M (2010) Toxicological effects of arsenate exposure on hematological, biochemical and liver transaminases activity in an Indian major carp, Catla catla. Food Chem Toxicol 48:2848–2854. https://doi.org/10.1016/j.fct.2010.07.017

Kumar M, Jeon J, Choi J, Kim S-R (2018) Rapid and efficient genetic transformation of the green microalga Chlorella vulgaris. J Appl Phycol 30:1735–1745

Lakra WS, Nagpure NS (2009) Genotoxicological studies in fishes: a review. Indian J Anim Sci 79:93–97

Lantz RC, Hays AM (2006) Role of oxidative stress in arsenic-induced toxicity. Drug Metab Rev 38:791–804

Lavanya S, Ramesh M, Kavitha C, Malarvizhi A (2011) Hematological, biochemical and ionoregulatory responses of Indian major carp (Catla catla) during chronic sublethal exposure to inorganic arsenic. Chemosphere 82:977–985

Liu C, Leung M, Koon J, Zhu L, Hui Y, Yu B, Fung K (2006) Macrophage activation by polysaccharide biological response modifier isolated from Aloe vera L. var. i (Haw.) Berg. Int Immunopharmacol 6:1634–1641

Martinez C, Cólus I (2002) Biomarcadores em peixes neotropicais para o monitoramento da poluição aquática na bacia do rio Tibagi A bacia do Rio Tibagi Editora dos Editores, Londrina, PR, Brazil: 551–577

Mason R (2001) Chlorella and Spirulina: green supplements for balancing the body. Altern Complement Ther 7:161–165

Mazon A, Cerqueira C, Fernandes M (2002) Gill cellular changes induced by copper exposure in the South American tropical freshwater fish Prochilodus scrofa. Environ Res 88:52–63

Mazumder DG (2005) Effect of chronic intake of arsenic-contaminated water on liver. Toxicol Appl Pharmacol 206:169–175

McCollum CW, Hans C, Shah S, Merchant FA, Gustafsson J-Å, Bondesson M (2014) Embryonic exposure to sodium arsenite perturbs vascular development in zebrafish. Aquat Toxicol 152:152–163

Moe SM (2008) Disorders involving calcium, phosphorus, and magnesium. Prim Care Clin Office Pract 35:215–237

Möller A-M, Korytář T, Köllner B, Schmidt-Posthaus H, Segner H (2014) The teleostean liver as an immunological organ: intrahepatic immune cells (IHICs) in healthy and benzo [a] pyrene challenged rainbow trout (Oncorhynchus mykiss). Dev Comp Immunol 46:518–529

Nayak AS, Lage CR, Kim CH (2007) Effects of low concentrations of arsenic on the innate immune system of the zebrafish (Danio rerio). Toxicol Sci 98:118–124

Özkan-Yılmaz F, Özlüer-Hunt A, Gündüz SG et al (2014) Effects of dietary selenium of organic form against lead toxicity on the antioxidant system in Cyprinus carpio. Fish Physiol Biochem 40:355–363

Ozmen M, Güngördü A, Kucukbay FZ, Güler RE (2006) Monitoring the effects of water pollution on Cyprinus carpio in Karakaya Dam Lake, Turkey. Ecotoxicology 15:157–169

Pacheco M, Santos M (2002) Naphthalene and β-naphthoflavone effects on (Anguilla anguilla) L. hepatic metabolism and erythrocytic nuclear abnormalities. Environ Int 28:285–293

Palaniappan PR, Vijayasundaram V (2009) The effect of arsenic exposure and the efficacy of DMSA on the proteins and lipids of the gill tissues of Labeo rohita. Food Chem Toxicol 47:1752–1759

Palipoch S, Jiraungkoorskul W, Tansatit T, Preyavichyapugdee N, Jaikua W, Kosai P (2011) Protective efficiency of Thunbergia laurifolia leaf extract against lead (II) nitrate-induced toxicity in Oreochromis niloticus. J Med Plants Res 5:719–728

Patel M, Rogers JT, Pane EF, Wood CM (2006) Renal responses to acute lead waterborne exposure in the freshwater rainbow trout (Oncorhynchus mykiss). Aquat Toxicol 80:362–371

Prieto-Álamo M-J, Abril N, Osuna-Jiménez I, Pueyo C (2009) Solea senegalensis genes responding to lipopolysaccharide and copper sulphate challenges: large-scale identification by suppression subtractive hybridization and absolute quantification of transcriptional profiles by real-time RT-PCR. Aquat Toxicol 91:312–319

Pugazhendy K (2012) Protective role of spirulina on the variation of haematological parameter induced by herbicide atrazine in the fresh water fish Cyprinus carpio (Linn). Int J Pharm Biol Arch 3:249–254

Puntoriero ML, Cirelli AF, Volpedo AV (2018) Histopathological changes in liver and gills of Odontesthes bonariensis inhabiting a lake with high concentrations of arsenic and fluoride (Chasicó Lake, Buenos Aires province). J Revista Internacional de Contaminación Ambiental 34:69–77

Queiroz ML, Rodrigues AP, Bincoletto C, Figueirêdo CA, Malacrida S (2003) Protective effects of Chlorella vulgaris in lead-exposed mice infected with Listeria monocytogenes. Int Immunopharmacol 3:889–900

Reyes-Becerril M, Guardiola F, Rojas M, Ascencio-Valle F, Esteban MÁ (2013) Dietary administration of microalgae Navicula sp. affects immune status and gene expression of gilthead seabream (Sparus aurata). Fish Shellfish Immunol 35:883–889

Saïdi SA, Azaza MS, Windmolders P et al (2013) Cytotoxicity evaluation and antioxidant enzyme expression related to heavy metals found in tuna by-products meal: an in vitro study in human and rat liver cell lines. Exp Toxicol Pathol 65:1025–1033

Samuel S, Kathirvel R, Jayavelu T, Chinnakkannu P (2005) Protein oxidative damage in arsenic induced rat brain: influence of DL-α-lipoic acid. Toxicol Lett 155:27–34

Sharma KP, Upreti N, Sharma S, Sharma S (2012) Protective effect of Spirulina and tamarind fruit pulp diet supplement in fish (Gambusia affinis Baird & Girard) exposed to sublethal concentration of fluoride, aluminum and aluminum fluoride. Ind J Exp Biol 50:897–903

Silva AG, Martinez CB (2007) Morphological changes in the kidney of a fish living in an urban stream. Environ Toxicol Pharmacol 23:185–192

Simonato JD, Guedes CL, Martinez CB (2008) Biochemical, physiological, and histological changes in the neotropical fish Prochilodus lineatus exposed to diesel oil. Ecotoxicol Environ Saf 69:112–120

Sirakov I, Velichkova K, Stoyanova S, Staykov Y (2015) The importance of microalgae for aquaculture industry. Review. Int J Fish Aquatic Stud 2:81–84

Soetaert A, Vandenbrouck T, van der Ven K, Maras M, van Remortel P, Blust R, De Coen WM (2007) Molecular responses during cadmium-induced stress in Daphnia magna: integration of differential gene expression with higher-level effects. Aquat Toxicol 83:212–222

Soontornchaiboon W, Joo SS, Kim SM (2012) Anti-inflammatory effects of violaxanthin isolated from microalga Chlorella ellipsoidea in RAW 264.7 macrophages. Biol Pharm Bull 35:1137–1144

Suhendrayatna Ohki A, Kuroiwa T, Maeda S (1999) Arsenic compounds in the freshwater green microalga Chlorella vulgaris after exposure to arsenite. Appl Organomet Chem 13:127–133

Suvetha L, Ramesh M, Saravanan M (2010) Influence of cypermethrin toxicity on ionic regulation and gill Na+/K+-ATPase activity of a freshwater teleost fish Cyprinus carpio. Environ Toxicol Pharmacol 29:44–49. https://doi.org/10.1016/j.etap.2009.09.005

Suzuki T, Moribe M, Okabe Y, Niinae M (2013) A mechanistic study of arsenate removal from artificially contaminated clay soils by electrokinetic remediation. J Hazard Mater 254:310–317

Teles M, Mackenzie S, Boltana S, Callol A, Tort L (2011) Gene expression and TNF-alpha secretion profile in rainbow trout macrophages following exposures to copper and bacterial lipopolysaccharide. Fish Shellfish Immunol 30:340–346

Thévenod F (2009) Cadmium and cellular signaling cascades: to be or not to be? Toxicol Appl Pharmacol 238:221–239

Torres-Perez J, Gerente C, Andres Y (2012) Conversion of agricultural residues into activated carbons for water purification: application to arsenate removal. J Environ Sci Health A 47:1173–1185

Tripathi S, Kumar A (2011) Effect of acute and chronic exposure of sodium arsenite (Na3AsO3) on total protein, albumin, and globulin in serum of Oryctolagus cuniculus L. Toxicol Environ Chem 93:307–313

Upasani C, Balaraman R (2003) Protective effect of Spirulina on lead induced deleterious changes in the lipid peroxidation and endogenous antioxidants in rats. Phytother Res 17:330–334

Vaglio A, Landriscina C (1999) Changes in liver enzyme activity in the teleost Sparus auratain response to cadmium intoxication. Ecotoxicol Environ Saf 43:111–116

van Heerden D, Vosloo A, Nikinmaa M (2004) Effects of short-term copper exposure on gill structure, metallothionein and hypoxia-inducible factor-1α (HIF-1α) levels in rainbow trout (Oncorhynchus mykiss). Aquat Toxicol 69:271–280

Vetrivel C, Pugazhendy K, Prabakaran S (2014) Protective effect of spirulina against the lead acetate induced ALP and ACP activity in the liver tissue of fresh water fish, Labeo rohita. Int J Modn Res Revs 2:226–228

Wang X et al (2012) Arsenic and chromium in drinking water promote tumorigenesis in a mouse colitis-associated colorectal cancer model and the potential mechanism is ROS-mediated Wnt/β-catenin signaling pathway. Toxicol Appl Pharmacol 262:11–21

Wangkahart E, Scott C, Secombes CJ, Wang T (2016) Re-examination of the rainbow trout (Oncorhynchus mykiss) immune response to flagellin: Yersinia ruckeri flagellin is a potent activator of acute phase proteins, anti-microbial peptides and pro-inflammatory cytokines in vitro. Dev Comp Immunol 57:75–87

Webster TMU, Williams TD, Katsiadaki I et al (2017) Hepatic transcriptional responses to copper in the three-spined stickleback are affected by their pollution exposure history. Aquat Toxicol 184:26–36

Yu H-S, Liao W-T, Chang K-L, Yu C-L, Chen G-S (2002) Arsenic induces tumor necrosis factor α; Release and tumor necrosis factor receptor 1 signaling in T helper cell apoptosis. J Invest Dermatol 119:812–819

Zahran E, Risha E (2014) Modulatory role of dietary Chlorella vulgaris powder against arsenic-induced immunotoxicity and oxidative stress in Nile tilapia (Oreochromis niloticus). Fish Shellfish Immunol 41:654–662
Acknowledgement
This research received no specific grant from any funding agency in the public, commercial, or not-for-profit sectors.
About this article
Cite this article
Zahran, E., Awadin, W., Risha, E. et al. Dietary supplementation of Chlorella vulgaris ameliorates chronic sodium arsenite toxicity in Nile tilapia Oreochromis niloticus as revealed by histopathological, biochemical and immune gene expression analysis. Fish Sci 85, 199–215 (2019). https://doi.org/10.1007/s12562-018-1274-6
Received:

Accepted:

Published:

Issue Date:

DOI: https://doi.org/10.1007/s12562-018-1274-6
Keywords
Fish

Heavy metals

Algae

Immunity

Enzymatic activity

Tissue alterations