Abstract
A total of 33 fish species, including commercially important and threatened species, were collected in three microhabitats (upper and lower areas of a small creek, and a marsh edge separate from the creek) of a salt marsh in Lake Hinuma, eastern Japan, in October 2014, and January, April and July 2015. Five species (Acanthogobius lactipes, Oryzias latipes, Mugil cephalus cephalus, Tribolodon brandtii and Salangichthys microdon) were dominant and accounted for 90.7% of the total number of individuals. The fish assemblage structures differed remarkably among the microhabitats, tending toward higher species and individual numbers on the marsh edge than in the upper creek. Species compositions also differed between the upper creek and the other microhabitats. Food availability (e.g., mysids, chironomid larvae and detritus) was considered to be a causative factor of the assemblage structure differences. In addition, microhabitat variations in water depth, dissolved oxygen level and bottom sediment, the upper creek being shallower with lower dissolved oxygen and higher sediment silt–clay proportion compared with the marsh edge, were also causative factors that indicated the importance of both biotic and abiotic environmental factors in the determination of fish distribution patterns across salt marsh microhabitats.
Access options
Buy single article
Instant access to the full article PDF.
USD 39.95
Price excludes VAT (USA)
Tax calculation will be finalised during checkout.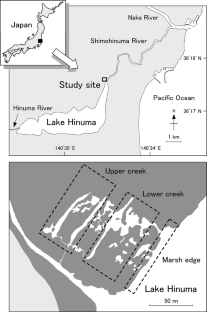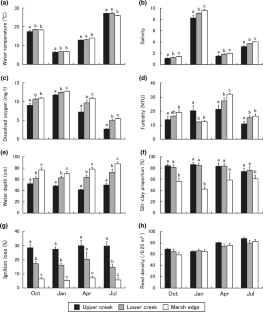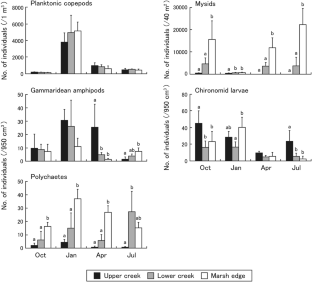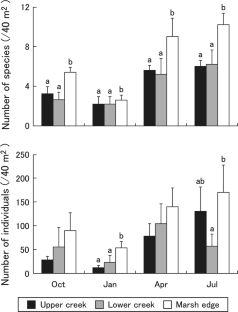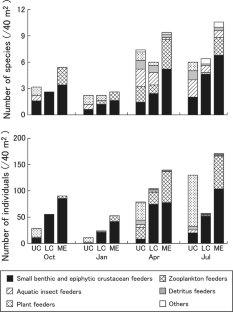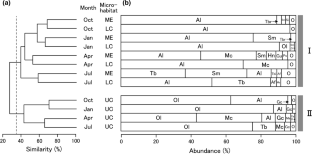 References
Asuma Y, Horie M, Ishii R, Miura K, Oshima K (1998) Environmental resource of Lake Hinuma, Ibaraki Prefecture. Annu Rep Inst Reg Stud Ibaraki Univ 31:1–21 (in Japanese)

Banikas EM, Thompson JS (2012) Predation risk experienced by mummichog, Fundulus heteroclitus, in intertidal and subtidal salt marsh habitats. Estuar Coast 35:1346–1352

Cattrijsse A, Hampel H (2006) European intertidal marshes: a review of their habitat functioning and value for aquatic organisms. Mar Ecol Prog Ser 324:293–307

Corman SS, Roman CT (2011) Comparison of salt marsh creeks and ditches as habitat for nekton. Mar Ecol Prog Ser 434:57–66

Desmond JS, Zedler JB, Williams GD (2000) Fish use of tidal creek habitats in two southern California salt marshes. Ecol Eng 14:233–252

Granados-Dieseldorff P, Baltz DM (2008) Habitat use by nekton along a stream-order gradient in a Louisiana estuary. Estuar Coast 31:572–583

Green BC, Smith DJ, Earley SE, Hepburn LJ, Underwood GJC (2009) Seasonal changes in community composition and trophic structure of fish populations of five salt marshes along the Essex coastline, United Kingdom. Estuar Coast Shelf Sci 85:247–256

Hackney CT, Burbanck WD, Hackney OP (1976) Biological and physical dynamics of a Georgia tidal creek. Ches Sci 17:271–280

Halpin PM (1997) Habitat use patterns of the mummichog, Fundulus heteroclitus, in New England. I. Intramarsh variation. Estuaries 20:618–625

Hermosilla JJ, Tamura Y, Okazaki D, Hoshino Y, Moteki M, Kohno H (2012) Seasonal pattern and community structure of fishes in the shallow tidal creek of Obitsu-gawa River estuary of inner Tokyo Bay, central Japan. AACL Bioflux 5:337–355

Horinouchi M, Kume G, Yamaguchi A, Toda K, Kurata K (2008) Food habits of small fishes in a common reed Phragmites australis belt in Lake Shinji, Shimane, Japan. Ichthyol Res 55:207–217

Horinouchi M, Tongnunui P, Furumitsu K, Kon K, Nakamura Y, Kanou K, Yamaguchi A, Seto K, Okamoto K, Sano M (2016) Effects of habitat change from a bare sand/mud area to a short seagrass Halophila ovalis bed on fish assemblage structure: a case study in an intertidal bay in Trang, southern Thailand. Ichthyol Res 63:391–404

Japan Ministry of the Environment (2015) Red data book 2014: Brackish and freshwater Fishes. Gyosei, Tokyo (in Japanese)

Jin B, Fu C, Zhong J, Li B, Chen J, Wu J (2007) Fish utilization of a salt marsh intertidal creek in the Yangtze River estuary, China. Estuar Coast Shelf Sci 73:844–852

Kaneko S (2017) Fish assemblage structures in salt marshes in Lake Hinuma, Ibaraki Prefecture, central Japan. PhD dissertation, the University of Tokyo, Tokyo (in Japanese)

Kaneko S, Usui S, Hyakunari W, Kanou K, Mashiko K, Kamata K (2011) Ichthyofauna of Lake Hinuma, Ibaraki Prefecture, in the 1960s revealed by specimen survey. Bull Biogeogr Soc Jpn 66:173–182 (in Japanese with English abstract)

Kaneko S, Kanou K, Sano M (2016) Food habits of salt marsh fishes in Lake Hinuma, Ibaraki Prefecture, central Japan. Fish Sci 82:631–637

Kneib RT (1997) The role of tidal marshes in the ecology of estuarine nekton. Oceanogr Mar Biol Annu Rev 35:163–220

Kouzuki Y, Sato Y, Murakami H, Nishioka K, Kurata K, Saraie K, Hukuta M (2000) Environmental factors of medaka Oryzias latipes in a suburban irrigation canal. Environ Syst Res 28:313–320 (in Japanese with English abstract)

Le Quesne WJF (2000) Nekton utilisation of intertidal estuarine marshes in the Knysna Estuary. Trans R Soc S Afr 55:205–214

Matsuura K (2017) Taxonomic and nomenclatural comments on two puffers of the genus Takifugu with description of a new species, Takifugu flavipterus, from Japan (Actinopterygii, Tetraodontiformes, Tetraodontidae). Bull Natl Mus Nat Sci Ser 43:71–80

Morton RM, Pollock BR, Beumer JP (1987) The occurrence and diet of fishes in a tidal inlet to a saltmarsh in southern Moreton Bay, Queensland. Aust J Ecol 12:217–237

Nakabo T (2013) Fishes of Japan: with pictorial keys to the species, 3rd edn. Tokai University Press, Hadano (in Japanese)

Nakamura M (1986) Ecological study of Gymnogobius castaneus. 1. Early life history of G. castaneus. Rep Freshw Fish Exp Sta Ibaraki Pref 23:13–17 (in Japanese)

Nakane Y, Suda Y, Sano M (2013) Responses of fish assemblage structures to sandy beach types in Kyushu Island, southern Japan. Mar Biol 160:1563–1581

Nanjo K, Kohno H, Nakamura Y, Horinouchi M, Sano M (2014) Differences in fish assemblage structure between vegetated and unvegetated microhabitats in relation to food abundance patterns in a mangrove creek. Fish Sci 80:21–41

Okiyama M (2014) An atlas of early stage fishes in Japan, 2nd edn. Tokai University Press, Hadano (in Japanese)

Paterson AW, Whitfield AK (2000) Do shallow-water habitats function as refugia for juvenile fishes? Estuar Coast Shelf Sci 51:359–364

Paterson AW, Whitfield AK (2003) The fishes associated with three intertidal salt marsh creeks in a temperate southern African estuary. Wetl Ecol Manage 11:305–315

Roast SD, Widdows J, Jones MB (1998) The position maintenance behaviour of Neomysis integer (Peracarida: Mysidacea) in response to current velocity, substratum and salinity. J Exp Mar Biol Ecol 220:25–45

Roast SD, Widdows J, Jones MB (2002) Distribution and swimming behaviour of Neomysis integer (Peracarida: Mysidacea) in response to gradients of dissolved oxygen following exposure to cadmium at environmental concentrations. Mar Ecol Prog Ser 237:185–194

Rountree RA, Able KW (1992) Fauna of polyhaline subtidal marsh creeks in southern New Jersey: composition, abundance and biomass. Estuaries 15:171–185

Ruiz GM, Hines AH, Posey MH (1993) Shallow water as a refuge habitat for fish and crustaceans in non-vegetated estuaries: an example from Chesapeake Bay. Mar Ecol Prog Ser 99:1–16

Rypel AL, Layman CA, Arrington DA (2007) Water depth modifies relative predation risk for a motile fish taxon in Bahamian tidal creeks. Estuar Coast 30:518–525

Saruwatari T, Okiyama M (1992) Life history of shirauo Salangichthys microdon; Salangidae in a brackish lake, Lake Hinuma, Japan. Nippon Suisan Gakkaishi 58:235–248

Smith KJ, Able KW (2003) Dissolved oxygen dynamics in salt marsh pools and its potential impacts on fish assemblages. Mar Ecol Prog Ser 258:223–232

Thomas BE, Connolly RM (2001) Fish use of subtropical saltmarshes in Queensland, Australia: relationships with vegetation, water depth and distance onto the marsh. Mar Ecol Prog Ser 209:275–288

Uda T, Terunuma T, Misawa M, Kumagae A, Niizawa T, Uchida H (2005) A new restoration method of lakeshore vegetations–an example of Lake Hinuma. Adv Riv Eng 11:511–516 (in Japanese with English abstract)

Veiga P, Vieira L, Bexiga C, Sá R, Erzini K (2006) Structure and temporal variations of fish assemblages of the Castro Marim salt marsh, southern Portugal. Estuar Coast Shelf Sci 70:27–38

Yuhara T, Takagi S, Furota T (2016) Distribution and habitat condition of the endangered benthic animals associated with salt marsh in Tokyo Bay, Japan. Jpn J Benthol 70:50–64 (in Japanese with English abstract)
Acknowledgments
We are grateful to Tomoki Endo and Seiji Usui for their dedicated assistance in the fieldwork, and Yuichi Tanaka and Shun Kawaida for helpful suggestions on the statistical analyses. Our thanks are also due to Ken Okamoto, Shigeru Aoki and two anonymous reviewers for constructive comments on the manuscript, and to Graham Hardy for the English language review. We are indebted to the Ohinuma Fishermen's Cooperative Association for permission to undertake sampling in Lake Hinuma.
About this article
Cite this article
Kaneko, S., Kanou, K. & Sano, M. Comparison of fish assemblage structures among microhabitats in a salt marsh in Lake Hinuma, eastern Japan. Fish Sci 85, 113–125 (2019). https://doi.org/10.1007/s12562-018-1269-3
Received:

Accepted:

Published:

Issue Date:

DOI: https://doi.org/10.1007/s12562-018-1269-3
Keywords