Abstract
We investigated the effect of exposure to low salinity water on plasma ion regulation and survival rates in artificially wounded devil stinger Inimicus japonicus. All fishes survived in 33% seawater (SW), while survival rate in 100% SW was 5.1% at 24 h. In 100% SW, plasma Na+, K+, Mg2+, and Ca2+ concentrations significantly increased to 238 ± 49.9, 9.6 ± 2.4, 15.1 ± 3.5 and 5.0 ± 0.7 mmol/l at 6 h, respectively; the gill Na+/K+–ATPase (NKA) activity was almost stable, although only one fish survived to 24 h. In 33% SW, plasma Na+ and K+ concentrations remained at the same level, and plasma Mg2+ and Ca2+ concentrations gradually increased to 16.2 ± 0.7 and 4.5 ± 0.2 mmol/l until 24 h, respectively. The NKA activity significantly increased to 5.1 ± 1.1 µmol ADP/mg protein per h at 6 h. A positive correlation was observed between the wound surface area against body weight and the plasma ion concentrations, although no difference was observed in the restoration rate of the wounded area between 100 and 33% SW. These results indicate that exposure of wounded fish to low salinity water improves survivability by favoring plasma ion regulation without influencing the restoration rate.
This is a preview of subscription content, log in to check access.
Access options
Buy single article
Instant access to the full article PDF.
US$ 39.95
Price includes VAT for USA
Subscribe to journal
Immediate online access to all issues from 2019. Subscription will auto renew annually.
US$ 99
This is the net price. Taxes to be calculated in checkout.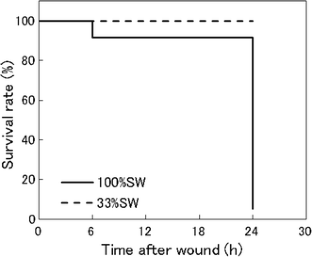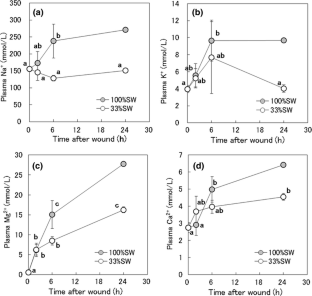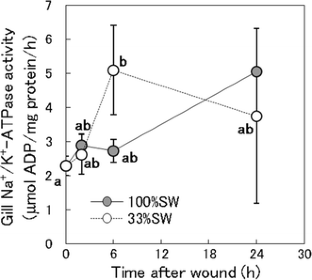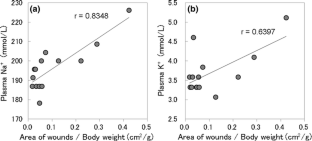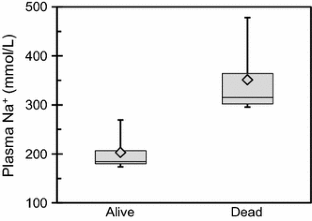 References
Anderson CD, Roberts RJ (1975) A comparison of the effects of temperature on wound healing in a tropical and a temperate teleost. J Fish Biol 7:173–182

Chopin FS, Arimoto T (1995) The condition of fish escaping from fishing gears—a review. Fish Res 21:315–327

Evans DH, Claiborne JB (2008) Osmotic and ionic regulation in fishes. In: Evans DH (ed) Osmotic and ionic regulation: cells and animals. CRC Press, Boca Raton, pp 295–366

Fletcher TC, White A (1973) Lysozyme activity in the plaice (Pleuronectes platessa L.). Experientia 29:1283–1285

Guerra RR, Santos NP, Cecarelli P, Silva JRMC, Hernandez-Blazquez FJ (2008) Healing of skin wounds in the African catfish Clarias gariepinus. J Fish Biol 73:572–583

Hashimoto Y, Satoi S, Tazawa S, Mizutani E, Sawada N (1988) Research on development for the usage of ayu Plecoglossus altivelis resources (in Japanese). Annu Rep Shiga Prefect Fish Exp Station S62:38–39

Hjelmeland K, Christie M, Raa J (1983) Skin mucus protease from rainbow trout, Salmo gairdneri Richardson, and its biological significance. J Fish Biol 23:13–22

Hussein MMA, Hatai K (2002) Pathogenicity of Saprolegnia species associated with outbreaks of salmonid saprolegniosis in Japan. Fish Sci 68:1067–1072

Iger Y, Abraham M (1990) The process of skin healing in experimentally wounded carp. J Fish Biol 36:421–437

Kaida N (2003) Hormonal regulation of calcium homeostasis in some teleosts: with special references to the role of calcitonin (in Japanese with English abstract). PhD dissertation, Kanazawa University of Graduate School of Natural Science and Technology, Ishikawa

Kaplan EL, Meier P (1958) Nonparametric estimation from incomplete observations. J Am Stat Assoc 53:457–481

Kita T, Morita H, Umeno M, Kita S, Shimomura S (1989) Simultaneous determination of trace elements in serum by ICP-AES for clinical applications (in Japanese with English abstract). Bunseki Kagaku 38:547–552

McCormick SD (1993) Methods for nonlethal gill biopsy and measurement of Na+, K+-ATPase activity. Can J Fish Aquat Sci 50:656–658

Midooka A, Kawaguchi O, Kudoh T, Iida Y, Nagao N, Matsumoto T (2017) Effect of exposure to low salinity water on mortality rate in wounded marine fishes (in Japanese). Nippon Suisan Gakkaishi 83:77–79

Nozaki Y (1997) Updated (1996 version) table of elements in seawater and its remarks (in Japanese). Bull Soc Sea Water Sci Jpn 51:302–308

Quilhac A, Sire JY (1998) Restoration of the subepidermal tissues and scale regeneration after wounding a cichlid fish, Hemichromis bimaculatus. J Exp Zool A Ecol Genet Physiol 281:305–327

Rai AK, Srivastava N, Nigam AK, Kumari U, Mittal S, Mittal AK (2012) Healing of cutaneous wounds in a freshwater teleost, Labeo rohita: scanning electron microscopical investigation. Microsc Res Tech 75:890–897

Richardson R, Slanchev K, Kraus C, Knyphausen P, Eming S, Hammerschmidt M (2013) Adult zebrafish as a model system for cutaneous wound-healing research. J Investig Dermatol 133:1655–1665

Svendsen YS, Bøgwald J (1997) Influence of artificial wound and non-intact mucus layer on mortality of Atlantic salmon (Salmo salar L.) following a bath challenge with Vibrio anguillarum and Aeromonas salmonicida. Fish Shellfish Immunol 7:317–325

Ubels JL, Edelhauser HF, Austin KH (1982) A comparison of healing of corneal epithelial wounds stained with fluorescein or Richardson's stain. Invest Ophthalmol Vis Sci 23:127–131
Acknowledgments
This study was supported by the Adaptable and Seamless Technology Transfer Program through Target-driven R&D (A-STEP) (AS231Z00648E) from the Japan Science and Technology Agency. We thank Dr. Takashi Okazaki and staff of the Hiroshima Prefectural Technology and Research Institute, Fisheries and Marine Technology Center for their useful suggestions.
About this article
Cite this article
Kawaguchi, O., Midooka, A., Iwamoto, Y. et al. Effect of exposure to low salinity water on plasma ion regulation and survival rates in artificially wounded devil stinger Inimicus japonicus. Fish Sci 84, 477–484 (2018). https://doi.org/10.1007/s12562-018-1196-3
Received:

Accepted:

Published:

Issue Date:
Keywords
Sodium cation/potassium cation-ATPase

Wound

Plasma ion concentration

Mortality

Restoration

Devil stinger Inimicus japonicus

Healing

Salt concentration