Abstract
Although trade liberalization may increase a country's welfare, its specific effect on a country's fishing industry has not been well studied. By decomposing the effect of international trade into four parts, i.e., scale-technique effects (ST), the indirect trade-induced composition effect (IC), the indirect effect of trade intensity through income (ITC), and the direct effect of trade intensity (DTC), this study empirically investigates the effect of trade openness on country-level fisheries production. To take into account the endogeneity of trade openness and income, we adopt the instrumental variable approach. We find that a rise in trade openness reduces fisheries catch on average. In particular, the long-run effect is large. This result implies that future production is affected by current overfishing through stock dynamics. Our decomposed elasticities indicate that the ST and ITC dominate in the trade elasticity of fisheries catch. While ST implies that overfishing would be affected by trade, ITC may either establish an "overfishing haven", similar to a "pollution haven" in the environmental literature, or production shift of fisheries to countries with lax regulation to pass stringent regulation, which is more likely to occur in high-income countries.
Access options
Buy single article
Instant access to the full article PDF.
USD 39.95
Price includes VAT (USA)
Tax calculation will be finalised during checkout.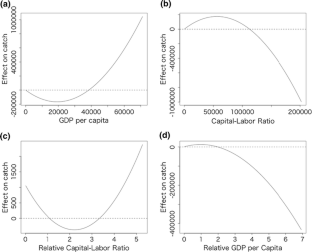 References
1.

Sumaila UR, Tipping A, Bellmann C (2016) Oceans, fisheries and the trade system. Mar Policy 69:171–172

2.

Food and Agriculture Organisation (2014) The state of world fisheries and aquaculture. Food and Agriculture Organisation, Rome

3.

Sumaila UR, Khan A, Watson R et al (2007) The World Trade Organization and global fisheries sustainability. Fish Res 88:1–3

4.

Brander JA, Taylor MS (1997) International trade and open-access renewable resources: the small open economy case. Can J Econ 30(3):526–552

5.

Brander JA, Taylor MS (1997) International trade between consumer and conservationist countries. Resour Energy Econ 19(4):267–297

6.

Brander JA, Taylor MS (1998) Open access renewable resources: trade and trade policy in a two-country model. J Int Econ 44(2):181–209

7.

Eggert H and Greaker M (2009) Effects of global fisheries on developing countries possibilities for income and threat of depletion. Working papers in economics, report 393. University of Gothenburg, Göteborg

8.

Nielsen M (2009) Modelling fish trade liberalisation: does fish trade liberalisation result in welfare gains or losses? Mar Policy 33(1):1–7

9.

Asche F, Bellemare MF, Roheim C, Smith MD, Tveteras S (2015) Fair enough? food security and the international trade of seafood. World Dev 67:151–160

10.

Barro R, Lee JW (2013) A new data set of educational attainment in the world, 1950–2010. J Dev Econ 104:184–198

11.

Managi S, Hibiki A, Tsurumi T (2009) Does trade openness improve environmental quality? J Environ Econ Manage 58(3):346–363

12.

Tsurumi T, Managi S (2014) The effect of trade openness on deforestation: empirical analysis for 142 countries. Environ Econ Policy Stud 16(4):305–324

13.

Antweiler W, Copeland BR, Taylor MS (2001) Is free trade good for the environment? Am Econ Rev USA 91(4):877–908

14.

Frankel JA, Rose AK (2005) Is trade good or bad for the environment? sorting out the causality. Rev Econ Stat 87(1):85–91

15.

Selden TM, Song D (1994) Environmental quality and development: is there a Kuznets curve for air pollution emissions? J Environ Econ Manage 27(2):147–162

16.

Cole MA, Elliott RJR (2003) Determining the trade-environment composition effect: the role of capital, labor and environmental regulations. J Environ Econ Manage 46(3):363–383

17.

Arellano M, Bond S (1991) Some tests of specification for panel data: Monte Carlo evidence and an application to employment equations. Rev Econ Stud 58(2):277–297

18.

Baum CF (2006) An introduction to modern econometrics using stata. Stata, College Station

19.

Gallet CA (2010) The income elasticity of meat: a meta-analysis. Aust J Agric Resour Econ 54(4):477–490

20.

Pethig R (1976) Pollution, welfare, and environmental policy in the theory of comparative advantage. J Environ Econ Manage 2(3):160–169

21.

Chichilnisky G (1994) North–South trade and the global environment. Am Econ Rev 84(4):851–874

22.

Copeland BR, Taylor MS (1994) North–South trade and the environment. Q J Econ 109(3):755–787

23.

Copeland BR, Taylor MS (1999) Trade, spatial separation, and the environment. J Int Econ 47(1):137–168

24.

Worm B, Barbier EB, Beaumont N et al (2006) Impacts of biodiversity loss on ocean ecosystem services. Science 314(5800):787–790

25.

Costello C, Ovando D, Clavelle T et al (2016) Global fishery futures under contrasting management regimes. Proc Natl Acad Sci USA 113(18):5125–5219

26.

WTO (2017) Regional trade agreements https://www.wto.org/english/tratop_e/region_e/regfac_e.htm. Accessed 21 July 2017

27.

Rus HA (2012) Transboundary marine resources and trading neighbours. Environ Resour Econ 53(2):159–184

28.

Takarada Y, Dong W, Ogawa T (2013) Shared renewable resources: gains from trade and trade policy. Rev Int Econ 21(5):1032–1047
About this article
Cite this article
Abe, K., Ishimura, G., Tsurumi, T. et al. Does trade openness reduce a domestic fisheries catch?. Fish Sci 83, 897–906 (2017). https://doi.org/10.1007/s12562-017-1130-0
Received:

Accepted:

Published:

Issue Date:
Keywords
International trade

Fish stock

Overfishing

Scale effect

Technique effect

Composition effect