Abstract
Whale oil (WO) contains n-3 polyunsaturated fatty acids (PUFAs), but the effects of whale oil intake on lipid metabolism have remained unclear. We examined the influence of WO on lipid metabolism in obese KK mice. Male KK mice were fed a high-fat diet for 12 weeks to induce obesity. The mice were then given free access to a different diet for 10 weeks: the lard/safflower oil (LSO) diet consisted of 25 energy% (en%) LSO (6:4), the WO diet consisted of 25 en% WO, and the fish oil (FO) diet consisted of 11 en% FO plus 14 en% LSO. The n-3 PUFA content of the FO diet was the same as that in the WO diet. In the WO and FO groups, the total plasma cholesterol level was significantly decreased compared with that in the LSO group. The number of lipid droplets in liver specimens was also lower in the WO and FO groups, and the hepatic triglyceride and total cholesterol levels were decreased in these groups compared with the LSO group. Hepatic mRNA levels of fatty acid synthase, and stearoyl-CoA desaturase 1, which are fatty acid synthesis-related genes, were decreased in the WO and FO groups. No significant differences were observed between the WO and FO groups. Taken together, these results indicate that WO intake inhibits lipid accumulation in the liver by reducing fatty acid biosynthesis.
Access options
Buy single article
Instant access to the full article PDF.
USD 39.95
Price excludes VAT (USA)
Tax calculation will be finalised during checkout.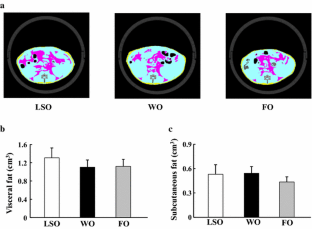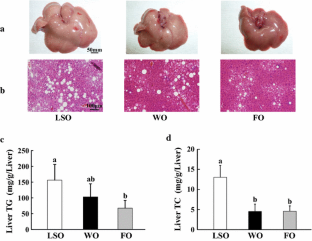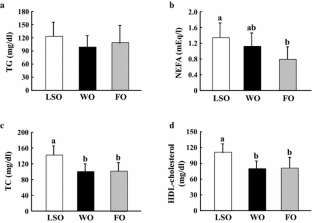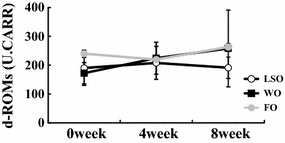 Abbreviations
ACC:

Acyl-coA carboxylase

AOX:

Acyl-CoA oxidase

CPT:

Carnitine palmitoyltransferase

CT:

Computed tomography

CYP7A1:

Cholesterol 7 α-hydroxylase

DHA:

Docosahexaenoic acid

DPA:

Docosapentaenoic acid

d-ROM:

Diacron of reactive oxygen metabolites

ELISA:

Enzyme-linked immunosorbent assay

EPA:

Icosapentaenoic acid

FAS:

Fatty acid synthase

FO:

Fish oil

GK:

Glucokinase

HE:

Hematoxylin-eosin

HDL:

High-density lipoprotein

HMG-CoA:

3-Hydroxy-3-methylglutaryl-coenzyme A

LSO:

Lard/safflower oil

MCAD:

Medium-chain acyl-CoA dehydrogenase

NAFLD:

Nonalcoholic fatty liver disease

NASH:

Nonalcoholic steatohepatitis

NEFA:

Non-esterified fatty acid

PCR:

Polymerase chain reaction

PEPCK:

Phosphoenolpyruvate carboxykinase

PPAR:

Peroxisome proliferator-activated receptor

PUFA:

Polyunsaturated fatty acid

SCD:

Stearoyl-CoA desaturase

SREBP:

Sterol regulatory element-binding protein

U.CARR:

Carratelli units

UCP:

Uncoupling protein

WAT:

White adipose tissue

WO:

Whale oil
References
Wilson PW, D'Agostino RB, Sullivan L, Parise H, Kannel WB (2002) Overweight and obesity as determinants of cardiovascular risk: the Framingham experience. Arch Intern Med 162:1867–1872

Gotto AM Jr (1998) Triglyceride: the forgotten risk factor. Circulation 97:1027–1028

Meshkani R, Adeli K (2009) Hepatic insulin resistance, metabolic syndrome and cardiovascular disease. Clin Biochem 42:1331–1346

Contos MJ, Sanyal AJ (2002) The clinicopathologic spectrum and management of nonalcoholic fatty liver disease. Adv Anat Pathol 9:37–51

Goldberg IJ, Ginsberg HN (2006) Ins and outs modulating hepatic triglyceride and development of nonalcoholic fatty liver disease. Gastroenterology 130:1343–1346

Dyerberg J, Bang HO (1979) Haemostatic function and platelet polyunsaturated fatty acids in Eskimos. Lancet 2:433–435

Dyerberg J, Bang HO, Hjorne N (1975) Fatty acid composition of the plasma lipids in Greenland Eskimos. Am J Clin Nutr 28:958–966

Dyerberg J, Bang HO, Stoffersen E, Moncada S, Vane JR (1978) Eicosapentaenoic acid and prevention of thrombosis and atherosclerosis? Lancet 2:117–119

Bang HO, Dyerberg J, Sinclair HM (1980) The composition of the Eskimo food in north western Greenland. Am J Clin Nutr 33:2657–2661

Iso H, Kobayashi M, Ishihara J, Sasaki S, Okada K et al (2006) Intake of fish and n3 fatty acids and risk of coronary heart disease among Japanese: the Japan Public Health Center-Based (JPHC) Study Cohort I. Circulation 113:195–202

Mozaffarian D, Rimm EB (2006) Fish intake, contaminants, and human health: evaluating the risks and the benefits. JAMA 296:1885–1899

Yamagishi K, Iso H, Date C, Fukui M, Wakai K et al (2008) Fish, omega-3 polyunsaturated fatty acids, and mortality from cardiovascular diseases in a nationwide community-based cohort of Japanese men and women the JACC (Japan Collaborative Cohort Study for Evaluation of Cancer Risk) Study. J Am Coll Cardiol 52:988–996

Nestel PJ (1990) Effects of N-3 fatty acids on lipid metabolism. Annu Rev Nutr 10:149–167

Halminski MA, Marsh JB, Harrison EH (1991) Differential effects of fish oil, safflower oil and palm oil on fatty acid oxidation and glycerolipid synthesis in rat liver. J Nutr 121:1554–1561

Ide T, Kobayashi H, Ashakumary L, Rouyer IA, Takahashi Y et al (2000) Comparative effects of perilla and fish oils on the activity and gene expression of fatty acid oxidation enzymes in rat liver. Biochim Biophys Acta 1485:23–35

Kim H, Takahashi M, Ezaki O (1999) Fish oil feeding decreases mature sterol regulatory element-binding protein 1 (SREBP-1) by down-regulation of SREBP-1c mRNA in mouse liver. A possible mechanism for down-regulation of lipogenic enzyme mRNAs. J Biol Chem 274:25892–25898

Tsuboyama-Kasaoka N, Takahashi M, Kim H, Ezaki O (1999) Up-regulation of liver uncoupling protein-2 mRNA by either fish oil feeding or fibrate administration in mice. Biochem Biophys Res Commun 257:879–885

Hofacer R, Magrisso IJ, Jandacek R, Rider T, Tso P et al (2012) Omega-3 fatty acid deficiency increases stearoyl-CoA desaturase expression and activity indices in rat liver: positive association with non-fasting plasma triglyceride levels. Prostaglandins Leukot Essent Fatty Acids 86:71–77

Nakatani T, Tsuboyama-Kasaoka N, Takahashi M, Miura S, Ezaki O (2002) Mechanism for peroxisome proliferator-activated receptor-alpha activator-induced up-regulation of UCP2 mRNA in rodent hepatocytes. J Biol Chem 277:9562–9569

Nakatani T, Kim H, Kaburagi Y, Yasuda K, Ezaki O (2003) A low fish oil inhibits SREBP-1 proteolytic cascade, while a high-fish-oil feeding decreases SREBP-1 mRNA in mice liver: relationship to anti-obesity. J Lipid Res 44:369–379

Xu J, Teran-Garcia M, Park JH, Nakamura MT, Clarke SD (2001) Polyunsaturated fatty acids suppress hepatic sterol regulatory element-binding protein-1 expression by accelerating transcript decay. J Biol Chem 276:9800–9807

Ou J, Tu H, Shan B, Luk A, DeBose-Boyd RA et al (2001) Unsaturated fatty acids inhibit transcription of the sterol regulatory element-binding protein-1c (SREBP-1c) gene by antagonizing ligand-dependent activation of the LXR. Proc Natl Acad Sci USA 98:6027–6032

Hirako S, Kim H, Arai T, Chiba H, Matsumoto A (2010) Effect of concomitantly used fish oil and cholesterol on lipid metabolism. J Nutr Biochem 21:573–579

Hirako S, Kim H, Iizuka Y, Nakasatomi M, Matsumoto A (2013) Fish oil prevents excessive hepatic lipid accumulation without inducing oxidative stress. Prostaglandins Leukot Essent Fatty Acids 88:365–371

Hirako S, Kim H, Shimizu S, Chiba H, Matsumoto A (2011) Low-dose fish oil consumption prevents hepatic lipid accumulation in high cholesterol diet fed mice. J Agric Food Chem 59:13353–13359

Arai T, Kim H, Hirako S, Nakasatomi M, Chiba H et al (2013) Effects of dietary fat energy restriction and fish oil feeding on hepatic metabolic abnormalities and insulin resistance in KK mice with high-fat diet-induced obesity. J Nutr Biochem 24:267–273

Folch J, Lees M, Sloane Stanley GH (1957) A simple method for the isolation and purification of total lipids from animal tissues. J Biol Chem 226:497–509

Arai T, Kim HJ, Chiba H, Matsumoto A (2009) Anti-obesity effect of fish oil and fish oil-fenofibrate combination in female KK mice. J Atheroscler Thromb 16:674–683

Neschen S, Morino K, Rossbacher JC, Pongratz RL, Cline GW et al (2006) Fish oil regulates adiponectin secretion by a peroxisome proliferator-activated receptor-gamma-dependent mechanism in mice. Diabetes 55:924–928

Okanoue T, Umemura A, Yasui K, Itoh Y (2011) Nonalcoholic fatty liver disease and nonalcoholic steatohepatitis in Japan. J Gastroenterol Hepatol Suppl 1:153–162

Rodriguez VM, Portillo MP, Pico C, Macarulla MT, Palou A (2002) Olive oil feeding up-regulates uncoupling protein genes in rat brown adipose tissue and skeletal muscle. Am J Clin Nutr 75:213–220

Soriguer F, Rojo-Martinez G, de Fonseca FR, Garcia-Escobar E, Garcia Fuentes E et al (2007) Obesity and the metabolic syndrome in Mediterranean countries: a hypothesis related to olive oil. Mol Nutr Food Res 51:1260–1267

Deng X, Elam MB, Wilcox HG, Cagen LM, Park EA et al (2004) Dietary olive oil and menhaden oil mitigate induction of lipogenesis in hyperinsulinemic corpulent JCR:LA-cp rats: microarray analysis of lipid-related gene expression. Endocrinology 145:5847–5861
Acknowledgments
We would like to thank NOF Corporation (Tokyo, Japan) for providing FO. This study was supported in part by Grant-in-Aid for Scientific Research on Innovative Areas (to S.S., Grant No. 22126004) and Grant-in-Aid for Young Scientists (B) (to S.H., Grant No. 90644261) from the Ministry of Education, Culture, Sports, Science and Technology of Japan.
Ethics declarations
Conflict of interest
This study was funded by Kyodo Senpaku Kaisha, Ltd, Tokyo, Japan.
About this article
Cite this article
Hirako, S., Suzuki, M., Kim, H. et al. Hepatic lipid accumulation is ameliorated in obese KK mice by dietary sei whale oil. Fish Sci 82, 509–517 (2016). https://doi.org/10.1007/s12562-016-0971-2
Received:

Accepted:

Published:

Issue Date:

DOI: https://doi.org/10.1007/s12562-016-0971-2
Keywords