Abstract
The efficacy of the controlled Maillard reaction with alginate oligosaccharide (AO) in a dry state was examined for development of an anti-inflammatory compound from fish myofibrillar protein (Mf). Lyophilized Mf from spawned-out chum salmon was mixed with AO (half of the total protein weight) and incubated at 60 °C and 35 % relative humidity for 0–6 h, followed by digestion with pepsin and trypsin. The anti-inflammatory activity of the digested peptide was improved with the progress of the AO conjugation, and dMSA4 (prepared from Mf–AO conjugate by reaction for 4 h, with 49.6 μg/mg protein of AO attached) was most effective in inhibiting secretions of inflammation-related compounds in lipopolysaccharide (LPS)-stimulated RAW264.7 macrophages. Likewise, dMSA4 suppressed the LPS-induced gene and protein expression of inducible nitric oxide synthase, tumor necrosis factor-α, interleukin-6, and cyclooxygenase (COX)-2, while COX-1 expression was unaffected. Furthermore, oral administration of dMSA4 and the Mf–AO conjugate prior to proteolysis inhibited carrageenan-induced paw volume expansion in mice. These results indicate that AO conjugation using the controlled Maillard reaction in a dry state is a useful approach for enhancing the anti-inflammatory activity of salmon Mf as a nutraceutical food material.
This is a preview of subscription content, log in to check access.
Access options
Buy single article
Instant access to the full article PDF.
US$ 39.95
Price includes VAT for USA
Subscribe to journal
Immediate online access to all issues from 2019. Subscription will auto renew annually.
US$ 99
This is the net price. Taxes to be calculated in checkout.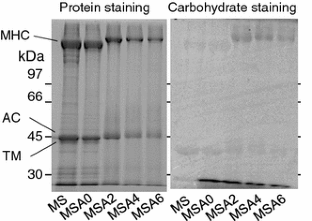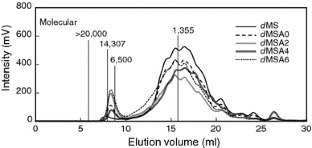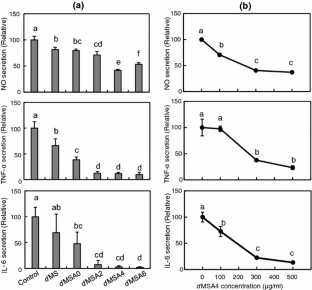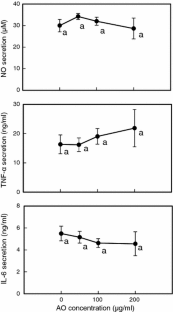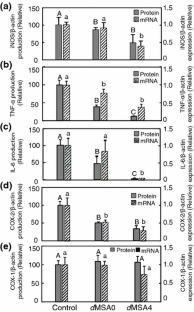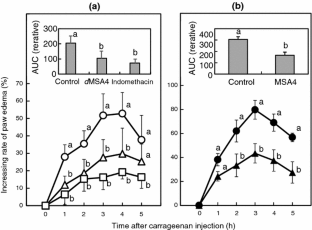 References
1.

Chen GY, Nuñez G (2010) Sterile inflammation: sensing and reacting to damage. Nat Rev Immunol 10:826–837

2.

Daniel K, Podlsky MD (2002) Inflammatory bowel disease. N Engl J Med 347:417–429

3.

Pearson TA, Mensah GA, Alexander RW, Anderson JL, Cannon RO, Criqui M, Fadl YY, Fortmann SP, Hong Y, Myers GL, Rifai N, Smith SC, Taubert K, Tracy RP, Vinicor F (2003) Markers of inflammation and cardiovascular disease: application to clinical and public health practice: a statement for healthcare professionals from the centers for disease control and prevention and the American Heart Association. Circulation 107:499–511

4.

Glass CK, Saijo K, Winner B, Marchetto MC, Gage FH (2010) Mechanisms underlying inflammation in neurodegeneration. Cell 140:918–934

5.

Wellen KE, Hotamisligil GS (2005) Inflammation, stress, and diabetes. J Clin Invest 115:1111–1119

6.

Wu X, Schauss AG (2012) Mitigation of inflammation with foods. J Agric Food Chem 60:6703–6717

7.

Chan MM, Fong D, Ho CT, Huang HI (1997) Inhibition of inducible nitric oxide synthase gene expression and enzyme activity by epigallocatechin gallate, a natural product from green tea. Biochem Pharmacol 54:1281–1286

8.

Lin YL, Tsai SH, Lin-Shiau SY, Ho CT, Linet JK (1999) Theaflavin-3,3′-digallate from black tea blocks the nitric oxide synthase by down-regulating the activation of NF-kappaB in macrophages. Eur J Pharmacol 367:379–388

9.

Ren J, Chung SH (2007) Anti-inflammatory effect of alpha-linolenic acid and its mode of action through the inhibition of nitric oxide production and inducible nitric oxide synthase gene expression via NF-kappaB and mitogen-activated protein kinase pathways. J Agric Food Chem 55:5073–5080

10.

Kim JA, Kong CS, Pyun SY, Kim SK (2010) Phosphorylated glucosamine inhibits the inflammatory response in LPS-stimulated PMA-differentiated THP-1 cells. Carbohydr Res 345:1851–1855

11.

Wang J, Mazza G (2002) Inhibitory effects of anthocyanins and other phenolic compounds on nitric oxide production in LPS/IFN-γ-activated. J Agric Food Chem 50:850–857

12.

Yamaguchi M, Yoshida K, Uchida M (2009) Novel functions of bovine milk-derived alpha-lactalbumin: anti-nociceptive and anti-inflammatory activity caused by inhibiting cyclooxygenase-2 and phospholipase A2. Biol Pharm Bull 32:366–371

13.

Hartog A, Leenders I, van der Kraan PM, Garssen J (2007) Anti-inflammatory effects of orally ingested lactoferrin and glycine in different zymosan-induced inflammation models: evidence for synergistic activity. Int Immunopharmacol 7:1784–1792

14.

FAO Fisheries and Aquaculture Department (2012) The state of world fisheries and aquaculture 2012. Food and Agriculture Organization of the United Nations, Rome, pp 3–5

15.

Je JY, Park PJ, Kwon JY, Kim SK (2004) A novel angiotensin I converting enzyme inhibitory peptide from Alaska pollack (Theragra chalcogramma) frame protein hydrolysate. J Agric Food Chem 52:7842–7845

16.

Ren J, Wang H, Zhao M, Cui C, Hu X (2010) Enzymatic hydrolysis of grass carp myofibrillar protein and antioxidant properties of hydrolysates. Czech J Food Sci 28:475–484

17.

Lavigne C, Tremblay F, Asselin G, Jacques H, Marette A (2001) Prevention of skeletal muscle insulin resistance by dietary cod protein in high fat-fed rats. Am J Physiol Endocrinol Metab 281:E62–E71

18.

Ryan JT, Ross RP, Bolton D, Fitzgerald GF, Stanton C (2012) Bioactive peptides from muscle sources: meat and fish. Nutrients 3:765–791

19.

Saeki H (2012) Protein–saccharide interaction. In: Hettiarachchy NS et al (eds) Food proteins and peptide, chemistry, functionality, interactions and commercialization. CRC Press, New York, pp 230–261

20.

Nakamura S, Ogawa M, Nakai S, Kato A, Kitts DD (1998) Antioxidant activity of a maillard-type phosvitin-galactomannan conjugate with emulsifying properties and heat stability. J Agric Food Chem 46:3958–3963

21.

Junfeng F, Yanyan Z, Szesze T, Fengjuan L, Manyu Z, Saito M, Eizo Tatsumi E, Lite L (2006) Improving functional properties of soy protein hydrolysate by conjugation with curdlan. J Food Sci 71:C285–C291

22.

Nakamura S, Kato A (2000) Multi-functional biopolymer prepared by covalent attachment of galactomannan to egg-white proteins through naturally occurring Maillard reaction. Nahrung 44:201–206

23.

Iwan M, Vissers YM, Fiedorowicz E, Kostyra H, Kostyra E, Savelkoul HF, Wichers HJ (2011) Impact of Maillard reaction on immunoreactivity and allergenicity of the hazelnut allergen Cor a 11. J Agric Food Chem 59:7163–7171

24.

Isono M, Saeki H, Nishimura K (2012) Properties of glycated chicken myofibrillar proteins with enhanced antioxidant abilities. J Home Econ Jpn 63:461–468

25.

Saigusa M, Nishizawa M, Shimizu Y, Saeki H (2015) In vitro and in vivo anti-inflammatory activity of digested peptides derived from salmon myofibrillar protein conjugated with a small quantity of alginate oligosaccharide. Biosci Biotechnol Biochem 79:1518–1527

26.

Sato R, Katayama S, Sawabe T, Saeki H (2003) Stability and emulsion-forming ability of water-soluble fish myofibrillar protein prepared by conjugation with alginate oligosaccharide. J Agric Food Chem 51:4376–4381

27.

Takeda H, Iida T, Okada A, Ootsuka H, Ohshita T, Masutani E, Katayama S, Saeki H (2007) Feasibility study on water solubilization of spawned out salmon meat by conjugation with alginate oligosaccharide. Fish Sci 73:924–930

28.

Laemmli UK (1970) Cleavage of structural proteins during the assembly of the head of bacteriophage T4. Nature 227:680–685

29.

Zacharius RM, Zell TE, Morrison JH, Woodlock JJ (1969) Glycoprotein staining following electrophoresis on acrylamide gels. Anal Biochem 30:148–152

30.

Gornall AG, Bardawill CJ, David MM (1949) Determination of serum proteins by means of the biuret reaction. J Biol Chem 177:751–766

31.

Dubois M, Gilles AK, Hamilton KJ, Rebers AP, Smith F (1956) Colorimetric method for determination of sugers and related substances. Anal Chem 28:350–356

32.

Hernandez MJM, Alvarez-coque MCG (1992) Availble lysine in protein assay using o-phthalaldehyde/N-acetyl l-cysteine spectrophotometric method. J Food Sci 57:503–505

33.

Baer HP, Schmidt K, Mayer B, Kukovetz WR (1995) Pentamidine does not interfere with nitrite formation in activated RAW 264.7 macrophages but inhibits constitutive brain nitric oxide synthase. Life Sci 57:1973–1980

34.

Suzuki K, Koh YH, Mizuno H, Hamaoka R, Taniguchi N (1998) Overexpression of aldehyde reductase protects PC12 cells from the cytotoxicity of methylglyoxal or 3-deoxyglucosone. J Biochem 123:353–357

35.

Kitts DD, Xiu-Min C, Hao J (2012) Demonstration of antioxidant and anti-inflammatory bioactivities from sugar-amino acid Maillard reaction products. J Agric Food Chem 60:6718–6727

36.

Okada N, Hirata A, Murakami Y, Shoji M, Sakagami H, Fujisawa S (2005) Induction of cytotoxicity and apoptosis and inhibition of cyclooxygenase-2 gene expression by eugenol-related compounds. Anticancer Res 25:3263–3269

37.

Dubois RN, Abramson SB, Crofford L, Gupta RA, Simon LS, Van De Putte LB, Lipsky PE (1998) Cyclooxygenase in biology and disease. FASEB J 12:1063–1073

38.

Jones MK, Wang H, Peskar BM, Levin E, Itani RM, Sarfeh IJ, Tarnawski AS (1999) Inhibition of angiogenesis by nonsteroidal anti-inflammatory drugs: insight into mechanisms and implications for cancer growth and ulcer healing. Nat Med 5:1418–1423

39.

Egan LJ, Toruner M (2006) NF-kappaB signaling: pros and cons of altering NF-kappaB as a therapeutic approach. Ann N Y Acad Sci 1072:114–122

40.

Håversen L, Ohlsson BG, Hahn-Zoric M, Hanson LA, Mattsby-Baltzer I (2002) Lactoferrin down-regulates the LPS-induced cytokine production in monocytic cells via NF-kappa B. Cell Immunol 220:83–95

41.

De Mejia EG, Dia VP (2009) Lunasin and lunasin-like peptides inhibit inflammation through suppression of NF-kappaB pathway in the macrophage. Peptides 30:2388–2398

42.

Singh S, Aggarwal BB (1995) Activation of transcription factor NF-kappaB is suppressed by curcumin (diferuloylmethane). J Biol Chem 270:24995–25000

43.

Cuzzocrea S, Sautebin L, De Sarro G, Costantino G, Rombolà L, Mazzon E, Ialenti A, De Sarro A, Ciliberto G, Di Rosa M, Caputi AP, Thiemermann C (1999) Role of IL-6 in the pleurisy and lung injury caused by carrageenan. J Immunol 163:5094–5104

44.

Tan-No K, Nakajima T, Shoji T, Nakagawasai O, Niijima F, Ishikawa M, Endo Y, Sato T, Satoh S, Tadano T (2006) Anti-inflammatory effect of propolis through inhibition of nitric oxide production on carrageenin-induced mouse paw edema. Biol Pharm Bull 29:96–99

45.

Omote K, Hazama K, Kawamata T, Kawamata M, Nakayaka Y, Toriyabe M, Namiki A (2001) Peripheral nitric oxide in carrageenan-incuced inflammation. Brain Res 912:171–175

46.

Sato R, Sawabe T, Saeki H (2005) Characterization of fish myofibrillar protein by conjugation with alginate oligosaccharide prepared using genetic recombinant alginate lyase. J Food Sci 70:58–62

47.

Sato R, Sawabe T, Kishimura H, Hayashi K, Saeki H (2000) Preparation of neoglycoprotein from carp myofibrillar protein and alginate oligosaccharide: improved solubility in low ionic strength medium. J Agric Food Chem 48:17–21

48.

Maitena U, Katayama S, Sato R, Saeki H (2004) Improved solubility and stability of carp myosin by conjugation with alginate oligosaccharide. Fish Sci 70:896–902
Acknowledgments
We deeply appreciate the technical assistance of Mr. Yutaka Shimizu, Ph.D., Hokkaido University, for instruction on immunoblotting strategy. We deeply appreciate Hideki Kishimura, Associate Professor, Hokkaido University, for instruction on PCR strategy. We thank Hokkaido Mitsui Chemical Industry Co., Ltd., for supplying alginate oligosaccharide. Part of this work was supported by the Japan Science and Technology Agency, A-STEP Program (FS stage), 2010.
About this article
Cite this article
Nishizawa, M., Saigusa, M. & Saeki, H. Conjugation with alginate oligosaccharide via the controlled Maillard reaction in a dry state is an effective method for the preparation of salmon myofibrillar protein with excellent anti-inflammatory activity. Fish Sci 82, 357–367 (2016). https://doi.org/10.1007/s12562-015-0959-3
Received:

Accepted:

Published:

Issue Date:
Keywords
Alginate oligosaccharide

Anti-inflammation

Maillard reaction

Muscle protein

Salmon