Abstract
There are various techniques for identifying fish species, including the multi-frequency method, in situ target strength characteristics, and digital image processing methods. Acoustic Doppler current profilers (ADCPs) are able to determine multiple current fields simultaneously and have been used to observe the swimming speed and behavior patterns of shoals of pelagic fish under natural conditions. In this study, we evaluated a classification method that can be used to determine the swimming velocity of both the sound-scattering layer and pelagic fish shoals using an ADCP (153.6 kHz) and a scientific echosounder (38, 200 kHz). To calculate the actual swimming speed of the fish shoals, the mean swimming velocity vectors of each stratified bin must be compared with the mean surrounding three-dimensional (3D) current velocity vectors. We found the average 3D swimming velocity of the sound-scattering layer to be characterized by a deviation of >5.3 cm/s from the surrounding current field. The average 3D swimming velocity of Pacific saury Cololabis saira was calculated to be 91.3 cm/s, while that of lanternfish Diaphus theta was 28.1 cm/s. These swimming speeds correspond to 4.19- and 4.26-fold the body length, respectively. Thus, the use of ADCP swimming velocity data can be expected to be a valuable species identification method for various fishes distributed in a given survey area.
This is a preview of subscription content,
to check access.
Access this article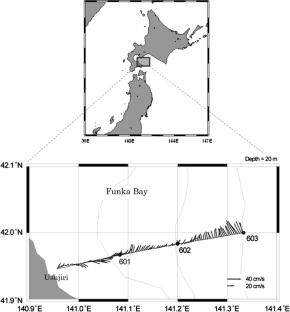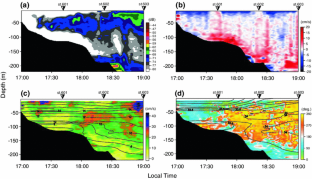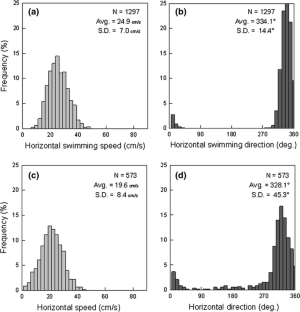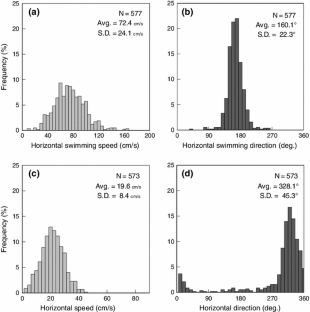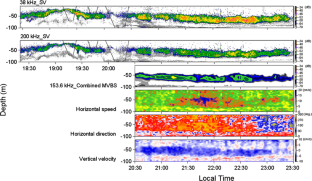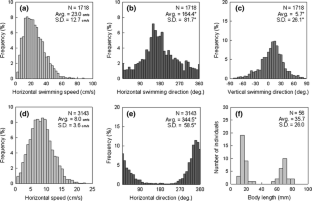 References
Madureira LSP, Everson I, Murphy EJ (1993) Interpretation of acoustic data at two frequencies to discriminate between Antarctic krill (Euphausia superba Dana) and other scatterers. J Plank Res 15:787–802

Miyashita K, Aoki I, Seno K, Taki K (1997) Acoustic identification of isada Krill, Euphausia pacifica Hansen, off the Sanriku coast, north-eastern Japan. Fish Oceanogr 6:266–271

Kang M, Furusawa M, Miyashita K (2002) Effective and accurate use of difference in mean volume backscattering strength to identify fish and plankton. ICES J Mar Sci 59:794–804

Holliday DV (1974) Doppler structure in echoes from schools of pelagic fish. J Acoust Soc Am 55:1313–1322

Zhou M, Nordhausen W, Huntley M (1994) ADCP measurements of the distribution and abundance of krills near the Antarctic Peninsula in water. Deep Sea Res 41:1425–1445

Demer DA, Barange M, Boyd AJ (2000) Measurements of three-dimensional fish school velocities with an acoustic Doppler current profiler. Fish Res 47:201–214

Zedel L, Knutsen T, Patro R (2003) Acoustic Doppler current profiler observations of herring movement. ICES J Mar Sci 60:846–859

Torgersen T, Kaartvedt S (2001) In situ swimming behavior of individual mesopelagic fish studied by split-beam echo target tracking. ICES J Mar Sci 53:346–354

Chu D, Jech JM, Lavery A (2003) Inference of geometrical and behavioral parameters of individual fish from echo-trace-analysis. Deep Sea Res I 50:515–527

Lee KH, Lee DJ, Kim HS, Park SW (2010) Swimming speed measurement of Pacific saury (Cololabis saira) using acoustic Doppler current profiler (in Korean with English abstract). J Kor Soc Fish Technol 46:165–172

Plimpton PE, Freitag PH, McPhaden MJ (1997) ADCP velocity errors from pelagic fish schooling around equatorial moorings. J Atmos Ocean Technol 14:1212–1223

Deines KL (1999) Backscatter estimation using broadband acoustic Doppler current profilers. Application Note. RD Instruments, San Diego, USA

RD Instruments (1996) Acoustic Doppler current profiler, principles of operation a practical primer. RD Instruments, San Diego

RD Instruments (1996b) Field service technical paper 001 (FST-001) broadband ADCP advanced principles of operation 01 October 1996. RD Instruments, San Diego

Dickson KA, Donley JM, Sepulveda C, Bhoopat L (2002) Effect of temperature on sustained swimming performance and swimming kinematics of the chub mackerel Scomber japonicus. J Exp Biol 205:969–980

Wilson CD, Firing E (1992) Sunrise swimmers bias acoustic Doppler current profiles. Deep Sea Res 39:885–892
Acknowledgments
We thank the officers and crew of the T/S Ushio Maru, and thank Prof. Y. Fujimori for net sampling support. This study was partially supported by a grant (RP-2013-FE-026) provided by the National Fisheries Research and Development Institute of Korea and was also supported by the FiSCUP (Core University Program on Fisheries Science) between Pukyong National University and Hokkaido University funded by KRF and JSPS. The authors express their thanks to the editor and two anonymous reviewers for providing helpful comments.
About this article
Cite this article
Lee, K., Mukai, T., Lee, DJ. et al. Classification of sound-scattering layers using swimming speed estimated by acoustic Doppler current profiler. Fish Sci 80, 1–11 (2014). https://doi.org/10.1007/s12562-013-0683-9
Received:

Accepted:

Published:

Issue Date:

DOI: https://doi.org/10.1007/s12562-013-0683-9
Keywords