Abstract
To develop an efficient and stable method for enhancing spawning of black scrapers in captivity, we examined the following three factors: (1) different kinds of spawning substrate, (2) the area of the spawning substrate, (3) the grain size of the spawning substrate. The results demonstrated that sand is the optimum spawning substrate when compared to a hard polyvinyl chloride sheet, a piece of shading net, or artificial spawning grass. No difference was observed in the spawning frequency between a small sand bed of area 400 cm2 and sand spread over the bottom of the tank to an area of 7085 cm2, since the egg masses were spawned on the sand in a small area approximately 15 cm in diameter. In addition to the spawned eggs, the small movable sand bed is useful for subsequent harvest. No differences were observed in either the spawning frequency or the hatching rate when using sand beds with different grain sizes. In large-scale egg collection trials, an average of 33 egg masses from which an average of 403,000 larval fish were obtained. We can therefore conclude that the procedure developed in the present study is applicable to the commercial-scale seed production of black scraper.
Access options
Buy single article
Instant access to the full article PDF.
USD 39.95
Price includes VAT (USA)
Tax calculation will be finalised during checkout.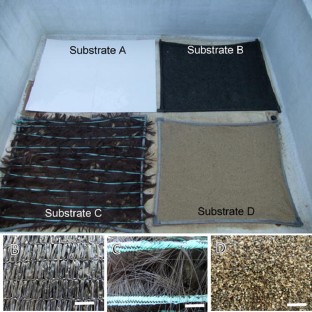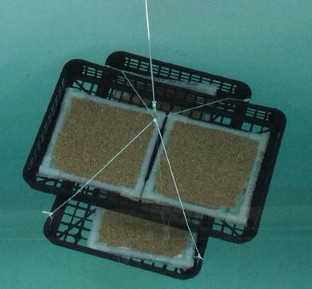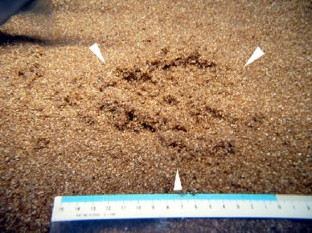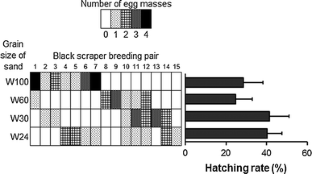 References
1.

Matsuura K (1984) Tetraodontiformes. In: Masuda H, Amaoka K, Araga C, Uyeno T, Yoshino T (eds) The fishes of the Japanease archipelago (English text and plates). Tokai University Press, Tokyo, pp 357–366, pls 321–324

2.

Kawase H (2002) Simplicity and diversity in the reproductive ecology of triggerfish (Balistidae) and filefish (Monacanthidae). In: Proceedings of International Commemorative Symposium, 70th anniversary of the Japanese Society of Fisheries Science. Fish Sci 68(suppl. 1):119–122

3.

Chuda H, Matsuyama M, Ikeda Y, Matsuura S (1997) Development of the maturation and ovulaton-induction method in cultured tiger puffer Takifugu rubripes by hormonal treatments. Nippon Suisan Gakkaishi 63:728–733 (in Japanese, with English abstract)

4.

Kitsukawa M, Ohba M, Kudoh S (2006) Use of a new jar hatchery to control the hatching of adhesive-eliminated eggs of Japanese smelt, Hypomesus nipponensis. Aquac Sci 54:231–236 (in Japanese, with English abstract)

5.

Duncan NJ, Rodriguez GM, Alok D, Zohar Y (2003) Effects of controlled delivery and acute injections of LHRHa on bullseye puffer fish (Sphoeroides annulatus) spawning. Aquaculture 218:625–635

6.

Yanai H (2004) Statcel—the useful addin forms on Excel—2nd ed. OMS, Tokyo (in Japanese)

7.

Kawase H, Nakazono A (1996) Two alternative female tactics in the polygynous mating system of the threadsail filefish, Stephanolepis cirrhifer (Monacanthidae). Ichthyol Res 43:315–323

8.

Takami T, Utsunomiya T (1969) Studies on seed production of black scraper, Thamnaconus modestus. Yamaguchi-ken Naikai-Suisanshikenjo Chosakenkyu-gyoseki 18:1–23 (in Japanese)

9.

Hayashi M, Seko K (1986) Practical technique for artificial propagation of Japanese pearl oyster (Pinctada fucata). Bull Fish Res Ins 1:39–68 (in Japanese, with English abstract)

10.

Miyaki K, Tyuda H, Watanabe T, Mizuta K, Tsukashima Y, Yoshida N, Tabeta O (1998) Treatment of tiger puffer, Takifugu rubripes, eggs with tannic acid to eliminate their adhesiveness for seed propagation. Suisanzoshoku 46:97–100 (in Japanese, with English abstract)

11.

Mizuno S, Sasaki Y, Omoto N, Imada K (2004) Elimination of adhesiveness in the eggs of shishamo smelt Spirinchus lanceolatus using kaolin treatment to achieve high hatching rate in an environment with a high iron concentration. Aquaculture 242:713–726

12.

Sauter RW (1987) A study of bacteria present within unfertilized salmon eggs at the time of spawning and their possible relation to early lifestage death. J Fish Dis 10:193–203

13.

Kitancharoen N, Hatai K (1996) Experimental infection of Saprolegnia spp. in rainbow trout eggs. Fish Pathol 31:49–50

14.

Komar C, Turnbull JF, Roque A, Fajer E, Duncan NJ (2004) Effect of water treatment and aeration on the percentage hatch of demersal, adhesive eggs of the bullseye puffer (Sphoeroides annulatus). Aquaculture 229:147–158

15.

Matsuura S, Furuichi M, Maruyama K, Matsuyama M (1988) Daily spawning and quality of eggs in one female red sea bream Pagrus major. Suisanzoshoku 36:33–39 (in Japanese, with English abstract)

16.

Zhu Y, Furukawa K, Aida K, Hanyu I (1991) Daily spawning rhythm during spring and autumn spawning season in Tobinumeri-dragonet Repomucenus beniteguri. Nippon Suisan Gakkaishi 57:1865–1870

17.

Watanabe K (2005) Spawning and egg quality of individually reared female devil stinger, Inimicus japonicus. Aquac Sci 53:107–114 (in Japanese, with English abstract)

18.

Watanabe K, Suzuki S, Nishiki A, Minami T (2008) Spontaneous spawning rhythm and egg number of wild barfin flounder Verasper moseri reared in a tank. J Fish Technol 1:55–59 (in Japanese, with English abstract)

19.

Watanabe T, Fujimura T, Lee M-J, Fukusho K, Satoh S, Takeuchi T (1991) Effect of polar nonpolar lipids from krill on quality of eggs of red seabream Pagrus major. Nippon Suisan Gakkaishi 57:695–698

20.

Furuita H, Tanaka H, Yamamoto T, Shiraishi M, Takeuchi T (2000) Effects of n-3 HUFA levels in broodstock diet on the reproductive performance and egg and larval quality of the Japanese flounder, Paralichthys olivaceus. Aquaculture 187:387–398

21.

Bruce M, Oyen F, Bell G, Asturiano JF, Farndale B, Carrillo M, Zanuy S, Ramos J, Bromage N (1999) Development of broodstock diets for the European sea bass (Dicentrarchus labrax) with special emphasis on the importance of n-3 and n-6 highly unsaturated fatty acid to reproductive performance. Aquaculture 177:85–97
About this article
Cite this article
Mizuno, K., Shimizu-Yamaguchi, S., Miura, C. et al. Method for efficiently obtaining fertilized eggs from the black scraper Thamnaconus modestus by natural spawning in captivity. Fish Sci 78, 1059–1064 (2012). https://doi.org/10.1007/s12562-012-0527-z
Received:

Accepted:

Published:

Issue Date:
Keywords
Black scraper

Natural spawning

Spawning substrate

Sand

Seed production