Abstract
In this study, four essential oils—cinnamon oil, leech lime oil, lemongrass oil, and turmeric oil—were examined for their antimicrobial activities against Streptococcus iniae, a bacterium that is pathogenic in fish, in which it causes streptococcosis. Cinnamon oil was the most potent antimicrobial agent among these oils, with a minimal inhibitory concentration (MIC) of 40 μg/ml. By using gas chromatography–mass spectrometry (GC–MS), it was found that the major components of cinnamon oil were cinnamaldehyde (90.24), limonene (2.42%), cinnamyl acetate (2.03%), linalool (1.16%), and α-terpineol (0.87%). Of these compounds, only cinnamaldehyde exhibited antimicrobial activity against S. iniae, with an MIC of 20 μg/ml. In an in vivo trial, no mortality was apparent in fish fed on fish diets supplemented with 0.4% (w/w) of cinnamon oil and with 0.1% (w/w) of oxytetracycline 5 days prior to infection with S. iniae. These results indicate that cinnamon oil had a protective effect on experimental S. iniae infection in tilapia, and thus has the potential to replace the antibiotics used to control this disease.
This is a preview of subscription content, log in to check access.
Access options
Buy single article
Instant access to the full article PDF.
US$ 39.95
Price includes VAT for USA
Subscribe to journal
Immediate online access to all issues from 2019. Subscription will auto renew annually.
US$ 99
This is the net price. Taxes to be calculated in checkout.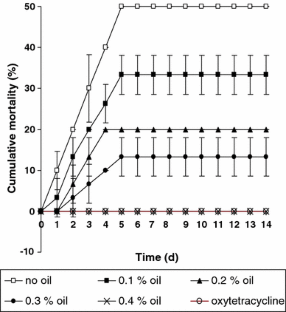 References
1.

Eldar A, Horvitcz A, Bercovier H (1997) Development and efficacy of a vaccine against Streptococcus iniae infection in farmed rainbow trout. Vet Immunol Immunopathol 56:175–183

2.

Sako H (1998) Studies on Streptococcus iniae infection in yellowtail, Seriola quinqueradiata. Bull Nansei Natl Fish Res Inst 31:63–120

3.

Bromage ES, Thomas A, Owens L (1999) Streptococcus iniae, a bacterial infection in barramundi Lates calcarifer. Dis Aquat Org 36:177–181

4.

Eldar A, Perl S, Frelier PF, Bercovier H (1999) Red drum Sciaenops ocellatus mortalities associated with Streptococcus iniae infection. Dis Aquat Org 36:121–127

5.

Yuasa K, Kitanchareon N, Kataoka Y, Al-Murbaty FA (1999) Streptococcus iniae, the causative agent of mass mortality in rabbitfish Siganus canaliculatus in Bahrain. J Aquat Anim Health 11:87–93

6.

Colorni A, Diamant D, Eldar A, Kvitt H, Zlotkin A (2002) Streptococcus iniae infections in Red Sea cage-cultured and wild fishes. Dis Aquat Org 49:165–170

7.

Shoemaker CA, Klesius PH, Evans JJ (2001) Prevalence of Streptococcus iniae in tilapia, hybrid striped bass, and channel catfish on commercial fish farms in the United States. Am J Vet Res 62:174–177

8.

Shoemaker CA, Klesius PH (1997) Streptococcal disease problems and control: a review. In: Fitzsimmons K (ed) Tilapia aquaculture, vol 2. Northeast Regional Agricultural Engineering Service, Ithaca, pp 671–682

9.

Abutbul S, Golan-Goldhirsh A, Barazani O, Zilberg D (2004) Use of Rosmarinus officinalis as a treatment against Streptococcus iniae in tilapia (Oreochromis sp.). Aquaculture 238:97–105

10.

Agnew W, Barnes AC (2007) Streptococcus iniae: n aquatic pathogen of global veterinary significance and a challenging candidate for reliable vaccination. Vet Microbiol 122:1–15

11.

Stoffregen DA (1996) Initial disease report of Streptococcus iniae infection in hybrid striped (sunshine) bassand successful therapeutic intervention with the fluoroquinolone antibacterial enrofloxacin. J World Aquac Soc 27:420

12.

Smith P, Hiney MP, Samuelesen OB (1994) Bacterial resistance to antimicrobial agent used in fish farming: a critical evaluation of method and meaning. Ann Rev Fish Dis 4:273–313

13.

Alderman DJ, Hastings TS (1998) Antibiotic use I aquaculture: development of antibiotic resistance-potential for consumer health risks. Int J Food Sci Technol 3:139–155

14.

Cabello FC (2006) Heavy use of prophylactic antibiotics in aquaculture: a growing problem for human and animal health and for environment. Environ Microbiol 8:1137–1144

15.

Burt S (2004) Essential oils: their antibacterial properties and potential applications in foods-a review. Int J Food Microbiol 94:223–253

16.

Tampieri MP, Galuppi R, Carelle MS, Macchioni F, Cioni PL, Morelli I (2003) Effect of selected essential oils and pure compounds on Saprolegnia parasitica. Pharm Biol 41:584–591

17.

Rattanachaikunsopon P, Phumkhachorn P (2009) Protective effect of clove oil-supplemented fish diets on experimental Lactococcus garvieae infection in tilapia. Biosci Biotechnol Biochem 73:2085–2089

18.

Berridge B, Fuller JD, de Azavedo J, Low DE, Bercovier H, Frelier PE (1998) Development of specific nested oligonucleotide PCR primers for the Streptococcus iniae 16S–23S ribosomal DNA intergenic spacer. J Clin Microbiol 36:2778–2781

19.

Rattanachaikunsopon P, Phumkhachorn P (1998) A simple method for detecting bacteriocin production: swab-paper disc. J Sci KKU 26:281–288

20.

Prudent D, Perineau F, Bessiere JM, Michel GM, Baccou JC (1995) Analysis of the essential oil of wild oregano from Martinique (Coleus romaticus Benth.)—evaluation of its bacteriostatic and fungistatic properties. J Essen Oil Res 7:165–173

21.

Adams RP (2001) Identification of essential oil components by gas chromatography/quadrupole mass spectroscopy. Allured Publishing, Carol Stream

22.

Jones FA (1996) Herbs—useful plants their role in history and today. Euro J Gastroenterol Hepatol 8:1227–1231

23.

Lis-Balchin M, Deans SG (1997) Bioactivity of selected plant essential oils against Listeria monocytogenes. J Appl Bacteriol 82:759–762

24.

Zaika LL (1988) Spices and herbs: their antibacterial activity and its determination. J Food Safety 23:97–118

25.

Sikkema J, De Bont JAM, Poolman B (1994) Interactions of cyclic hydrocarbons with biological membranes. J Biol Chem 269:8022–8028

26.

Denyer SP, Hugo WB (1991) Biocide-induced damage to the bacterial cytoplasmic membrane. In: Denyer SP, Hugo WB (eds) Mechanisms of action of chemical biocides. Blackwell, Oxford, pp 171–188

27.

Ouattara B, Simard RE, Holley RA, Pitte GJP, Begin A (1997) Antimicrobial activity of selected fatty acids and essential oils against six meat spoilage organisms. Int J Food Microbiol 37:155–162

28.

Prabuseenivasan S, Jayakumar M, Ignacimuthu S (2006) In vitro antibacterial activity of some plant essential oils. MBC Compl Alter Med 6:39.1–39.8

29.

Schmidt E, Jirovetz L, Buchbauer G, Eller GA, Stoilova I, Krastanov A, Stoyanova A, Geissler M (2006) Composition and antioxidant activities of the essential oil of cinnamon (Cinnamomum zeylanicum Blume) leaves from Sri Lanka. J Essen Oil Bearing Plants 9:170–182

30.

Quale JM, Landman D, Zaman MM, Burney S, Sathe SS (1996) In vitro activity of Cinnamomum zeylanicum against azole resistant and sensitive Candida species and a pilot study of cinnamon for oral candidiasis. Am J Chin Med 24:103–109

31.

Lopez P, Sanchez C, Batlle R, Nerin C (2007) Vapor-phase activities of cinnamon, thyme and oregano essential oil and key constituents against foodborne microorganisms. J Agric Food Chem 55:4348–4356

32.

Senhaji O, Faid M, Kalalou I (2007) Inactivation of Escherichia coli O157:H7 by essential oil from Cinnamomum zeylanicum. Braz J Infect Dis 11:234–236

33.

Gill AO, Holley RA (2004) Mechanisms of bactericidal action of cinnamaldehyde against Listeria monocytogenes and of Eugenol against L. monocytogenes and Lactobacillus sakei. Appl Environ Microbiol 70:5750–5755

34.

Valero M, Frances E (2006) Synergistic bactericidal effect of carvacrol, cinnamaldehyde or thymol and refrigeration to inhibit Bacillus cereus in carrot broth. Food Microbiol 23:68–73

35.

Kim HO, Park SW, Park HD (2004) Inactivation of Escherichia coli O157:H7 by cinnamic aldehyde purified from Cinnamomum cassia shoot. Food Microbiol 21:105–110

36.

Wendakoon CN, Sakaguchi M (1995) Inhibition of amino acid decarboxylase activity of Enterobacter aerogenes by active components in spices. J Food Prot 58:280–283

37.

Haines CE, Shankel DM (1990) The effects of cinnamaldehyde and vanillin in growth assays of Escherichia coli and Salmonella typhimurium. Environ Mol Mutagen 15(Suppl 17):23–24

38.

EPA (2000) Cinnamaldehyde (040506) fact sheet. Pesticides: regulating pesticides. US Environmental Protection Agency, Washington, DC (see http://www.epa.gov/pesticides/biopesticides/ingredients/factsheets/factsheet_040506.htm)
About this article
Cite this article
Rattanachaikunsopon, P., Phumkhachorn, P. Potential of cinnamon (Cinnamomum verum) oil to control Streptococcus iniae infection in tilapia (Oreochromis niloticus). Fish Sci 76, 287–293 (2010). https://doi.org/10.1007/s12562-010-0218-6
Received:

Accepted:

Published:

Issue Date:
Keywords
Cinnamaldehyde

Cinnamon oil

Streptococcus iniae

Tilapia