Abstract
Red snappers were examined for reproductive biology and age-0 habitat preferences. Spawning in red snappers occurred throughout the year in northern Australia and eastern Indonesia; at least 10–30% of females and 40–80% of males were in ripe or spawning condition in most months. Northern Australian populations showed a spawning peak from July to December (L. erythropterus) and September to March (L. malabaricus). Eastern Indonesian L. malabaricus had a less defined pattern with two peaks: January–March and October. Size at first maturity was 240 mm for males and 250–300 mm for females. L 50 estimates were similar between species in northern Australia: 270–280 mm (males) and 350–370 mm (females). Maximum batch fecundity was 676,100 oocytes for L. erythropterus and 997,000 oocytes for L. malabaricus. Higher mean abundances of age-0 L. erythropterus were found in silty and coarse sand/rubble estuarine habitats of northern Australia (456 ± 119 fish/km2) compared with sandy coastal habitats (5 ± 3 fish/km2). Most age-0 snapper caught at Sape (eastern Indonesia) were L. malabaricus (91%) with mean abundances of 312 ± 14 fish/km2. The similarities in the reproductive characteristics of red snappers suggest that successful management approaches adopted in northern Australia should be considered in eastern Indonesia.
Access options
Buy single article
Instant access to the full article PDF.
USD 39.95
Price excludes VAT (USA)
Tax calculation will be finalised during checkout.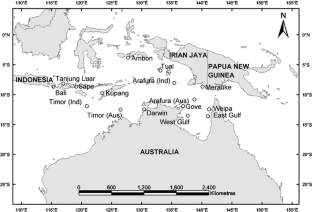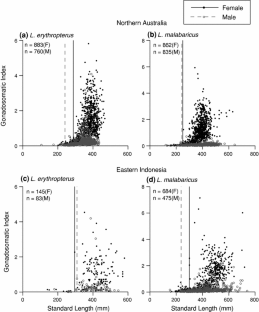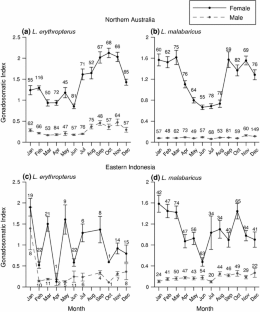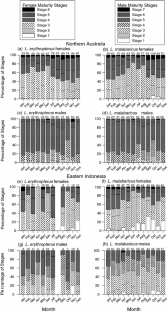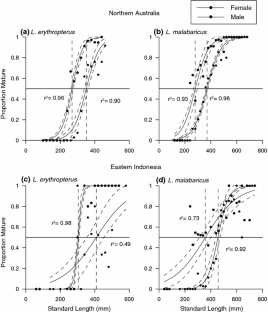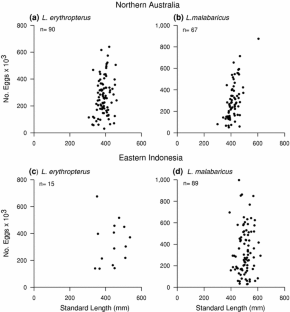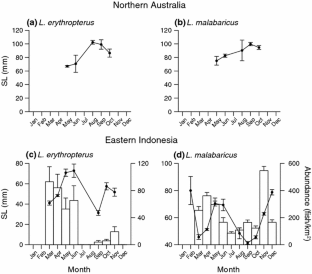 References
Williams DMcB, Russ GR (1994) Review of data on fishes of commercial and recreational fishing interest on the Great Barrier Reef, vol 1. Great Barrier Reef Marine Park Authority Research Publication No. 33

Blaber SJM, Dichmont CM, Buckworth RC, Badrudin, Sumiono B, Nurhakim S, Iskandar B, Fegan B, Ramm DC, Salini JP (2005) Shared stocks of snappers (Lutjanidae) in Australia and Indonesia: integrating biology, population dynamics and socio-economics to examine management scenarios. Rev Fish Biol Fish 15:111–127

Salini JP, Ovenden JR, Street R, Pendrey R, Haryanti, Ngurah (2006) Genetic population structure of red snappers (Lutjanus malabaricus Bloch & Schneider, 1801 and L. erythropterus Bloch, 1790) in central and eastern Indonesia and northern Australia. J Fish Biol 68:217–234

Davis TLO, West GJ (1993) Maturation, reproductive seasonality, fecundity, and spawning frequency in Lutjanus vittus (Quoy and Gaimard) from the North West Shelf of Australia. Fish Bull US 91:224–236

Grimes CB (1987) Reproductive biology of the Lutjanidae: a review. In: Polovina JJ, Ralston S (eds) Tropical snapper and groupers: biology and fisheries management. Westview, Boulder, pp 239–294

Kritzer JP (2004) Sex-specific growth and mortality, spawning season, and female maturation of the stripey bass (Lutjanus carponotatus) on the Great Barrier Reef. Fish Bull 102:94–107

Marriott RJ, Mapstone BD, Begg GA (2007) Age-specific demographic parameters, and their implications for management of the red bass, Lutjanus bohar (Forsskal 1775): a large long-lived reef fish. Fish Res 83:204–215

Shimose T, Tachihara K (2005) Age, growth and maturation of the blackspot snapper Lutjanus fulviflammus around Okinawa Island, Japan. Fish Sci 71:48–55

Collins LA, Johnson AG, Keim CP (1996) Spawning and annual fecundity of the red snapper (Lutjanus campechanus) from the northeastern Gulf of Mexico. In: Arreguin-Sanchez F, Munro JL, Balgos MC, Pauly D (eds) Biology, fisheries and culture of tropical groupers and snappers. International Center for Living Aquatic Resources Management Conference Proceedings No. 48, pp 174–188

Rooker JR, Landry AM Jr, Geary BW, Harper JA (2004) Assessment of a shell bank and associated substrates as nursery habitat of postsettlement red snapper. Estuar Coast Shelf Sci 59:653–661

Szedlmayer ST, Conti J (1999) Nursery habitats, growth rates, and seasonality of age-0 red snapper, Lutjanus campechanus, in the northeast Gulf of Mexico. Fish Bull 97:626–635

Workman IK, Foster DG (1994) Occurrence and behavior of juvenile red snapper, Lutjanus campechanus, on commercial shrimp fishing grounds in the northeastern Gulf of Mexico. Mar Fish Rev 56:9–11

Workman I, Shah A, Foster D, Hataway B (2002) Habitat preferences and site fidelity of juvenile red snapper (Lutjanus campechanus). ICES J Mar Sci 59:S43–S50

Andamari R, Milton DA, Van der Velde T, Sumiono B (2004) Reproductive biology of red snapper (Lutjanus malabaricus) from Sape and Kupang waters. Indones Fish Res J 10:65–75

Blaber SJM, Brewer DT, Milton DA, Merta GS, Efizon D, Fry G, van der Velde T (1999) The life history of the protandrous tropical shad Tenualosa macrura (Alosinae: Clupeidae): fishery implications. Estuar Coast Shelf Sci 49:689–701

Cyrus DP, Blaber SJM (1984) The reproductive biology of Gerres in Natal estuaries. J Fish Biol 24:491–504

King M (1995) Fisheries biology. Assessment and management. Fishing News Books, Oxford

Arnold CR, Wakeman JR, Williams TD, Teece GD (1978) Spawning of red snapper (Lutjanus campechanus) in captivity. Aquaculture 15:301–302

Grimes CB, Huntsman GR (1980) Reproductive biology of the vermilion snapper, Rhomboplites aurorubens, from North Carolina and South Carolina. Fish Bull 78:137–146

Luckhurst BE, Dean JM, Reichert M (2000) Age, growth and reproduction of the lane snapper Lutjanus synagris (Pisces: Lutjanidae) at Bermuda. Mar Ecol Prog Ser 203:255–261

Allman RJ, Grimes CB (2002) Temporal and spatial dynamics of spawning, settlement, and growth of gray snapper (Lutjanus griseus) from the West Florida shelf as determined from otolith microstructures. Fish Bull 100:391–403

Manooch CSIII, Potts JC, Vaughan DS, Burton ML (1998) Population assessment of the red snapper from the southeastern United States. Fish Res 38:19–32

Szedlmayer ST, Shipp RL (1994) Movement and growth of red snapper, Lutjanus campechanus, from an artificial reef area in the northeastern Gulf of Mexico. Bull Mar Sci 55:887–896

Wilson CA, Nieland DL (2001) Age and growth of red snapper, Lutjanus campechanus, from the northern Gulf of Mexico off Louisiana. Fish Bull 99:653–664

Rocha-Olivares A (1998) Age, growth mortality, and population characteristics of the Pacific red snapper, Lutjanus peru, off the southeast coast of Baja California, Mexico. Fish Bull 96:562–574

Santamaria-Miranda A, Elorduy-Garay JF, Villalejo-Fuerte M, Rojas-Herrera AA (2003) Gonadal development and reproductive cycle of Lutjanus peru (Pisces: Lutjanidae) in Guerrero, Mexico. Rev Biol Trop 51:489–501

Manickchand-Dass S (1987) Reproduction, age and growth of the lane snapper, Lutjanus synagris (Linnaeus), in Trinidad, West Indies. Bull Mar Sci 40:22–28

Rojas JR (1997) Fecundity and reproductive seasons of Lutjanus guttatus (Pisces: Lutjanidae) in Gulf of Nicoya, Costa Rica. Rev Biol Trop 45:477–487

Scott-Denton E, Nance J (1996) Shrimp trawl bycatch research in the US Gulf of Mexico and southeastern Atlantic. In: Arreguin-Sanchez F, Munro JL, Balgos MC, Pauly D (eds) Biology, fisheries and culture of tropical groupers and snappers. International Center for Living Aquatic Resources Management Conference Proceedings No. 48, pp 360–362
Acknowledgments
We thank the eastern Indonesian fisheries staff; Mujimin and Noto for coordinating and collecting red snapper samples in eastern Indonesia. Stephanie Boubaris, Mike Elmsley, Chris Errity and Chris Tarca from Northern Territory Department of Business, Industry and Resource Development helped collect the northern Australian samples. We would also like to thank Don Heales and Shane Griffiths for coordinating and participating in field surveys in northern Australia. We are also grateful to Bill Passey of FV Ocean Harvest and Clive Perry of FV Reef Venture for supplying red snapper samples from northern Australia. Steve Blaber and John Salini made constructive comments on the draft manuscript. This project was partly funded by the Australian Centre for International Agricultural Research (ACIAR FIS 97/165).
About this article
Cite this article
Fry, G., Milton, D.A., Van Der Velde, T. et al. Reproductive dynamics and nursery habitat preferences of two commercially important Indo-Pacific red snappers Lutjanus erythropterus and L. malabaricus . Fish Sci 75, 145–158 (2009). https://doi.org/10.1007/s12562-008-0034-4
Received:

Accepted:

Published:

Issue Date:

DOI: https://doi.org/10.1007/s12562-008-0034-4
Keywords
Age-0

Eastern Indonesia

Habitat preference

Lutjanidae

Northern Australia

Red snappers

Reproduction