Abstract
In designing dose-ranging studies at early Phase II, one of the major challenges is dose allocation or dose spacing. Binary dose spacing (BDS) has been established over the years as a practical and useful way of allocating doses. In this manuscript, the pharmacokinetics (PK)-guided dose allocation, pharmacokinetics/pharmacodynamics (PK/PD)-guided dose allocations are compared with BDS. Additionally, a mixed dose allocation strategy is proposed and also compared. Simulations are performed to study various properties of these four dose allocation methods. The comparisons include 1. power of the PoC test; 2. bias on target dose estimation; 3. root mean square error (RMSE); 4. probability that the estimated dose delivers > 75% of true effect; and 5. slopes and confidence intervals of slopes. Results indicating that BDS performs reasonably well under most scenarios. The PK-guided approach performs similar to BDS, the PK/PD-guided approach performs better, if the PD information is reliable. However, if the PD information is not highly reliable, the mixed procedure could be considered.
This is a preview of subscription content, log in to check access.
Access options
Buy single article
Instant access to the full article PDF.
US$ 39.95
Tax calculation will be finalised during checkout.
Subscribe to journal
Immediate online access to all issues from 2019. Subscription will auto renew annually.
US$ 79
Tax calculation will be finalised during checkout.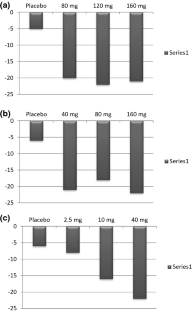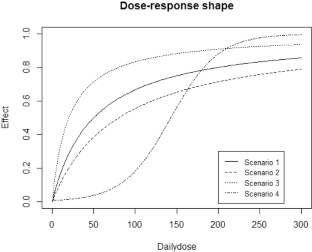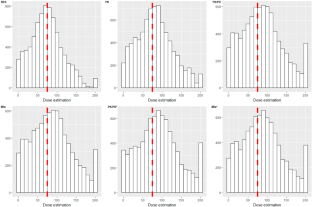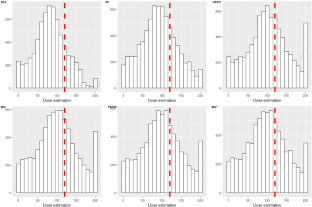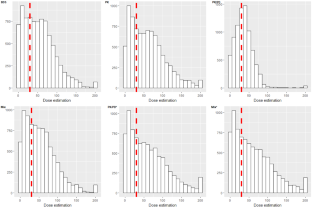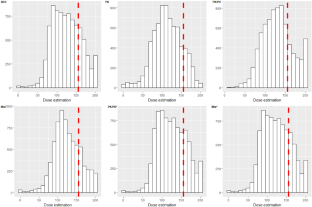 References
1.

Bornkamp B, Bretz F, Dmitrienko A, Enas G, Gaydos B, Hsu CH, Franz K, Krams M, Liu Q, Neuenschwander B, Parke T, Pinheiro J, Roy A, Sax R, Shen F (2007) Innovative approaches for designing and analyzing adaptive dose-ranging trials. J Biopharm Stat 17(6):965–995

2.

Hamlett A, Ting N, Hanumara C, Finman JS (2002) Dose spacing in early dose response clinical trial designs. Drug Inform J 36(4):855–864

3.

Krams M, Lees KR, Hacke W, Grieve AP, Orgogozo JM, Ford GA, for the ASTIN Study Investigators (2003) ASTIN: an adaptive dose-response study of UK-279,276 in acute ischemic stroke. Stroke 34:2543–2548

4.

Penel N, Kramar A (2012) What does a modified-Fibonacci dose-escalation actually correspond to? BMC Med Res Methodol. https://doi.org/10.1186/1471-2288-12-103

5.

Pinheiro J, Bornkamp B, Bretz F (2006) Design and analysis of dose-finding studies combining multiple comparisons and modeling procedures. J Biopharm Stat 16(5):639–656

6.

Quinlan JA, Krams M (2006) Implementing adaptive designs: logistical and operational consideration. Drug Inform J 40:437–444

7.

Ting N (2008) Confirm and explore: a stepwise approach to clinical study designs. Ther Innov Regul Sci 42(6):545–554

8.

Ting N (2009) Practical and statistical considerations in designing an early phase II osteoarthritis clinical trial: a case study. Commun Stat 38(8):3282–3296

9.

Wang X, Ting N (2012) A proof-of-concept clinical trial design combined with dose-ranging exploration. Biopharm Stat. https://doi.org/10.1002/pst.1525

10.

Yuan G, Ting N (2014) First dose ranging clinical trial design: more doses? or a wider range? Clin Trial Biostat Biopharm Appl. https://doi.org/10.1201/b17716-11
About this article
Cite this article
Geng, J., Lu, S., Kurup, S. et al. Pharmacokinetics-Guided Dose Allocation in Comparison with Binary Dose Spacing. Stat Biosci 11, 677–693 (2019). https://doi.org/10.1007/s12561-019-09261-3
Received:

Revised:

Accepted:

Published:

Issue Date:
Keywords
Dose range

Binary dose spacing

Pharmacokinetics/pharmacodynamics

Phase II

Clinical trial design