Abstract
Clinical trials with adaptive sample size re-assessment, based on an analysis of the unblinded interim results (ubSSR), have gained in popularity due to uncertainty regarding the value of \(\delta \) at which to power the trial at the start of the study. While the statistical methodology for controlling the type-1 error of such designs is well established, there remain concerns that conventional group sequential designs with no ubSSR can accomplish the same goals with greater efficiency. The precise manner in which this efficiency comparison can be objectified has been difficult to quantify, however. In this paper, we present a methodology for making this comparison in a standard, well-accepted manner by plotting the unconditional power curves of the two approaches while holding constant their expected sample size, at each value of \(\delta \) in the range of interest. It is seen that under reasonable decision rules for increasing sample size (conservative promising zones, and no more than a 50% increase in sample size) there is little or no loss of efficiency for the adaptive designs in terms of unconditional power. The two approaches, however, have very different conditional power profiles. More generally, a methodology has been provided for comparing any design with ubSSR relative to a comparable group sequential design with no ubSSR, so one can determine whether the efficiency loss, if any, of the ubSSR design is offset by the advantages it confers for re-powering the study at the time of the interim analysis.
Access options
Buy single article
Instant access to the full article PDF.
US$ 39.95
Tax calculation will be finalised during checkout.
Subscribe to journal
Immediate online access to all issues from 2019. Subscription will auto renew annually.
US$ 79
Tax calculation will be finalised during checkout.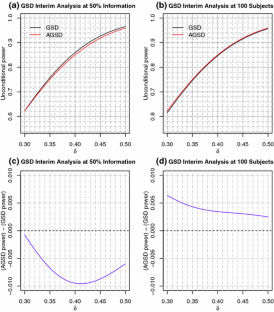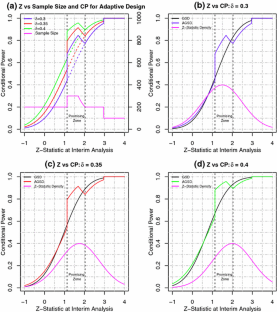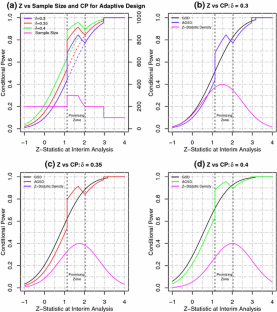 References
1.

Bauer P, Bretz F, Dragalin V, König F, Wassmer G (2016) Twenty-five years of confirmatory adaptive designs: opportunities and pitfalls. Stat Med 35(3):325–347

2.

Bauer P, Kohne K (1994) Evaluation of experiments with adaptive interim analyses. Biometrics 50:1029–1041

3.

Cui L, Hung HM, Wang SJ (1999) Modification of sample size in group sequential clinical trials. Biometrics 55(3):853

4.

Ellenberg SS, Golub H, Mehta C, D'Agostino R (2006) Preface. Stat Med 25:3229–3230

5.

Elsäßer A, Regnstrom J, Vetter T, Koenig F, Hemmings RJ, Greco M, Papaluca-Amati M, Posch M (2014) Adaptive clinical trial designs for european marketing authorization: a survey of scientific advice letters from the european medicines agency. Trials 15(1):1

6.

Emerson SS, Levin GP, Emerson SC (2011) Comments on adaptive increase in sample size when interim results are promising: a practical guide with examples. Stat Med 30(28):3285–3301

7.

European Medicines Agency Committee for Medicinal Products for Human Use (CHMP) (2007) Reflection paper on methodological issues in confirmatory clinical trials planned with an adaptive design. Doc. Ref. CHMP/EWP/2459/02

8.

Gao P, Ware JH, Mehta CR (2008) Sample size re-estimation for adaptive sequential design in clinical trials. J Biopharm Stat 18(6):1184–1196

9.

Gaydos B, Koch A, Miller F, Posch M, Vandemeulebroecke M, Wang SJ (2012) Perspective on adaptive designs: 4 years European medicines agency reflection paper, 1 year draft us fda guidance—where are we now? Clin Investig 2(3):235–240

10.

Jennison CJ, Turnbull BW (2015) Adaptive sample size modification in clinical trials: start small then ask for more? Stat Med 34(29):3793–3810

11.

Lan KG, DeMets DL (1983) Discrete sequential boundaries for clinical trials. Biometrika 70(3):659–663

12.

Lehmacher W, Wassmer G (1999) Adaptive sample size calculations in group sequential trials. Biometrics 55(4):1286–1290

13.

Liu Q, Chi GYH (2001) On sample size and inference for two-stage adaptive designs. Biometrics 57:172–177

14.

Mehta CR, Liu L (2016) An objective re-evaluation of adaptive sample size re-estimation: commentary on twenty-five years of confirmatory adaptive designs. Stat Med 35(3):350–358

15.

Mehta CR, Pocock SJ (2011) Adaptive increase in sample size when interim results are promising: a practical guide with examples. Stat Med 30(28):3267–3284

16.

Mehta CR, Tsiatis AA (2001) Flexible sample size considerations using information-based interim monitoring. Drug Inf J 35(4):1095–1112

17.

Miller E, Gallo P, He W, Kammerman LA, Koury K, Maca J, Jiang Q, Walton MK, Wang C, Woo K, Fuller C, Jemiai Y (2017) Drug Information Association's Adaptive Design Scientific Working Group (ADSWG). Best practices case studies for "Less Well-Understood" adaptive designs. Ther Innov Regul Sci 51(1):77–88

18.

Morgan CC, Huyck S, Jenkins M, Chen L, Bedding A, Coffey CS, Gaydos B, Wathen JK (2014) Adaptive design results of 2012 survey on perception and use. Ther Innov Regul Sci 48(4):473–481

19.

Müller HH, Schäfer H (2001) Adaptive group sequential designs for clinical trials: combining the advantages of adaptive and of classical group sequential approaches. Biometrics 57(3):886–891

20.

Pocock SJ (2005) When (not) to stop a clinical trial for benefit. J Am Med Assoc 294(17):2228–2230

21.

Pritchett YL, Menon S, Marchenko O, Antonijevic Z, Miller E, Sanchez-Kam M, Morgan-Bouniol CC, Nguyen H, Prucka WR (2015) Sample size re-estimation designs in confirmatory clinical trials current state, statistical considerations, and practical guidance. Stat Biopharm Res 7(4):309–321

22.

Proschan MA, Hunsberger SA (1995) Designed extension of studies based on conditional power. Biometrics 51:1315–1324

23.

Quinlan J, Gaydos B, Maca J, Krams M (2010) Barriers and opportunities for implementation of adaptive designs in pharmaceutical product development. Clin Trials 7:167–173

24.

Tsiatis AA, Mehta CR (2003) On the inefficiency of the adaptive design for monitoring clinical trials. Biometrika 90(2):367–378

25.

U.S. Food & Drug Administration (2010) Adaptive design clinical trials for drugs and biologics. Draft guidance. Center for Drug Evaluation and Research; Center of Biologics Evaluation and Research

26.

U.S. Food & Drug Administration (2015) Adaptive designs for medical device clinical trials. Draft guidance. Center for Devices and Radiological Health; Center of Biologics Evaluation and Research

27.

Wittes J, Brittain E (1990) The role of internal pilot studies in increasing the efficiency of clinical trials. Stat Med 9(1–2):65–72
About this article
Cite this article
Liu, L., Hsiao, S. & Mehta, C.R. Efficiency Considerations for Group Sequential Designs with Adaptive Unblinded Sample Size Re-assessment. Stat Biosci 10, 405–419 (2018). https://doi.org/10.1007/s12561-017-9188-x
Received:

Accepted:

Published:

Issue Date:
Keywords
Promising zone design

Adaptive design

Group sequential design

Power comparisons of adaptive versus non-adaptive

Conditional power