Abstract
In political persuasion, the persuader, besides bearing logical arguments and triggering emotions, must present one's own image (one's ethos) of a credible and reliable person, by enhancing three dimensions of it: competence, benevolence, and dominance. In a parallel way, she/he may cast discredit on the opponent by criticizing, accusing or insulting, on the same three dimensions. The work provides a description and a typology of multimodal discrediting moves focusing on the discrediter's multimodal behavior. Based on an Italian corpus of political debates, the analysis points out which facial expressions, gaze behavior, gestures, postures, and prosodic features are used to convey discredit concerning the three target features of competence, benevolence, and dominance. Finally, an experimental study is presented assessing the effects of the different types of discrediting moves on potential electors. Results show that casting discredit on the other's competence while also performing gestures, and casting discredit on the other's dominance without gesturing, makes arguments more shareable and convincing.
Access options
Buy single article
Instant access to the full article PDF.
US$ 39.95
Tax calculation will be finalised during checkout.
Subscribe to journal
Immediate online access to all issues from 2019. Subscription will auto renew annually.
US$ 79
Tax calculation will be finalised during checkout.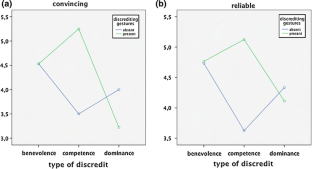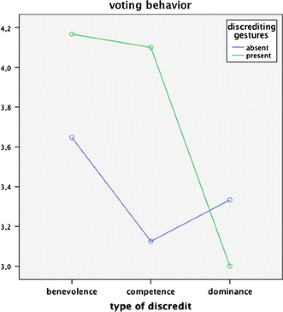 References
1.

Pentland A. Honest signals. How do they shape our world. Cambridge: MIT Press; 2008.

2.

Aristotle. On Rhetoric: a theory of civic discourse. 2nd ed. (trans: GA Kennedy). New York, Oxford University; 2007.

3.

Poggi I. The goals of persuasion. Pragmat Cognit. 2005;13(2):297–336.

4.

Poggi I, D'Errico F, Vincze L. Discrediting moves in political debates. In: Ricci F, et al. editors. Proceedings of second international workshop on user models for motivational systems: the affective and the rational routes to persuasion (UMMS 2011- Girona). Springer LNCS; 2011; p. 84–99.

5.

D'Errico F, Poggi I, Vincze L. Discrediting signals. A model of social evaluation to study discrediting moves in political debates. J Multimodal User Interf (Special issue in Social signal processing). 2012. doi:10.1007/s12193-012-0098-4.

6.

D'Errico F, Poggi I, Discrediting body. A multimodal strategy to spoil the other's image. In: Proceedings of political speech, Springer, LNAI, forthcoming.

7.

Friedenberg RV. Rhetorical Studies of National Political Debates, 1960–1992.

8.

Uvehammer, M. The impact of linguistic strategies in political debate. A linguistic discourse analysis of the first Bush and Kerry Presidential Debate, 2004. (<http://hv.diva-portal.org/smash/get/diva2:216059/FULLTEXT01>).

9.

Heritage J, Greatbatch D. Generating applause: a study of rhetoric and response at party political conferences. Am J Sociol. 1986;92(1):110–57.

10.

Guerini M, Strapparava C, Stock O. CORPS: a corpus of tagged political speeches for persuasive communication processing. J Inf Technol Polit. 2008;5(1):19–32.

11.

Arroyo JLB. Interpersonal issues in political discourse. In: Locher MA, editor. Interpersonal pragmatics. Germany: De Gruyter; 2010. p. 405–34.

12.

Seiter JS, Weger H Jr, Kinzer HJ, Jensen AS. Impression management in televised debates: the effect of background nonverbal behavior on audience perceptions of debaters' likeability. Commun Res Rep. 2006;26(1):1–11.

13.

Jamieson KH. Dirty politics. Oxford: Oxford University press; 1992.

14.

Luginbühl M. Conversational violence in political TV debates: Forms and functions. J Pragmat. 2007;39:1371–87.

15.

Smith C, Voth B. The role of humor in political argument: how 'strategery' and 'lockboxes' changed a political campaign. Argument Adv. 2002;39:110–29.

16.

Rockwell P. Lower, slower, louder: vocal cues of sarcasm. J Psycholinguist Res. 2000;29(5):483–95.

17.

Woods J, Walton D. Argument: the logic of the fallacies. Toronto: McGraw-Hill Ryerson; 1982.

18.

Walton DN. Types of dialogue, dialectical shifts and fallacies. In: van Eemeren FH, Grootendorst R, Blair JA, Willard CA, editors. Argumentation illuminated. Amsterdam: SICSAT; 1992. p. 133–47.

19.

Walton DN. Ad Hominem arguments. Studies in rhetoric and communication. Alabama: University of Alabama Press; 1998.

20.

van Eemeren FH, Grootendorst R. Argumentation, communication, and fallacies: a pragma-dialectical perspective. Hillsdale, NJ: Lawrence Erlbaum Associates; 1992.

21.

Hovland CI, Weiss W. The influence of source credibility on communication effectiveness. Publ Opin Q. 1951;15:635–50.

22.

Rosenberg A, Hirschberg J. Charisma perception from text and speech. Speech Commun. 2009;51:640–55.

23.

Weiner B. An attributional theory of motivation and emotion. New York: Springer; 1986.

24.

Seligman CR, Tucker GR, Lambert WE. The effects of speech style and other attributes on teachers' attitudes toward pupils. Lang Soc. 1972;1:131–42.

25.

Peeters G. The positive-negative asymmetry: on cognitive consistency and positivity bias. Eur J Soc Psychol. 1971;1(4):455–74.

26.

Catellani P. Attacco e difesa nella comunicazione massmediale. In: Catellani P, Sensales G, editors. Psicologia della politica. Bologna: Il mulino; 2011. p. 97–112.

27.

Entman R, Framing M. Towards a clarification of a fractured theory. J Commun. 1993;43(4):51–8.

28.

Mazzoleni P. La Comunicazione Politica, Bologna, Il Mulino; 2004.

29.

Fiske ST, Cuddy AJC, Glick P, Xu J. A model of (often mixed) stereotype content: competence and warmth respectively follow from perceived status and competition. J Pers Soc Psychol. 2002;82:878–902.

30.

Ekvall G. The organizational culture of idea-management: A creative climate for the management of ideas. In: Henry J, Walker D, editors. Managing innovation. London: SAGE Publications Ltd.; 1991. p. 73–9.

31.

Leach CW, Ellemers N, Barreto M. Group virtue: the importance of morality (vs. competence and sociability) in the positive evaluation of ingroups. J Pers Soc Psychol. 2007;93:234–49.

32.

Castelli L, Carraro L, Ghitti C, Pastore M. The effects of perceived competence and sociability on electoral outcomes. J Exp Soc Psychol. 2009;45:1152–5.

33.

Catellani P, Bertolotti M. Leadership attacks versus morality attacks: their effects on the evaluation of politicians. In: Oral presentation at "XVI General Meeting of the European Association of Social Psychology", Stoccolma, 12–16 luglio, 2011.

34.

Bosmajian HA. The rhetoric of nonverbal communication: Readings., ed. Glenview, Illinois: Scott, Foresman, 1971.

35.

Atkinson JM. Our masters' voice. London: Routledge; 1984.

36.

Ekman P, Friesen WV. The repertoire of nonverbal behavior. Semiotica. 1969;1:49–98.

37.

McNeill D. Hand and mind. Chicago: The University of Chicago Press; 1992.

38.

Burgoon JK, Birk T, Pfau M. Nonverbal behaviors, persuasion, and credibility. Hum Commun Res. 1990;17:140–69.

39.

Butterworth B, Beattie G. Gesture and silence as indicators of planning in speech. In: Campbell RN, Smith PT, editors. Recent advances in the psychology of language: formal and experimental approaches. New York: Plenum; 1978.

40.

Maricchiolo F, Gnisci A, Bonaiuto M, Ficca G. Effects of difference types of hand gestures in persuasive speech on receivers' evaluations. Lang Cogn Proc. 2009;24:239–66.

41.

Calbris G. L'Expression Gestuelle de la Pensée d'un Homme Politique. Paris: Éditions du CNRS; 2003.

42.

Kendon A. Gesture. Visible action as utterance. Cambridge: Cambridge University Press; 2004.

43.

Streeck J. Gesture in Political Communication. A case study of the democratic presidential candidates during the 2004 primary campaign. Lang Social Interact. 2007;41(1):154–86.

44.

Quintilianus MF Institutiones Oratoriae. Translation by HE Butler, The Institutio Oratoria of Quintilian (The Loeb Classical Library). New York: Putnam and Sons; 1992.

45.

Poggi I, Pelachaud C. Persuasion and the expressivity of gestures in humans and machines. In: Wachsmuth I, Lenzen M, Knoblich G, editors. Embodied communication in humans and machines. Oxford: Oxford University Press; 2008. p. 391–424.

46.

Poggi I, Vincze L. Gesture, gaze and persuasive strategies in political discourse. Multimodal Corpora. 2009. p. 73–92.

47.

Ekman P. About brows: Emotional and conversational signals. In: von Cranach M, Foppa K, Lepenies W, Ploog D, editors. Human ethology: claims and limits of a new discipline: contributions to the Colloquium. Cambridge: Cambridge University Press; 1979. p. 169–248.

48.

McHugo GJ, Lanzetta JT, Sullivan DG, Masters RD, Englis BG. Emotional reactions to a political leader's expressive displays. J Person Soc Psychol. 1985;49(6):1513–29.

49.

Attardo S, Eisterhold J, Hay J, Poggi I. Multimodal markers of irony and sarcasm humor. Int J Humor Res. 2003;16(2):243–60.

50.

Poggi I, Cavicchio F, Magno Caldognetto E. Irony in judicial debates: analyzing the subtleties of irony while testing the subtleties of an annotation scheme. J Lang Res Eval. 2007;41(3–4):215–32.

51.

Conte R, Castelfranchi C. Cognitive and social action. London: University College; 1995.

52.

Miceli M, Castelfranchi C. The role of evaluation in cognition and social interaction. In: Dautenhahn K, editor. Human cognition and agent technology. Amsterdam: John Benjamins; 1998.

53.

Castelfranchi C. Che figura. Emozioni e immagine sociale. Bologna: Il Mulino; 1988.

54.

Poggi I, editor. La Mente del Cuore. Armando: Roma; 2008.

55.

Poggi I, D'Errico F. Dominance in political debates. In: Salah AA, Gevers T, Sebe N, Vinciarelli A, editors. HBU 2010, LNCS 6219. Heidelberg: Springer; 2010. p. 163–174.

56.

Castelfranchi C. Micro-macro constitution of power, protosociology. Int J Interdiscip Res. 2003;18–19:208–65.

57.

Austin JL. How to do things with words. London: Clarendon Press; 1962.

58.

Jonasson, J. The centenarian who climbed out the window and disappeared. Carl's Books; 2010.

59.

Poggi I. Mind, hands, face and body. A goal and belief view of multimodal communication. Berlin: Weidler Buchverlag; 2007.

60.

Müller C. Forms and uses of the palm up open hand: a case of a gesture family? In: Müller C, Posner R, editors. The semantics and pragmatics of everyday gestures. Berlin: Weidler; 2004.

61.

Poggi I. Irony, humour ad ridicule. Power, image and judicial rhetoric in an Italian political trial. In: Vion R, Giacomi A, Vargas C, editors. La corporalité du langage: Multimodalité, discours et écriture, Hommage à Claire Maury-Rouan. Aix en Provence: Presses Universitaires de Provence; 2011.
Acknowledgments
Research supported by SSPNet Seventh Framework Program, European Network of Excellence SSPNet (Social Signal Processing Network), Grant Agreement No. 231287. We are indebted to Carlo Cinque the actor who played the politician in the videos for the experiment.
About this article
Cite this article
D'Errico, F., Poggi, I. Blame the Opponent! Effects of Multimodal Discrediting Moves in Public Debates. Cogn Comput 4, 460–476 (2012). https://doi.org/10.1007/s12559-012-9175-y
Received:

Accepted:

Published:

Issue Date:
Keywords
Discredits

Social signals

Emotions