Abstract
Medical and healthcare education address the need for integration of systematic technological standards into various virtual learning environments, which systematically support modern pedagogical trends and approaches. The integration of various systems for curriculum management helps to make study programmes more transparent and easier to track, while being better understood by students, teachers, curriculum designers, guarantors and academic institution management. There are several standardised frameworks implemented in medicine and other health professions, but which one is the most stable, robust and up-to-date support for medical and healthcare education? This paper introduces the MEDCIN project and the use of existing technical standards (the MedBiquitous Curriculum Inventory and Competency Frameworks) into a real medical education context. The MEDCIN web-based platform offers storing the curriculum in the form of standardised set of building blocks, sharing among the academic community and analysing basic attributes as well as doing more complex analyses and visualisation.
Access options
Buy single article
Instant access to the full article PDF.
US$ 39.95
Tax calculation will be finalised during checkout.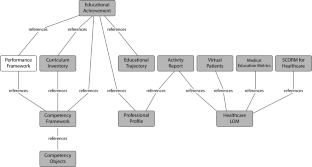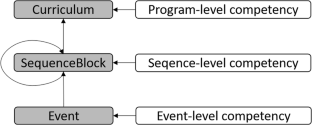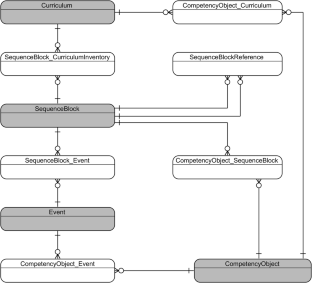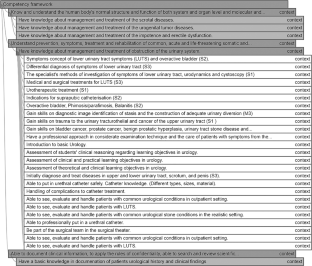 Notes
1.

2.

3.

4.

5.

6.

7.

8.

9.

10.

11.

12.

13.

14.

15.

16.

17.

18.

19.

20.

21.

22.

23.

24.

25.

26.

27.
References
1.

Mikropoulos TA, Natsis A. Educational virtual environments: a ten-year review of empirical research (1999–2009). Comput Educ. 2011;56(3):769–80.

2.

D. B. Daniels, D. M. Olps, C. G. Reese, T. R. Rahlfs, and R. R. Carlton, 'Instructional management system', US5310349 A, 10-May-1994.

3.

Komenda M. Towards a framework for medical curriculum mapping', Doctoral thesis. Faculty of Informatics: Masaryk University; 2015.

4.

M. Komenda, M. Karolyi, C. Vaitsis, D. Spachos, and L. Woodham, 'A Pilot Medical Curriculum Analysis and Visualization According to Medbiquitous Standards', in 2017 IEEE 30th International Symposium on Computer-Based Medical Systems (CBMS), 2017, pp. 144–149.

5.

Vaitsis C, et al. Standardization in medical education: review, collection and selection of standards to address. MEFANET J. Nov. 2017;5(1):28–39.

6.

Kovar-Gough I. Taking chances: a new librarian and curriculum redesign. Med Ref Serv Q. Apr. 2017;36(2):129–37.

7.

Swing SR. The ACGME outcome project: retrospective and prospective. Med. Teach. 2007;29(7):648–54.

8.

Frank JR, Danoff D. The CanMEDS initiative: implementing an outcomes-based framework of physician competencies. Med. Teach. 2007;29(7):642–7.

9.

Renting N, et al. Integrated and implicit: how residents learn can MEDS roles by participating in practice. Med Educ. 2017;51(9):942–52.

10.

Simpson JG, et al. The Scottish doctor–learning outcomes for the medical undergraduate in Scotland: a foundation for competent and reflective practitioners. Med. Teach. 2002;24(2):136–43.

11.

Laan RF, Leunissen RR, Van Herwaarden CLA. The 2009 framework for undergraduate medical education in the Netherlands. Tijdschr Voor Med Onderwijs. 2010;29(1):10–5.

12.

Ellaway RH, Albright S, Smothers V, Cameron T, Willett T. Curriculum inventory: Modeling, sharing and comparing medical education programs. Med. Teach. 2014;36(3):208–15.

13.

S. Grant and R. Young, 'Concepts and standardization in areas relating to competence', 2010.

14.

Stoddard HA, Brownfield ED. Creation and implementation of a taxonomy for educational activities: a common vocabulary to guide curriculum mapping. Acad Med J Assoc Am Med Coll. 2018;93(10):1486–90.

15.

E. T. Ray, Learning XML. 2009.

16.

Krathwohl DR. A revision of Bloom's taxonomy: an overview. Theory Pract. 2002;41(4):212–8.

17.

'Competency Framework Overview | MedBiquitous Consortium'. [Online]. Available: https://www.medbiq.org/node/819. [Accessed: 14-Jul-2017].

18.

V. Smothers, 'ANSI/MEDBIQ PF. 10.1–2015', 2015.

19.

'XMLSpy XML Editor'. [Online]. Available: https://www.altova.com/xmlspy.html. [Accessed: 17-Jul-2017].

20.

M. Bostock, 'D3.js - Data-Driven Documents'. [Online]. Available: https://d3js.org/. [Accessed: 08-Nov-2017].

21.

Masters K, Ellaway DR. E-learning in medical education guide 32 part 2: technology, management and design. Med Teach. 2008;30(5):474–89.

22.

Ellaway R, Poulton T, Fors U, McGee JB, Albright S. Building a virtual patient commons. Med. Teach. 2008;30(2):170–4.

23.

N. Zary, I. Hege, J. Heid, L. Woodham, J. Donkers, and A. A. Kononowicz, 'Enabling interoperability, accessibility and reusability of virtual patients across Europe-design and implementation.', in MIE, 2009, pp. 826–830.
Ethics declarations
Conflict of interest
The authors declare that they have no conflict of interest.
Ethical approval
This article does not contain any studies with human participants or animals performed by any of the authors.
Additional information
Publisher's note
Springer Nature remains neutral with regard to jurisdictional claims in published maps and institutional affiliations.
This article is part of the Topical Collection on Computer Based Medical Systems
About this article
Cite this article
Karolyi, M., Komenda, M., Woodham, L. et al. Medical curriculum standards: Towards relational database transformation. Health Technol. 10, 759–766 (2020). https://doi.org/10.1007/s12553-020-00409-6
Received:

Accepted:

Published:

Issue Date:
Keywords
Competence

Curriculum mapping

MEDCIN project

Medical education

Standard

Standardisation framework