Abstract
Technology development has improved to its extent for mobile monitoring that mainly concentrates on a new trend that named as the Internet of Vehicles (IoV).A large number of researchers and organizations are attracted by this technological development that promises to be huge commercial interest. Several health monitoring devices were developed for the purpose of humans to identify themselves about their health problems and state of the situation about their health. This paper proposes a new architecture design for the healthcare that mainly concentrates on heart diseases using the IoV technology. Here, the continuous health monitoring device is used to monitor heart-related diseases that connected with IoV for obtaining a new way to provide and gather information about their health condition and updated automatically to the IoV based ambulance and the reports are updated to doctors using the same IoV technique. The architecture explains the several protocols that were used for communication, managing and analysis of data and transmitting from vehicle to device.
This is a preview of subscription content, log in to check access.
Access options
Buy single article
Instant access to the full article PDF.
US$ 39.95
Price includes VAT for USA
Subscribe to journal
Immediate online access to all issues from 2019. Subscription will auto renew annually.
US$ 99
This is the net price. Taxes to be calculated in checkout.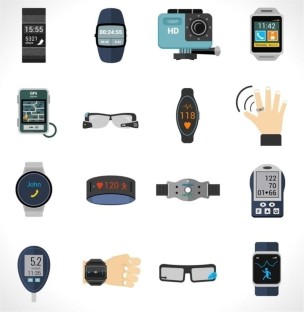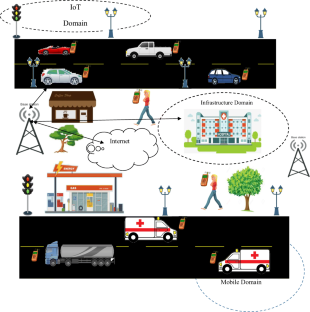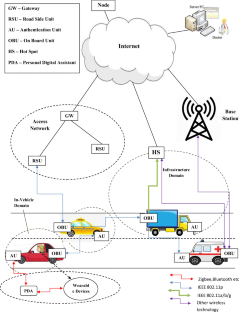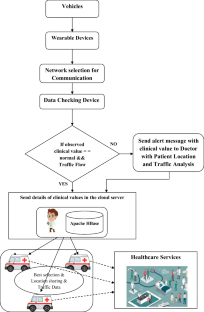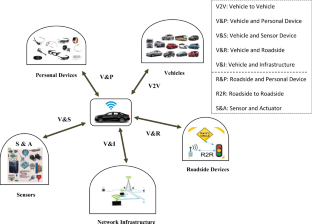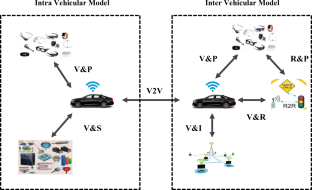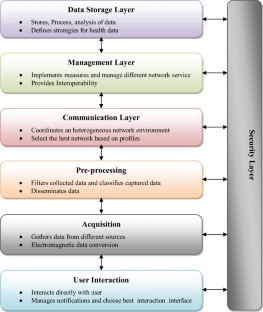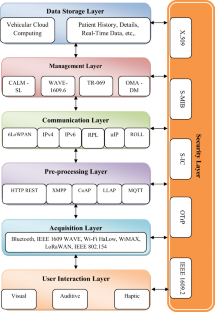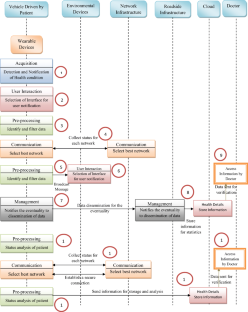 References
1.

Mukhopadhyay, A., Raghunath, S., & Kruti, M. (2016). Feasibility and performance evaluation of VANET techniques to enhance real-time emergency healthcare services. In Advances in Computing, Communications and Informatics (ICACCI), 2016 International Conference on (pp. 2597–2603). IEEE.

2.

Kakria P, Tripathi NK, Kitipawang P. A real-time health monitoring system for remote cardiac patients using smartphone and wearable sensors. Int J Telemed Appl. 2015;2015:8.

3.

Mukhopadhyay, A. (2017). QoS based telemedicine technologies for rural healthcare emergencies. In Global Humanitarian Technology Conference (GHTC), 2017 IEEE (pp. 1–7). IEEE.

4.

Liang W, Li Z, Zhang H, Wang S, Bie R. Vehicular ad hoc networks: architectures, research issues, methodologies, challenges, and trends. Int J Distrib Sens Netw. 2015;11(8):745303.

5.

Yang S, Liu Z, Li J, Wang S, Yang F. Anomaly detection for internet of vehicles: a trust management scheme with affinity propagation. Mob Inf Syst. 2016;2016.

6.

Rakhshan A, Pishro-Nik H. Improving safety on highways by customizing vehicular ad hoc networks. IEEE Trans Wirel Commun. 2017;16(3).

7.

Kamal, P., Raw, R. S., Singh, N., Kumar, S., & Kumar, A. (2016). VANET based health monitoring through wireless body sensor network. In Computing for Sustainable Global Development (INDIACom), 2016 3rd International Conference on (pp. 2865–2871). IEEE.

8.

Saha, J., Saha, A. K., Chatterjee, A., Agrawal, S., Saha, A., Kar, A., & Saha, H. N. (2018). Advanced IOT based combined remote health monitoring, home automation and alarm system. In Computing and Communication Workshop and Conference (CCWC), 2018 IEEE 8th Annual (pp. 602–606). IEEE.

9.

Xie Y, Ho IWH, Magsino ER. The modeling and cross-layer optimization of 802.11 p VANET unicast. IEEE Access. 2018;6:171–86.

10.

Liu N. Internet of vehicles: your next connection. Huawei WinWin. 2011;11:23–8.

11.

Bello O, Zeadally S. Intelligent device-to-device communication in the internet of things. IEEE Syst J. 2016;10(3):1172–82.

12.

Nanjie Lie. Internet of Vehicles your next connection. Huawei: WinWin Magazine. 2011;(11).

13.

Bonomi Flavio. The smart and connected vehicle and the Internet of Things. San José, CA: WSTS. 2013

14.

Wan J, Zhang D, Zhao S, Yang L, Lloret J. Context-aware vehicular cyber-physical systems with cloud support: architecture, challenges, and solutions. IEEE Commun Mag. 2014;52(8):106–13.

15.

Kaiwartya O, Abdullah AH, Cao Y, Altameem A, Prasad M, Lin CT, et al. Internet of vehicles: motivation, layered architecture, network model, challenges, and future aspects. IEEE Access. 2016;4:5356–73.

16.

Gandotra P, Jha RK, Jain S. A survey on device-to-device (D2D) communication: architecture and security issues. J Netw Comput Appl. 2017;78:9–29.

17.

Gunasekaran Manogaran R, varatharajan, DaphneLopez, et al. A new architecture of Internet of Things and big data ecosystem for secured smart healthcare monitoring and alerting system. Future Generation System. 2018;(82):375–387.

18.

Ucar S, Ergen SC, Ozkasap O. Multihop-cluster-based IEEE 802.11 p and LTE hybrid architecture for VANET safety message dissemination. IEEE Trans Veh Technol. 2016;65(4):2621–36.

19.

Lee S, Sriram K, Kim K, Kim YH, Golmie N. Vertical handoff decision algorithms for providing optimized performance in heterogeneous wireless networks. IEEE Trans Veh Technol. 2009;58(2):865–81.

20.

Li Z, Chen Y, Liu D, Li X. Performance analysis for an enhanced architecture of IoV via content-centric networking. EURASIP J Wirel Commun Netw. 2017;2017(1):124.

21.

Peters J, Beekers C, Eijk R, Edwards M, Hoogerwerf N. Evaluation of Dutch helicopter emergency medical services in transporting children. Air Med J. 2014;33(3):112–4.

22.

Sadi Y, Ergen SC. Optimal power control, rate adaptation, and scheduling for UWB-based intravehicular wireless sensor networks. IEEE Trans Veh Technol. 2013;62(1):219–34.

23.

Altintas, O., Nishibori, M., Oshida, T., Yoshimura, C., Fujii, Y., Nishida, K., ... & Oie, Y. (2011. Demonstration of vehicle to vehicle communications over TV white space. In Vehicular Technology Conference (VTC Fall), 2011 IEEE (pp. 1–3). IEEE.

24.

Nellore K, Hancke GP. Traffic management for emergency vehicle priority based on visual sensing. Sensors. 2016;16(11):1892.
Ethics declarations
Conflict of interest
The authors declare that they have no conflict of interest.
Additional information
Publisher's note
Springer Nature remains neutral with regard to jurisdictional claims in published maps and institutional affiliations.
About this article
Cite this article
Thirugnanam, T., Ghalib, M.R. A new healthcare architecture using IoV technology for continuous health monitoring system. Health Technol. 10, 289–302 (2020). https://doi.org/10.1007/s12553-019-00306-7
Received:

Accepted:

Published:

Issue Date:
Keywords
Internet of vehicles (IoV)

Healthcare

Wireless technologies

Interaction model

Network model

Architecture layers