Abstract
In medical images, especially for brain images ROI is very important for diagnosis. ROI is very important compare to other portion of an image. Here ROI is included in hybrid coding algorithm for effective image compression. Compression method gives better results using hybrid algorithm. In this paper, we have used hybrid compression method, Lossless used for ROI portion and for non-ROI portion the lossy compression techniques has been used. The experimental results shows that better Compression Ratio (CR) with acceptable PSNR has been achieved using hybrid technique based on Morphological band pass filter and Adaptive thresholding for ROI.
This is a preview of subscription content, log in to check access.
Access options
Buy single article
Instant access to the full article PDF.
US$ 39.95
Price includes VAT for USA
Subscribe to journal
Immediate online access to all issues from 2019. Subscription will auto renew annually.
US$ 99
This is the net price. Taxes to be calculated in checkout.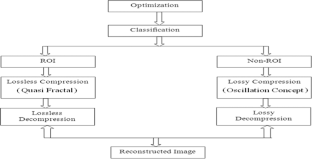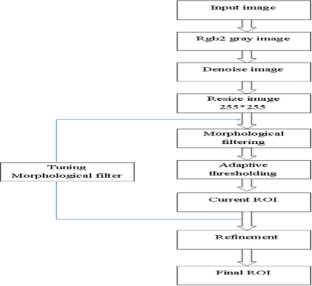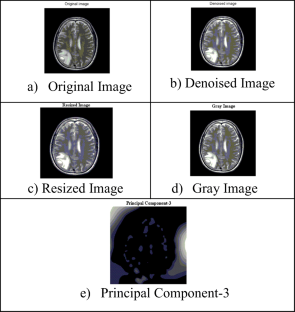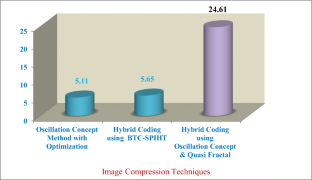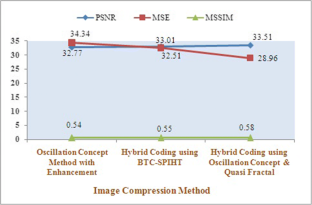 References
1.

Magar S, Sridharan B. Innovative approach to biomedical image compression using oscillation concept. International Conference on Automotive Control and Dynamic Optimization techniques (ICACDOT), pp. 124-128, IEEE Conference Publication-IEEE Xplore, 2016.

2.

Magar S, Sridharan B. Comparative analysis of biomedical image compression using oscillation concept and existing method. Lecture Notes in Computational Vision and Biomechanics, Book Series, volume 28, Springer.

3.

Chaudhary RN. Waves and oscillations. New Edge International Publishers.

4.

Mohan Singh G, Singh Kohliy M and Diwakarz M. A review of image enhancement techniques in image processing. HCTL Open Int. J. of Technology Innovations and Research, HCTL Open IJTIR. 2013; 5: ISBN:978-1-62840-986-4.

5.

Bansal V, Gupta P, Purohit GN. Block truncation encoding for image compression technique. Int J Emerg Res Manag Technol ISSN: 2278-9359 (Volume-4, Issue-4).

6.

Nirmal Raj S. SPIHT: a set partitioning in hierarchical trees algorithm for image compression. Contemporary Engineering Sciences. 2015;8(6):263–70.

7.

Basavanthaswami V, Somasekhar T. "Image compression using SPIHT" International Journal of Innovative Research in Computer and Communication Engineering. 2017; 5(2).

8.

Kumar T, Kumar R. Medical image compression using hybrid techniques of DWT, DCT and Huffman coding. Int J Innov Res Electr Electron Instrum Control Eng. 2015;3(2)

9.

Bhavani S, Thanushkodi KG. Compression of fractal coding methods for medical image compression. IET Image Process. 2013;7:686–93.

10.

Sridhanran B, Thanushkodi K. Improving the performance of fractal based quasi lossless medical image coding scheme using machine learning based partition and domain range pools. Eur J Sci Res. 2012;68:475–86.

11.

BalaAnand M, Karthikeyan N, Karthik S. Designing a framework for communal software: based on the assessment using relation modelling. Int J Parallel Prog. 2018. https://doi.org/10.1007/s10766-018-0598-2.

12.

Rathkanthiwar SV, Kakde S, Naaz H. Implementation of Hybrid Algorithm for Image Compression and Decompression. International Journal of Engineering Research. 2016;5(5):398–403.

13.

Joshi P, Rawat CD. Region based hybrid compression for medical images. International conference on signal processing, Communication, Power and Embedded System (SCOPES), IEEE Xplore. 2016.

14.

Cheng J, Dong Y, Park S. Detecting region-of-interest (ROI) in digital mammogram by using morphological bandpass filter. IEEE International Conference on Multimedia and Expo, 2004; ICME'04.

15.

Ping W, Zhao Shanxu LJ, Dongning L, Gang C. A method of detection micro-clacification in mammograms using wavelets and adaptive thresholds. IEEE 2008, pp 2361-2364.

16.

Francesco GB, Natale DE, Boato G. Detecting morphological filtering of binary images. IEEE Transaction on Information Forensics and Security. 2017;12(5):1207–17.

17.

Roy P, Dey G. Adaptive thresholding: a comparative study. 2014 International conference on control, Instrumentation, communication and Computational Technologies (ICCICCT).

18.

Chaphman S. Matlab programming for engineers. Cengage Learning Publishers.
Ethics declarations
Our work is not funded by any agencies or organization.
Conflict of interest
None of the author received fund from any agencies or committee or organization.
Additional information
Publisher's note
Springer Nature remains neutral with regard to jurisdictional claims in published maps and institutional affiliations.
This article is part of the Topical Collection on Internet Of Medical Things In E-Health
About this article
Cite this article
Magar, S.S., Sridharan, B. Hybrid image compression technique using oscillation concept & quasi fractal. Health Technol. 10, 313–320 (2020). https://doi.org/10.1007/s12553-018-00282-4
Received:

Accepted:

Published:

Issue Date:
Keywords
Morphological filter

Adaptive thresholding

Hybrid technique

Oscillation concept

BTC-SPIHT

ROI

Quasi-fractal