Abstract
If colorectal cancer requires surgical intervention, it is performed in either the laparoscopic or open method. It is desirable to choose the best methodology for each patient. We first consider the POSSUM model to estimate the probability of potential complications. The model was not found accurate enough, so the logistic regression was used to find new parameters of the POSSUM model. This new model was not accurate enough as well. A decision was made to decompose the POSSUM model to its 18 core variables and try to find the ones which are statistically significant. Using the method of logistic regression we isolated the variables providing us with the most information and based a new model on them. The quality of this model is further going to be discussed and a simple formula is provided to decide on the optimal operation technique while minimizing the risk of post operation complications.
This is a preview of subscription content, log in to check access.
Access options
Buy single article
Instant access to the full article PDF.
US$ 39.95
Price includes VAT for USA
Subscribe to journal
Immediate online access to all issues from 2019. Subscription will auto renew annually.
US$ 99
This is the net price. Taxes to be calculated in checkout.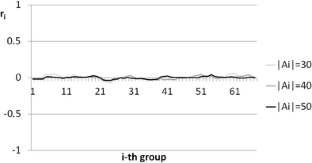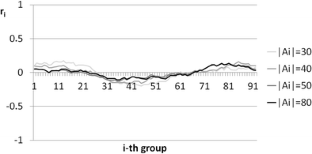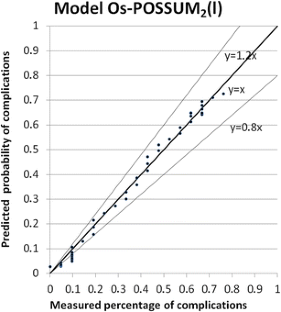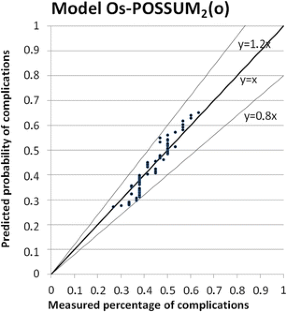 Notes
1.

age, cardiac signs, respiratory signs, systolic blood pressure, pulse, Glasgow coma scale, hemoglobin, white blood cell, urea, sodium, potassium, ECG, operative severity, multiple procedures, total blood loss, peritoneal soiling, cancer, mode of surgery

2.

Different models can give different recommendations. The models Os – POSSUM2 (l) and Os – POSSUM2 (o) were created on the basis of data collected in the University hospital Ostrava. The recommendations following from these are valid for patients of this hospital only.
References
1.

Balantyne GH. Minimally invasive surgery for diseases of the colon and rectum: the legacy of an ancient tradition. In: Jager RM, Wexner S, editors. Laparoscopic colectomy. Churchill and Livingstone: New York; 1995. p. 13–23.

2.

Dulucq JL, Wintringer P, Stabalini C, Mahajna A. Laparoscopic rectal resection with anal sphincter preservation for rectal cancer. Surg Endosc. 2005;19:1468–74.

3.

Braga M, Frasson M, Vignali A, Zuliani W, Capretti G, Di Carlo V. Laparoscopic resection in rectal cancer patients: outcome and cost-benefit analysis. Dis Colon Rectum. 2007; 464–471.

4.

Gao F, Cao YF, Chen LS. Meta-analysis of short term outcomes after laparoscopic resection for rectal cancer. Int J Colorectal Dis. 2006; 652–656.

5.

Aziz O, Constantinides V, Tekkis PP. Laparoscopic versus open surgery for rectal cancer: a metaanalysis. Ann Surg Oncol. 2006; 413–424.

6.

Zhou Z, Hu M, Li Y, Lei W, Yu Y, Cheng Z, Li L, Shu Y, Wang T. Laparoscopic versus open total mesorectal excision with anal sphincter preservation for low rectal cancer. Surg Endosc. 2004; 1211–1215.

7.

Ng SS, Leung KL, Lee JF, Yiu RY, Li JC, Teoh AY, Leung WW. Laparoscopic-assisted versus open abdominoperineal resection for low rectal cancer.: a prospective randomized study. Ann Surg Oncol. 2008; 2418–2425.

8.

Copeland GP, Jones D, Wakters M. POSSUM: a scoring system for surgical audit. Br. J. Surg.,356–360.

9.

Jahoda P, Martínek L, Briš R. Laparoscopic versus Open Surgery. SMRLO 2010. Proceedings of the International Symposium on Stochastic models in reliability engineering, life science and operations management. Pg. 474–483. SCE - Shamoon College of Engineering, Beer Sheva, February 8–11, 2010, Israel.

10.

Jahoda P, Briš R, Martínek L. Risk of postoperative complications after surgeries: laparoscopic versus open surgery. In: Bérenguer G, Guedes S, editors. Advances in safety, reliability and risk management. London: Taylor & Francis Group; 2012. p. 1502–7. ISBN 978-0-415-68379-1.
Acknowledgments
This paper is based on cooperation between University Hospital Ostrava and VŠB – Technical University of Ostrava. This work was supported partially by the Faculty of Electrical Engineering and Computer Science VŠB – TU Ostrava (project No. SP2016/18) and partially by The Ministry of Education, Youth and Sports from the National Programme of Sustainability (NPU II) project "IT4Innovations excellence in science - LQ1602".
Ethics declarations
All authors responsibly declare that all ethical instructions, in detail described in "Publishing ethics" on web page of the journal Health and Technology, will be consistently accepted.
Conflict of interest
The authors declare that they have no conflict of interest.
About this article
Cite this article
Jahoda, P., Briš, R., Běloch, M. et al. Decision support system minimizing the risk of post-operation complications after surgeries. Health Technol. 6, 149–156 (2016). https://doi.org/10.1007/s12553-016-0133-7
Received:

Accepted:

Published:

Issue Date:
Keywords
Colorectal cancer

Logistic regression

POSSUM model

Decision on surgery technique