Abstract
Online harassment is a growing societal problem. Although online harassment, or cyber aggression, has begun to receive attention, little research systematically explores the common themes found in hostile messages. In this project, we focused on online harassment directed towards women of color. We applied social network methodology and text clustering (topic analysis) to messages posted on the social media platform Twitter. We examined the occurrence of aggressive, harmful Twitter messages directed towards two groups—Hispanic/Latinx women and Black women. Next, we uncovered common themes that emerged within the communications. Messages towards both groups of women contained themes of racial stereotypes. In tweets that targeted Black women, one emergent theme concerned charges of promiscuity, where messages included slurs that accused Black women of being overly sexual. In messages containing Latinx slurs, on the other hand, xenophobia was one recurring topic, with common terms related to menial labor and political comments invoking the need to "build a wall." Both groups of women also were subjected to feminine, attractiveness insults. Findings suggest that these negative communications are not idiosyncratic in nature, but instead routinely reinforce traditional, negative, race and gender stereotypes. As a result, these hostile messages contribute to the maintenance of race and gender inequality.
This is a preview of subscription content,
to check access.
Access this article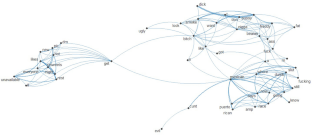 Data Availability
The datasets generated during and analyzed during the current study were collected via the Twitter Application Programmer Interface and cannot be shared. They represent third-party data and are restricted by Twitter's terms of service. However, we provided details of the search parameters used to construct the datasets in the Methods section.
References
Andreas, P., & Snyder, T. (Eds.). (2000). The wall around the West: State borders and immigration controls in North America and Europe. Rowman & Littlefield.

Bailey, M. (2013). New Terms of Resistance: A Response to Zenzele Isoke. Souls, 15(4), 341–343

Bailey, M. (2016). Misogynoir in medical media: On Caster Semenya and R. Kelly. Catalyst: Feminism, Theory, Technoscience, 2(2), 1–31

Becker, H., Naaman, M., & Gravano, L. (2011). Beyond trending topics: Real-world event identification on Twitter. Icwsm, 11(2011), 438–441

Bellmore, A., Calvin, A. J., Xu, J. M., & Zhu, X. (2015). The five W's of "bullying" on Twitter: Who, what, why, where, and when. Computers in Human Behavior, 44, 305–314

Blei, D. M. (2012). Probabilistic topic models. Communications of ACM, 55(4), 77–84

Bowleg, L. (2008). When Black+ lesbian+ woman≠ Black lesbian woman: The methodological challenges of qualitative and quantitative intersectionality research. Sex Roles, 59(5–6), 312–325

Bossler, A. M., Holt, T. J., & May, D. C. (2012). Predicting online harassment victimization among a juvenile population. Youth & Society, 44(4), 500–523

Carley, K. M. (1997). Network text analysis: The network position of concepts. Text Analysis for the Social Sciences, 4, 79–100

Chavez, L. R. (2001). Covering immigration: Popular images and the politics of the nation. University of California Press.

Chaudhry, I. (2015). #Hashtagging hate: Using Twitter to Track Racism Online. First Monday. https://doi.org/10.5210/fm.v20i2.5450

Chatzakou, D., Kourtellis, N., Blackburn, J., De Cristofaro, E., Stringhini, G., & Vakali, A. (2017). Mean birds: Detecting aggression and bullying on twitter. In Proceedings of the 2017 ACM on web science conference (pp. 13–22). ACM.

Collins, P. H. (2000). Gender, black feminism, and black political economy. The Annals of the American Academy of Political and Social Science, 568(1), 41–53

Collins, P. H. (2015). Intersectionality's definitional dilemmas. Annual Review of Sociology, 41, 1–20

Connell, N. M., Schell-Busey, N. M., Pearce, A. N., & Negro, P. (2014). Badgrlz? Exploring sex differences in cyberbullying behaviors. Youth Violence and Juvenile Justice, 12(3), 209–228

Corman, S. R., Kuhn, T., McPhee, R. D., & Dooley, K. J. (2002). Studying complex discursive systems. Centering resonance analysis of communication. Human Communication Research, 28(2), 157–206

Crenshaw, K. (1991). Mapping the margins: Intersectionality, identity politics, and violence against women of color. Stanford Law Review, 43, 1241–1299

Davis, K. (2008). Intersectionality as buzzword: A sociology of science perspective on what makes a feminist theory successful. Feminist Theory, 9(1), 67–85

Diesner, J., & Carley, K. M. (2005). Revealing social structure from texts: meta-matrix text analysis as a novel method for network text analysis. In Causal mapping for research in information technology (pp. 81–108). IGI Global.

Douglas, K. M., & Sáenz, R. (2013). The criminalization of immigrants & the immigration-industrial complex. Daedalus, 142(3), 199–227

Duggan, Maeve. (2017). Online Harassment 2017. Pew Research Center. (http://www.pewinternet.org/2017/07/11/online-harassment-2017/).

Edwards, L., Kontostathis, A. E., & Fisher, C. (2016). Cyberbullying, race/ethnicity and mental health outcomes: A review of the literature. Media and Communication, 4(3), 71

Erdur-Baker, Ö. (2010). Cyberbullying and its correlation to traditional bullying, gender and frequent and risky usage of internet-mediated communication tools. New Media & Society, 12(1), 109–125

Espenshade, T. J., & Hempstead, K. (1996). Contemporary American attitudes toward US immigration. International Migration Review, 535–570.

Faris, R. (2012). Aggression, exclusivity, and status attainment in interpersonal networks. Social Forces, 90(4), 1207–1235

Faris, R., & Felmlee, D. H. (2014). Casualties of social combat: School networks of peer victimization and their consequences. American Sociological Review, 79(2), 228–257. https://doi.org/10.1177/0003122414524573

Faris, R., Felmlee, D., & McMillan, C. (2020). With Friends like these: Aggression from amity and equivalence. American Journal of Sociology, 126(3), 673–713

Felmlee, D., DellaPosta, D., Rodis, I., Paulina, C., & Matthews, S. A. (2020). Can social media anti-abuse policies work? A quasi-experimental study of sexist and racist slurs. Socius, 6, 1–14. https://doi.org/10.1177/2378023120948711

Felmlee, D. H., & Faris, R. (2016). Toxic ties: Networks of friendship, dating, and cyber victimization. Social Psychology Quarterly, 79(3), 243–262. https://doi.org/10.1177/0190272516656585

Felmlee, D., Inara Rodis, P., & Zhang, A. (2018). Sl*ts, Wh*res, and Bi*ches: Targeting Femininity in Online Aggression. Paper submitted to the Annual Meeting of the American Sociological Association.

Felmlee, D., Inara Rodis, P., & Chari Francisco, S. (2018). What a b!tch!: Cyber aggression towards women of color. In Vasilikie Demos & Marcia Texler Segal (Eds.), Advances in gender research: Gender and the Media. Elsevier.

Fossett, M. A., & Kiecolt, K. J. (1989). The relative size of minority populations and white racial attitudes. Social Science Quarterly, 70(4), 820

Grigg, D. W. (2010). Cyber-aggression: Definition and concept of cyberbullying. Journal of Psychologists and Counsellors in Schools, 20(2), 143–156

Harris-Perry, M. (2011). Sister citizen: Shame, stereotypes, and black women in America. (p. 9780300165548). Yale University Press.

Hinduja, S., & Patchin, J. (2010). Bullying, cyberbullying, and s. Archives of Suicide Research, 4(3), 206–221. https://doi.org/10.1090/13811118.2010.494133 PMID:20658375.

Huang, Y. Y., & Chou, C. (2010). An analysis of multiple factors of cyberbullying among junior high school students in Taiwan. Computers in Human Behavior, 26(6), 1581–1590

Hurtado, A. (1996). The color of privilege: Three blasphemies on race and feminism. University of Michigan Press.

Jiménez, T. R. (2003). Multiethnic Mexican Americans in demographic and ethnographic perspectives. In M. Coronado, R. P. Guevarra, J. Moniz, & L. F. Szanto (Eds.), Crossing lines: Race and mixed race across the geohistorical divide. (pp. 161–188). University of California, Santa Barbara, Multiethnic Student Outreach.

King, D. (1988). Multiple jeopardy, multiple consciousness: The context of a Black feminist ideology. Signs, 14(1), 42–72

Kowalski, R. M., & Limber, S. P. (2013). Psychological, physical, and academic correlates of cyberbullying and traditional bullying. Journal of Adolescent Health, 53(1), S13–S20

Kowalski, R. M., & Giumetti, G. (2014). Wall posts and tweets and blogs, oh my! A look at cyber bullying via social media. Social Networking as a Criminal Enterprise, 8, 91–110

Lenhart, A., Ybarra, M. L., Zickuhr, K., & Price-Feeney, M. (2016). Online harassment, digital abuse, and cyberstalking in America. Data & Society Research Institute | Center for Innovative Public Research. https://www.datasociety.net/pubs/oh/Online_Harassment_2016.pdf

Li, Q. (2006). Cyberbullying in schools: A research of gender differences. School Psychology International, 27(2), 157–170

MacKinnon, C. A. (2013). Intersectionality as method: A note. Signs: Journal of Women in Culture and Society, 38(4), 1019–1030

Mantilla, K. (2013). Gendertrolling: Misogyny adapts to new media. Feminist Studies, 39(2), 563–570

Miller, G. H., Marquez-Velarde, G., Williams, A. A., & Keith, V. M. (2020). Discrimination and black social media use: Sites of oppression and expression. Sociology of Race and Ethnicity. https://doi.org/10.1093/oso/9780195160369.001.0001

Monge, P. R., Peter, R., Contractor, N. S., Contractor, P. S., & Noshir, S. (2003). Theories of communication networks. Oxford University Press.

National Hispanic Media Coalition. (2012). NHMC Poll Finds that Negative Media Portrayals are Fueling Stereotypes about Immigrants and Latinos. Retrieved from https://www.nhmc.org/nhmc-poll-finds-that-negative-media-portrayals-are-fueling-stereotypes-about-immigrants-and-latinos/

Negara, E. S., Triadi, D. & Andryani, R. (2019). Topic Modelling Twitter Data with Latent Dirichlet Allocation Method. 2019 International Conference on Electrical Engineering and Computer Science (ICECOS), Batam Island, Indonesia, pp. 386–390. https://doi.org/10.1109/ICECOS47637.2019.8984523

Nevins, J. (2002). Operation gatekeeper: The rise of the" illegal alien" and the making of the US-Mexico boundary. Psychology Press.

Pew Research Center. (2012). The 10 Largest Hispanic Origin Groups: Characteristics, Rankings, Top Counties. Retrieved from http://www.pewinternet.org/

Pew Research Cente.r (2017). Online Harassment 2017. Retrieved from http://www.pewinternet.org/

Pew Research Center. (2021). The State of Online Harassment. Retrieved from https://www.pewresearch.org/internet/2021/01/13/the-state-of-online-harassment/.

Popping, R. (2003). Knowledge graphs and network text analysis. Social Science Information, 42(1), 91–106

Quillian, L. (1995). Prejudice as a response to perceived group threat: Population composition and anti-immigrant and racial prejudice in Europe. American Sociological Review, 60, 586–611

Rich, A. (1980). Compulsory heterosexuality and lesbian existence. Signs Journal of Women in Culture and Society, 5(4), 631–660

Ridgeway, C. L. (2011). Framed by gender: How gender inequality persists in the modern world. Oxford University Press.

Romero, D. (2019, February 1). The worst slur for Mexican-Americans is still a mystery for some. NBC News. Retrieved from https://www.nbcnews.com/news/latino/worst-slur-mexican-americans-still-mystery-some-n959616

Şahin, M. (2012). An investigation into the efficiency of empathy training program on preventing bullying in primary schools. Children and Youth Services Review, 34(7), 1325–1330

Sherif, C. W., Sherif, M., & Nebergall, R. E. (1981). Attitude and attitude change: The social judgment-involvement approach. Greenwood Press.

Sijtsema, J. J., Veenstra, R., Lindenberg, S., & Salmivalli, C. (2009). Empirical test of bullies' status goals: Assessing direct goals, aggression, and prestige. Aggressive Behavior, 35(1), 57–67

Slonje, R., & Smith, P. K. (2008). Cyberbullying: Another main type of bullying? Scandinavian Journal of Psychology, 49(2), 147–154

Smith, P. K., Mahdavi, J., Carvalho, M., Fisher, S., Russell, S., & Tippett, N. (2008). Cyberbullying: Its nature and impact in secondary school pupils. Journal of Child Psychology and Psychiatry, 49(4), 376–385

Smith, M., Milic-Frayling, N., Shneiderman, B., Mendes Rodrigues, E., Leskovec, J., & Dunne, C. (2010). NodeXL: a free and open network overview, discovery and exploration add-in for Excel 2007/2010. http://nodexl.codeplex.com/ from the Social Media Research Foundation, http://www.smrfoundation.org

Sourander, A., Klomek, A. B., Ikonen, M., Lindroos, J., Luntamo, T., Koskelainen, M., & Helenius, H. (2010). Psychosocial risk factors associated with cyberbullying among adolescents: A population-based study. Archives of General Psychiatry, 67(7), 720–728. https://doi.org/10.1001/archgenpsychiatry.2010.79

Sterner, G., & Felmlee, D. (2017). The Social networks of cyberbullying on Twitter. International Journal of Technoethics (IJT), 8(2), 1–15

Stoll, L. C., & Block, R. (2015). Intersectionality and cyberbullying: A study of cybervictimization in a Midwestern high school. Computers in Human Behavior, 52, 387–397. https://doi.org/10.1016/j.chb.2015.06.010

Taylor, M. C. (1998). How white attitudes vary with the racial composition of local populations: Numbers count. American Sociological Review, 63, 512–535

Tsugawa, S., & Ohsaki, H. (2015). Negative messages spread rapidly and widely on social media. In Proceedings of the 2015 ACM on conference on online social networks (pp. 151–160).

U.S. Census Bureau. (2016). U.S. Census Bureau QuickFacts: United States. Retrieved from https://www.census.gov/quickfacts/fact/table/US/PST045217

Van der Brug, W., Fennema, M., & Tillie, J. (2000). Anti-immigrant parties in Europe: Ideological or protest vote? European Journal of Political Research, 37(1), 77–102

Wang, J., Iannotti, R. J., & Nansel, T. R. (2009). School bullying among adolescents in the United States: Physical, verbal, relational, and cyber. Journal of Adolescent Health, 45(4), 368–375

Wang, W., Chen, L., Thirunarayan, K., & Sheth, A. P. (2014). Cursing in English on Twitter. Proceedings of the 17th ACM Conference on Computer Supported Cooperative Work & Social Computing (pp. 415–424). Retrieved from http://corescholar.libraries.wright.edu/knoesis.590/

Werner, N. E., Bumpus, M. F., & Rock, D. (2010). Involvement in internet aggression during early adolescence. Journal of Youth and Adolescence, 39(6), 607–619

West, C., & Fenstermaker, S. (1995). Doing difference. Gender & Society, 9(1), 8–37

Willard, N. E. (2007). Cyberbullying and cyberthreats: Responding to the challenge of online social aggression, threats, and distress. Research press.

Xu, J. M., Jun, K. S., Zhu, X., & Bellmore, A. (2012, June). Learning from bullying traces in social media. In Proceedings of the 2012 conference of the North American chapter of the association for computational linguistics: Human language technologies (pp. 656–666). Association for Computational Linguistics.

Ybarra, M. L., & Mitchell, K. J. (2004). Online aggressor/targets, aggressors, and targets: A comparison of associated youth characteristics. Journal of Child Psychology and Psychiatry, 45(7), 1308–1316
Funding
This research was supported by the National Science Foundation under IGERT Grant DGE-1144860, Big Data Social Science.
Ethics declarations
Conflict of interest
The authors declare that they have no conflict of interest.
Additional information
Publisher's Note
Springer Nature remains neutral with regard to jurisdictional claims in published maps and institutional affiliations.
About this article
Cite this article
Francisco, S.C., Felmlee, D.H. What Did You Call Me? An Analysis of Online Harassment Towards Black and Latinx Women. Race Soc Probl 14, 1–13 (2022). https://doi.org/10.1007/s12552-021-09330-7
Accepted:

Published:

Issue Date:

DOI: https://doi.org/10.1007/s12552-021-09330-7
Keywords