Abstract
Race and ethnicity are consequential constructs when it comes to exposure to air pollution. Persistent environmental racial/ethnic inequalities call for attention to identifying the factors that maintain them. We examined associations between racial residential segregation and racial/ethnic inequalities in exposure to three types of air pollutants. Using data from the Panel Study of Income Dynamics (1990–2011), the U.S. Census (1990–2010), and the Environmental Protection Agency, we tested the independent and joint contributions of race/ethnicity and metropolitan-level residential segregation on individual levels of exposure to air pollution nationwide. We found that racial and ethnic minorities were exposed to significantly higher levels of air pollution compared to Whites. The difference between minorities and Whites in exposure to all three types of air pollution was most pronounced in metropolitan areas with high levels of residential segregation. The environmental inequities observed in this study call for public health and policy initiatives to ameliorate the sources of racial/ethnic gaps in pollution exposure. Given the links between the physical environment and health, addressing such uneven environmental burdens may be a promising way to improve population health and decrease racial/ethnic inequalities therein.
Access options
Buy single article
Instant access to the full article PDF.
USD 39.95
Price includes VAT (USA)
Tax calculation will be finalised during checkout.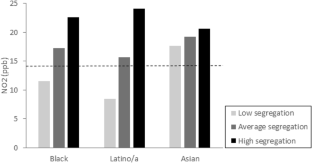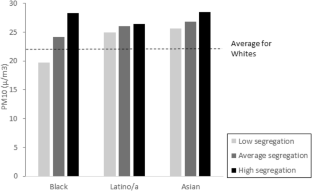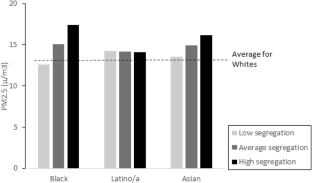 References
Aguinis, H., Gottfredson, R. K., & Culpepper, S. A. (2013). Best-practice recommendations for estimating cross-level interaction effects using multilevel modeling. Journal of Management, 39, 1490–1528.

Akinbami, L. J., Moorman, J. E., Bailey, C., Zahran, H. S., King, M., Johnson, C. A., & Liu, X. (2012). Trends in asthma prevalence, health care use, and mortality in the United States, 2001–2010. NCHS Data Brief, 94, 1–8.

Ash, M., Boyce, J. K., Chang, G., & Scharber, H. (2013). Is environmental justice good for White folks? Industrial air toxics exposure in urban America. Social Science Quarterly, 94(3), 616–636.

Ash, M., & Fetter, T. R. (2004). Who lives on the wrong side of the environmental tracks? Evidence from the EPA's risk-screening environmental indicators model. Social Science Quarterly, 85(2), 441–462.

Chan, S. H., Van Hee, V. C., Bergen, S., Szpiro, A. A., DeRoo, L. A., London, S. J., … Sandler, D. P. (2015). Long-term air pollution exposure and blood pressure in the Sister Study. Environmental Health Perspectives, 123(10), 951–958.

Chi, G. C., Hajat, A., Bird, C. E., Cullen, M. R., Griffin, B. A., Miller, K. A., … Kaufman, J. D. (2016). Individual and neighborhood socioeconomic status and the association between air pollution and cardiovascular disease. Environmental Health Perspectives, 124(12), 1840–1847.

Crowder, K., & Downey, L. (2010). Interneighborhood migration, race, and environmental hazards: Modeling microlevel processes of environmental inequality. American Journal of Sociology, 115(4), 1110–1149.

Downey, L. (2005). The unintended significance of race: Environmental racial inequality in Detroit. Social Forces, 83(3), 971–1007.

Downey, L. (2007). US metropolitan-area variation in environmental inequality outcomes. Urban Studies, 44(5 6), 953–977.

Downey, L., Dubois, S., Hawkins, B., & Walker, M. (2008). Environmental inequality in metropolitan America. Organ and Environment, 21(3), 270–294.

Elliott, J. R., & Frickel, S. (2013). The historical nature of cities: A study of urbanization and hazardous waste accumulation. American Sociological Review, 78(4), 521–543.

Gee, G., & Payne-Sturges, D. C. (2004). Environmental health disparities: A framework integrating psychosocial and environmental concepts. Environmental Health Perspectives, 112(17), 1645–1653.

Jones, M. R., Diez-Roux, A. V., O'Neill, M. S., Guallar, E., Sharrett, A. R., Post, W., … Navas-Acien, A. (2015). Ambient air pollution and racial/ethnic differences in carotid intima-media thickness in the Multi-Ethnic Study of Atherosclerosis (MESA). Journal of Epidemiology and Community Health, 69(12), 1191–1198.

Kampa, M., & Castanas, E. (2008). Human health effects of air pollution. Environmental pollution, 151(2), 362–367.

Kravitz-Wirtz, N., Crowder, K., Hajat, A., & Sass, V. (2016). The long-term dynamics of racial/ethnic inequality in neighborhood air pollution exposure, 1990–2009. Du Bois Review: Social Science Research on Race, 13(2), 237–259.

Krieger, N., Waterman, P. D., Spasojevic, J., Li, W., Maduro, G., & Van Wye, G. (2016). Public health monitoring of privilege and deprivation with the index of concentration at the extremes. American Journal of Public Health, 106(2), 256–263.

Liu, R., Young, M. T., Chen, J. C., Kaufman, J. D., & Chen, H. (2016). Ambient air pollution exposures and risk of Parkinson disease. Environmental Health Perspectives, 124(11), 1759–1765.

Lopez, R. (2002). Segregation and Black/White differences in exposure to air toxics in 1990. Environmental Health Perspectives, 110, 289–295.

Massey, D. S., & Denton, N. A. (1988). The dimensions of residential segregation. Social Forces, 67(2), 281–315.

Massey, D. S., & Denton, N. A. (1993). American apartheid: Segregation and the making of the underclass. Cambridge: Harvard University Press.

Mohai, P., & Saha, R. (2015). Which came first, people or pollution? A review of theory and evidence from longitudinal environmental justice studies. Environmental Research Letters, 10(12), 125011.

Morello-Frosch, R., & Jesdale, B. M. (2005). Separate and unequal: Residential segregation and estimated cancer risks associated with ambient air toxics in US metropolitan areas. Environmental health perspectives, 114(3), 386–393.

Morello-Frosch, R., & Lopez, R. (2006). The riskscape and the color line: Examining the role of segregation in environmental health disparities. Environmental Research, 102(2), 181–196.

Morello-Frosch, R., & Shenassa, E. D. (2006). The environmental "riskscape" and social inequality: Implications for explaining maternal and child health disparities. Environmental Health Perspectives, 114(8), 1150–1153.

Ogbu, J. U. (1978). Minority education and caste: The American system in cross-cultural perspective. New York: Academic Press.

Orfield, M. (2005). Land use and housing policies to reduce concentrated poverty and racial segregation. Fordham Urban Law Journal, 33(3), 101–159.

Pope, I. I. I., C. A., & Dockery, D. W. (2006). Health effects of fine particulate air pollution: Lines that connect. Journal of the Air & Waste Management Association, 56(6), 709–742.

Preacher, K. J., Curran, P. J., & Bauer, D. J. (2006). Computational tools for probing interactions in multiple linear regression, multilevel modeling, and latent curve analysis. Journal of Educational and Behavioral Statistics, 31(4), 437–448.

Pulido, L. (2000). Rethinking environmental racism: White privilege and urban development in Southern California. Annals of the Association of American Geographers, 90(1), 12–40.

Raudenbush, S. W., & Bryk, A. S. (2002). Hierarchical linear models: Applications and data analysis methods (Vol. 1). Los Angeles: Sage.

Reding, K. W., Young, M. T., Szpiro, A. A., Han, C. J., DeRoo, L. A., Weinberg, C., … Sandler, D. P. (2015). Breast cancer risk in relation to ambient air pollution exposure at residences in the Sister Study Cohort. Cancer Epidemiology and Prevention Biomarkers, 24(12), 1907–1909.

Sampson, P. D., Richards, M., Szpiro, A. A., Bergen, S., Sheppard, L., Larson, T. V., & Kaufman, J. D. (2013). A regionalized national universal kriging model using Partial Least Squares regression for estimating annual PM2. 5 concentrations in epidemiology. Atmospheric Environment, 75, 383–392.

Sampson, P. D., Szpiro, A. A., Sheppard, L., Lindström, J., & Kaufman, J. D. (2011). Pragmatic estimation of a spatio-temporal air quality model with irregular monitoring data. Atmospheric Environment, 45(36), 6593–6606.

Taylor, D. (2014). Toxic communities: Environmental racism, industrial pollution, and residential mobility. New York: NYU Press.

United States Environmental Protection Agency. (n.d.). Particulate Matter (PM) Pollution. Retrieved from https://www.epa.gov/pm-pollution/particulate-matte.

Williams, D. R., & Collins, C. (2001). Racial residential segregation: A fundamental cause of racial disparities in health. Public Health Reports, 116(5), 404–416.

Young, M. T., Sandler, D. P., DeRoo, L. A., Vedal, S., Kaufman, J. D., & London, S. J. (2014). Ambient air pollution exposure and incident adult asthma in a nationwide cohort of US women. American Journal of Respiratory and Critical Care Medicine, 190(8), 914–921.
Acknowledgements
This research was supported by a Grant (R01 HD078501) to Crowder from the Eunice Kennedy Shriver National Institute of Child Health and Human Development.
Ethics declarations
Conflict of interest
The authors declare that they have no conflict of interest.
About this article
Cite this article
Woo, B., Kravitz-Wirtz, N., Sass, V. et al. Residential Segregation and Racial/Ethnic Disparities in Ambient Air Pollution. Race Soc Probl 11, 60–67 (2019). https://doi.org/10.1007/s12552-018-9254-0
Keywords
Air pollution

Race and ethnicity

Residential segregation

Nitrogen oxides

Particulate matter