Abstract
Scholars document considerable disparities in teacher perceptions of students, yet absent from this literature is an examination of how race, ethnicity, and immigration status intersect to influence teacher ratings. This study extends previous research by examining variation in teachers' ratings of academic ability across four conventional racial/ethnic groups as well as thirteen racialized subgroups. Using data from the Early Childhood Longitudinal Study—Kindergarten Class of 1998–1999, we find that black first-graders receive lower ratings in language and literacy, a pattern that holds for both black Americans and black immigrants. In contrast, Asian first-graders receive higher ratings in math; however, this is primarily driven by teachers' much higher ratings of East Asian and Southeast Asian immigrants. These subgroup differences remain even after controlling for a host of background and contextual factors, as well as students' tested ability and academic growth in math and reading. Teacher perceptions of student academic behavior explain lower language and literacy ratings for black Americans and higher math ratings for Southeast Asian immigrants that are present net background and performance, but higher math ratings for East Asian immigrants remain. We conclude by discussing implications of our approach and findings.
This is a preview of subscription content, log in to check access.
Access options
Buy single article
Instant access to the full article PDF.
US$ 39.95
Price includes VAT for USA
Subscribe to journal
Immediate online access to all issues from 2019. Subscription will auto renew annually.
US$ 99
This is the net price. Taxes to be calculated in checkout.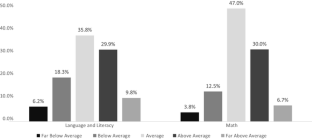 Notes
1.

Indeed, native-born Americans may believe that all Asians are first-generation immigrants. For example, Asian Americans report frequently being asked questions such as "Where are you really from?", implying that native-born Americans believe all Asians are born abroad (Luo 2016).

2.

The sample was refreshed the following year to account for students who did not enroll in school until first grade.

3.

Dependent variables were included in imputation models; however, only cases with valid responses for the dependent variables were included in our analysis. Additionally, our analytic sample size is rounded to the nearest tenth in accordance with NCES rules for restricted data use.

4.

South Asians are not divided by immigration status because the overwhelming majority of students in this category are either 1.5 or second generation.

5.

BIC statistics for models estimated with non-imputed data suggest that replacing the race/ethnicity variable with the multidimensional racialized subgroup measure improves model fit.
References
Ainsworth-Darnell, J. W., & Downey, D. B. (1998). Assessing the oppositional culture explanation for racial/ethnic differences in school performance. American Sociological Review, 63(4), 536–553.

Alexander, K. L., Entwisle, D. R., & Thompson, M. S. (1987). School performance, status relations, and the structure of sentiment: Bringing the teacher back in. American Sociological Review, 52(5), 665–682.

Baker, B. D., Keller-Wolff, C., & Wolf-Wendel, L. (2000). Two steps forward, one step back: Race/ethnicity and student achievement in education policy reearch. Educational Policy, 14(4), 511–529.

Bates, L. A., & Glick, J. E. (2013). Does it matter if teachers and schools match the students? Racial and ethnic disparities in problem behaviors. Social Science Research, 42(5), 1180–1190.

Blanchard, S., & Muller, C. (2015). Gatekeepers of the American dream: How teachers' perceptions shape the academic outcomes of immigrant and language-minority students. Social Science Research, 51, 262–275.

Bonilla-Silva, E. (2004). From bi-racial to tri-racial: Towards a new system of racial stratification in the USA. Ethnic and Racial Studies, 27(6), 931–950.

Brand, D. (1987). The new whiz kids: Why Asian Americans are doing so well and what it costs them. Time, 130, 42–47.

Carter, P. L. (2003). "Black" cultural capital, status positioning, and schooling conflicts for low-income African American youth. Social Problems, 50(1), 136–155.

Chaikin, A. L., Sigler, E., & Derlega, V. J. (1974). Nonverbal mediators of teacher expectancy effects. Journal of Personality and Social Psychology, 30(1), 144–149.

Condron, D. J. (2007). Stratification and educational sorting: Explaining ascriptive inequalities in early childhood reading group placement. Social Problems, 54(1), 139–160.

Copenhaver, R. W., & McIntyre, D. J. (1992). Teachers' perception of gifted students. Roeper Review, 14(3), 151–153.

Cox, J., Daniel, N., & Boston, B. (1985). Educating able learners: Programs and promising practices. Austin, TX: University of Texas Press.

Dabach, D. B. (2011). Teachers as agents of reception: An analysis of teacher preference for immigrant-origin second language learners. The New Educator, 7, 66–86.

Downey, D. B., & Pribesh, S. (2004). When race matters: Teachers' evaluations of students' classroom behavior. Sociology of Education, 77(4), 267–282.

Entwisle, D. R., & Hayduk, L. A. (1988). Lasting effects of elementary school. Sociology of Education, 61(3), 147–159.

Farkas, G. (2003). Racial disparities and discrimination in education: What do we know, how do we know it, and what do we need to know? Teachers College Record, 105(6), 1119–1146.

Ferguson, A. A. (2001). Bad boys: Public schools in the making of black masculinity. Ann Arbor, MI: University of Michigan Press.

Ferguson, R. F. (2003). Teachers' perceptions and expectations and the black-white test score gap. Urban Education, 38(4), 460–507.

Frank, R., Akresh, I. R., & Lu, B. (2010). Latino immigrants and the U.S. racial order. American Sociological Review, 75(3), 378–401.

Goyette, K., & Xie, Y. (1999). Educational expectations of Asian American youths: Determinants and ethnic differences. Sociology of Education, 72(1), 22–36.

Haller, E. J. (1985). Pupil race and elementary school ability grouping: Are teachers biased against black children? American Educational Research Journal, 22(4), 465–483.

Hallinan, M. T. (2008). Teacher influences on students' attachment to school. Sociology of Education, 81(3), 271–283.

Hamre, B. K., & Pianta, R. C. (2001). Early teacher-child relationships and the trajectory of children's school outcomes through eighth grade. Child Development, 72(2), 625–638.

Hamre, B. K., & Pianta, R. C. (2005). Can instructional and emotional support in the first-grade classroom make a difference for children at risk of school failure? Child Development, 76(5), 949–967.

Harris, A. L. (2011). Kids don't want to fail: Oppositional culture and the black-white achievement gap. Cambridge, MA: Harvard University Press.

Harris, C. A., & Khanna, N. (2010). Black is, black ain't: Biracials, middle-class blacks, and the social construction of blackness. Sociological Spectrum, 30(6), 639–670.

Herring, C., Keith, V., & Horton, H. D. (Eds.). (2004). Skin deep: How race and complexion matter in the "color-blind" era. Urbana, IL: University of Illinois Press.

Hitlin, S., Brown, J. S., & Elder, G. H. (2007). Measuring Latinos: Racial vs. ethnic classification and self-understandings. Social Forces, 86(2), 587–611.

Hoeffel, E. M., Rastogi, S., Kim, M. O., & Shahid, H. (2012). The Asian population: 2010. 2010 Census Briefs, Washington, DC.

Irizarry, Y. (2015). Utilizing multidimensional measures of race in education research: The case of teacher perceptions. Sociology of Race and Ethnicity, 1(4), 564–583.

Irvine, J. J. (1988). An analysis of the problem of disappearing black educators. The Elementary School Journal, 88(5), 503–513.

Jo, J.-Y. O. (2004). Neglected voices in the multicultural America: Asian American racial politics and its implications for multicultural education. Multicultural Perspectives, 6(1), 19–25.

Jussim, L., & Harber, K. D. (2005). Teacher expectations and self-fulfilling prophecies: Knowns and unknowns, resolved and unresolved controversies. Personality and Social Psychology Review, 9(2), 131–155.

Kent, M. M. (2007). Immigration and America's black population. Population Bulletin, 62(4), 1–16.

Khanna, N. (2010). If you're half black, you're just black": Reflected appraisals and the persistence of the one-drop rule. Sociological Quarterly, 51(1), 96–121.

Leacock, E. (1982). The influences of teacher attitudes on children's classroom performance: Case studies. In K. M. Borman (Ed.), The social life of children in a changing society (pp. 47–64). Hillsdale, NJ: Lawrence Erlbaum Associates.

Lee, C. D. (2003). Why we need to re-think race and ethnicity in educational research. Educational Researcher, 32(5), 3–5.

Lee, J. (2002). Racial and ethnic achievement gap trends: Reversing the progress toward equity? Educational Researcher, 31(1), 3–12.

Lee, J. M. (2012). Asian-American exceptionalism and "stereotype promise." The Society Pages. Retrieved May 4, 2012, from https://thesocietypages.org/papers/asian-american-exceptionalism-and-stereotype-promise/.

Lee, J. M., & Bean, F. D. (2007). Reinventing the color line: Immigration and America's new racial/ethnic divide. Social Forces, 86(2), 561–586.

Lee, J. M., & Zhou, M. (2015). The Asian American achievement paradox. New York: Russell Sage Foundation.

Lee, S. J. (1994). Behind the model-minority stereotype: Voices of high- and low-achieving Asian American students. Anthropology & Education Quarterly, 25(4), 413–429.

Lei, J. L. (2003). (Un)necessary toughness?: Those "loud black girls" and those "quiet Asian boys. Anthropology & Education Quarterly, 34(2), 158–181.

Lewis, A. E. (2006). Whiteness in schools: How race shapes blacks' opportunities. In E. M. Horvat & C. O'Connor (Eds.), Beyond acting white: Reframing the debate on black student achievement (pp. 176–200). Lanham, MD: Rowman & Littlefield.

Lopez, N. (2003). Hopeful girls, troubled boys: Race and gender disparity in urban education. New York: Routledge.

Luo, M. (2016, October 11). "Go back to China": Readers respond to racist insults shouted at a New York Times Editor. New York Times, A20. Retrieved from https://www.nytimes.com/2016/10/11/nyregion/go-back-to-china-readers-respond-to-racist-insults-shouted-at-a-new-york-times-editor.html.

Maddux, W. W., Galinsky, A. D., Cuddy, A. J. C., & Polifroni, M. (2008). When being a model minority is good… and bad: Realistic threat explains negativity toward Asian Americans. Personality and Social Psychology Bulletin, 34(1), 74–89.

Massey, D. S. (2014). The racialization of Latinos in the United States. In S. Bucerius & M. Tonry (Eds.), Oxford handbook of ethnicity, crime, and immigration (pp. 21–40). Oxford: Oxford University Press.

Masten, W. G., Plata, M., Wenglar, K., & Thedford, J. (1999). Acculturation and teacher ratings of Hispanic and Anglo-American students. Roeper Review, 22(1), 64–65.

Matute-Bianchi, M. E. (1986). Ethnic identities and patterns of school success and failure among Mexican-descent and Japanese-American students in a California high school: An ethnographic analysis. American Journal of Education, 95(1), 233–255.

McGrady, P. B., & Reynolds, J. R. (2013). Racial mismatch in the classroom: Beyond black-white differences. Sociology of Education, 86(1), 3–17.

McKown, C., & Weinstein, R. S. (2008). Teacher expectations, classroom context, and the achievement gap. Journal of School Psychology, 46(3), 235–261.

Mickelson, R. A. (2001). Subverting Swann: First- and second-generations segregation in Charlotte-Mecklenburg schools. American Educational Research Journal, 38(2), 215–252.

Montalvo, G. P., Mansfield, E. A., & Miller, R. B. (2007). Liking or disliking the teacher: Student motivation, engagement and achievement. Evaluation & Research in Education, 20(3), 144–158.

Morris, E. W. (2005). "Tuck in that shirt!" race, class, gender, and discipline in an urban school. Sociological Perspectives, 48(1), 25–48.

Muller, C. (2001). The role of caring in the teacher-student relationship for at-risk students. Sociological Inquiry, 71(2), 241–255.

Ngo, B., & Lee, S. J. (2007). Complicating the image of model minority success: A review of southeast Asian American education. Review of Educational Research, 77(4), 415–453.

Oates, G. L. S. C. (2003). Teacher-student racial congruence, teacher perceptions, and test performance. Social Science Quarterly, 84(3), 508–525.

O'Connor, C., Lewis, A., & Mueller, J. (2007). Researching "black" educational experiences and outcomes: Theoretical and methodological considerations. Educational Researcher, 36(9), 541–552.

Ogbu, J. U. (2004). Collective identity and the burden of "acting white" in black history, community, and education. Urban Review, 36(1), 1–35.

Pianta, R. C. (1997). Adult-child relationship processes and early schooling. Early Education & Development, 8(1), 11–26.

Pianta, R. C. (2003). Standardized classroom observations from pre-k to third grade: A mechanism for improving quality classroom experiences during the P-3 years. New York: Foundation for Child Development. Retrieved from http://www.fcd-us.org/usr_doc/StandardizedClassroomObservations.pdf.

Pigott, R. L., & Cowen, E. L. (2000). Teacher race, child race, racial congruence, and teacher ratings of children's school adjustment. Journal of School Psychology, 38(2), 177–196.

Pollock, M. (2004). Race wrestling: Struggling strategically with race in educational practice and research. American Journal of Education, 111(1), 25–67.

Qian, Z. (2004). Options: Racial/ethnic identification of children of intermarried couples. Social Science Quarterly, 85(3), 746–766.

Ready, D. D., & Wright, D. L. (2011). Accuracy and inaccuracy in teachers' perceptions of young children's cognitive abilities: The role of child background and classroom context. American Educational Research Journal, 48(2), 335–360.

Reardon, S. F., & Galindo, C. (2009). The Hispanic-White achievement gap in math and reading in the elementary grades. American Educational Research Journal, 46(3), 853–891.

Ridley, S. M., McWilliam, R. A., & Oates, C. S. (2000). Observed engagement as an indicator of child care program quality. Early Education and Development, 11(2), 133–146.

Rist, R. C. (1970). Student social class and teacher expectation: The self-fulfilling prophecy in ghetto education. Harvard Educational Review, 40(3), 411–451.

Rong, X. L., & Preissle, J. (2009). Educating immigrant students in the 21st century: What educators need to know. Thousand Oaks, CA: Corwin Press.

Rosenthal, R., & Jacobson, L. (1968). Pygmalion in the classroom. Urban Review, 3(1), 16–20.

Rowan, B., Correnti, R., & Miller, R. J. (2002). What large-scale survey research tells us about teacher effects on student achievement: Insights from the Prospects Study of Elementary Schools. Teachers College Record, 104(8), 1525–1567.

Royston, P. (2005). Multiple imputation of missing values: Update. The Stata Journal, 5(2), 1–14.

Salinas, C. J., & Lozano, A. (2017). Mapping and recontextualizing the evolution of the term Latinx: An environmental scanning in higher education. Journal of Latinos and Education. https://doi.org/10.1080/15348431.2017.1390464.

Saporito, S., & Sohoni, D. (2006). Coloring outside the lines: Racial segregation in public schools and their attendance boundaries. Sociology of Education, 79(1), 81–105.

Shaw-Taylor, Y., & Tuch, S. A. (Eds.). (2007). The other African Americans: Contemporary African and Caribbean immigrants in the United States. Lanham, MD: Rowman & Littlefield.

Snipp, C. M. (2010). Defining race and ethnicity: The constitution, the court, and the census. In H. R. Markus & P. M. L. Moya (Eds.), Doing race: 21 Essays for the 21st century (pp. 105–122). New York: W.W. Norton and Company.

Steele, C. M., & Aronson, J. (1995). Stereotype threat and the intellectual test performance of African Americans. Journal of Personality and Social Psychology, 69(5), 797–811.

Stewart, Q. T., & Dixon, J. C. (2010). Is it race, immigrant status, or both? An analysis of wage disparities among men in the United States. International Migration Review, 44(1), 173–201.

Swoboda, C. A. (2012). A new method for multilevel multiple imputation. Madison: University of Wisconsin.

Tenenbaum, H. R., & Ruck, M. D. (2007). Are teachers' expectations different for racial minority than for European American students? A meta-analysis. Journal of Educational Psychology, 99(2), 253–273.

Tyson, K. (2003). Notes from the back of the room: Problems and paradoxes in the schooling of young black students. Sociology of Education, 76(4), 326–343.

Tyson, K. (2011). Integration interrupted: Tracking, black students, and acting white after Brown. New York: Oxford University Press.

Valenzuela, A. (1999). Subtractive schooling: U.S.-Mexican youth and the politics of caring. Albany, NY: SUNY Press.

Waters, M. C. (1990). Ethnic options: Choosing identities in America. Berkeley, CA: University of California Press.

Waters, M. C. (1991). The role of lineage in identity formation among black Americans. Qualitative Sociology, 14(1), 57–76.

Waters, M. C. (2001). Black identities: West Indian immigrant dreams and American realities. Cambridge, MA: Harvard University Press.

Wentzel, K. R. (1999). Social-motivational processes and interpersonal relationships: Implications for understanding motivation at school. Journal of Educational Psychology, 91(1), 76–97.

Wing, J. Y. (2007). Beyond black and white: The model minority myth and the invisibility of Asian American students. Urban Review, 39(4), 455–487.

Wong, M. G. (1980). Model students? Teachers' perceptions and expectations of their Asian and white students. Sociology of Education, 53(4), 236–246.

Wright, R. L. (1998). Sociolinguistics and ideological dynamics of the ebonics controversy. Journal of Negro Education, 67(1), 5–15.

Yancey, G. (2003). Who is white? Latinos, Asians, and the new black/nonblack divide. Boulder, CO: Lynne Rienner.
Acknowledgements
The authors would like to thank Brian Powell, Matthew Hughey, Becky Schewe, Ryan Cobb, and anonymous reviewers for their constructive feedback on previous drafts of this manuscript.
Funding
This research was supported by a Ford Foundation Fellowship through The National Academies and by a grant from the American Educational Research Association which receives funds for its Grants Program from the National Science Foundation under NSF Grant #DRL-0941014. This research was also supported in part by Grant, 5 R24 HD042849, Population Research Center, awarded to the Population Research Center at The University of Texas at Austin by the Eunice Kennedy Shriver National Institute of Child Health and Human Development. Opinions reflect those of the authors and do not necessarily reflect those of the granting agencies.
Appendix
Appendix
About this article
Cite this article
Irizarry, Y., Cohen, E.D. Of Promise and Penalties: How Student Racial-Cultural Markers Shape Teacher Perceptions. Race Soc Probl 11, 93–111 (2019). https://doi.org/10.1007/s12552-018-9231-7
Keywords
Race

Racialization

Racial disparities

Teacher perceptions

Stereotypes