Abstract
Disparities are pronounced along racial/ethnic lines in the USA. Convention draws our attention to blacks and whites, but increased racial/ethnic diversity in the USA requires shifts in that focus. We contribute to studies of racial/ethnic stratification by interrogating the association between racial/ethnic composition and supermarket location in Houston, Texas. First, we assess the benefits of a new approach to defining the racial/ethnic composition of local areas, an approach that acknowledges an increasingly complex racial/ethnic demography. Second, we contribute to our understanding of emerging racial/ethnic stratification hierarchies by examining the position of the racial/ethnic composition categories relative to one another. Our results suggest a persistent link between racial/ethnic composition and supermarket location, which highlights entrenched black disadvantage coupled with malleable middle positions for Hispanic areas. The associated stratification hierarchy is gradual in nature, yet there is evidence supporting arguments that the USA is moving toward a tri-racial system.
Access options
Buy single article
Instant access to the full article PDF.
US$ 39.95
Tax calculation will be finalised during checkout.
Subscribe to journal
Immediate online access to all issues from 2019. Subscription will auto renew annually.
US$ 79
Tax calculation will be finalised during checkout.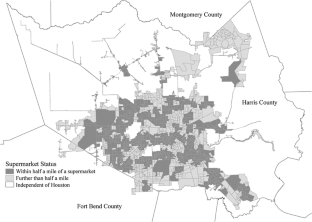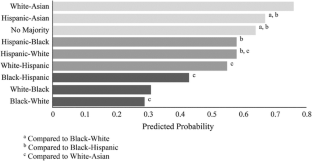 Notes
1.

Consistent with our understanding of how edge effects operate, excluding these observations does not affect analyses that rely on a measure of supermarket presence within a geography, but does affect the results from models that employ a distance approach (e.g., using a half mile and mile distance threshold).

2.

Theoretically, a supermarket within the block group could be more than half of a mile away from the center of the block group if the block group were large enough. However, there are only 45 block groups in our final analysis that are in obvious danger of this concern (i.e., block groups that are larger than 1 square mile). And of those 45 block groups, only 6 have a supermarket within the block group. Excluding these block groups does not substantively change our results—all coefficients are nearly identical to what is reported in the final model with the exception of the majority Hispanic–Asian coefficient, which is closer to 1 in this sensitivity analysis. This change does not alter our substantive conclusions; rather, it strengthens them.

3.

We also considered access to major roads and highways, but access is comprehensive enough within the city to severely limit the utility of such a measure—93% of block groups intersect with major roads.

4.

One block group had a value of zero for the number of housing units, which resulted in a missing value after taking the natural log. We replaced the missing value with the natural log of one to avoid losing the observation. This change does not affect our results.

5.

Ideally, we would be able to test and adjust for residual spatial autocorrelation given our use of spatially contiguous units of analysis. Unfortunately, generalized code or programs tailored to logistic regression are not yet available for such spatially informed methods. In an alternative robustness check, we use a 50% random sample of the block groups in our analysis to reduce the effects of neighbor similarity on our coefficient estimates. Changes primarily reflect increases in the level of coefficient significance. Thus, this sensitivity analysis bolsters the conclusions reported in the text. The one exception is that the direction of intersection density's relationship flips between the two approaches—based on this analysis, it is unclear how intersection density is related to supermarket location net of retail density, if at all.
References
Bader, M. D. M., Purciel, M., Yousefzadeh, P., & Neckerman, K. M. (2010). Disparities in neighborhood food environments: Implications of measurement strategies. Economic Geography, 86(4), 409–430.

Bonilla-Silva, E. (2004). From bi-racial to tri-racial: Towards a new system of racial stratification in the U.S.A. Ethnic and Racial Studies, 27, 931–950.

Condron, D. J., & Roscigno, V. J. (2003). Disparities within: Unequal spending and achievement in and urban school district. Sociology of Education, 76(1), 18–36.

Cummins, S., Flint, E., & Matthews, S. A. (2014). New neighborhood grocery store increased awareness of food access but did not alter dietary habits or obesity. Health Affairs, 33(2), 283–291.

Cummins, S., Smith, D. M., Taylor, M., Dawson, J., Marshall, D., Sparks, L., et al. (2009). Variations in fresh fruit and vegetable quality by store type, urban-rural setting and neighbourhood deprivation in Scotland. Public Health Nutrition, 12(11), 2044–2050.

Davis, T. M., & Welcher, A. N. (2013). School quality and the vulnerability of the black middle class: The continuing significance of race as a predictor of disparate schooling environments. Sociological Perspectives, 56(4), 467–493.

Eisenhauer, E. (2001). In poor health: Supermarket redlining and urban nutrition. GeoJournal, 53(2), 125–133.

Ellen, I. G., Horn, K., & O'Regan, K. (2012). Pathways to integration: Examining changes in the prevalence of racially integrated neighborhoods. Cityscape: A Journal of Policy Development and Research, 14(3), 33–54.

Emerson, M. O., Bratter, J., Howell, J., Jeanty, P. W., & Cline, M. (2011). Houston region grows more racially/ethnically diverse, with small declines in segregation. A report of the Kinder Institute for Urban Research and the Hobby Center for the Study of Texas http://kinder.rice.edu/uploadedFiles/Urban_Research_Center/Media/Houston%20Region%20Grows%20More%20Ethnically%20Diverse%202-13.pdf.

Farber, S., Morang, M. Z., & Widener, M. J. (2014). Temporal variability in transit-based accessibility to supermarkets. Applied Geography, 53(2014), 149–159.

Farley, R., & Frey, W. H. (1994). Changes in the segregation of whites from blacks during the 1980s: Small steps toward a more integrated society. American Sociological Review, 59(1), 23–45.

Flores, R. J. O., & Lobo, A. P. (2012). Reassertion of a black/non-black color line: The rise of Integrated neighborhoods in New York 1970–2010. Journal of Urban Affairs, 35, 255–282.

Franco, M., Diez Roux, A. V., Glass, T. A., Caballero, B., & Brancati, F. L. (2008). Neighborhood characteristics and availability of healthy foods in baltimore. American Journal of Preventive Medicine, 35(6), 561–567.

Friedman, S. (2008). Do declines in residential segregation mean stable neighborhood racial integration in metropolitan America? A research note. Social Science Research, 37(3), 920–933.

Galvez, M. P., Morland, K., Raines, C., Kobil, J., Siskind, J., Godbold, J., et al. (2007). Race and food store availability in an inner-city neighbourhood. Public Health Nutrition, 11(6), 624–631.

Gans, H. J. (1999). The possibility of a new racial hierarchy in the twenty-first century United States. In M. Lamont (Ed.), The cultural territories of race (pp. 371–390). Chicago and New York: University of Chicago Press and Russel Sage Foundation.

Gold, S. J. (2004). From jim crow to racial hegemony: Evolving explanations of racial hierarchy. Ethnic and Racial Studies, 27(6), 951–968.

Hochschild, J. L., Weaver, V. M., & Burch, T. R. (2012). Creating a new racial order: How immigration, multiracialism, genomics, and the young can remake race in America. Princeton, NJ: Princeton University Press.

Houston, D., Li, W., & Jun, W. (2014). Disparities in exposure to automobile and truck traffic and vehicle emissions near the Los Angeles–Long Beach port complex. American Journal of Public Health, 104(1), 156–164.

Iceland, J. (2004). Beyond black and white: Metropolitan residential segregation in multi-ethnic America. Social Science Research, 33, 248–271.

Johnson, G. S., McGee, B. B., Johnson, C., & Richardson, V. (2009). Measuring aspects of fruit and vegetable availability in the lower mississippi delta (LMD). Race, Gender and Class, 16(3–4), 109–119.

Kirk, D. S. (2008). The neighborhood context of racial and ethnic disparities in arrest. Demography, 45(1), 55–77.

Larson, N. I., Story, M. T., & Nelson, M. C. (2009). Neighborhood environments: Disparities in access to health foods in the U.S. American Journal of Preventive Medicine, 36(1), 74–81.

Lee, H. (2012). The role of local food availability in explaining obesity risk among young school-aged children. Social Science and Medicine, 74, 1193–1203.

Lee, J., & Bean, F. D. (2010). The diversity paradox: Immigration and the color line in twenty-first century America. New York: The Russell Sage Foundation.

Lee, B., & Iceland, J. (2013). Is ethnoracial residential integration on the rise? Evidence from metropolitan and micropolitan America since 1980. US2010, Brown University. Report available at http://www.s4.brown.edu/us2010/Data/Report/report10022013.pdf.

Logan, J. R., & Zhang, C. (2010). Global neighborhoods: New pathways to diversity and separation. American Journal of Sociology, 115(4), 1069–1109.

McClelland, W. G. (1962). Economics of the supermarket. The Economic Journal, 72(285), 154–170.

Moore, L. V., & Diez Roux, A. V. (2006). Associations of neighborhood characteristics with the location and type of food stores. American Journal of Public Health, 96(2), 325–331.

Morland, K., & Filomena, S. (2007). Disparities in the availability of fruits and vegetables between racially segregated urban neighbourhoods. Public Health Nutrition, 10(12), 1481–1489.

Morland, K. B., & Evenson, K. R. (2009). Obesity prevalence and the local food environment. Health & Place, 15(2), 491–495.

Morland, K., Wing, S., Diez Roux, A., & Poole, C. (2002). Neighborhood characteristics associated with the location of food stores and food service places. American Journal of Preventive Medicine, 22(1), 23–29.

Parisi, D., Lichter, D. T., & Taquino, M. C. (2011). Multi-scale residential segregation: Black exceptionalism and America's changing color line. Social Forces, 89(3), 829–852.

Ransome, J. C. (1961). The organization of location research in a large supermarket chain. Economic Geography, 37(1), 42–47.

Russell, S. E., & Heidkamp, C. P. (2011). 'Food desertification': The loss of a major supermarket in New Haven, Connecticut. Applied Geography, 31(2011), 1197–1209.

Shier, V., An, R., & Sturm, R. (2012). Is there a robust relationships between neighborhood food environment and childhood obesity in the USA? Public Health, 126, 723–730.

Sinha, A. (2000). Understanding supermarket competition using choice maps. Marketing Letters, 11(1), 21–35.

Small, M. L., & McDermott, M. (2006). The presence of organizational resources in poor urban neighborhoods: An analysis of average and contextual effects. Social Forces, 84(3), 1697–1724.

Smith, D., Cummins, S., Clark, C., & Stansfeld, S. (2013). Does the local food environment around schools affect diet? Longitudinal associations in adolescents attending secondary schools in East London. BioMed Central Public Health, 13, 70–80.

Stretesky, P. B. (2003). The distribution of air lead levels across U.S. counties: Implications for the production of racial inequality. Sociological Spectrum, 23(1), 91–118.

USDA (2014). Food deserts. Retrieved December 2014, from creating access to healthy affordable food http://apps.ams.usda.gov/fooddeserts/foodDeserts.aspx.

US Department of Housing and Urban Development (2014). Location affordability. http://www.locationaffordability.info/.

Walker, R. E., Keane, C. R., & Burke, J. G. (2010). Disparities and access to healthy food in the United States: A review of food deserts literature. Health & Place, 16(5), 876–884.

Wright, R., Ellis, M., & Holloway, S. R. (2014). Neighborhood racial diversity and white residential segregation in the United States. In C. D. Lloyd, I. Shuttleworth, & D. W. Wong (Eds.), Social-spatial segregation: Concepts, processes and outcomes (pp. 111–134). Chicago: Policy Press.

Zenk, S. N., Schulz, A. J., Israel, B. A., James, S. A., Bao, S., & Wilson, M. L. (2005). Neighborhood racial composition, neighborhood poverty, and the spatial accessibility of supermarkets in metropolitan Detroit. American Journal of Public Health, 95(4), 660–667.

Zenk, S. N., Schulz, A. J., Israel, B. A., James, S. A., Bao, S., & Wilson, M. L. (2006). Fruit and vegetable access differs by community racial composition and sociologic position in Detroit, Michigan. Ethnicity and Disease, 16, 275–280.
Acknowledgements
We would like to acknowledge the support that we received through the Kinder Institute for Urban Research and the Shell Center for Sustainability at Rice University. We would also like to thank Jim Elliott for his comments on an earlier draft of this work.
About this article
Cite this article
O'Connell, H.A., King, L. & Bratter, J.L. Community Resources in a Diverse City: Supermarket Location and Emerging Racial Hierarchies. Race Soc Probl 8, 281–295 (2016). https://doi.org/10.1007/s12552-016-9184-7
Keywords
Spatial inequality

Racial/ethnic composition

Hierarchies

Social stratification

Supermarkets