Abstract
In this study, we examined the effects of colorblind racial attitudes and outgroup prejudice on people's social network positions within a diverse social setting. Sixty-four racially diverse participants created self-resembling avatars and interacted in groups of diverse peers in the virtual world, Second Life. We conducted a social network analysis based on friendships developed during the group interactions and also examined participants' physical distances in relation to outgroup members and levels of chat participation. Colorblind racial attitudes, but not outgroup prejudice, were directly related to lower levels of closeness centrality and clustering within the network. In addition, outgroup physical distance, but not chat participation, was found to be a behavioral mechanism that mediated the relationships between: 1) colorblind racial attitudes and closeness centrality; and 2) colorblind racial attitudes and clustering. Findings are discussed in relation to the adverse affects of colorblind racial attitudes on intergroup behavior and the pro-sociality of recognizing race and racism within increasingly diverse settings such as the workplace or educational settings.
Access options
Buy single article
Instant access to the full article PDF.
US$ 39.95
Tax calculation will be finalised during checkout.
Subscribe to journal
Immediate online access to all issues from 2019. Subscription will auto renew annually.
US$ 79
Tax calculation will be finalised during checkout.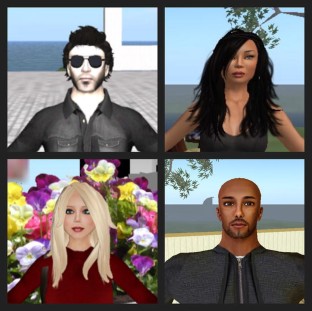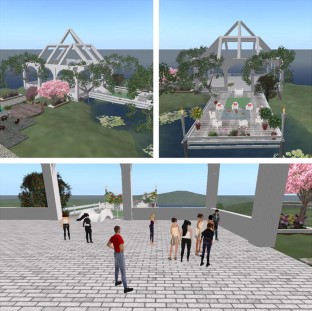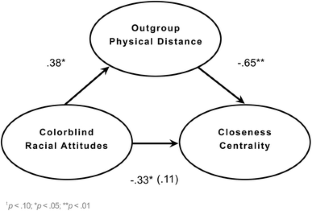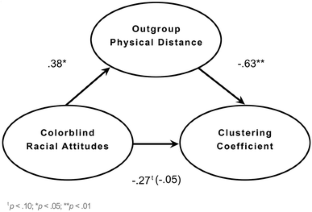 References
Apfelbaum, E. P., Sommer, S. R., & Norton, M. I. (2008). Seeing race and seeming racist? Evaluating strategic colorblindness in social interaction. Journal of Personality and Social Psychology, 95(4), 918–932.

Ashton, N. L., Shaw, M. E., & Worsham, A. P. (1980). Affective reactions to interpersonal distances by friends and strangers. Bulletin of the Psychonomic Society, 15(5), 306–308.

Bailenson, J. N., Blascovich, J., & Guadagno, R. E. (2008). Self-representations in immersive virtual environments. Journal of Applied Social Psychology, 38(11), 2673–2690.

Baumeister, R. F., Vohs, K. D., & Funder, D. C. (2007). Psychology as the science of self-reports and finger movements: Whatever happened to actual behavior? Perspectives on Psychological Science, 2(4).

Bayraktar, F., & Amca, H. (2012). Interrelations between virtual-world and real-world activities: Comparison of genders, age groups, and pathological and nonpathological internet users. Cyberpsychology, Behavior & Social Networking, 15(5), 263–269.

Blascovich, J., Loomis, J., Beall, A. C., Swinth, K. R., Hoyt, C. L., & Bailenson, J. N. (2002). Immersive virtual environment technology as a methodological tool for social psychology. Psychological Inquiry, 13(2), 103–124.

Bohn, A., Buchta, C., Hornik, K., & Mair, P. (2014). Making friends and communicating on Facebook: Implications for the access to social capital. Social Networks, 37, 29–41.

Bonilla-Silva, E. (2003). Racism without racists. New York, NY: Rowman & Littlefield Publishers, Inc.

Brown, M. K., Carnoy, M., Currie, E., Duster, T., Oppenheimer, D. B., Shultz, M. M., et al. (2003). Whitewashing race: The myth of a color-blind society. Berkely, CA: University of California Press.

Charmaraman, L., & Grossman, L. (2010). Importance of race and ethnicity: An exploration of Asian. Black, Latino, and multiracial adolescent identity, Cultural Diversity and Ethnic Minority Psychology, 16(2), 144–151.

Deutsch, F. M., & Mackesy, M. E. (1985). Friendship and the development of self-schemas: The effects of talking about others. Personality and Social Psychology Bulletin, 11(4), 399–408.

Deutsch, F. M., Sullivan, L., Sage, C., & Basile, N. (1991). The relations among talking, liking, and similarity between friends. Personality and Social Psychology Bulletin, 17(4), 406–411.

Di Gennaro, C., & Dutton, W. H. (2007). Reconfiguring friendships: Social relationships and the Internet. Information, Communication & Society, 10(5), 591–618.

Dize, C. B. (2011). Contemporary racial attitudes as predictive of Whites' responses to discrimination against Blacks (Unpublished doctoral dissertation). New York: Columbia University.

Evans, G. W., & Howard, R. B. (1973). Personal space. Psychological Bulletin, 80(4), 334–344.

Feldon, D., & Kafai, Y. (2008). Mixed methods for mixed reality: Understanding users' avatar activities in virtual worlds. Educational Technology Research and Development, 56(5/6), 575–593.

Hall, E. T. (1964). Silent assumptions in social communication. Disorders of Communication, 42, 41–55.

Kadushin, C. (2012). Understanding social networks: Theories, concepts, and findings. Oxford: Oxford University Press.

Lazer, D., Pentland, A., Adamic, L., Aral, S., Barabasi, A. L., Brewer, D., et al. (2009). Computational social science. Science, 323, 721–723.

Lee, J., & Park, S. (2011). ''Whose second life is this?'' How avatar-based racial cues shape ethno-racial minorities' perception of virtual worlds. Cyberpsychology, Behavior, and Social Networking, 14(11), 637–642.

Lewis, A. E., Chesler, M., & Forman, T. A. (2000). The impact of "colorblind" ideologies on students of color: Intergroup relations at a predominantly White University. The Journal of Negro Education, 69(1/2), 74–91.

Lo, S. (2008). The impact of online game character's outward attractiveness and social status on interpersonal attraction. Computers in Human Behavior, 24(5), 1947–1958.

Logan, B. (2015). Why saying "all lives matter" in the context of the "Black lives matter" movement touches a nerve with activists. Retrieved from: http://www.businessinsider.com/vandals-defaced-a-sandra-bland-memorial-with-all-lives-matter-2015-7

Mehrabian, A. (1969). Significance of posture and position in the communication of attitude and status relationships. Psychological Bulletin, 71(5), 359–372.

Neville, H. A., Awad, G. H., Brooks, J. E., Flores, M. P., & Bluemel, J. (2013). Color-blind racial ideology: Theory, training, and measurement implications in psychology. American Psychologist, 68(6), 455–466.

Neville, H. A., Coleman, M. N., Falconer, J. W., & Holmes, D. (2005). Color-blind racial ideology and psychological false consciousness among African Americans. Journal of Black Psychology, 31(1), 27–45.

Neville, H. A., Lilly, R. L., Duran, G., Lee, R. M., & Browne, L. (2000). Construction and initial validation of the color-blind racial attitudes scale (CoBRAS). Journal of Counseling Psychology, 47, 59–70.

Neville, H. A., Poteat, P. V., Lewis, J. A., & Spanierman, L. B. (2014). Changes in White college students' color-blind racial ideology over 4 years: Do diversity experiences make a difference? Journal of Counseling Psychology, 61(2), 179–190.

Opsahl, T., Agneessens, F., & Skvoretz, J. (2010). Node centrality in weighted networks: Generalizing degree and shortest paths. Social Networks, 32(3), 24.

Otte, E., & Rousseau, R. (2002). Social network analysis: A powerful strategy, also for the information sciences. Journal of Information Science, 28(6), 441–453.

Panzarasa, P., Opsahl, T., & Carley, K. M. (2009). Patterns of dynamics of users' behavior and interaction: Network analysis of an online community. Journal of the American Society for Information Science and Technology, 60(5), 911–932.

Preacher, K. J., & Hayes, A. F. (2008). Asymptotic and resampling strategies for assessing and comparing indirect effects in multiple mediator models. Behavior Research Methods, 40, 879–891.

Rizzo, A. A., & Schultheis, M. T. (2002). Expanding the boundaries of psychology: The application of virtual reality. Psychological Inquiry, 13(2), 134–140.

Rollock, D., & Vrana, S. R. (2005). Ethnic social comfort I: Construct validity through social distance measurement. Journal of Black Psychology, 31(4), 386–417.

Schofield, J. W. (1986). Causes and consequences of the colorblind perspective. In J. F. Dovidio & S. L. Gaertner (Eds.), Prejudice, discrimination, and racism. San Diego, CA: Academic Press Inc.

Suler, J. (2004). The online disinhibition effect. CyberPsychology & Behavior, 7(3), 321–326.

Tawa, J., Gongvatana, A., Anello, M., Shanmugham, U., Lee-Chuvala, T., & Suyemoto, K. L. (2012a). A method for collecting and interpreting interpersonal behavioral data in Second Life: A sample study of Asians', Blacks', and Whites' social distances; Cyberpsychology: Journal of Psychosocial Research on Cyberspace, 6 (3).

Tawa, J., Negrón, R., Suyemoto, K. L., & Carter, A. S. (2015). The effects of resource competition on Blacks', Asians', and Whites' social distances: A virtual world method. Group Processes and Intergroup Relations, 18(6), 761–777.

Tawa, J., Suyemoto, K. L., & Roemer, L. (2012b). Implications of perceived interpersonal and structural racism for Asian Americans' self-esteem. Basic and Applied Social Psychology, 34(4), 349–358.

Tippett, W. J., Lee, J., Zakzanis, K. K., Black, S. E., Mraz, R., & Graham, S. J. (2009). Visually navigating a virtual world with real-world impairments: A study of visually and spatially guided performance in individuals with mild cognitive impairments. Journal of Clinical and Experimental Neuropsychology, 31(4), 447–454.

Todd, N. R., Spanierman, L. B., & Poteat, V. P. (2011). Longitudinal examination of the psychosocial costs of racism to Whites across the college experience. Journal of Counseling Psychology, 58(4), 508–521.

Tynes, B. M., & Markoe, S. L. (2010). The role of color-blind racial attitudes in reaction to racial discrimination on social network sites. Journal of Diversity in Higher Education, 3(1), 1–13.

Wada, M. (2001). Effects of gender and physical distance with an old friend on same-sex friendship. Japanese Journal of Psychology, 72(3), 186–194.

Ward, T. B., & Sonneborn, M. S. (2009). Creative expression in virtual worlds: Imitation, imagination, and individualized collaboration. Psychology of Aesthetics, Creativity & the Arts, 3(4), 211–221.

Yee, N., & Bailenson, J. (2007). The proteus effect: The effect of transformed self-representation on behavior. Human Communication Research, 33(3), 271–290.

Yee, N., & Bailenson, J. N. (2008). A method for longitudinal behavioral data collection in second life. Presence, 17.

Yee, N., Bailenson, J. N., Urbanek, M., Chang, F., & Merget, D. (2007). The unbearable likeness of being digital: The persistence of nonverbal social norms in online virtual environments. CyberPsychology & Behavior, 10(1), 115–121.
About this article
Cite this article
Tawa, J., Ma, R. & Katsumoto, S. "All Lives Matter": The Cost of Colorblind Racial Attitudes in Diverse Social Networks. Race Soc Probl 8, 196–208 (2016). https://doi.org/10.1007/s12552-016-9171-z
Keywords
Colorblind racial attitudes

Social network analysis

Virtual world