Abstract
Three leading theories of racial achievement gaps in education include cultural capital match/mismatch, oppositional culture, and teacher bias. Cultural capital match/mismatch theory suggests that students and teachers do not share the same understanding of the standards, norms, and expectations required for achievement. Oppositional culture theory suggests that students may resist the standards, norms, and expectations of achievement, and teacher bias theory suggests that teachers have standards, norms, and expectations that privilege some students, but not others. The unifying thread in all three of these theories is how teachers and students perceive and execute the standards, norms, and expectations of schooling. This study offers a unique way of operationalizing whether and how cultural capital, oppositional culture, and/or teacher bias occur in everyday classroom practice and behavior by examining racialized patterns of student–teacher effort assessment match/mismatch. Using data from the Educational Longitudinal Study (Base Year 2002), I find no evidence for oppositional culture; net of other background characteristics, black students are less, and Hispanic students are no more likely than white students to agree with their teachers that they have low effort. Black and Hispanic students are more likely than white students to believe they are working hard when their teacher disagrees, but, consistent with cultural capital theory, socioeconomic background and academic skills account for all of their effort misalignment. Lastly, white and Asian students seem to benefit from positive teacher bias; net of background and skill, black and Hispanic students are less likely than white and Asian students to receive positive teacher effort assessment when they admit to not working hard.
Access options
Buy single article
Instant access to the full article PDF.
US$ 39.95
Tax calculation will be finalised during checkout.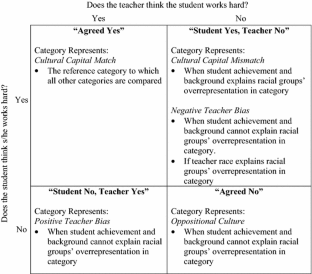 Notes
1.

Involuntary minorities are those who did not immigrate out of free will to their host country, whereas voluntary minorities are those who choose to immigrate to their host country (Fordham and Ogbu 1986).

2.

There are other reasons why a student may describe himself or herself as exhibiting low levels of effort. For example, a student may resist schooling because of persistent failure. We cannot know from these data exactly why a student refuses to work hard, but Ogbu (1987) would suggest that if involuntary minority students exhibit this behavior more than white students, it may be indicative of oppositional culture.

3.

The codebook did not specify the race with which the race-specified Hispanics identified. Because there was a large (n = 1,229) number of race-specified Hispanics, I combined them with non-race-specified Hispanics rather than eliminate them from analysis.

4.

The IRT scores are preferable to the other standardized test scores available in the data set—standardized T (theta) scores. T-scores refer to students' achievement level relative to the population of test takers, rather than a mastery of academic skill, which is better represented by the IRT scores.

5.

Because it is likely that any effect seen in the regression models could be due to sampling design rather than an overall population characteristic, all multinomial logistic regression analyses adjust for individual student and school weights.

6.

Test scores do not account for all minority students' overrepresentation in the "student yes, teacher no" for English teacher-student combinations, though the magnitude of the coefficient for ethnicity is drastically reduced.

7.

Gender and college prep track placement are also significant in this model. However, these two variables do not seem to attenuate black or Hispanic students' overrepresentation in the category. When I ran a model (not shown) with only student race, SES, and school controls, SES was the only significant variable in the model, Hispanic students were no longer significantly overrepresented in the category, and the odds ratio for black students was consistent with the odds ratio presented in Model 3 of Table 4.

8.

A Wald test of significance confirms that the interaction between student and teacher race is significant in Models 4 and 5 at 0.002.
References
Ainsworth-Darnell, J. W., & Downey, D. B. (1998). Assessing the oppositional culture explanation for racial/ethnic differences in school. American Sociological Review, 63(4), 536–553.

Alexander, K. L., Entwisle, D. R., & Thompson, M. S. (1987). School performance, status relations, and the structure of sentiment: Bringing the teacher back in. American Sociological Review, 52(5), 665–682.

Allison, P. (2002). Missing data. Thousand Oaks: Sage Publications.

Beals, M. P. (1994). Warriors don't cry. New York: Washington Square Press.

Bourdieu, P. (1977). Cultural reproduction and social reproduction. In J. Karabel & A. H. Halsey (Eds.), Power and ideology in education (pp. 487–511). New York: Oxford University Press.

Calarco, J. M. C. (2011). 'I Need Help!' Social class and children's help—seeking in elementary school. American Sociological Review, 76(6), 862–882.

Carbonaro, W. (2005). Tracking, students' effort, and academic achievement. Sociology of Education, 78(1), 27–49.

Coleman, J. S., Campbell, E., Hobson, C., McPartland, J., Mood, A., Weinfeld, F., & York, R. (1966). Equality of educational opportunity. Washington: US Government Printing Office.

Crain, R. L., & Mahard, R. E. (1983). The effect of research methodology on desegregation-achievement studies: A meta-analysis. American Journal of Sociology, 88(5), 839–854.

Delpit, L. (1995). Other People's Children. New York: New Press.

Downey, D. B., & Pribesh, S. (2004). When race matters: Teachers' evaluations of students' classroom behavior. Sociology of Education, 77, 267–282.

Dweck, C., & Reppucci, N. D. (1973). Learned helplessness and reinforcement responsibility in children. Journal of Personality and Social Psychology, 25(1), 109–116.

Farkas, G. (2003). Cognitive skills and noncognitive traits and behaviors in stratification processes. Annual Review of Sociology, 29, 541–562.

Farkas, G., Grobe, R. P., Sheeham, D., & Shuan, Y. (1990). Cultural resources and school success: Gender, ethnicity, and poverty groups within an urban school district. American Sociological Review, 55(1), 127–142.

Ferguson, R. (1998). Teachers' perceptions and expectations and the black–white test score gap. In C. Jencks & M. Phillips (Eds.), The black–white test score gap (pp. 273–317). Washington: Brookings Institution Press.

Ferguson, A. A. (2001). Bad boys: Public schools in the making of black masculinity. Ann Arbor, MI: The University of Michigan Press.

Fordham, S., & Ogbu, J. (1986). Black students' school success: Coping with the burden of 'acting white'. The Urban Review, 18(3), 176–206.

Fryer, R. G., & Torelli, P. (2010). An empirical analysis of 'acting white'. Journal of Public Economics, 94, 380–396.

Gamoran, A. (2011). Is ability grouping equitable? In R. Arum, I. Beattie, & K. Ford (Eds.), The structure of schooling (2nd ed., pp. 193–198). Thousand Oaks: Pine Forge Press.

Harris, A. (2006). I (don't) hate school: Revisiting oppositional culture theory of blacks' resistance to schooling. Social Forces, 85(2), 797–833.

Harris, A. (2011). Kids don't want to fail: Oppositional culture and the black–white achievement gap. Cambridge: Harvard University Press.

Harris, A. L., & Robinson, K. (2007). Schooling behaviors or prior skills? A cautionary tale of omitted variable bias within oppositional culture theory. Sociology of Education, 80, 139–157.

Johnson, R. C. (2011). Long-run inpacts of school desegregation and school quality on adult attainments. National Bureau of Economic Research. NBER Working Paper 16664. Cambridge.

Kelly, S. (2008). What types of students' effort are rewarded with high marks? Sociology of Education, 81(1), 32–52.

Lamont, M., & Lareau, A. (1988). Cultural capital: allusions, gaps, and glissandos in recent theoretical developments. Sociological Theory, 6(2), 153–168.

LaPrade, K. (2011). Removing instructional barriers, one track at a time. Education, 131(4), 740–752.

Lareau, A. (2003). Unequal childhoods. CA: University of California Press.

Lee, S. (2009). Unraveling the "model minority" stereotype (2nd ed.). New York: Teachers College Press.

Lleras, C. (2008). Do skills and behaviors in high school matter? The contribution of noncognitive factors in explaining differences in educational attainment and earnings. Social Science Research, 37, 888–902.

Lucas, S., & Berends, M. (2007). Race and track location in US public schools. Research in Social Stratification and Mobility, 25, 169–187.

MacLeod, J. (2009). Ain't no makin' it: Aspirations and attainment in a low income neighborhood. Boulder: Westview Press.

Madon, S., Jussim, L., Keiper, S., Eccles, J., Smith, A., & Palumbo, P. (1998). The accuracy and power of sex, social class, and ethnic stereotypes: A naturalistic study in person perception. Personality and Social Psychology Bulletin, 24(12), 1304–1318.

Martin, K. A. (1998). Becoming a gendered body: Practices of preschools. American Sociological Review, 63(4), 494–511.

Matute-Bianchi, M. E. (1986). Ethnic identities and patterns of school success and failure among Mexican-descent and Japanese–American students in a California high school: An ethnographic analysis. American Journal of Education, 95(1), 233–255.

McMillan, J. H., Myran, S., & Workman, D. (2002). Elementary teachers' classroom assessment and grading practices. The Journal of Educational Research, 95(4), 203–213.

Morris, E. W. (2005). From 'Middle Class' to 'Trailer Trash:' Teachers' perceptions of white students in a predominantly minority school. Sociology of Education, 78, 99–121.

Oakley, D., Stowell, J., & Logan, J. R. (2009). The Impact of desegregation on black teachers in the metropolis, 1970–2000. Ethnic and Racial Studies, 39(9), 1576–1598.

Ogbu, J. (1987). Variability in minority school performance: A problem in search of an explanation. Anthropology and Education Quarterly, 18(4), 312–334.

Oliver, M. L., & Shapiro, T. M. (1995). Black wealth/White wealth: A new perspective on racial inequality. New York: Routledge.

Portes, A., & Zhou, M. (1993). The new second generation: Segmented assimilation and its variants. Annals of the American Academy of Political and Social Sciences, 530, 74–96.

Shouse, R., Schneider, B., & Plank, S. (1992). Teacher assessments of student effort: Effects of student characteristics and school type. Educational Policy, 6, 266–288.

Swidler, A. (1986). Culture in action: Symbols and strategies. American Sociological Review, 51(2), 273–286.

Tyson, K. (2003). Notes from the back of the room: Problems and paradoxes in the schooling of young black students. Sociology of Education, 76(4), 326–343.

Tyson, K. (2011). Integration interrupted. Oxford: Oxford University Press.

Tyson, K., Darity, W, Jr, & Castellino, D. R. (2005). It's not 'a black thing': Understanding the burden of acting white and other dilemmas of high achievement. American Sociological Review, 70(4), 582–605.

Valenzuela, A. (1999). Subtractive schooling: US-Mexican youth and the politics of caring. Albany: State University of New York Press.

Wells, A. S., & Crain, R. L. (1994). Perpetuation theory and the long-term effects of school desegregation. Review of Educational Research, 64(4), 531–555.

Willis, P. (1977). Learning to labor: How working class kids get working class jobs. Farnborough: Saxon House.

Wong, M. G. (1980). Model students? Teachers' perceptions and expectations of their Asian and white students. Sociology of Education, 53(4), 236–246.
About this article
Cite this article
Kozlowski, K.P. Culture or Teacher Bias? Racial and Ethnic Variation in Student–Teacher Effort Assessment Match/Mismatch. Race Soc Probl 7, 43–59 (2015). https://doi.org/10.1007/s12552-014-9138-x
Keywords
Education

Effort

Students

Teachers

Cultural capital

Discrimination