Abstract
Over the last decade, the Equal Employment Opportunity Commission has seen a significant increase in the number of discrimination claims based on skin shade. However, in some ways, substantiating colorism has proven to be more difficult than documenting racism, as skin tone data are rarely collected and few existing skin tone measures have been validated. The present study examines an increasingly popular skin tone scale that includes a professionally designed color guide to enhance rater consistency. Logistic regression analysis of data from the National Longitudinal Survey of Youth and General Social Survey indicates that despite the addition of the color guide, the race of the interviewer matters for the assessment of respondent skin tone. On average, African American respondents with a white interviewer were about 3 times more likely to be classified as dark than those with an African American interviewer. We argue that failing to appropriately account for this race-of-interviewer effect can significantly impact colorism findings.
Access options
Buy single article
Instant access to the full article PDF.
USD 39.95
Price excludes VAT (USA)
Tax calculation will be finalised during checkout.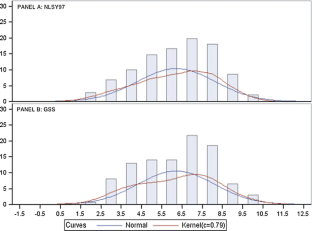 Notes
The following description comes from the NLSY97 documentation.

There were 104 interviewers in the GSS sample and 120 interviewers in the NLSY.

Ordinal logistic regression produces multiple intercepts. We omit these from the results for ease of presentation.

Similarly, we conducted a number of sensitivity analyses to account for the possibility that respondents assigned to just a handful of interviewers were driving the results. For example, excluding all respondents with interviewers who had more than 10 interviewees did not impact the significant race-of-interviewer effects.
References
Banton, M. (2012). The colour line and the colour scale in the twentieth century. Ethnic and Racial Studies, 35(7), 1109–1131.

Bornstein, B. H., Laub, C. E., Meissner, C. A., & Susa, K. J. (2013). The cross-race effect: Resistant to instructions. Journal of Criminology, 745836, 1–6. doi:10.1155/2013/745836.

Chatterjee, S., & Martin, M. (1997). Robust regression: A weighted least squares approach. Communications in Statistics—Theory and Methods, 26(6), 1381–1394.

Chen, X., Ender, P., Mitchell, M., & Wells, C. (2003). Regression with SAS. Retrieved from http://www.ats.ucla.edu/stat/sas/webbooks/reg/default.htm.

Davis, D. W. (1997). The direction of race of interviewer effects among African-Americans: Donning the black mask. American Journal of Political Science, 41, 309–322.

Davis, R. E., Caldwell, C. H., Couper, M. P., Janz, N. K., Alexander, G. L., Greene, S. M., et al. (2013). Ethnic identity, survey content, and the dilemma of race matching in surveys of African Americans by African American interviewers. Field Methods, 25(2), 142–161.

Davis, R. E., Couper, M. P., Janz, N. K., Caldwell, C. H., & Resnicow, K. (2010). Interviewer effects in public health surveys. Health Education Research, 25(1), 14–26.

Dijkstra, W. (1983). How interviewer variance can bias the results on interviewer effects. Quality and Quantity, 17, 179–187.

Fink, B., Grammer, K., & Matts, P. J. (2006). Visible skin color distribution plays a role in the perception of age, attractiveness, and health in female faces. Evolution and Human Behavior, 27(6), 433–442.

Flores, R., & Telles, E. (2012). Social stratification in Mexico: Disentangling color, ethnicity and class. American Sociological Review, 77(3), 486–494.

Fox, J. (1997). Applied regression analysis, linear models, and related methods. Thousand Oaks, CA: Sage Publications.

Goldsmith, A., Hamilton, D., & Darity, W. (2006). Shades of discrimination: Skin tone and wages. American Economic Review, 96(2), 242–245.

Hannon, L., DeFina, R., & Bruch, S. (2013). The relationship between skin tone and school suspension for African Americans. Race and Social Problems, 5, 281–295.

Hersch, J. (2008). Profiling the new immigrant worker: the effects of skin color and height. Journal of Labor Economics, 26(2), 345–386.

Hill, M. E. (2002). Race of interviewer and perception of skin color: Evidence from the multi-city study of urban inequality. American Sociological Review, 67, 99–108.

Hills, P. J., & Lewis, M. B. (2006). Reducing the own-race bias in face recognition by shifting attention. Quarterly Journal of Experimental Psychology, 59, 996–1002.

Hochschild, J. (2012). Lumpers or splitters: Analytic and political choices in studying colour lines and colour scales. Ethnic and Racial Studies, 35(7), 1132–1136.

Huber, P. J. (1981). Robust statistics. New York, NY: John Wiley and Sons.

Hunter, M. L. (2002). "If you're light, you're alright": Light skin color as social capital for women of color. Gender and Society, 16, 175–193.

Hunter, M. L. (2007). The persistent problem of colorism: Skin tone, status, and inequality. Sociology Compass, 1(1), 237–254.

Jablonski, N. J. (2012). Living color: The biological and social meaning of skin color. Berkeley, CA: University of California Press.

Johnson, K. J., & Frederickson, B. L. (2005). "We all look the same to me:" Positive emotions eliminate the own-race bias in face recognition. Psychological Science, 16, 875–881.

Jones, T. (2010). Intra-group preferencing: proving skin color and identity performance discrimination. New York University Review of Law and Social Change, 34, 657–707.

Keith, V. M. (2009). A colorstruck world: Skin tone, achievement, and self-esteem among African American women. In E. N. Glenn (Ed.), Shades of difference: Why skin color matters (pp. 25–39). Los Altos, CA: Stanford University Press.

Kreft, I. G., & de Leeuw, J. (1998). Introducing multilevel modeling. Thousand Oaks, CA: Sage.

Krieger, N., Sidney, S., & Coakley, E. (1998). Racial discrimination and skin color in the CARDIA study: Implications for public health research. American Journal of Public Health, 88(9), 1308–1313.

Long, S. J. (1997). Regression models for categorical and limited dependent variables. Thousand Oaks, CA: Sage.

Massey, D. S., Charles, C. Z., Lundy, G., & Fischer, M. J. (2003). Source of the river: The social origins of freshmen at America's selective colleges and universities. Princeton, NJ: Princeton University Press.

Massey, D. S., & Martin, J. A. (2003). The NIS skin color scale. Princeton: Office of Population Research, Princeton University.

Meissner, C. A., & Brigham, J. C. (2001). Thirty years of investigating the own-race bias in face memory for faces: A meta-analytic review. Psychology, Public Policy, and Law, 7, 1–35.

Monroe, C. R. (2013). Colorizing educational research: African American life and schooling as an exemplar. Educational Researcher, 42(1), 9–19.

Pauker, K., Weisbuch, M., Ambady, N., Sommers, S. R., Adams, R. B., & Ivcevic, Z. (2009). Not so black and white: memory for ambiguous group members. Journal of Personality and Social Psychology, 96, 795–810.

Saperstein, A., & Penner, A. (2012). Racial fluidity and inequality in the United States. American Journal of Sociology, 118(3), 676–727.

Sigelman, C. K., Sigelman, L., Walkosz, B. J., & Nitz, M. (1995). Black candidates, white voters: understanding racial bias in political perceptions. American Journal of Political Science, 39, 243–265.

Telles, E. (2012). The overlapping concepts of race and color in Latin America. Ethnic and Racial Studies, 35(7), 1163–1168.

U.S. Equal Employment Opportunity Commission (2007). EEOC takes new approach to fighting racism and colorism in the 21st century workplace. [Press Release] Retrieved from http://www.eeoc.gov/initiatives/e-race/index.html.

Villarreal, A. (2010). Stratification by skin color in contemporary Mexico. American Sociological Review, 75, 652–678.

Villarreal, A. (2012). Reply to Flores and Telles: Flawed statistical reasoning and misconceptions about race and ethnicity. American Sociological Review, 75, 495–502.

Weisberg, H. F. (2005). The total survey error approach: A guide to the new science of survey research. Chicago, IL: University of Chicago Press.
About this article
Cite this article
Hannon, L., DeFina, R. Just Skin Deep? The Impact of Interviewer Race on the Assessment of African American Respondent Skin Tone. Race Soc Probl 6, 356–364 (2014). https://doi.org/10.1007/s12552-014-9128-z
Published:

Issue Date:

DOI: https://doi.org/10.1007/s12552-014-9128-z
Keywords