Abstract
This study contributes to the research literature on colorism–discrimination based on skin tone—by examining whether skin darkness affects the likelihood that African Americans will experience school suspension. Using data from The National Longitudinal Survey of Youth, logistic regression analyses indicated that darker skin tone significantly increased the odds of suspension for African American adolescents. Closer inspection of the data revealed that this overall result was disproportionately driven by the experiences of African American females. The odds of suspension were about 3 times greater for young African American women with the darkest skin tone compared to those with the lightest skin. This finding was robust to the inclusion of controls for parental SES, delinquent behavior, academic performance, and several other variables. Furthermore, this finding was replicated using similar measures in a different sample of African Americans from the National Longitudinal Study of Adolescent Health. The results suggest that discrimination in school discipline goes beyond broad categories of race to include additional distinctions in skin tone.
Access options
Buy single article
Instant access to the full article PDF.
USD 39.95
Price excludes VAT (USA)
Tax calculation will be finalised during checkout.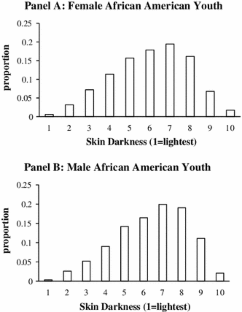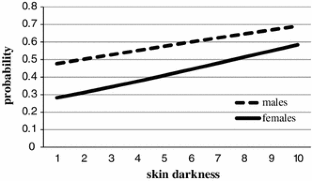 Notes
However, it is worth noting that skin lightness can also be a disadvantage in certain contexts, particularly as it relates to ethnic identity and integration into ethnic groups (Hunter 2007).

Of course, as Jones (2010) has eloquently argued, an increasing recognition of the legal basis for colorism claims does not mean that such cases have a good chance of winning. As she (2010) puts it: "…it is one thing to be able to assert a right to relief. It is another to convince a fact-finder to grant that relief" (p. 661).

The following description comes from the NLSY97 documentation.

Respondents are asked the following ten questions: (1) Have you ever run away, that is, left home and stayed away at least overnight without your parent's prior knowledge or permission; (2) Have you ever carried a hand gun? When we say hand gun, we mean any fire arm other than a rifle or shotgun; (3) Have you ever belonged to a gang?; (4) Have you ever purposely damaged or destroyed property that did not belong to you?; (5) Have you ever stolen something from a store or something that did not belong to you worth less than 50 dollars?; (6) Have you ever stolen something from a store, person, or house, or something that did not belong to you worth 50 dollars or more including stealing a car?; (7) Have you ever committed other property crimes such as fencing, receiving, possessing, or selling stolen property, or cheated someone by selling them something that was worthless or worth much less than what you said it was?; (8) Have you ever attacked someone with the idea of seriously hurting them or have a situation end up in a serious fight or assault of some kind?; (9) Have you ever sold or helped sell marijuana (pot, grass), hashish (hash), or other hard drugs such as heroin, cocaine, or LSD?; and (10) Have you ever been arrested by the police or taken into custody for an illegal or a delinquent offense (do not include arrests for minor traffic violations)? A positive response to a question is coded as "1" and a negative "0".

If either father's or mother's education is missing, the missing parent is assigned the non-missing parent's education level. If one or two of the elements of SES (parental education and household income) are missing, the calculation of SES is based on the available data. If both are missing, data are deleted casewise.

Models were estimated both with and without the general sampling weights. The basic conclusions regarding the impact of skin tone on the likelihood of suspension are unaffected. The estimates discussed in the text do not use the weights.

Following standard procedures, we centered both the skin darkness and interviewer race variables by subtracting the mean from each before interacting them, and used the centered levels of the variables in the regression (Aiken and West 1991).

We tried two additional specifications in which we included only the level of the interviewer's race indicator without the interaction. In the first, we used only the African American/non-African American interviewer race indicator in the baseline multivariate model. We found that the skin darkness odds ratios were significant and greater than one. The odds ratio for the indicator variable was insignificant. We also created indicator variables (0/1) for each of the six interviewer race categories and then estimated the baseline model including all the interviewer race indicators apart from white, which served as the excluded category. None of the indicator variables were significant.

We estimate the new models with specifications indicating the complex survey structure of the Add Health data following the recommendations found in the Add Health data documentation and perform design-based analyses which specify the clustered nature of the data and the stratification used in the sampling (Chantala and Tabor 1999). Doing so accounts for the potential non-independence of the observations and produces correct standard errors.

Specifically, the measures of delinquency, urbanicity, and test score are constructed somewhat differently. The delinquency variable is constructed using the answers to questions about whether a child committed any of nine different offenses. If a child committed a covered offense, a value of "1" was assigned for that type of offense; if not, a value of "0" was assigned. The delinquency variable is equal to the sum of the different types of offenses committed by the child. Thus, the variable's values range from 0 to 9. The urbanicity variable takes a value of "1" if the child lives in a "completely urban area" as defined by the Census Bureau, and a "0" if not. The test score variable is the score a child received on the Peabody vocabulary picture test.
References
Aiken, L. S., & West, S. G. (1991). Multiple regression: Testing and interpreting interactions. Newbury Park: Sage.

Baca-Zinn, M., & Thornton-Hill, B. (1996). Theorizing difference from multiracial feminism. Feminist Studies, 22, 2.

Baldus, D. C., Woodworth, G., Zuckerman, D., Weiner, N. A., & Broffitt, B. (1998). Racial discrimination and the death penalty in the post-Furman era: An empirical and legal overview, with recent findings from Philadelphia. Cornell Law Review, 83, 1638–1770.

Banton, M. (2012). The colour line and the colour scale in the twentieth century. Ethnic and Racial Studies,. doi:10.1080/01419870.2011.605902.

Blair, I. V., Judd, C. M., & Chapleau, K. M. (2004). The influence of Afrocentric facial features in criminal sentencing. Psychological Science, 15(10), 674–679.

Blake, J. J., Butler, B. A., Lewis, C. L., & Darensbourg, A. (2011). Unmasking the inequitable discipline experiences of urban Black girls: Implications for urban stakeholders. Urban Review, 43, 90–106.

Borrell, L., Kiefe, C., Williams, D., Diez-Roux, A., & Gordon-Larsen, P. (2006). Self-reported health, perceived discrimination, and skin color in African Americans in the CARDIA study. Social Science and Medicine, 63(6), 1415–1427.

Campbell, M. (2009). Multiracial groups and educational inequality: A rainbow or a divide? Social Problems, 56(3), 425–446.

Caruso, E. M., Mead, N. L., & Balcetis, E. (2009). Political partisanship influences perception of biracial candidates' skin tone. Proceedings of the National Academy of Sciences, 106, 20168–20173.

Chantala, K. & Tabor, J. (1999). Strategies to perform a design-based analysis using the Add Health data. https://www.cpc.unc.edu/projects/addhealth/data/guides/weight1.pdf (Accessed 2/13/2013).

Choo, H. Y., & Ferree, M. M. (2010). Practicing intersectionality in sociological research: A critical analysis of inclusions, interactions, and institutions in the study of inequalities. Sociological Theory, 28(2), 129–149.

Christensen, L. (2012). The Classroom-to-prison pipeline. Rethinking Schools., 26(2), 24–27.

Collins, P. H. (2000). Black feminist thought. New York: Routledge.

Costenbader, V., & Markson, S. (1998). School suspension: A study with secondary school students. Journal of School Psychology, 36, 59–82.

Crenshaw, K. (1991). Mapping the margins: Intersectionality, identity politics, and violence against women of color. Stanford Law Review, 43, 1241–1299.

Davila, A., Mora, M. T., & Stockly, S. K. (2011). Does Mestizaje matter in the US? Economic stratification of Mexican immigrants. American Economic Review, 101(3), 593–597.

Eberhardt, J. L., Davies, P. G., Purdie-Vaughns, V. J., & Johnson, S. L. (2006). Looking deathworthy: Perceived stereotypicality of black defendants predicts capital-sentencing outcomes. Psychological Science, 17(5), 383–386.

EEOC. (2007). EEOC takes new approach to fighting racism and colorism in the 21st century workplace. Accessed April 8, 2012 Press Release: http://www.eeoc.gov/initiatives/e-race/index.html.

Eitle, T. M., & Eitle, D. J. (2004). Inequality, segregation, and the overrepresentation of African Americans in school suspensions. Sociological Perspectives, 47, 269–287.

Evans, G. (1988). Those loud black girls. In D. Spender & E. Sarah (Eds.), Learning to lose: Sexism and education (2nd ed., pp. 183–190). London: Women's Press.

Goldsmith, A., Hamilton, D., & Darity, W, Jr. (2006). Shades of discrimination: Skin tone and wages. American Economic Review, 96(2), 242–245.

Gregory, A., Cornell, D., & Fan, X. (2011). The relationship of school structure and support to suspension rates for black and white high school students. American Educational Research Journal, 20(10), 1–31.

Gregory, A., Skiba, R. J., & Noquera, P. A. (2010). The achievement gap and the discipline gap: Two sides of the same coin? Education Researcher, 39(1), 59–68.

Gyimah-Brempong, K., & Price, G. N. (2006). Crime and punishment: And skin hue too? American Economic Association, 96(2), 246–250.

Hall, R. E. (2008). Racism in the 21st Century: An empirical analysis of skin color. New York: Springer.

Hamilton, D., Goldsmith, A., & Darity, W. (2009). Shedding 'light' on marriage: The influence of skin shade on marriage for Black females. Journal of Economic Behavior & Organization, 72(1), 30–50.

Harris, A., Evans, H., & Beckett, K. (2011). Courtesy stigma and monetary sanctions: Toward a socio-cultural theory of punishment. American Sociological Review, 76(2), 234–264.

Hersch, J. (2008). Profiling the new immigrant worker: the effects of skin color and height. Journal of Labor Economics, 26(2), 345–386.

Hersch, J. (2011). The persistence of skin color discrimination for immigrants. Social Science Research, 40(2011), 1337–1349.

Hill, M. E. (2002). Skin color and the perception of attractiveness among African Americans: Does gender make a difference. Social Psychology Quarterly, 65, 77–91.

Hirschfield, P. J. (2008). Preparing for Prison?: The criminalization of school discipline in the USA. Theoretical Criminology, 12, 79–101.

Hochschild, J. (2012). Lumpers or splitters: Analytic and political choices in studying colour lines and colour scales. Ethnic and Racial Studies,. doi:10.1080/01419870.2011.645847.

Hochschild, J. L., & Weaver, V. (2007). The skin color paradox and the American racial order. Social Forces, 86(2), 643–670.

Hughes, M., & Hertel, B. R. (1990). The significance of color remains: a study of life chances, mate selection, and ethnic consciousness among black Americans. Social Forces, 68(4), 1105–1120.

Hunter, M. L. (1998). Colorstruck: Skin color stratification in the lives of African American women. Sociological Inquiry, 68(4), 517–535.

Hunter, M. L. (2002). "If You're Light, You're Alright": Light skin color as social capital for women of color. Gender & Society, 16, 175–193.

Hunter, M. L. (2005). Race, gender, and the politics of skin tone. New York: Routledge.

Hunter, M. L. (2007). The persistent problem of colorism: Skin tone, status, and inequality. Sociology Compass, 1(1), 237–254.

Inniss, J. P. (2010). Colorism: The Hierarchical nature of skin tone that makes "light alright." Everyday Sociology Blog. Accessed May 13, 2012, http://www.everydaysociologyblog.com/2010/01.

Jones, T. (2010). Intra-Group Preferencing: Proving skin color and identity performance discrimination, 34 N.Y.U. Review of Law & Social Change, 657-707.

Keith, V. M. (2009). A colorstruck world: Skin tone, achievement, and self-esteem among African American women. In Evelyn Nakano Glenn (Ed.), Shades of difference: Why skin color matters (pp. 25–39). Los Altos: Stanford Univ. Press.

Keith, V. M., & Herring, C. (1991). Skin tone stratification in the black community. The American Journal of Sociology, 97(3), 760–778.

Krieger, N., Sidney, S., & Coakley, E. (1998). Racial discrimination and skin color in the CARDIA study: Implications for public health research. American Journal of Public Health, 88(9), 1308–1313.

Kupchik, A. (2010). Homeroom security: School discipline in an age of fear. New York: New York University Press.

Ladner, J. (1971). Tomorrow's Tomorrow: The black woman. Garden City: Doubleday.

Lewin, T. (2012). Black students face more harsh discipline, data shows. The New York Times A11, March 6.

Lewis, C. W., Butler, B. R., Bonner III, F. A., & Joubert, M. (2010). African American male discipline patterns and school district responses resulting impact on academic achievement: robust to the inclusion of a variety of other factors policy makers. Journal of African American Males in Education, 1(1), 1–19.

Losen, D., & Skiba, R. (2010). Suspended education: Urban middle schools in crisis. Montgomery, AL: Southern Poverty Law Center.

Loury, L. D. (2009). Am I still too black for you? Schooling and secular change in skin tone effects. Economics of Education Review, 28(4), 428–433.

Maddox, K. B., & Gray, S. A. (2002). Cognitive representations of Black Americans: Re-exploring the role of skin tone. Personality and Social Psychology Bulletin, 27, 250–259.

Massey, D. S., Charles, C. Z., Lundy, G., & Fischer, M. J. (2003). Source of the river: The social origins of freshmen at America's selective colleges and universities. Princeton, NJ: Princeton University Press.

McCarthy, J. D., & Hoge, D. R. (1987). The social construction of school punishment: Racial disadvantage out of universalistic process. Social Forces, 65, 1101–1120.

Monroe, C. R. (2013). Colorizing educational research: African American life and schooling as an exemplar. Educational Researcher, 42(1), 9–19.

Morris, E. W. (2007). ''Ladies'' or ''Loudies''? Perceptions and experiences of Black girls in classrooms. Youth and Society, 38, 490–515.

Nakano-Glenn, E. (2009). Shades of difference: Why skin color matters. Palo Alto: Stanford University Press.

Parrish, C. H. (1946). Color names and color notions. The Journal of Negro Education, 15(1), 13–20.

Pizzi, W. T., Blair, I. V., & Judd, C. M. (2005). Discrimination in sentencing on the basis of Afrocentric features. Michigan Journal of Race & Law, 10, 327–355.

Raffaele Mendez, L. M., & Knoff, H. M. (2003). Who gets suspended from school and why? A demographic analysis of schools and disciplinary infractions in a large school district. Education and Treatment of Children, 26, 30–51.

Russell-Brown, K. (1998). The color of crime. New York: New York University Press.

Ryabov, I. (2013). Colorism and school-to-work and school-to-college transitions of African American adolescents. Race and Social Problems, 5(1), 15–27.

Saperstein, A. (2012). Capturing complexity in the United States: which aspects of race matter and when? Ethnic and Racial Studies, 35(8), 1484–1502.

Saperstein, A., & Penner, A. M. (2012). Racial fluidity and inequality in the United States. American Journal of Sociology, 118(3), 676–727.

Skiba, R. J., Horner, R. H., Chung, C.-G., Rausch, M. K., May, S. L., & Tobin, T. (2011). Race is not neutral: A national investigation of African American and Latino disproportionality in school discipline. School Psychology Review, 40(1), 85–107.

Skiba, R. J., Michael, R. S., Nardo, A. C., & Peterson, R. (2002). The color of discipline: Sources of racial and gender disproportionality in school punishment. Urban Review, 34, 317–342.

Taylor, M. C., & Foster, G. A. (1986). Bad boys and school suspensions: Public policy implications for black males. Sociological Inquiry, 56, 498–506.

Telles, E. (2012). The overlapping concepts of race and color in Latin America. Ethnic and Racial Studies,. doi:10.1080/01419870.2012.657209.

Tilly, C. (1998). Durable inequality. Berkeley: University of California Press.

Vavrus, F., & Cole, K. (2002). "I didn't do nothin'": The discursive construction of school suspension. The Urban Review, 34, 87–111.

Vedantam, S. (2010). Shades of Prejudice. The New York Times A31, January 19.

Viglione, J., Hannon, L., & DeFina, R. (2011). The impact of light skin on prison time for black female offenders. The Social Science Journal, 48, 250–258.

Wald, J., & Losen, D.J. (2003). Defining and redirecting a school-to-prison pipeline. In J. Wald & D.J. Losen (Eds.), New directions for youth development (no. 99; Deconstructing the school-to-prison pipeline) (pp. 9–15). San Francisco: Jossey-Bass.

Wald, J., & Losen, D. J. (2007). Out of sight: The journey through the school-to-prison pipeline. In S. Books (Ed.), Invisible children in the society and its schools (3rd ed., pp. 23–27). Mahwah, NJ: Lawrence Erlbaum Associates.

Walker, A. (1983). In search of our mothers' gardens. San Diego: Harcourt Brace Jovanovich, Publishers.

Wallace, J. M, Jr, Goodkind, S., Wallace, C., & Bachman, J. G. (2008). Racial, ethnic, and gender differences in school discipline among U.S. high school students: 1991–2005. Negro Educational Review, 59, 47–62.

Way, S. (2011). School discipline and disruptive classroom behavior: The moderating effects of student perceptions. Sociological Quarterly, 52, 346–375.

Wilder, J. (2010). Revisiting "Color Names and Color Notions" A Contemporary examination of the language and attitudes of skin color among young black women. Journal of Black Studies, 41, 184–206.

Wu, S. C., Pink, W. T., Crain, R. L., & Moles, O. (1982). Student suspension: A critical reappraisal. The Urban Review, 14, 245–303.
Acknowledgments
This research uses data from Add Health, a program project directed by Kathleen Mullan Harris and designed by J. Richard Udry, Peter S. Bearman, and Kathleen Mullan Harris at the University of North Carolina at Chapel Hill, and funded by grant P01-HD31921 from the Eunice Kennedy Shriver National Institute of Child Health and Human Development, with cooperative funding from 23 other federal agencies and foundations. Special acknowledgment is due to Ronald R. Rindfuss and Barbara Entwisle for assistance in the original design. Information on how to obtain the Add Health data files is available on the Add Health website (http://www.cpc.unc.edu/addhealth). No direct support was received from Grant P01-HD31921 for this analysis.
Additional information
The authors are listed in reverse alphabetical order.
About this article
Cite this article
Hannon, L., DeFina, R. & Bruch, S. The Relationship Between Skin Tone and School Suspension for African Americans. Race Soc Probl 5, 281–295 (2013). https://doi.org/10.1007/s12552-013-9104-z
Published:

Issue Date:

DOI: https://doi.org/10.1007/s12552-013-9104-z
Keywords
Colorism

School discipline

African American

Discrimination

Suspension

Skin tone