Abstract
An understanding of ion–protein interactions is key to a better understanding of the molecular mechanisms of proteins, such as enzymes, ion channels, and ion pumps. A potassium ion channel, KcsA, has been extensively studied in terms of ion selectivity. Alkali metal cations in the selectivity filter were visualized by X-ray crystallography. Infrared spectroscopy has an intrinsically higher structural sensitivity due to frequency changes in molecular vibrations interacting with different ions. In this review article, I attempt to summarize ion-exchange-induced differences in Fourier transform infrared spectroscopy, as applied to KcsA, to explain how this method can be utilized to study ion–protein interactions in the KcsA selectivity filter. A band at 1680 cm−1 in the amide I region would be a marker band for the ion occupancy of K+, Rb+, and Cs+ in the filter. The band at 1627 cm−1 observed in both Na+ and Li+ conditions suggests that the selectivity filter similarly interacts with these ions. In addition to the structural information, the results show that the titration of K+ ions provides quantitative information on the ion affinity of the selectivity filter.
This is a preview of subscription content, log in to check access.
Access options
Buy single article
Instant access to the full article PDF.
US$ 39.95
Price includes VAT for USA
Subscribe to journal
Immediate online access to all issues from 2019. Subscription will auto renew annually.
US$ 99
This is the net price. Taxes to be calculated in checkout.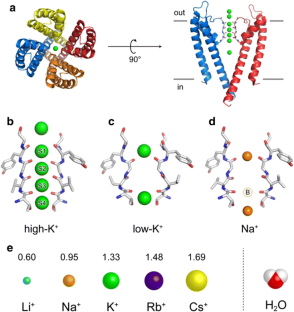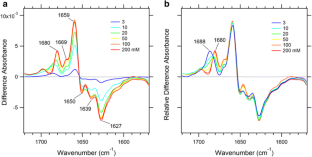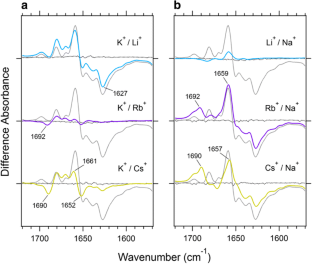 References
Baenziger JE, Miller KW, McCarthy MP, Rothschild KJ (1992) Probing conformational changes in the nicotinic acetylcholine receptor by Fourier transform infrared difference spectroscopy. Biophys J 62:64–66. https://doi.org/10.1016/S0006-3495(92)81780-0

Doyle DA et al (1998) The structure of the potassium channel: molecular basis of K+ conduction and selectivity. Science 280:69–77

Furutani Y, Kimura T, Okamoto K (2013) Development of a rapid buffer-exchange system for time-resolved ATR-FTIR spectroscopy with the step-scan mode. Biophysics 9:123–129

Furutani Y, Shimizu H, Asai Y, Fukuda T, Oiki S, Kandori H (2012) ATR-FTIR spectroscopy revealing the different vibrational modes of the selectivity filter interacting with K+ and Na+ in the open and collapsed conformations of the KcsA potassium channel. J Phys Chem Lett 3:3806–3810

Furutani Y, Shimizu H, Asai Y, Oiki S, Kandori H (2015) Specific interactions between alkali metal cations and the KcsA channel studied using ATR-FTIR spectroscopy. Biophys Physicobiol 12:37–45. https://doi.org/10.2142/biophysico.12.0_37

Heginbotham L, MacKinnon R (1993) Conduction properties of the cloned shaker K+ channel. Biophys J 65:2089–2096. https://doi.org/10.1016/S0006-3495(93)81244-X

Hille B (2001) Ion channels of excitable membranes, 3rd edn. Sinauer, Sunderland

LeMasurier M, Heginbotham L, Miller C (2001) KcsA: it's a potassium channel. J Gen Physiol 118:303–314

Lockless SW, Zhou M, MacKinnon R (2007) Structural and thermodynamic properties of selective ion binding in a K+ channel. PLoS Biol 5:e121. https://doi.org/10.1371/journal.pbio.0050121

Lorenz-Fonfria VA, Leon X, Padros E (2012) Studying substrate binding to reconstituted secondary transporters by attenuated total reflection infrared difference spectroscopy. Methods Mol Biol 914:107–126. https://doi.org/10.1007/978-1-62703-023-6_7

Nyquist RM, Heitbrink D, Bolwien C, Wells TA, Gennis RB, Heberle J (2001) Perfusion-induced redox differences in cytochrome c oxidase: ATR/FT-IR spectroscopy. FEBS Lett 505:63–67

Rich PR, Iwaki M (2007) Methods to probe protein transitions with ATR infrared spectroscopy. Mol BioSyst 3:398–407. https://doi.org/10.1039/b702328f

Shirai H, Duchesne C, Furutani Y, Fuji T (2014) Attenuated total reflectance spectroscopy with chirped-pulse upconversion. Opt Express 22:29611–29616. https://doi.org/10.1364/Oe.22.029611

Stevenson P, Gotz C, Baiz CR, Akerboom J, Tokmakoff A, Vaziri A (2015) Visualizing KcsA conformational changes upon ion binding by infrared spectroscopy and atomistic modeling. J Phys Chem B 119:5824–5831. https://doi.org/10.1021/acs.jpcb.5b02223

Thompson AN, Kim I, Panosian TD, Iverson TM, Allen TW, Nimigean CM (2009) Mechanism of potassium-channel selectivity revealed by Na(+) and Li(+) binding sites within the KcsA pore. Nat Struct Mol Biol 16:1317–1324. https://doi.org/10.1038/nsmb.1703

Zhou Y, MacKinnon R (2003) The occupancy of ions in the K+ selectivity filter: charge balance and coupling of ion binding to a protein conformational change underlie high conduction rates. J Mol Biol 333:965–975

Zhou Y, Morais-Cabral JH, Kaufman A, MacKinnon R (2001) Chemistry of ion coordination and hydration revealed by a K+ channel-Fab complex at 2.0 a resolution. Nature 414:43–48. https://doi.org/10.1038/35102009
Acknowledgments
This review article was written based on two original papers (Furutani et al. 2012, 2015) which are collaborative works with Profs. Hideki Kandori and Shigetoshi Oiki. I would like to thank them and collaborators in their laboratories. The author would also like to thank Enago (www.enago.jp) for the English language review. The article was partly supported by JSPS KAKENHI Grant Numbers JP26640047 and JP26708002.
Ethics declarations
Conflict of interest
Yuji Furutani declares that he has no conflicts of interest.
Ethical approval
This article does not contain any studies with human participants or animals performed by any of the authors.
Additional information
This article is part of a Special Issue on 'Biomolecules to Bio-nanomachines - Fumio Arisaka 70th Birthday' edited by Damien Hall, Junichi Takagi and Haruki Nakamura.
About this article
Cite this article
Furutani, Y. Ion–protein interactions of a potassium ion channel studied by attenuated total reflection Fourier transform infrared spectroscopy. Biophys Rev 10, 235–239 (2018). https://doi.org/10.1007/s12551-017-0337-8
Received:

Accepted:

Published:

Issue Date:
Keywords
Infrared spectroscopy

Membrane proteins

Ion–protein interactions

Ion channel