Abstract
A quick and selective analytical method was developed via LC–MS/MS for the simultaneous quantitation of alternariol (AOH), alternariol monomethyl ether (AME) and tenuazonic acid (TeA) which belong to the large group of secondary metabolites produced by fungi of the genus Alternaria. Cocoa is susceptible to a number of toxin-producing microorganisms, including Aspergillus and Penicillium species. The method relies on a single-step extraction, followed by an easy clean up, dilution of the raw extract and direct analysis. To assess whether cocoa and chocolate products can be a source of Alternaria toxins, a monitoring of cocoa and chocolate products (N = 99) as well as cocoa raw and semi-finished materials (cocoa shells, cocoa masses; N = 10) was performed. As the results, cocoa and products made from cocoa (without other ingredients) are no source of the Alternaria toxins considered here.
Access options
Buy single article
Instant access to the full article PDF.
USD 39.95
Price excludes VAT (USA)
Tax calculation will be finalised during checkout.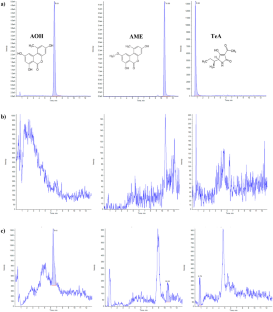 References
Arcella D, Eskola M, Gómez Ruiz JA (2016) Dietary exposure assessment to Alternaria toxins in the European population. EFSA J. https://doi.org/10.2903/j.efsa.2016.4654

BDSI (2021) Produktion von Süßwaren gesamt 2021. https://www.bdsi.de/zahlen-fakten/suesswarenindustrie-in-zahlen/. Accessed 14 Feb 2022

EC - European Commission (2006) Commission Regulation (EC) No 401/2006 of 23 February 2006 laying down the methods of sampling and analysis for the official control of the levels of mycotoxins in foodstuffs. Off J Eur Union L 70:12–34. Last consolidated version available from: https://eur-lex.europa.eu/legal-content/EN/TXT/?uri=CELEX%3A02006R0401-20140701

EC - European Commission (2022) Commission recommendation (EU) 2022/553 of 5 April 2022 on monitoring the presence of Alternaria toxins in food. Off J Eur Communities L 107/90. 

EFSA (2011) Scientific opinion on the risks for animal and public health related to the presence of Alternaria toxins in feed and food. EFSA J 2407. https://doi.org/10.2903/j.efsa.2011.2407 

EFSA (2012) Scientific opinion on the substantiation of a health claim related to cocoa flavanols and maintenance of normal endothelium-dependent vasodilation pursuant to Article 13(5) of Regulation (EC) No 1924/2006. EFS2 10. https://doi.org/10.2903/j.efsa.2012.2809

European Parliament and Council (2000) Directive 2000/36/EC of the European Parliament and the Council of 23 June 2000 relating to cocoa and chocolate products intended for human consumption. Off J Eur Communities L197:19–25. Available from: https://eur-lex.europa.eu/legal-content/EN/TXT/?uri=CELEX%3A02000L0036-20131118

Kromidas S (2011) Handbuch Validierung in der Analytik, 2nd edn. Wiley-VCH, Weinheim, Bergstr

Lou J, Fu L, Peng Y, Zhou L (2013) Metabolites from Alternaria fungi and their bioactivities. Molecules 18:5891–5935. https://doi.org/10.3390/molecules18055891

Mujahid C, Savoy M-C, Baslé Q, Woo PM, Ee ECY, Mottier P, Bessaire T (2020) Levels of Alternaria toxins in selected food commodities including green coffee. Toxins (basel). https://doi.org/10.3390/toxins12090595

Puntscher H, Kütt M-L, Skrinjar P, Mikula H, Podlech J, Fröhlich J, Marko D, Warth B (2018) Tracking emerging mycotoxins in food: development of an LC-MS/MS method for free and modified Alternaria toxins. Anal Bioanal Chem 410:4481–4494. https://doi.org/10.1007/s00216-018-1105-8

Raters M (2008) Mykotoxine in Kakao und Kakaoprodukten, 1st edn. Berichte aus der Chemie. Shaker, Aachen

Schuchardt S, Ziemann C, Hansen T (2014) Combined toxicokinetic and in vivo genotoxicity study on Alternaria toxins. EFS3 11. https://doi.org/10.2903/sp.efsa.2014.EN-679

Tölgyesi Á, Stroka J (2014) Report on the development of a method for the determination of Alternaria toxins and citrinin in wheat, tomato juice and sunflower seeds by liquid chromatography - tandem mass spectrometry. EUR, Scientific and technical research series, vol 26496. Publications Office, Luxembourg
Funding
Stiftung der Deutschen Kakao- und Schokoladenwirtschaft, Sonninstraße 28, 20097 Hamburg.
Ethics declarations
Conflict of interest
The authors declare no competing interests.
Additional information
Publisher's Note
Springer Nature remains neutral with regard to jurisdictional claims in published maps and institutional affiliations.
About this article
Cite this article
Schultz, J., Umberath, K.M., Raters, M. et al. About Alternaria toxins in cocoa and chocolate products—method development and monitoring of alternariol, alternariol monomethyl ether and tenuazonic acid. Mycotoxin Res 38, 167–173 (2022). https://doi.org/10.1007/s12550-022-00457-z
Received:

Revised:

Accepted:

Published:

Issue Date:

DOI: https://doi.org/10.1007/s12550-022-00457-z
Keywords
Alternaria toxins

Cocoa

Chocolate

LC–MS/MS