Abstract
The occurrence of mycotoxins and mycotoxigenic fungi in palm dates has not been thoroughly documented. The aims of the present study were to identify the mycobiota present in commercial date samples (n = 19), to determine the ability of the isolated fungi to produce mycotoxins, and to determine and quantify the presence of OTA in date fruits. The majority of products originated from Tunisia (n = 14) and Algeria (n = 3). The dominant fungal species were Aspergillus niger, Aspergillus tubingensis and Aspergillus flavus which were most frequently found in premium quality and organic produce, produced without chemical preservatives. OTA was found in only one sample at a concentration of 0.75 µg/kg, as determined by HPLC with fluorescence detection. Although this preliminary study did not find elevated levels of OTA, its presence in one out of 19 samples indicates that palm dates for human consumption require continuous and stringent control, in order to prevent contaminated produce from entering the market.
This is a preview of subscription content,
to check access.
Access this article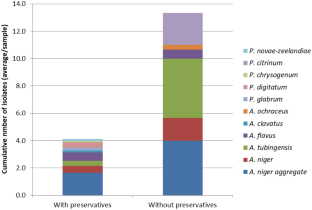 Similar content being viewed by others
References
Abarca ML, Accensi F, Cano J, Cabañes FJ (2004) Taxonomy and significance of black aspergilli. ALJMAO 86:33–49

Abdallah M, Krska R, Sulyok M (2018) Occurrence of ochratoxins, fumonisin B2, aflatoxins (B1 and B2), and other secondary fungal metabolites in dried date palm fruits from Egypt: a mini-survey. J Food Sci 83:559–564

Abdel-Sater MA, Saber SM (1999) Mycoflora and mycotoxins of some Egyptian dried fruits. Bull Fac Scient Assiut Univer 28:91–107

Aksoy U, Eltem R, Meyvaci KB, Altindisli A, Karabat S (2007) Five-year survey of ochratoxin A in processed sultanas from Turkey. Food Addit Contam 24:292–296

Al-Shahib W, Marshall RJ (2003) The fruit of the date palm: its possible use as the best food for the future? Int J Food Sci Nutr 54:247–259

Azaiez I, Font G, Mañes J, Fernández-Franzón M (2015) Survey of mycotoxins in dates and dried fruits from Tunisian and Spanish markets. Food Control 51:340–346

Bircan C, Koç M (2012) Aflatoxins in dried figs in Turkey: a comparative survey on the exported and locally consumed dried figs for assessment of exposure. J Agric Sci Technol 14:1265–1274

Cabañes FJ, Bragulat MR (2018) Black aspergilli and ochratoxin-A producing species. Curr Opin Food Sci 23:1–10

Calcagni P (2018) Sustainable production and trade of nuts and dried fruit: general overview. UNECE-FAO symposium: nuts and dried fruit for a sustainable future. Geneva, June 26, 2018

CBI (Centre for the Promotion of Imports from developing countries) (2020) The European market potential for dates. CBI Market Information Database. https://www.cbi.eu/market-information/processed-fruit-vegetables-edible-nuts/dates/market-potential. Accessed 25 March 2021

European Commission (2006a) Commission Regulation (EC) No 1881/2006 of 19 December 2006 Setting maximum levels for certain contaminants in foodstuffs. Off J Eur Union L364:5–24.L. Last consolidated version available from: https://eur-lex.europa.eu/legal-content/DE/AUTO/?uri=CELEX:02006R1881-20180319

European Commission (2006b) Commission Regulation (EC) No 401/2006 of 23 February 2006 laying down the methods of sampling and analysis for the official control of the levels of mycotoxins in foodstuffs. Off J Eur Union L70: 12–34. Last consolidated version available from: https://eur-lex.europa.eu/legal-content/EN/TXT/PDF/?uri=CELEX:02006R0401-20140701

European Food Safety Authority, Panel on Contaminants in the Food Chain (2020) European food safety authority (EFSA) scientific opinion on risk assessment of ochratoxin A in food. EFSA J 18(5):6113. Available from:https://efsa.onlinelibrary.wiley.com/doi/10.2903/j.efsa.2020.6113

Food and Agriculture Organization of the United Nations Statistics (FAOSTAT) (2021) http://www.fao.org/faostat/en/#data/FBS. Accessed 28 March 2021

Gardes M, Bruns TD (1993) ITS primers with enhanced specificity for Basidiomycetes: application to identification of mycorrhizae and rusts. Mol Ecol 2:113–118

Gherbawy YA, Elhariry HM, Bahobial AAS (2012) Mycobiota and mycotoxins (aflatoxins and ochratoxin) associated with some Saudi date palm fruits. Foodborne Pathog Dis 9:561–567

Gil-Serna J, García-Díaz M, Vázquez C, González-Jaén MT, Patiño B (2019) Significance of Aspergillus niger aggregate species as contaminants of food products in Spain regarding their occurrence and their ability to produce mycotoxins. Food Microbiol 82:240–248

Han Z, Dong M, Han W, Shen Y, Nie D, Shi W, Zhao Z (2016) Occurrence and exposure assessment of multiple mycotoxins in dried fruits based on liquid chromatography-tandem mass spectrometry. World Mycotox J 9:465–474

Heenan CN, Shaw KJ, Pitt JI (1998) Ochratoxin A production by Aspergillus carbonarius and A. niger and detection using coconut cream agar. J Food Mycol 1:67–72

Heperkan D, Moretti A, Dikmen CD, Logrieco AF (2012) Toxigenic fungi and mycotoxin associated with figs in the Mediterranean area. Phytopathol Mediterr 51:119–130

Heshmati A, Zohrevand T, Mousavi A, Sasan A, Nejad M, Sant'Ana AS, (2017) Co-occurrence of aflatoxins and ochratoxin A in dried fruits in Iran: dietary exposure risk assessment. Food Chem Toxicol 106:202–208

Iamanaka BT, Taniwaki MH, Menezes HC, Vicente E, Fungaro MHP (2005) Incidence of toxigenic fungi and ochratoxin A in dried fruits sold in Brazil. Food Addit Contam 22:1258–1263

Iamanaka BT, de Menezes HC, Vicente E, Leite RSF, Taniwaki MH (2007) Aflatoxigenic fungi and aflatoxins occurrence in sultanas and dried figs commercialized in Brazil. Food Control 18:454–457

Ismail MA (2017) Incidence and significance of black aspergilli in agricultural commodities: a review, with a key to all species accepted to-date. Eur J Biol Res 7:207–222

Nass LA (2017) Fungal contamination and invertase activity in dates and date products in Saudi Arabia. Amer J Food Technol 12:295–300

O'Donnell K, Nirenberg HI, Aoki T, Cigelnik E (2000) A multigene phylogeny of the Gibberella fujikuroi species complex: detection of additional phylogenetically distinct species. Mycosci 41:61–78

Ozer H, Oktay Basegmez HI, Ozay G (2012) Mycotoxin risks and toxigenic fungi in date, prune and dried apricot among Mediterranean crops. Phytopathol Mediterr 51:148–157

Pantelides IS, Aristeidou E, Lazari M, Tsolakidou MD, Tsaltas D, Christofidou M, Kafouris D, Christou E (2017) Biodiversity and ochratoxin A profile of Aspergillus section Nigri populations isolated from wine grapes in Cyprus vineyards. Food Microbiol 67:106–117

Quaglia M, Santinelli M, Sulyok M, Onofri A, Covarelli L, Beccari G (2020) Aspergillus, Penicillium and Cladosporium species associated with dried date fruits collected in the Perugia (Umbria, Central Italy) market. Int J Food Microbiol 322:108585

Rahimi E, Shakerian A (2013) Ochratoxin A in dried figs, raisings, apricots, dates on Iranian retail market. Health 5:2077–2080

Ribeiro MI, Fernandes A (2017) Consumo e hábitos de compra de fruta desidratada no Norte de Portugal. 2nd Congress of the Agrarian Schools, 16–18 November (poster) http://hdl.handle.net/10198/14728

Rodrigues P, Venâncio A, Lima N (2018) Toxic reagents and expensive equipment: are they really necessary for the extraction of good quality fungal DNA? Lett Appl Microbiol 66:32–37

Shenasi M, Aidoo KE, Candlish AAG (2002a) Microflora of date fruits and production of aflatoxins at various stages of maturation. Int J Food Microbiol 79:113–119

Shenasi M, Candlish AAG, Aidoo KE (2002b) The production of aflatoxins in fresh date fruits and under simulated storage conditions. J Sci Food Agri 82:848–853

Taverniers I, de Loose M, Van Bockstaele E (2004) Trends in quality in the analytical laboratory. II. Analytical method validation and quality assurance. Trends Anal Chem 23:535–552

Vipotnik Z, Rodríguez A, Rodrigues P (2017) Aspergillus westerdijkiae as a major ochratoxin A risk in dry-cured ham based-media. Int J Food Microbiol 241:244–251

White TJ, Burns T, Lee S, Taylor JW (1990) Amplification and direct sequencing of fungal ribosomal DNA for phylogenetics. In: Inns MA, Gelfand DH, Sninsky JJ, White TJ (eds) PCR protocols: a guide to methods and applications. Academic Press, San Diego, CA, USA, pp 315–321

Zaid A, de Wet PF (2002) Chapter II: origin, geographical distribution and nutritional values of date palm. In: Zaid A (ed) Date palm cultivation. FAO Plant Production and Protection Paper 156 Rev. 1, Rome, Italy. ISSN 0259–2517
Funding
This work was supported by the Foundation for Science and Technology (FCT, Portugal) and FEDER under Programme PT2020 for financial support to CIMO (UID/AGR/00690/2019).
Additional information
Publisher's Note
Springer Nature remains neutral with regard to jurisdictional claims in published maps and institutional affiliations.
Supplementary information
Below is the link to the electronic supplementary material.
About this article
Cite this article
Nikolchina, I., Rodrigues, P. A preliminary study on mycobiota and ochratoxin a contamination in commercial palm dates (Phoenix dactylifera). Mycotoxin Res 37, 215–220 (2021). https://doi.org/10.1007/s12550-021-00432-0
Received:

Revised:

Accepted:

Published:

Issue Date:

DOI: https://doi.org/10.1007/s12550-021-00432-0
Keywords