Abstract
This study aimed to explore involvement of oxidative stress in sterigmatocystin (STC) toxicity in male Wistar rats. Animals were orally treated with a single STC dose (10, 20 and 40 mg/kg b.w.). Short-term treatment resulted in moderate oxidative stress determined by a significant increase of malondialdehyde (MDA; all STC doses) and catalase (CAT; 10 mg/kg b.w.) in plasma, a decrease of glutathione peroxidase (GPx; 20 and 40 mg/kg b.w.) in the liver, and increase of MDA and superoxide dismutase (SOD) in kidneys (all STC doses). Heat shock protein (Hsp27 and Hsp70) expression was determined by Western blotting in rat liver and kidneys. Hsp27 expression was downregulated by STC, particularly in the liver (40 mg/kg b.w.). The lowest STC dose elevated the expression of Hsp70 in both liver and kidneys, while an increase in STC doses restored Hsp70 expression to control. Alterations in expressions of Hsp27 and Hsp70 could be only partially associated with oxidative stress. STC provoked a significant DNA damage in both liver and kidneys (alkaline comet assay), but the liver was more affected by a broader spectrum of DNA lesions. Oxidative DNA damage (hOGG1-modified comet assay) contribute to the overall mechanism of STC-induced DNA damage in both organs, but kidneys in general seem to be more susceptible to oxidative stress upon short-term exposure to sublethal doses of STC.
Access options
Buy single article
Instant access to the full article PDF.
USD 39.95
Price excludes VAT (USA)
Tax calculation will be finalised during checkout.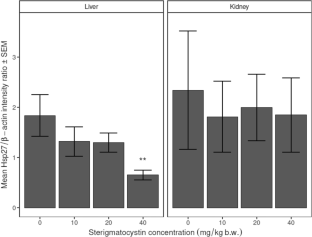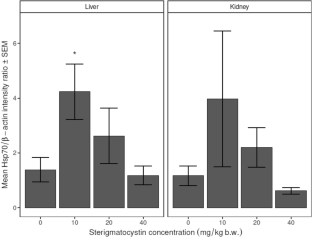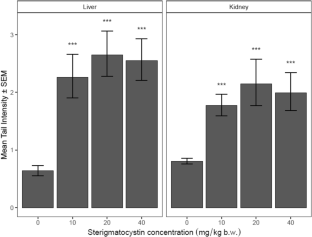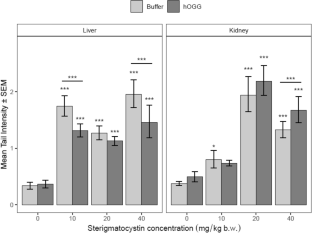 References
Acunzo J, Katsogiannou M, Rocchi P (2012) Small heat shock proteins HSP27 (HspB1), αB-crystallin (HspB5) and HSP22 (HspB8) as regulators of cell death. Int J Biochem Cell Biol 44:1622–1631. https://doi.org/10.1016/j.biocel.2012.04.002

Arrigo A-P (2007) The cellular "networking" of mammalian Hsp27 and its functions in the control of protein folding, redox state and apoptosis. In: Csermely P, Vígh L (eds) Molecular aspects of the stress response: chaperones, membranes and networks. Springer, New York, pp 14–26

Azqueta A, Shaposhnikov S, Collins A (2011) DNA repair measured by the comet assay. In: Kruman I (ed) DNA repair. InTech, pp 615–636. https://doi.org/10.5772/22504

Bates D, Martin M, Bolker BM, Walker SC (2015) Fitting linear mixed-effects models using Lme4. J Stat 67 1. https://doi.org/10.18637/jss.v067.i01

Bloom E, Bal K, Nyman E, Must A, Larsson L (2007) Mass spectrometry-based strategy for direct detection and quantification of some mycotoxins produced by Stachybotrys and Aspergillus spp. in indoor environments. Appl Environ Microbiol 73:4211–4217. https://doi.org/10.1128/AEM.00343-07

Collins AR (2004) The comet assay for DNA damage and repair: principles, applications, and limitations. Mol Biotechnol 26:249–261. https://doi.org/10.1385/MB:26:3:249

Collins AR (2014) Measuring oxidative damage to DNA and its repair with the comet assay. Biochim Biophys Acta, Gen Subj 1840:794–800. https://doi.org/10.1016/j.bbagen.2013.04.022

Core Team R (2018) R: a language and environment for statistical computing. R Foundation for Statistical Computing, Vienna, Austria

Curry PT, Reed RN, Martino RM, Kitchin RM (1984) Induction of sister-chromatid exchanges in vivo in mice by the mycotoxins sterigmatocystin and griseofulvin. Mutat Res Toxicol 137:111–115. https://doi.org/10.1016/0165-1218(84)90099-5

Drury JA, Nycyk JA, Cooke RWI (1997) Comparison of urinary and plasma malondialdehyde in preterm infants. Clin Chim Acta 263:177–185. https://doi.org/10.1016/S0009-8981(97)00051-X

EFSA - European Food Safety Authority, Panel on Contaminants in the Food Chain (2013) European food safety authority (EFSA) scientific opinion on the risk for public and animal health related to the presence of sterigmatocystin in food and feed. EFSA J 11:1–81 Available from https://www.efsa.europa.eu/en/efsajournal/pub/3254

El Golli-Bennour E, Bacha H (2011) Hsp70 expression as biomarkers of oxidative stress: Mycotoxins' exploration. Toxicology 287:1–11. https://doi.org/10.1016/j.tox.2011.06.002

Ellman GL (1958) A colorimetric method for determining low concentrations of mercaptans. Arch Biochem Biophys 74:443–450. https://doi.org/10.1016/0003-9861(58)90014-6

Engelhart S, Loock A, Skutlarek D, Sagunski H, Lommel A, Färber H, Exner M (2002) Occurrence of toxigenic Aspergillus versicolor isolates and sterigmatocystin in carpet dust from damp indoor environments. Appl Environ Microbiol 68:3886–3890

Essigmann JM, Barker LJ, Fowler KW, Francisco MA, Reinhold VN, Wogan GN (1979) Sterigmatocystin-DNA interactions: identification of a major adduct formed after metabolic activation in vitro. Proc Natl Acad Sci U S A 76:179

Essigmann JM, Donahue PR, Story DL, Wogan GN, Brunengraber H (1980) Use of the isolated perfused rat liver to study carcinogen-DNA adduct formation from aflatoxin B1 and sterigmatocystin. Cancer Res 40:4085–4091

Gao W, Jiang L, Ge L, Chen M, Geng C, Yang G, Li Q, Ji F, Yan Q, Zou Y, Zhong L, Liu X (2015) Sterigmatocystin-induced oxidative DNA damage in human liver-derived cell line through lysosomal damage. Toxicol in Vitro 29:1–7. https://doi.org/10.1016/j.tiv.2014.08.007

Gopalakrishnan S, Liu X, Patel DJ (1992) Solution structure of the covalent sterigmatocystin-DNA adduct Biochemistry 31:10790–10801. https://doi.org/10.1021/bi00159a021

IARC - International Agency for Research on Cancer (1976) Sterigmatocystin. In: Some naturally occurring substances, Vol 10: IARC monographs on the evaluation of the carcinogenic risk of chemicals to man pp.245–251. Available from: https://publications.iarc.fr/Book-And-Report-Series/Iarc-Monographs-On-The-Identification-Of-Carcinogenic-Hazards-To-Humans/Some-Naturally-Occurring-Substances-1976

Ikwegbue PC, Masamba P, Oyinloye BE, Kappo AP (2018) Roles of heat shock proteins in apoptosis, oxidative stress, human inflammatory diseases, and cancer. Pharmaceuticals 11:1–18. https://doi.org/10.3390/ph11010002

Kawai K, Nakamaru T, Nozawa Y, Maebayashi Y, Yamazaki M, Natori S (1984) Inhibitory effect of sterigmatocystin and 5,6-dimethoxysterigmatocystin on ATP synthesis in mitochondria. Appl Environ Microbiol 48:1001–1003

Kócsó DJ, Szabó-Fodor J, Mézes M, Balogh K, Ferenczi S, Szabó A, Bóta B, Kovács M (2018) Fumonisin B1 exposure increases Hsp70 expression in the lung and kidney of rats without inducing significant oxidative stress. Acta Vet Hung 66:394–407

Kövesi B, Pelyhe C, Zándoki E, Mézes M, Balogh K (2019) Effect of short-term sterigmatocystin exposure on lipid peroxidation and glutathione redox system and expression of glutathione redox system regulatory genes in common carp liver. Toxicon 161:50–56. https://doi.org/10.1016/j.toxicon.2019.03.001

Kregel KC (2002) Heat shock proteins: modifying factors in physiological stress responses and acquired thermotolerance. J Appl Physiol 92:2177–2186. https://doi.org/10.1152/japplphysiol.01267.2001

Limon-Pacheco J, Gonsebatt ME (2009) The role of antioxidants and antioxidant-related enzymes in protective responses to environmentally induced oxidative stress. Mutat Res 674:137–147

Lubos E, Loscalzo J, Handy DE (2011) Glutathione peroxidase-1 in health and disease: from molecular mechanisms to therapeutic opportunities. Antioxid Redox Signal. https://doi.org/10.1089/ars.2010.3586

Marrocco I, Altieri F, Peluso I (2017) Measurement and clinical significance of biomarkers of oxidative stress in humans. Oxidative Med Cell Longev. https://doi.org/10.1155/2017/6501046

Mladinic M, Berend S, Vrdoljak AL, Kopjar N, Radic B, Zeljezic D (2009) Evaluation of genome damage and its relation to oxidative stress induced by glyphosate in human lymphocytes in vitro. Environ Mol Mutagen 50:800–807. https://doi.org/10.1002/em.20495

Nadeau SI, Landry J (2007) Mechanisms of activation and regulation of the heat shock-sensitive signaling pathways. In: Csermely P, Vígh L (eds) Molecular aspects of the stress response: chaperones, membranes and networks. Springer, New York, pp 100–113

Préville X, Salvemini F, Giraud S, Chaufour S, Pau C, Stepien G, Ursini MV, Arrigo AP (1999) Mammalian small stress proteins protect against oxidative stress through their ability to increase glucose-6-phosphate dehydrogenase activity and by maintaining optimal cellular detoxifying machinery. Exp Cell Res 247:61–78. https://doi.org/10.1006/excr.1998.4347

Pu X, Wang Z, Klaunig JE (2015) Alkaline comet assay for assessing DNA damage in individual cells. Curr Prot Toxicol 65:3.12.1–3.12.11. https://doi.org/10.1002/0471140856.tx0312s65

Purchase IFH, van der Watt JJ (1969) Acute toxicity of sterigmatocystin to rats. Food Cosmet Toxicol 7:135–139. https://doi.org/10.1016/S0015-6264(69)80295-6

Purchase IFH, van der Watt JJ (1971) The acute and chronic toxicity of sterigmatocystin. In: Symposium on mycotoxins in human health. Palgrave Macmillan UK, London, pp 209–213. https://doi.org/10.1007/978-1-349-01318-0_20

Rank C, Nielsen KF, Larsen TO, Varga J, Samson RA, Frisvad JC (2011) Distribution of sterigmatocystin in filamentous fungi. Fungal Biol 115:406–420. https://doi.org/10.1016/j.funbio.2011.02.013

Rašić D, Micek V, Šegvić Klarić M, Peraica M (2019) Oxidative stress as a mechanism of combined OTA and CTN toxicity in rat plasma, liver and kidney. Hum Exp Toxicol 38:434–445. https://doi.org/10.1177/0960327118819049

Reddy MV, Irvin TR, Randerath K (1985) Formation and persistence of sterigmatocystin-DNA adducts in rat liver determined via 32P-postlabeling analysis. Mutat Res 152:85–96

Rumora L, Žanić Grubišić T (2009) A journey through mitogen-activated protein kinase and ochratoxin A interactions. Arh Hig Rada Toksikol 60:449–456. https://doi.org/10.2478/10004-1254-60-2009-1969

Singh NP, McCoy MT, Tice RR, Schneider EL (1988) A simple technique for quantitation of low levels of DNA damage in individual cells. Exp Cell Res 175:184–191. https://doi.org/10.1016/0014-4827(88)90265-0

Sivakumar V, Thanislass J, Niranjali S, Devaraj H (2001) Lipid peroxidation as a possible secondary mechanism of sterigmatocystin toxicity. Hum Exp Toxicol 20:398–403. https://doi.org/10.1191/096032701682692955

Skladanowski A (2002) Modulation of G2 arrest enhances cell death induced by the antitumor 1-nitroacridine derivative, nitracrine. Apoptosis 7:347–359. https://doi.org/10.1023/A:1016127513947

Smith CC, O'Donovan MR, Martin EA (2006) hOGG1 recognizes oxidative damage using the comet assay with greater specificity than FPG or ENDOIII. Mutagenesis 21:185–190. https://doi.org/10.1093/mutage/gel019

Stětina R (1986) Induction of DNA single-strand breaks and DNA synthesis inhibition in CHO and AWRF cells after exposure to sterigmatocystin and penicillic acid. Folia Biol 32:406–413

Tanaka K, Sago Y, Zheng Y, Nakagawa H, Kushiro M (2007) Mycotoxins in rice. Int J Food Microbiol 119:59–66. https://doi.org/10.1016/j.ijfoodmicro.2007.08.002

Tice RR, Agurell E, Anderson D, Burlinson B, Hartmann A, Kobayashi H, Miyamae Y, Rojas E, Ryu JC, Sasaki YF (2000) Single cell gel/comet assay: guidelines for in vitro and in vivo genetic toxicology testing. Environ Mol Mutagen 35:206–221

Tuomi T, Reijula K, Johnsson T, Hemminki K, Hintikka EL, Lindroos O, Kalso S, Koukila-Kähkölä P, Mussalo-Rauhamaa H, Haahtela T (2000) Mycotoxins in crude building materials from water-damaged buildings. Appl Environ Microbiol 66:1899–18904

Ueno Y, Umemori K, Niimi E, Tanuma S, Nagata S, Sugamata M, Ihara T, Sekijima M, Kawai K, Ueno I (1995) Induction of apoptosis by T-2 toxin and other natural toxins in HL-60 human promyelotic leukemia cells. Nat Toxins 3:129–137

Veršilovskis A, de Saeger S (2010) Sterigmatocystin: occurrence in foodstuffs and analytical methods - an overview. Mol Nutr Food Res 54:136–147. https://doi.org/10.1002/mnfr.200900345

Veršilovskis A, Bartkevičs V, Miķelsone V (2008) Sterigmatocystin presence in typical Latvian grains. Food Chem 109:243–248. https://doi.org/10.1016/j.foodchem.2007.12.066

Walkow J, Sullivan G, Maness D, Yakatan GJ (1985) Sex and age differences in the distribution of 14C-sterigmatocystin in immature and mature rats: a multiple dose study. Int J Toxicol 4:45–51. https://doi.org/10.3109/10915818509014503

Wickham H (2016) Ggplot2: elegant graphics for data analysis. Springer-Verlag New York. http://ggplot2.org

Xing X, Wang J, Xing LX, Li YH, Yan X, Zhang XH (2011) Involvement of MAPK and PI3K signaling pathway in sterigmatocystin-induced G2 phase arrest in human gastric epithelium cells. Mol Nutr Food Res 55:749–760. https://doi.org/10.1002/mnfr.201000344

Yin H, Jiang M, Peng X, Cui C, Zhou Y, He M, Zuo Z, Ouyang P, Fan J, Fang J (2016) The molecular mechanism of G2/M cell cycle arrest induced by AFB1 in the jejunum. Oncotarget 7:3592–35606. https://doi.org/10.18632/oncotarget.9594

Zhang D, Cui Y, Shen H, Xing L, Cui J, Wang J, Zhang X (2013) Sterigmatocystin-induced DNA damage triggers G2 arrest via an ATM/p53-related pathway in human gastric epithelium GES-1 cells in vitro. PLoS One 8(5):e65044. https://doi.org/10.1371/journal.pone.0065044
Acknowledgements
The authors want to thank Vedran Micek, DVM for animal care and performing the treatment and to Mrs. L. Stančin for excellent technical assistance as well as many thanks to Makso Herman, MA for English language editing.
Funding
The author(s) disclosed receipt of the following financial support for the research, authorship, and/or publication of this article: This work was financially supported by the Croatian Science Foundation under project no IP-09-2014-5982 (MycotoxA).
Ethics declarations
Conflict of interest
The authors declare that they have no conflict of interest.
Additional information
Publisher's note
Springer Nature remains neutral with regard to jurisdictional claims in published maps and institutional affiliations.
About this article
Cite this article
Dubravka, R., Daniela, J., Andrea, H.T. et al. Sterigmatocystin moderately induces oxidative stress in male Wistar rats after short-term oral treatment. Mycotoxin Res 36, 181–191 (2020). https://doi.org/10.1007/s12550-019-00382-8
Received:

Revised:

Accepted:

Published:

Issue Date:

DOI: https://doi.org/10.1007/s12550-019-00382-8
Keywords
Sterigmatocystin

Malondialdehyde

Heat shock proteins

DNA damage

Comet assay