Abstract
Aspergilli section Flavi, originally isolated from air samples collected from inhabited apartments (AP), unoccupied basements (BS), and processing facilities of a grain mill (GM), were analyzed for their potential to produce aflatoxin B1 (AFB1) on solid media. The isolates were further characterized with regard to their cytotoxic, genotoxic, and pro-inflammatory properties in vitro. Aspergilli were identified based on partial calmodulin (CaM) gene sequencing; the producing capacities of isolates were analyzed by HPLC/FLD and confirmed by genes in biosynthesis (aflR, norA, omtA). In the grain mill, the Aspergilli section Flavi (up to 1.3 × 106 cfu/m3) dominated by AFB1-producing Aspergillus flavus (71%, 4.5–5254 ng/ml) which showed a serious health risk for workers. Living environments were not relevant sources of exposure. After 24 h, AFB1 (1–100 μmol/l) reduced cell viability (MTT test) in both A549 cells and THP-1 macrophage-like cells without reaching IC50. In A549 cells, the extract of the AFB1-producing A. flavus significantly decreased cell viability but not below 50%. THP-1 macrophage-like cells were more sensitive to both extracts, but IC50 was obtained only for the AFB1-producing strain (0.37 mg/ml; AFB1 2.78 μmol/l). AFB1 (1 and 10 μmol/l) induced significant DNA damage (tail intensity, alkaline comet assay) in A549 cells in contrast to Aspergilli extracts. AFB1 elevated IL-6 and IL-8, while Aspergilli extracts increased IL-1β, TNF-α, and IL-17 release in THP-1 macrophages (ELISA). Chronic exposure to AFB1 and/or other metabolites in airborne A. flavus from occupational environments may stimulate epithelial damage of airways accompanied by lowered macrophage viability.
Access options
Buy single article
Instant access to the full article PDF.
USD 39.95
Price excludes VAT (USA)
Tax calculation will be finalised during checkout.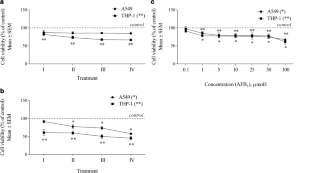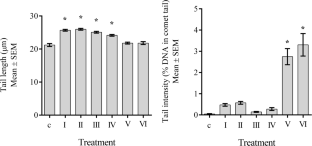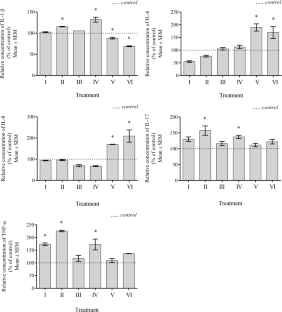 References
Abbès S, Ben Salah-Abbès J, Jebali R, Younes RB, Oueslati R (2016) Interaction of aflatoxin B1 and fumonisin B1 in mice causes immunotoxicity and oxidative stress: possible protective role using lactic acid bacteria. J Immunotoxicol 13:46–54. https://doi.org/10.3109/1547691X.2014.997905

Abdel Hameed AA, Ayesh AM, Abdel Razik Mohamed M, Abdel Mawla H (2012) Fungi and some mycotoxins producing species in the air of soybean and cotton mills: a case study. Atmos Pollut Res 3:126–131. https://doi.org/10.5094/APR.2012.012

Altschul S, Gish W, Miller W, Myers EW, Lipman DJ (1990) Basic local alignment search tool. J Mol Biol 215:403–410

Baranyi N, Jakšić Despot D, Palágyi A, Kiss N, Kocsubé S, Szekeres A, Kecskeméti A, Bencsik O, Vágvölgyi C, Šegvić Klarić M, Varga J (2015) Identification of Aspergillus species in Central Europe able to produce G-type aflatoxins. Acta Biol Hung 66:339–347. https://doi.org/10.1556/018.66.2015.3.9

Bennett JW, Klich M, Mycotoxins M (2003) Mycotoxins. Clin Microbiol Rev 16:497–516. https://doi.org/10.1128/CMR.16.3.497

Cafarchia C, Camarda A, Iatta R, Danesi P, Favuzzi V, Di Paola G, Pugliese N, Caroli A, Montagna MT, Otranto D (2014) Environmental contamination by Aspergillus spp. in laying hen farms and associated health risks for farm workers. J Med Microbiol 63:464–470. https://doi.org/10.1099/jmm.0.065946-0

Campbell-Platt G (1994) Fermented foods—a world perspective. Food Res Int 27:253–257. https://doi.org/10.1016/0963-9969(94)90093-0

Carré PC, Mortenson RL, King TE, Noble PW, Sable CL, Riches DW (1991) Increased expression of the interleukin-8 gene by alveolar macrophages in idiopathic pulmonary fibrosis. A potential mechanism for the recruitment and activation of neutrophils in lung fibrosis. J Clin Invest 88:1802–1810. https://doi.org/10.1172/JCI115501

Collins AR (2004) The comet assay for DNA damage and repair: principles, applications, and limitations. Mol Biotechnol 26:249–261. https://doi.org/10.1385/MB:26:3:249

Collins AR, Oscoz AA, Brunborg G, Gaivão I, Giovannelli L, Kruszewski M, Smith CC, Stetina R (2008) The comet assay: topical issues. Mutagenesis 23:143–151. https://doi.org/10.1093/mutage/gem051

Crawford JA, Rosenbaum PF, Anagnost SE, Hunt A, Abraham JL (2015) Indicators of airborne fungal concentrations in urban homes: understanding the conditions that affect indoor fungal exposures. Sci Total Environ 517:113–124. https://doi.org/10.1016/j.scitotenv.2015.02.060

Criseo G, Bagnara A, Bisignano G (2001) Differentiation of aflatoxin-producing and non-producing strains of Aspergillus favus group. Lett Appl Microbiol 33:291–295

Diaz-Meco MT, Moscat J (2012) The atypical PKCs in inflammation: NF-κB and beyond. Immunol Rev 246:154–167. https://doi.org/10.1111/j.1600-065X.2012.01093.x

Duque GA, Descoteaux A (2014) Macrophage cytokines: involvement in immunity and infectious diseases. Front Microbiol 5:1–12. https://doi.org/10.3389/fimmu.2014.00491

Eder C (2009) Mechanisms of interleukin-1 b release. Immunobiology 214:543–553. https://doi.org/10.1016/j.imbio.2008.11.007

Fazekas B, Tar A, Kovács M (2005) Aflatoxin and ochratoxin A content of spices in Hungary. Food Addit Contam 22:856–863. https://doi.org/10.1080/02652030500198027

Fischer G, Dott W (2003) Relevance of airborne fungi and their secondary metabolites for environmental, occupational and indoor hygiene. Arch Microbiol 179:75–82. https://doi.org/10.1007/s00203-002-0495-2

Fischer G, Müller T, Schwalbe R, Ostrowski R, Dott W (2000a) Exposure to airborne fungi, MVOC and mycotoxins in biowaste-handling facilities. Int J Hyg Environ Health 203:97–104. https://doi.org/10.1078/S1438-4639(04)70014-0

Fischer G, Müller T, Schwalbe R, Ostrowski R, Dott W (2000b) Species-specific profiles of mycotoxins produced in cultures and associated with conidia of airborne fungi derived from biowaste. Int J Hyg Environ Health 203:105–116. https://doi.org/10.1078/S1438-4639(04)70015-2

Frisvad JC, Smedsgaard J, Samson RA, Larsen TO, Thrane U (2007) Fumonisin B production by Aspergillus niger. J Agric Food Chem 55(23):9727–9732

Garcia-Canton C, Minet E, Anadon A, Anadon A, Meredith C (2013) Metabolic characterization of cell systems used in in vitro toxicology testing: lung cell system BEAS-2B as a working example. Toxicol in Vitro 27:1719–1727. https://doi.org/10.1016/j.tiv.2013.05.001

Geisen R (1996) Multiplex polymerase chain reaction for the detection of potential aflatoxin and sterigmatocystin producing fungi. Syst Appl Microbiol 19:388–392. https://doi.org/10.1016/S0723-2020(96)80067-1

Godet M, Munaut F (2010) Molecular strategy for identification in Aspergillus section Flavi. FEMS Microbiol Lett 304:157–168. https://doi.org/10.1111/j.1574-6968.2009.01890.x

Gu C, Wu L, Li X (2013) IL-17 family: cytokines, receptors and signaling. Cytokine 64:389–399. https://doi.org/10.1016/j.asieco.2008.09.006.EAST

Guindon KA, Foley JF, Maronpot RR, Massey TE (2008) Failure of catalase to protect against aflatoxin B1-induced mouse lung tumorigenicity. Toxicol Appl Pharmacol 227:179–183. https://doi.org/10.1016/j.taap.2007.10.015

Hardin BD, Robbins CA, Fallah P, Kelman BJ (2009) The concentration of no toxicologic concern (CoNTC) and airborne mycotoxins. J Toxicol Environ Heal—Part A Curr Issues 72:585–598. https://doi.org/10.1080/15287390802706389

Hayes RB, van Nieuwenhuize JP, Raatgever JW, ten Kate FJ (1984) Aflatoxin exposures in the industrial setting: an epidemiological study of mortality. Food Chem Toxicol 22:39–43. https://doi.org/10.1016/0278-6915(84)90050-4

Hedayati MT, Pasqualotto AC, Warn PA, Bowyer P, Denning DW (2007) Aspergillus flavus: human pathogen, allergen and mycotoxin producer. Microbiology 153:1677–1692. https://doi.org/10.1099/mic.0.2007/007641-0

Hinton DM, Myers MJ, Raybourne RA, Francke-Carroll S, Sotomayor RE, Shaddock J, Warbritton A, Chou MW (2003) Immunotoxicity of aflatoxin B1 in rats: effects on lymphocytes and the inflammatory response in a chronic intermittent dosing study. Toxicol Sci 73:362–377. https://doi.org/10.1093/toxsci/kfg074

Hong S-B, Go S-J, Shin H-D, Frisvad JC, Samson RA (2005) Polyphasic taxonomy of Aspergillus fumigatus and related species. Mycologia 97:1316–1329. https://doi.org/10.3852/mycologia.97.6.1316

Hulina A, Grdić Rajković M, Jakšić Despot D, Jelić D, Dojder A, Čepelak I, Rumora L (2018) Extracellular Hsp70 induces inflammation and modulates LPS/LTA-stimulated inflammatory response in THP-1 cells. Cell Stress Chaperones 23:373–384. https://doi.org/10.1007/s12192-017-0847-0

Ishikawa AT, Hirooka EY, e Silva PLA, Bracarense APFRL, Flaiban KKMDC, Akagi CY, Kawamura O, Costa MCD, Itano EN (2017) Impact of a single oral acute dose of aflatoxin B1 on liver function/cytokines and the lymphoproliferative response in C57BL/6 mice. Toxins 9:1–10. doi: https://doi.org/10.3390/toxins9110374

Jakab GJ, Hmieleski RR, Zarba A, Hemenway DR, Groopman JD (1994) Respiratory aflatoxicosis: a suppression of pulmonary and systemic host defenses in rats and mice. Toxicol Appl Pharmacol 125:198–205. https://doi.org/10.1006/TAAP.1994.1065

Jakšić Despot D, Šegvić Klarić M (2014) A year-round investigation of indoor airborne fungi in Croatia. Arh Hig Rada Toksikol 65:209–218. https://doi.org/10.2478/10004-1254-65-2014-2483

Jakšić Despot D, Kocsubé S, Bencsik O, Kecskeméti A, Szekeres A, Jelić D, Kopjar N, Vágvölgyi C, Varga J, Šegvić Klarić M (2016) Species diversity and cytotoxic potency of airborne sterigmatocystin-producing Aspergilli from the section Versicolores. Sci Total Environ 562:296–304. https://doi.org/10.1016/j.scitotenv.2016.03.183

Jakšić D, Puel O, Canlet C, Kopjar N, Kosalec I, Šegvić Klarić M (2012) Cytotoxicity and genotoxicity of versicolorins and 5-methoxysterigmatocystin in A549 cells. Arch Toxicol 86:1583–1591. https://doi.org/10.1007/s00204-012-0871-x

Jakšić D, Kocsubé S, Bencsik O, Kecskeméti A, Szekeres A, Jelić D, Kopjar N, Vágvölgyi C, Varga J, Šegvić Klarić M (2018) Fumonisin production and toxic capacity in airborne black Aspergilli. Toxicol in Vitro 53:160–171. https://doi.org/10.1016/j.tiv.2018.08.006

Kelly JD, Eaton DL, Guengerich FP, Coulombe RA Jr (1997) Aflatoxin B1 activation in human lung. Toxicol Appl Pharmacol 144:88–95. https://doi.org/10.1006/taap.1997.8117

Lee RJ, Workman AD, Carey RM, B1 C, Rosen PL, Doghramji L, Adappa ND, Palmer JN, Kennedy DW, Cohen NA (2016) Fungal aflatoxins reduce respiratory mucosal ciliary function. Sci Rep 6:1–13. https://doi.org/10.1038/srep33221

Liu BH, Yu FY, Chan MH, Yang YL (2002) The effects of mycotoxins, fumonisin B1 and aflatoxin B1, on primary swine alveolar macrophages. Toxicol Appl Pharmacol 180:197–204. https://doi.org/10.1006/taap.2002.9406

Luongo D, Russo R, Balestrieri A, Marzocco S, Bergamo P, Severino L (2014) In vitro study of AFB1 and AFM1 effects on human lymphoblastoid Jurkat T-cell model. J Immunotoxicol 11:353–358. https://doi.org/10.3109/1547691X.2013.848250

Manikandan P, Varga J, Kocsubé S, Anita R, Revathi R, Németh TM, Narendran V, Vágvölgyi C, Panneer Selvam K, Shobana CS, Babu Singh YR, Kredics L (2013) Epidemiology of Aspergillus keratitis at a tertiary care eye hospital in South India and antifungal susceptibilities of the causative agents. Mycoses 56:26–33. https://doi.org/10.1111/j.1439-0507.2012.02194.x

Marchese S, Polo A, Ariano A, Velotto S, Costantini S, Severino L (2018) Aflatoxin B1 and M1: biological properties and their involvement in cancer development. Toxins 10:214. https://doi.org/10.3390/toxins10060214

Massey TE, Smith GBJ, Tam AS (2000) Mechanisms of aflatoxin B1 lung tumorogenesis. Exp Lung Res 26:673–683

McKean C, Tang L, Tang M, Billam M, Wang Z, Theodorakis CW, Kendall RJ, Wang JS (2006) Comparative acute and combinative toxicity of aflatoxin B1 and fumonisin B1 in animals and human cells. Food Chem Toxicol 44:868–876. https://doi.org/10.1016/j.fct.2005.11.011

Medina A, Rodriguez A, Magan N (2014) Effect of climate change on Aspergillus flavus and aflatoxin B1 production. Front Microbiol 5:348. https://doi.org/10.3389/fmicb.2014.00348

Meissonnier GM, Pinton P, Laffitte J, Cossalter AM, Gong YY, Wild CP, Bertin G, Galtier P, Oswald IP (2008) Immunotoxicity of aflatoxin B1: impairment of the cell-mediated response to vaccine antigen and modulation of cytokine expression. Toxicol Appl Pharmacol 231:142-149–142-149. https://doi.org/10.1016/j.taap.2008.04.004

Murdock BJ, Falkowski NR, Shreiner AB, Sadighi Akha AA, McDonald RA, White ES, Toews GB, Huffnagle GB (2012) Interleukin-17 drives pulmonary eosinophilia following repeated exposure to Aspergillus fumigatus conidia. Infect Immun 80:1424–1436. https://doi.org/10.1128/IAI.05529-11

Olsen J, Dragsted L, Autrup H (1988) Cancer risk and occupational exposure to aflatoxins in Denmark. Br J Cancer 58:392–396. https://doi.org/10.1038/bjc.1988.226

Oppliger A, Rusca S, Charrière N, Vu Duc T, Droz PO (2005) Assessment of bioaerosols and inhalable dust exposure in Swiss sawmills. Ann Occup Hyg 49:385–391. https://doi.org/10.1093/annhyg/meh105

Palanee T, Dutton MF, Chuturgoon AA (2001) Cytotoxicity of aflatoxin B1 and its chemically synthesised epoxide derivative on the A549 human epithelioid lung cell line. Mycopathologia 151:155–159. https://doi.org/10.1023/A:1017985924257

Pariza MW, Johnson EA (2001) Evaluating the safety of microbial enzyme preparations used in food processing: update for a new century. Regul Toxicol Pharmacol 33:173–186. https://doi.org/10.1006/rtph.2001.1466

Paterson RRM, Lima N (2010) How will climate change affect mycotoxins in food? Food Res Int 43:1902–1914. https://doi.org/10.1016/j.foodres.2009.07.010

Perrone G, Gallo A, Logrieco AF (2014) Biodiversity of Aspergillus section Flavi in Europe in relation to the management of aflatoxin risk. Front Microbiol 5:1–5. https://doi.org/10.3389/fmicb.2014.00377

Piecková E, Wilkins K (2004) Airway toxicity of house dust and its fungal composition. Ann Agric Environ Med 11:67–73

Qian G, Tang L, Guo X, Wang F, Massey ME, Su J, Guo TL, Williams JH, Phillips TD, Wang JS (2014) Aflatoxin B1 modulates the expression of phenotypic markers and cytokines by splenic lymphocytes of male F344 rats. J Appl Toxicol 34(3):241–249. https://doi.org/10.1002/jat.2866

Rao CY, Fink RC, Wolfe LB, Liberman DF, Burge HA (2016) A study of Aflatoxin production by growing on wallboard. Journal of the American Biological Safety Association 2(4):36–42

Ren P, Ahearn DG, Crow Jr SA (1999) Comparative study of Aspergillus mycotoxin production on enriched media and construction material. J Ind Microbiol Biotechnol 23(3):209–213

Roilides E, Lamaignere CG, Farmaki E (2002) Cytokines in immunodeficient fungal infections: an emerging patients therapy. Int J Infect Dis 6:154–163

Samson RA, Houbraken J, Thrane U, Frisvad JC, Andersen B (2010) Food and indoor fungi. Fungal Biodiversity Centre Utrecht, The Netherlands

Samson RA, Visagie CM, Houbraken J, Hong S-B, Hubka V, Klaassen CHW, Perrone G, Seifert KA, Susca A, Tanney JB, Varga J, Kocsubé S, Szigeti G, Yaguchi T, Frisvad JC (2014) Phylogeny, identification and nomenclature of the genus Aspergillus. Stud Mycol 78:141–173

Schweer KE, Jakob B, Liss B, H2 C, Fischer G, Vehreschild M, Cornely OA, Vehreschild JJ (2016) Domestic mould exposure and invasive aspergillosis—air sampling of Aspergillus spp. spores in homes of hematological patients, a pilot study. Med Mycol 54:576–583. https://doi.org/10.1093/mmy/myw007

Sharma D, Dutta BK, Singh AB (2010) Exposure to indoor fungi in different working environments: a comparative study. Aerobiologia (Bologna) 26:327–337. https://doi.org/10.1007/s10453-010-9168-9

Singh NP, McCoy MT, Tice RR, Schneider EL (1988) A simple technique for quantitation of low levels of DNA damage in individual cells. Exp Cell Res 175:184–191

Soares C, Rodrigues P, Peterson SW, Lima N, Venâncio A (2012) Three new species of Aspergillus section Flavi isolated from almonds and maize in Portugal. Mycologia 104:682–697. https://doi.org/10.3852/11-088

Suganuma M, Okabe S, Marino MW, Sakai A, Sueoka E, Fujiki H (1999) Essential role of tumor necrosis factor a (TNF-a) in tumor promotion as revealed by TNF-a deficient mice. Cancer Res 59:4516–4518

Turner MD, Nedjai B, Hurst T, Pennington DJ (2014) Cytokines and chemokines: at the crossroads of cell signalling and inflammatory disease. Biochim Biophys Acta—Mol Cell Res 1843:2563–2582. https://doi.org/10.1016/j.bbamcr.2014.05.014

Van Vleet TR, Klein PJ, Coulombe RA (2002) Metabolism and cytotoxicity of aflatoxin B1 in cytochrome P-450 expressin human lung cells. J Toxicol Environ Health A 65:853–867. https://doi.org/10.1080/0098410029007121

Varga J, Frisvad JC, Samson RA (2011) Two new aflatoxin producing species, and an overview of Aspergillus section Flavi. Stud Mycol 69:57–80. https://doi.org/10.3114/sim.2011.69.05

Viegas S, Veiga L, Malta-Vacas J, Sabino R, Figueredo P, Almeida A, Viegas C, Carolino E (2012) Occupational exposure to aflatoxin (AFB1) in poultry production. J Toxicol Environ Health A 75:1330–1340. https://doi.org/10.1080/15287394.2012.721164

Yu J, Bhatnagar D, Cleveland TE (2004) Completed sequence of a aflatoxin pathway gene cluster in Aspergillus parasiticus. FEBS Lett 564:126–130. https://doi.org/10.1016/S0014-5793(04)00327-8

Zhao M, Xia L, Chen GQ (2012) Protein kinase c delta in apoptosis: a brief overview. Arch Immunol Ther Exp 60:361–372. https://doi.org/10.1007/s00005-012-0188-8;10.1007/s00005-012-0188-8
Acknowledgments
This work was financially supported by the University of Zagreb (Grant No. 1126). This study forms part of the project GINOP-2.3.2-15-2016-00012, supported by the European Social Fund. This work was also supported by OTKA grant Nos. K115690 and K8407 as well as through András Szekeres, who received support through the new national excellence program of the Hungarian Ministry of Human Capacities.
Ethics declarations
Conflicts of interest
The authors declare that they have no conflict of interest.
Additional information
Publisher's note
Springer Nature remains neutral with regard to jurisdictional claims in published maps and institutional affiliations.
About this article
Cite this article
Jakšić, D., Kocsubé, S., Bencsik, O. et al. Aflatoxin production and in vitro toxicity of Aspergilli section Flavi isolated from air samples collected from different environments. Mycotoxin Res 35, 217–230 (2019). https://doi.org/10.1007/s12550-019-00345-z
Received:

Revised:

Accepted:

Published:

Issue Date:

DOI: https://doi.org/10.1007/s12550-019-00345-z
Keywords
Airborne fungi

Aflatoxin B1

Cytotoxicity

DNA damage

Cytokines