Abstract
To date, all studies of aflatoxin B1 (AFB1) transformation in soil or in purified mineral systems have identified aflatoxins B2 (AFB2) and G2 (AFG2) as the primary transformation products. However, identification in these studies was made using thin layer chromatography which has relatively low resolution, and these studies did not identify a viable mechanism by which such transformations would occur. Further, the use of methanol as the solvent delivery vehicle in these studies may have contributed to formation of artifactual transformation products. In this study, we investigated the role of the solvent vehicle in the transformation of AFB1 in soil. To do this, we spiked soils with AFB1 dissolved in water (93:7, water/methanol) or methanol and used HPLC-UV and HPLC-MS to identify the transformation products. Contrasting previous published reports, we did not detect AFB2 or AFG2. In an aqueous-soil environment, we identified aflatoxin B2a (AFB2a) as the single major transformation product. We propose that AFB2a is formed from hydrolysis of AFB1 with the soil acting as an acid catalyst. Alternatively, when methanol was used, we identified methoxy aflatoxin species likely formed via acid-catalyzed addition of methanol to AFB1. These results suggest that where soil moisture is adequate, AFB1 is hydrolyzed to AFB2a and that reactive organic solvents should be avoided when replicating natural conditions to study the fate of AFB1 in soil.
This is a preview of subscription content, log in to check access.
Access options
Buy single article
Instant access to the full article PDF.
US$ 39.95
Price includes VAT for USA
Subscribe to journal
Immediate online access to all issues from 2019. Subscription will auto renew annually.
US$ 99
This is the net price. Taxes to be calculated in checkout.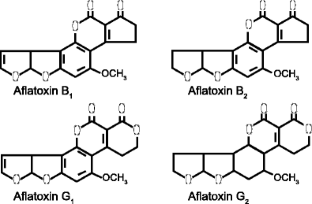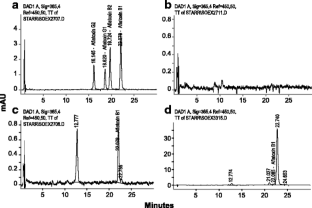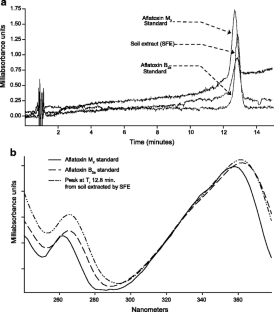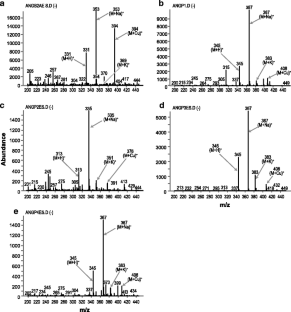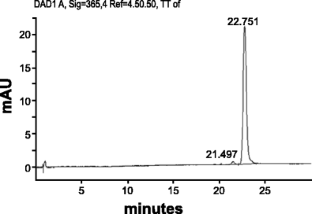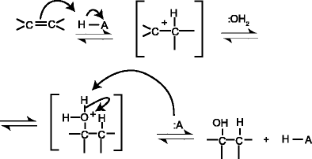 References
Accinelli C, Abbas HK, Zablotowicz RM, Wilkinson JR (2008) Aspergillus flavus aflatoxin occurrence and expression of aflatoxin biosynthesis genes in soil. Can J Microbiol 54:371–379

Angle JS (1986) Aflatoxin decomposition in various soils. J. Environ Sci Health B 21:277–288

Angle JS, Wagner GH (1980) Decomposition of aflatoxin in soil. Soil Sci Soc Am J 44:1237–1240

Bailey RH, Clement BA, Phillips JM, Sarr AB, Turner TA, Phillips TD (1990) Fate of aflatoxin in lime in processed corn. Toxicologist 10:163

Bean GA, Reise RW, Goldberg BS, Angle JS (1986) The fate of aflatoxin in soil. 6th International Biodeterioration Symposium. pp 269–272

Buchi G, Luk KC, Muller PM (1975) Synthesis of aflatoxin Q1. J Org Chem 40:3458–3459

Burg WR, Shotwell OL (1984) Aflatoxin levels in airborne dust generated from contaminated corn during harvest and at an elevator in 1980. J Assoc Off Anal Chem 67:309–312

Carnaghan RB, Hartley RD, O'Kelley J (1963) Toxicity and fluorescence properties of the aflatoxins. Nature 200:1101

Carranza CS, Bergesio MV, Barberis CL, Chiacchiera SM, Magnoli CE (2014) Survey of Aspergillus section Flavi presence in agricultural soils and effect of glyphosate on nontoxigenic A. flavus growth on soil-based medium. J Appl Microbiol 116:1229–1240

Chapman RA, Cole CM (1982) Observations on the influence of water and soil pH on the persistence of insecticides. J Environ Sci Health 17:487–504

Cole RJ, Cox RH (1981) The aflatoxins. In: Handbook of toxic fungal metabolites. Academic Press, New York, pp 1–66

Dutton MF, Heathcoate JG (1966) Two new hydroxyaflatoxins. Biochem J 101:21–22

Dutton MF, Heathcoate JG (1968) The structure, biochemical properties and origin of the aflatoxins B2a and G2a. Chem Ind 13:418–421

El-Amamy MM, Mill T (1984) Hydrolysis kinetics of organic chemicals on montmorillonite and kaolinite surfaces as related to moisture content. Clay Clay Miner 32:67–73

Goldberg BS, Angle JS (1985) Aflatoxin movement in soil. J Environ Qual 14:224–228

Hariprasad P, Durivadivel P, Snigdha M, Venkateswaran G (2013) Natural occurrence of aflatoxin in green leafy vegetables. Food Chem 138:1908–1913

Hariprasad P, Vipin AV, Karuna S, Raksha RK, Venkateswaran G (2015) Natural aflatoxin uptake by sugarcane (Saccharum officinaurum L.) and its persistence in jaggery. Environ Sci Pollut Res Int 22:6246–6253

Harris TM, Stone MP, Gopalakrishnan S, Baertschi SW, Raney KD, Byrd S (1989) Aflatoxin B1 epoxides, the ultimate carcinogenic form of aflatoxin B1: synthesis and reaction with DNA. J Toxicol Toxin Rev 8:111–120

Hayes RB, Van Nieuwenhuize JP, Raatgever JW, Ten Kate FJ (1984) Aflatoxin exposures in the industrial setting: an epidemiological study of mortality. Food Chem Toxic 22:39–43

Hutchins JE, Hagler WM Jr (1983) Rapid liquid chromatographic determination of aflatoxins in heavily contaminated corn. J Assoc Off Anal Chem 66:1458–1465

Itoh Y, Yoshiyuki M, Kageaki A (1980) Modification of aflatoxin B1 in alkaline pH solutions. Nippon Nogeikagaku Kaishi 54:527–534

Jaynes WF, Zartman RE (2011) Aflatoxin toxicity reduction in feed by enhanced binding to surface-modified clay additives. Toxins (Basel) 3:551–565

Kubena LF, Harvey RB, Phillips TD, Huff WE (1988) Modulation of aflatoxicosis in growing chickens by dietary addition of a hydrated sodium calcium aluminosilicate. Poult Sci 67:106

Lillehoj EB, Ciegler A (1969) Biological activity of aflatoxin B2a. Appl Microbiol 17:516–519

Masimango N, Remacle J, Ramut JL (1978) The role of adsorption in the elimination of aflatoxin B1 from contaminated media. European J Appl Microbiol Biotechnol 6:101–105

McMurry J (1995) Alkenes: structure and reactivity. In: Organic chemistry, 4th edn. Brooks/Cole Publishing Company, Pacific Grove, pp 178–219

Megalla SE, Hafez AH (1982) Detoxification of aflatoxin B1 in acidogenous yogurt. Mycopathologia 77:89–91

Orti DL, Grainger J, Ashley DL, Hill RH Jr (1989) Chromatographic and spectroscopic properties of hemiacetals of aflatoxin and sterigmatocystin metabolites. J Chromatogr A 462:269–279

Phillips TD, Kubena LF, Harvey RB, Taylor ET, Heidelbaugh ND (1988) Hydrated sodium calcium aluminosilicate: a high affinity sorbent for aflatoxin. Poult Sci 67:243–247

Phillips TD, Clement BA, Kubena LF, Harvey RB (1989) Prevention of aflatoxicosis in animals and aflatoxin residues in food of animal origin with hydrated sodium calcium aluminosilicate [HSCAS]. In: Proceedings of the World Association of Veterinary Food Hygienists, Stockholm, Sweden, July 2–7. pp 103–108

Phillips TD, Clement BA, Kubena LF, Harvey RB (1991) Selective chemisorption of aflatoxin by hydrated sodium calcium aluminosilicate: prevention of aflatoxicosis in animals and reduction if aflatoxin residues in food of animal origin. In: Aflatoxin in corn: new perspectives. North Central Regional Research Publication 329. Research Bulletin 599 Iowa Agriculture and Home Economics Experiment Station, Iowa State University, Ames Iowa, pp. 359–368

Pons WA, Cucullu AF, Lee LS, Janssen HJ, Goldblatt LA (1972) Kinetic study of acid-catalyzed conversion of aflatoxins B1 and G1 to B2a and G2a. J Am Oil Chem Soc 49:124–128

Selim MI, Tsuei MH (1993) Development and optimization of a supercritical fluid extraction method for the analysis of aflatoxin B1 in grain dust. Am Ind Hyg Assoc J 54:135–141

Selim MI, Juchems AM, Popendorf W (1998) Assessing airborne aflatoxin B1 during on-farm grain handling activities. Am Ind Hyg Assoc J 59:252–256

Snigdha, M, Hariprasad P, Venkateswaran G (2013) Mechanism of aflatoxin uptake in roots of intact groundnut (Arachis hypogaea L.) seedlings. Environ Sci Pollut R 20:8502–8510

Starr JM, Selim MI (2008) Supercritical fluid extraction of aflatoxin B1 from soil. J Chromatogr A 1209:37–43

Stoloff L (1977) Aflatoxins—an overview. In: Rodricks J, Hesseltine C, Mehlman M (eds) Mycotoxins in human and animal health. Pathotox Publishers, Park Forest South, pp 7–28

Wogan GN, Edwards GS, Newberne PM (1971) Structure-activity relationships in toxicity and carcinogenicity of aflatoxins and analogs. Cancer Res 31:1936–1942

Wolfe NL, Metwally MES, Moftah AE (1989) Hydrolytic transformations of organic chemicals in the environment. In: Sawhney BL, Brown K (eds) Reactions and movement of organic chemicals in soils. S.S.S.A. Special Publication #22, Madison WI, pp 229–242

Zielke RZ, Pinnavaia TJ, Mortland MM (1989) Adsorption and reactions of selected organic molecules on clay mineral surfaces. In: Sawhney BL, Brown K (eds) Reactions and movement of organic chemicals in soils. S.S.S.A. Special Publication #22, Madison WI, pp 81–110
Acknowledgements
The authors express their gratitude for the editing and insightful comments provided by Mary Starr and Weiwei Li in contributing to this manuscript.
Ethics declarations
Funding
The research described in this document was conducted in whole at The University of Iowa in the Department of Preventive Medicine and Environmental Health in Iowa City, Iowa. The research was funded wholly through a grant from The University of Iowa Center for Health Effects of Environmental Contamination.
Conflicts of interest
None.
Electronic supplementary material
About this article
Cite this article
Starr, J.M., Rushing, B.R. & Selim, M.I. Solvent-dependent transformation of aflatoxin B1 in soil. Mycotoxin Res 33, 197–205 (2017). https://doi.org/10.1007/s12550-017-0278-x
Received:

Revised:

Accepted:

Published:

Issue Date:
Keywords
Aflatoxin B1
Aflatoxin B2a

Soil

Transformation

Breakdown

Mycotoxin