Abstract
A sensitive method for the simultaneous determination of T-2 toxin, HT-2 toxin, neosolaniol, T-2 triol, and T-2 tetraol in layer feed using high-performance liquid chromatography coupled to triple quadrupole mass spectrometry in the positive ionization mode (LC-ESI-MS/MS) is described. Two fast and easy clean-up methods—with BondElut Mycotoxin and MycoSep 227 columns, respectively—were tested. The separation of the toxins was conducted on a Pursuit XRs Ultra 2.8 HPLC column using 0.13 mM ammonium acetate as eluent A and methanol as eluent B. Detection of the mycotoxins was carried out in the multiple reaction monitoring (MRM) mode using ammonium adducts as precursor ions. Quantification of all analytes was performed with d3-T-2 toxin as an internal standard. The clean-up method with MycoSep 227 columns gave slightly better results for layer feed compared to the method using BondElut Mycotoxin columns (MycoSep 227: recovery between 50 and 63 %, BondElut Mycotoxin: recovery between 32 and 67 %) and was therefore chosen as the final method. The limits of detection ranged between 0.9 and 7.5 ng/g depending on the mycotoxin. The method was developed for the analysis of layer feed used at carry-over experiments with T-2 toxin in laying hens. For carry-over experiments, it is necessary that the method includes not only T-2 toxin but also the potential metabolites in animal tissues HT-2 toxin, neosolaniol, T-2 triol, and T-2 tetraol which could naturally occur in cereals used as feed stuff as well.
Access options
Buy single article
Instant access to the full article PDF.
USD 39.95
Price excludes VAT (USA)
Tax calculation will be finalised during checkout.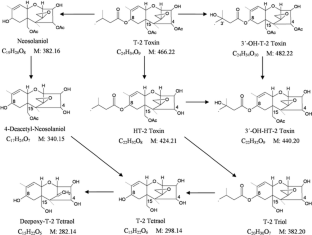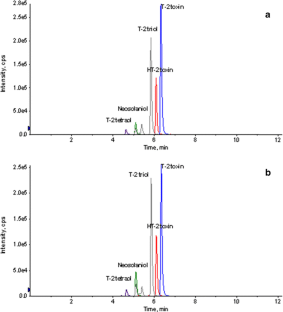 References
Bauer J (1995) Zum metabolismus von trichothecenen beim schwein. Dtsch tierärztl Wschr 102:50–52

Berthiller F, Schuhmacher R, Buttinger G, Krska R (2005) Rapid simultaneous determination of major type A- and B-trichothecenes as well as zearalenone in maize by high performance liquid chromatography-tandem mass spectrometry. J Chromatogr A 1062:209–216

Beyer M, Ferse I, Humpf H-U (2009a) Large-scale production of selected type A trichothecenes: the use of HT-2 toxin and T-2 triol as precursors for the synthesis of d3-T-2 and d3-HT-2 toxin. Mycotoxin Res 25:41–52

Beyer M, Ferse I, Mulac D, Würthwein E-U, Humpf H-U (2009b) Structural elucidation of T-2 toxin thermal degradation products and investigations toward their occurrence in retail food. J Agric Food Chem 57:1867–1875

Biancardi A, Gasparini M, Dall'Asta C, Marchelli R (2005) A rapid multiresidual determination of type A and type B trichothecenes in wheat flour by HPLC-ESI-MS. Food Addit Contam 22:251–258

Biselli S, Hummert C (2005) Development of a multicomponent method for Fusarium toxins using LC-MS/MS and its application during survey for the content of T-2 toxin and deoxynivalenol in various feed and food samples. Food Addit Contam 22:752–760

Commission of the European Communities (2006) On the presence of deoxynivalenol, zearalenone, ochratoxin A, T-2 and HT-2 and fumonisins in products intended for animal feeding. Off J Eur Union: L229/7

Dall'Asta C, Galaverna A, Biancardi A, Gasparini M, Sforza S, Dossena A, Marchelli R (2004) Simultaneous liquid chromatography-fluorescence analysis of type A and type B trichothecenes as fluorescent derivatives via reaction with coumarin-3-carbonyl chloride. J Chromatogr A 1047:241–247

Edwards SG (2009a) Fusarium mycotoxin content of UK organic and conventional wheat. Food Addit Contam Part A 26:496–506

Edwards SG (2009b) Fusarium mycotoxin content of UK organic and conventional oats. Food Addit Contam Part A 26:1063–1069

EFSA (2011) Scientific opinion on the risks for animal and public health related to the presence of T-2 and HT-2 toxin in food and feed. EFSA J 9:2481

Gottschalk C, Barthel J, Engelhardt G, Bauer J, Meyer K (2007) Occurrence of type A trichothecenes in conventionally and organically produced oats and oat products. Mol Nutr Food Res 51:1547–1553

Jaradat ZW (2005) Reviews in food and nutrition toxicity, vol 4:173–212. CRC Press, Florida

Klötzel M, Gutsche B, Lauber U, Humpf H-U (2005) Determination of 12 type A and B trichothecenes in cereals by liquid chromatography-electrospray ionization tandem mass spectrometry. J Agric Food Chem 53:8904–8910

Klötzel M, Lauber U, Humpf H-U (2006) A new solid phase extraction clean-up method for the determination of 12 type A and type B trichothecenes in cereals and cereal-based food by LC-MS/MS. Mol Nutr Food Res 50:261–269

Königs M, Mulac D, Schwerdt G, Gekle M, Humpf H-U (2009) Metabolism and cytotoxic effects of T-2 toxin and its metabolites on human cells in primary culture. Toxicology 258:106–115

Lattanzio VMT, Solfrizzo M, Powers S, Visconto A (2007) Simultaneous determination of aflatoxins, ochratoxin A and Fusarium toxins in maize by liquid chromatography/tandem mass spectrometry after multitoxin immunoaffinity cleanup. Rapid Commun Mass Spectrum 21:3253–3261

Lattanzio VMT, Solfrizzo M, Visconti A (2008) Determination of trichothecenes in cereals and cereal-based products by liquid chromatography-tandem mass spectrometry. Food Addit Contam 25:320–330

Lattanzio VMT, Pascale M, Visconti A (2009) Current analytical methods for trichothecene mycotoxins in cereals. Trac-Trend Anal Chem 28:758–768

Monbaliu S, Van Poucke C, Detavernier C, Dumoulin F, Van de Velde M, Schoeters E, Van Dyke S, Averkieva O, Van Peteghem C, De Saeger S (2010) Occurrence of mycotoxins in feed as analyzed by a multi-mycotoxin LC-M/MS method. J Agric Food Chem 58:66–71

Rasmussen RR, Storm IMLD, Rasnussen PH, Smedsgaard J, Nielsen KF (2010) Multi mycotoxin analysis of maize silage by LC-MS/MS. Anal Bioanal Chem 397:765–776

Razzazi-Fazeli E, Rabus B, Cecon B, Böhm J (2002) Simultaneous quantification of A-trichothecene mycotoxins in grains using liquid chromatography-atmospheric pressure chemical ionization mass spectrometry. J Chromatogr A 968:129–142

Schollenberger M, Müller H-M, Rüfle M, Suchy S, Plank S, Drochner W (2006) Natural occurrence of 16 Fusarium toxins in grains and feedstuffs of plant origin from Germany. Mycopathologia 161:43–52

Scudamore KA, Baillie H, Patel S, Edwards SG (2007) Occurrence and fate of Fusarium mycotoxins during commercial processing of oats in the UK. Food Addit Contam 24:1374–1385

Trebstein A, Seefelder W, Lauber U, Humpf H-U (2008) Determination of T-2 and HT-2 toxins in cereals including oats after immunoaffinity cleanup by liquid chromatography and fluorescence detection. J Agric Food Chem 56:4968–4975

VDLUFA (2012) Identifizierung und quantifizierung von Fusarientoxinen in getreide und futtermitteln mittels LC-MS/MS. VDLUFA-Verlag, Darmstadt, Methodenbuch III: 16.13.1

Visconti A, Mirocha CJ (1985) Identification of various T-2 toxin metabolites in chicken excreta and tissues. Appl Environ Microbiol 49:1246–1250

Yoshizawa T, Swanson SP, Mirocha CJ (1980) T-2 metabolites in the excreta of broiler chickens administrated 3H-labeled T-2 toxin. Appl Environ Microbiol 39:1172–1177
Ethics declarations
Conflict of interest
None
About this article
Cite this article
Bernhardt, K., Valenta, H., Kersten, S. et al. Determination of T-2 toxin, HT-2 toxin, and three other type A trichothecenes in layer feed by high-performance liquid chromatography-tandem mass spectrometry (LC-MS/MS)—comparison of two sample preparation methods. Mycotoxin Res 32, 89–97 (2016). https://doi.org/10.1007/s12550-016-0244-z
Received:

Revised:

Accepted:

Published:

Issue Date:

DOI: https://doi.org/10.1007/s12550-016-0244-z
Keywords
T-2 toxin

Metabolites

LC-MS/MS

Layer feed

SPE clean-up

Trichothecenes