Abstract
The formation of guttation droplets is a long-known property of various fungi. However, their composition, biological function and metabolism in fungi have hardly attracted deeper research interest. The highly toxic mould Stachybotrys (S.) chartarum chemotype S is supposed to play—amongst other factors such as endotoxins and microbial volatile organic compounds (MVOCs)—an important role in indoor air toxicity, mainly after water damage. The way of toxins becoming airborne and leading to exposure via inhalation, however, is still under discussion. We hypothesised that guttation may be a factor for exudation of toxins into the environment. Therefore, selected isolates (n = 15) of our own culture collection of Stachybotrys spp. (S. chartarum chemotype S, S. chartarum chemotype A, S. chlorohalonta) originating from various habitats were cultivated on malt extract agar for 3 weeks. All strains but one produced different amounts of guttation droplets, which were collected quantitatively and subjected to various independent analytical techniques like ELISA, effect-based bioassay (MTT cell culture test) and tandem mass spectrometry (LC-MS/MS). Actually, the toxigenic isolates (n = 5) produced highly toxic guttation droplets, which was confirmed by all methods. The concentration of macrocyclic trichothecenes, such as satratoxin G and H, ranged between the LOD and 7,160 ng/ml exudate and 280 and 4,610 ng/ml as determined by LC-MS/MS, respectively. According to our knowledge, the ability of S. chartarum to produce toxic exudates is reported for the first time, which possibly plays an important role regarding its toxic potential in indoor environments.
Access options
Buy single article
Instant access to the full article PDF.
US$ 39.95
Tax calculation will be finalised during checkout.
Subscribe to journal
Immediate online access to all issues from 2019. Subscription will auto renew annually.
US$ 79
Tax calculation will be finalised during checkout.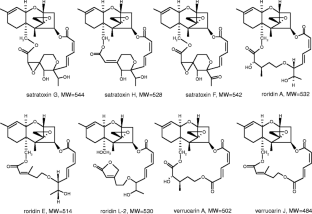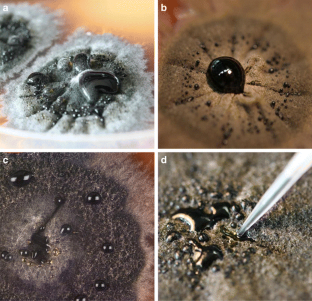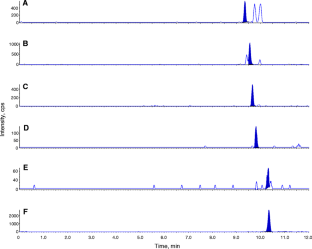 References
Ahearn DG, Price DL, Simmons R, Noble-Wang J, Crow SA Jr (2004) Indoor moulds and their associations with air distribution systems. Adv Appl Microbiol 55:113–138. doi:10.1016/s0065-2164(04)55003-7

Altman FP (1976) Tetrazolium salts and formazans. Prog Histochem Cytochem 9(3):III–51

Andersen B, Nielsen KF, Jarvis BB (2002) Characterization of Stachybotrys from water-damaged buildings based on morphology, growth, and metabolite production. Mycologia 94(3):392–403

Andersen B, Nielsen KF, Thrane U, Szaro T, Taylor JW, Jarvis BB (2003) Molecular and phenotypic descriptions of Stachybotrys chlorohalonata sp. nov. and two chemotypes of Stachybotrys chartarum found in water-damaged buildings. Mycologia 95(6):1227–1238

Bata A, Harrach B, Ujszaszi K, Kis-Tamas A, Lasztity R (1985) Macrocyclic trichothecene toxins produced by Stachybotrys atra strains isolated in Middle Europe. Appl Environ Microbiol 49(3):678–681

Bisby GR (1943) Stachybotrys. Trans Br Mycol Soc 26(3–4):133–143, doi:http://dx.doi.org/10.1016/S0007-1536(43)80018-8

Bloom E, Grimsley LF, Pehrson C, Lewis J, Larsson L (2009) Molds and mycotoxins in dust from water-damaged homes in New Orleans after hurricane Katrina. Indoor Air 19(2):153–158. doi:10.1111/j.1600-0668.2008.00574.x

Brasel TL, Martin JM, Carriker CG, Wilson SC, Straus DC (2005) Detection of airborne Stachybotrys chartarum macrocyclic trichothecene mycotoxins in the indoor environment. Appl Environ Microbiol 71(11):7376–7388. doi:10.1128/aem.71.11.7376-7388.2005

Colotelo N (1978) Fungal exudates. Can J Microbiol 24(10):1173–1181. doi:10.1139/m78-191

Cruse M, Telerant R, Gallagher T, Lee T, Taylor JW (2002) Cryptic species in Stachybotrys chartarum. Mycologia 94(5):814–822

Dearborn DG, Yike I, Sorenson WG, Miller MJ, Etzel RA (1999) Overview of investigations into pulmonary hemorrhage among infants in Cleveland Ohio. Environ Health Perspect 107(Suppl 3):495–499

Etzel RA, Montana E, Sorenson WG, Kullman GJ, Allan TM, Dearborn DG, Olson DR, Jarvis BB, Miller JD (1998) Acute pulmonary hemorrhage in infants associated with exposure to Stachybotrys atra and other fungi. Arch Pediat Adol Med 152(8):757–762

Forgacs J, Carll WT, Herring AS, Hinshaw WR (1958) Toxicity of Stachybotrys atra for animals. Trans N Y Acad Sci 20(8):787–808

Gareis M (2006) Diagnostischer Zellkulturtest (MTT-test) für den Nachweis von zytotoxischen Kontaminanten und Rückständen. J Verbr Lebensm 1(4):354–363

Gareis M, Gareis EM (2007) Guttation droplets of Penicillium nordicum and Penicillium verrucosum contain high concentrations of the mycotoxins ochratoxin A and B. Mycopathologia 163(4):207–214. doi:10.1007/s11046-007-9003-1

Gottschalk C, Bauer J, Meyer K (2006) Determination of macrocyclic trichothecenes in mouldy indoor materials by LC-MS/MS. Mycotox Res 22(3):189–192. doi:10.1007/bf02959275

Gottschalk C, Bauer J, Meyer K (2008) Detection of satratoxin G and H in indoor air from a water-damaged building. Mycopathologia 166(2):103–107. doi:10.1007/s11046-008-9126-z

Gottschalk C, Barthel J, Engelhardt G, Bauer J, Meyer K (2009) Simultaneous determination of type A, B and D trichothecenes and their occurrence in cereals and cereal products. Food Addit Contam 26:1273–1289

Grovel O, Pouchus YF, Verbist J-F (2003) Accumulation of gliotoxin, a cytotoxic mycotoxin from Aspergillus fumigatus, in blue mussel (Mytilus edulis). Toxicon 42(3):297–300. doi:http://dx.doi.org/10.1016/S0041-0101(03)00146-6

Hanelt M, Gareis M, Kollarczik B (1994) Cytotoxicity of mycotoxins evaluated by the MTT-cell culture assay. Mycopathologia 128(3):167–174. doi:10.1007/BF01138479

Harrach B, Mirocha CJ, Pathre SV, Palyusik M (1981) Macrocyclic trichothecene toxins produced by a strain of Stachybotrys atra from Hungary. Appl Environ Microbiol 41(6):1428–1432

Harrach B, Bata A, Bajmocy E, Benko M (1983) Isolation of satratoxins from the bedding straw of a sheep flock with fatal stachybotryotoxicosis. Appl Environ Microbiol 45(5):1419–1422

Hinkley SF, Jarvis BB (2001) Chromatographic method for Stachybotrys toxins. In: Trucksess MW, Pohland AE (eds) Mycotoxin protocols. Humana Press, New York, pp 173–194

Hodgson MJ, Morey P, Leung WY, Morrow L, Miller D, Jarvis BB, Robbins H, Halsey JF, Storey E (1998) Building-associated pulmonary disease from exposure to Stachybotrys chartarum and Aspergillus versicolor. J Occup Environ Med 40(3):241–249

Hutwimmer S, Wang H, Strasser H, Burgstaller W (2010) Formation of exudate droplets by Metarhizium anisopliae and the presence of destruxins. Mycologia 102(1):1–10

Ivanoff SS (1963) Guttation injuries of plants. Bot Rev 29(2):202–229. doi:10.1007/BF02860821

Jarvis BB, Miller JD (2005) Mycotoxins as harmful indoor air contaminants. Appl Microbiol Biotechnol 66(4):367–372. doi:10.1007/s00253-004-1753-9

Jarvis BB, Lee YW, Comezoglu SN, Yatawara CS (1986) Trichothecenes produced by Stachybotrys chartarum from Eastern Europe. Appl Environ Microbiol 51(5):915–918

Jarvis BB, Sorenson WG, Hintikka EL, Nikulin M, Zhou Y, Jiang J, Wang S, Hinkley S, Etzel RA, Dearborn D (1998) Study of toxin production by isolates of Stachybotrys chartarum and Memnoniella echinata isolated during a study of pulmonary hemosiderosis in infants. Appl Environ Microbiol 64(10):3620–3625

Jarvis B, Hinkley S, Nielsen K (2000) Stachybotrys: an unusual mold associated with water-damaged buildings. Mycotox Res 16(Suppl 1):105–108. doi:10.1007/bf02942994

Jennings DH (1991) The role of droplets in helping to maintain a constant growth rate of aerial hyphae. Mycol Res 95(7):883–884. doi:http://dx.doi.org/10.1016/S0953-7562(09)80054-3

Johanning E, Biagini R, Hull D, Morey P, Jarvis B, Landsbergis P (1996) Health and immunology study following exposure to toxigenic fungi (Stachybotrys chartarum) in a water-damaged office environment. Int Arch Occup Environ Health 68(4):207–218

Johanning E, Gareis M, Hintikka E, Nikulin M, Jarvis B, Dietrich R (1998) Toxicity screening of materials from buildings with fungal indoor air quality problems (Stachybotrys chartarum). Mycotox Res 14(2):60–73

Kuhn DM, Ghannoum MA (2003) Indoor mold, toxigenic fungi, and Stachybotrys chartarum: infectious disease perspective. Clin Microbiol Rev 16(1):144–172

Mahmoudi M, Gershwin ME (2000) Sick building syndrome. III. Stachybotrys chartarum. J Asthma 37(2):191–198

Märtlbauer E, Gareis M, Terplan G (1988) Enzyme immunoassay for the macrocyclic trichothecene roridin A: production, properties, and use of rabbit antibodies. Appl Environ Microbiol 54(1):225–230

McPhee WJ, Colotelo N (1977) Fungal exudates. I. Characteristics of hyphal exudates in Fusarium culmorum. Can J Bot 55(3):358–365. doi:10.1139/b77-045

Nielsen KF, Gravesen S, Nielsen PA, Andersen B, Thrane U, Frisvad JC (1999) Production of mycotoxins on artificially and naturally infested building materials. Mycopathologia 145(1):43–56. doi:10.1023/A:1007038211176

Samson RA, Houbraken J, Thrane U, Frisvad JC, Andersen B (2010) Food and indoor fungi. CBS-KNAW Fungal Biodiversity Centre, Utrecht

Sorenson WG, Frazer DG, Jarvis BB, Simpson J, Robinson VA (1987) Trichothecene mycotoxins in aerosolized conidia of Stachybotrys atra. Appl Environ Microbiol 53(6):1370–1375

Sprecher E (1959) Über die Guttation bei Pilzen. Planta 53(6):565–574

Thom C (1930) The penicillia. Williams & Williams, Baltimore

Wady L, Larsson L (2005) Determination of microbial volatile organic compounds adsorbed on house dust particles and gypsum board using SPME/GC-MS. Indoor Air 15(Suppl 9):27–32

White TJ, Bruns T, Lee S, Taylor J (1990) Amplification and direct sequencing of fungal ribosomal RNA genes for phylogenetics. In: Innis MA, Gelfand DH, Shinsky J, White TJ (eds) PCR protocols: a guide to methods and applications. Academic Press, San Diego, pp 315–322
Acknowledgments
We wish to thank Gina Krappmann, Renate Schneider and Petra Peetz (Max Rubner Institute, MRI Kulmbach) for the excellent technical assistance and Eva Herbst (MRI Kulmbach) for cultivating the target strains and collecting the exudates. We also thank Johann Bauer and Karsten Meyer for the possibility to use the LC-MS/MS equipment of the Institute of Animal Hygiene, Technische Universität München-Weihenstephan.
Source of funding
This work was supported by the Brigitte and Wolfram Gedek Foundation.
Conflicts of interest
The authors declare that there are no conflicts of interest.
Additional information
Dedicated to Brigitte Gedek and the Brigitte and Wolfram Gedek Foundation for the long-lasting substantial support for research on mycotoxins
About this article
Cite this article
Gareis, M., Gottschalk, C. Stachybotrys spp. and the guttation phenomenon. Mycotoxin Res 30, 151–159 (2014). https://doi.org/10.1007/s12550-014-0193-3
Received:

Revised:

Accepted:

Published:

Issue Date:
Keywords
Stachybotrys chartarum
Stachybotrys chlorohalonata

Guttation

Exudate droplets

Mycotoxin

Macrocyclic trichothecenes

Satratoxin

Indoor air