Abstract
We describe a new species of the Ariantinae genus Paradrobacia from the Middle Miocene (Langhian) of Bosnia and Herzegovina. The genus was represented so far only by three species from the Middle Miocene of Austria, the Late Miocene of Greece, and the Pliocene of Germany. Based on the conchological features of all available species, the genus Paradrobacia is revised and its stratigraphic and geographic ranges are evaluated. All species were found in lignites or lignite-bearing marls, which is why the genus is interpreted as an indicator of moist woodland environments. Related Miocene taxa and their systematic status are briefly discussed. Paradrobacia hrvatovici Harzhauser, Mandic and Neubauer n. sp. is introduced as a new species.
Access options
Buy single article
Instant access to the full article PDF.
USD 39.95
Price excludes VAT (USA)
Tax calculation will be finalised during checkout.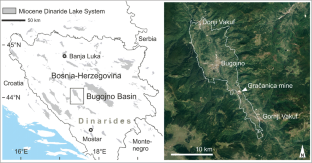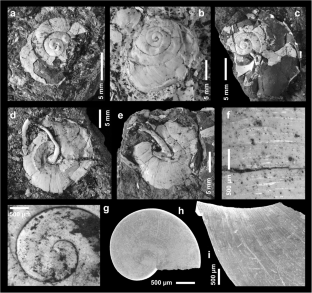 References
Albers, J. C. (1850). Die Heliceen, nach natürlicher Verwandtschaft systematisch geordnet (pp. 1–262). Berlin: Enslin.

Beck, H. (1837). Index molluscorum praesentis aevi musei principis augustissimi Christiani Frederici. 1–124, Hafniae.

Binder, H. (2008). The systematic positions of the genera Pseudochloritis C. Boettger 1909 and Joossia Pfeffer 1930 (Gastropoda: Pulmonata: Helicoidea: Helicidae). Archiv für Molluskenkunde, 137, 167–193.

Boettger, C. R. (1909). Ein Beitrag zur Erforschung der europäischen Heliciden. Nachrichtsblatt der deutschen Malacozoologischen Gesellschaft, 41(1–19), 49–68.

Bourguignat, J. R. (1881). Histoire malacologique de la Colline de Sansan, précédée d'une notice géologique et suivie d'un apercu climatologique et topographique de Sansan, a l'époque des dépôts de cette colline. Annales des science géologiques, 11, 1–175.

Bradley, K. E., Vassilakis, E., Hosa, A., & Weiss, B. P. (2013). Segmentation of the Hellenides recorded by Pliocene initiation of clockwise block rotation in Central Greece. Earth and Planetary Science Letters, 362, 6–19.

Brusina, S. (1874). Fossile Binnen-Mollusken aus Dalmatien, Kroatien und Slavonien nebst einem Anhange (p. 138). Agram: Actienbuchdruckerei.

Brusina, S. (1878). Molluscorum fossilium species novae et emendatae in tellure tertiaria Dalmatiae. Croatiae et Slavoniae inventae. Journal de Conchyliologie, 26, 347–356.

Brusina, S. (1902). Iconographia molluscorum fossilium in tellure tertiaria Hungariae, Croatiae, Slavoniae, Dalmatiae, Bosniae, Herzegovinae, Serbiae et Bulgariae inventorum. 30 pls. Agram: Officina Soc. Typographicae.

Brusina, S. (1904). Šipovo i njegova tercijarna fauna. Glasnik Zemaljskog muzeja Bosne i Hercegovine, 16(4), 493–498.

Brusina, S. (1906). Zur Rettung unserer Mollusken-Fauna. Nachrichtsblatt der Deutschen Malakozoologischen Gesellschaft, 36, 157–168.

Bulić, J., & Jurišić-Polšak, Z. (2009). Macropalaeontology and stratigraphy of lacustrine Miocene deposits at Crnika Beach on the island of Pag (Croatia). Geologia Croatica, 62, 135–156.

Čičić, S. (1976). Bugojanski basen. In R. Milojević (Ed.), Mineralne sirovina Bosne i Hercegovine. Knjiga I. Ležišta uglja (pp. 151–158). Sarajevo: Geoinžinjering.

Cuvier, G. (1795). Second Mémoire sur l'organisation et les rapports des animaux à sang blanc, dans lequel on traite de la structure des Mollusques et de leur division en ordre, lu à la société d'Histoire Naturelle de Paris, le 11 prairial an troisième. Magazin Encyclopédique, ou Journal des Sciences, des Lettres et des Arts, 2, 433–449.

De Leeuw, A., Mandic, O., Krijgsman, W., Kuiper, K., & Hrvatović, H. (2012). Paleomagnetic and geochronologic constraints on the geodynamic evolution of the central Dinarides. Tectonophysics, 530–531, 286–298.

Fischer, J.-C. (2000). La malacofauna de Sansan. In L. Ginsburg (Ed.), La faune miocéne de Sansan et son environment. Mémoires du Muséum national d'Histoire naturelle, 183, 129–154.

Groenenberg, D. S. J., Subai, P., & Gittenberger, E. (2016). Systematics of Ariantinae (Gastropoda, Pulmonata, Helicidae), a new approach to an old problem. Contributions to Zoology, 85, 37–65.

Haas, F. (1936). Kurze Bemerkungen, VII. Archiv für Molluskenkunde, 68, 127–131.

Jooss, C. H. (1912). Neue Landschnecken aus dem Obermiocän von Steinheim am Aalbuch in Württemberg. Nachrichtsblatt der Deutschen malakozoologischen Gesellschaft, 44, 30–74.

Kadolsky, D., Binder, H., & Neubauer, T. A. (2016). Taxonomic review of the fossil land gastropod species hitherto placed in the genus Galactochilus Sandberger 1875, with the description of a new genus (Gastropoda: Helicoidea). Archiv für Molluskenkunde, 145, 151–188.

Kobelt, W. (1898). Studien zur Zoogeographie. II. Die Fauna der meridionalen Sub-The Region pp. I–X, 1–368. Wiesbaden.

Krejci, K., & Wenz, W. (1926). Jungtertiäre Landschnecken aus Südrumänien. Neues Jahrbuch für Mineralogie, Geologie und Paläontologie, Abt. B., 55, 53–65.

Ložek, V. (1964). Quartärmollusken der Tschechoslowakei. Rozpravy Ústredního ústavu geologického, 31, 1–374.

Lupu, D. (1966). Un fossile vivant de la faune de la Roumanie: Chilostoma (Drobacia) maeotica Wenz (Gastropoda–Pulmonata). Musèum d'Historie Naturelle "Grigore Antipa", 6, 31–37.

Mandic, O., De Leeuw, A., Vuković, B., Krijgsman, W., Harzhauser, M., & Kuiper, K. F. (2011). Palaeoenvironmental evolution of Lake Gacko (southern Bosnia and Herzegovina): impact of the Middle Miocene climatic optimum on the Dinaride Lake system. Palaeogeography, Palaeoclimatology, Palaeoecology, 299, 475–492.

Mandic, O., Vranjkovic, A., Pavelic, D., Hrvatovic, H., De Leeuw, A. (2012). Miocene intra-montane lacustrine basins of Outer Dinarides (Croatia and Bosnia and Herzegovina). In I. Vlahovic, O. Mandic, E. Mrinjek, S. Bergant, V. Cosovic, A. De Leeuw, P. Enos, H. Hrvatovic, D. Maticec, G. Miksa, W. Nemec, D. Pavelic, V. Pencinger, I. Velic, & A. Vranjkovic. Marine to continental depositional systems of Outer Dinarides foreland and intra-montane basins (Eocene-Miocene, Croatia and Bosnia and Herzegovina). Field Trip Guide, 29th IAS Meeting of Sedimentology, Schladming/Austria. Journal of Alpine Geology 54, 456–470.

Mandic, O., Göhlich, U. B., Krijgsman, W., De Leeuw, A., & Hrvatović, H. (2016). Lake Bugojno—three lacustrine cycles. In O. Mandic, D. Pavelić, M. Kovačić, K. Sant, N. Andrić, & H. Hrvatović (Eds.), Field trip guidebook. Lake - Basin - Evolution, RCMNS Interim Colloquium 2016 & Croatian Geological Society Limnogeology Workshop, 19–24 May 2016, Zagreb, Croatia (pp. 64–68). Zagreb: Croatian Geological Society.

Mein, P. (1999). The late Miocene small mammal succession from France, with emphasis on the Rhone Valley localities. In J. Agustí, L. Rook, & P. Andrews (Eds.), The evolution of Neogene terrestrial ecosystems in Europe (pp. 140–164). Cambridge: Cambridge University Press.

Mörch, O. A. L. (1864). Fortegnelse over de i Danmark forekommende land- og ferskvandsblöddyr. Videnskabelige Meddelelser fra den Naturhistoriske Forening i Kjöbenhavn, 17–22, 265–367.

Muftić, M., & Behlilović, S. (1966). Prikaz geološkog poznavanja ugljonosnih naslaga Gračanice kod Bugojna. Geološki glasnik, Sarajevo, 20, 303–312.

Neubauer, T. A., Mandic, O., Harzhauser, M., & Hrvatović, H. (2013). A new Miocene lacustrine mollusc fauna of the Dinaride Lake system and its palaeobiogeographic, palaeoecologic, and taxonomic implications. Palaeontology, 56, 129–156.

Neubauer, T. A., Mandic, O., & Harzhauser, M. (2013). The Middle Miocene freshwater mollusk fauna of Lake Gacko (SE Bosnia and Herzegovina): taxonomic revision and paleoenvironmental analysis. Fossil Record, 16, 77–96.

Neubauer, T. A., Mandic, O., & Harzhauser, M. (2016a). The freshwater mollusk fauna of the Middle Miocene Lake Drniš (Dinaride Lake system, Croatia): a taxonomic and systematic revision. Austrian Journal of Earth Sciences, 108, 15–67.

Neubauer, T. A., Mandic, O., & Harzhauser, M. (2016b). The early Middle Miocene lacustrine gastropod fauna of Džepi, Bosnia and Herzegovina (Dinaride Lake system): high endemism in a small space. Bulletin of Geosciences, 91, 271–296.

Neumayr, M. (1869). Beiträge zur Kenntniss fossiler Binnenfaunen. Jahrbuch der kaiserlichen und königlichen geologischen Reichsanstalt, 19, 355–382.

Nordsieck, H. (1982). Zur Stratigraphie der neogenen Fundstellen der Clausiliidae und Triptychiidae Mittel- und Westeuropas (Stylommatophora, Gastropoda). Mitteilungen der Bayerischen Staatssammlung für Paläontologie und Historischen Geologie, 22, 137–155.

Nordsieck, H. (1986). Das System der tertiären Helicoidea Mittel- und Westeuropas (Gastropoda: Stylommatophora). Heldia, 1(4), 109–120.

Nordsieck, H. (2014). Annoted check-list of the genera of fossil land snails (Gastropoda: Stylommatophora) of western and Central Europe (cretaceous - Pliocene), with description of new taxa. Archiv für Molluskenkunde, 143, 153–185.

Nordsieck, N. (2017). Pulmonata, Stylommatophora, Helicoidea: systematics with comments (p. 98). Hackenheim: Conchbooks.

Pfeffer, G. (1930). Zur Kenntnis tertiärer Landschnecken. Geologisch-Paläontologische Abhandlungen, 3, 1–230.

Pintér, L. E., & Subai, P. (1980). Über Helicigona (Josephinella) hemonica (Thiesse) (Pulmonata: Helicidae). Archiv für Molluskenkunde, 110, 173–177.

Rafinesque, C.S. (1815). Analyse de la nature ou tableau de l'univers et des corps organisés. 223 pp. Palermo: privately published.

Rossmässler, E.A. (1838–1844). Iconographie der Land- und Süßwassermollusken, mit vorzüglicher Berücksichtigung der europäischen noch nicht abgebildeten Arten, 2, 4+44, 4+66, 4+15, 4+37 pp. Arnold: Dresden, Leipzig.

Sandberger, F. (1875). Die Land-und Süßwasser-Conchylien der Vorwelt. Heft 11: pp. i–viii + 353–1000 (1875). Wiesbaden: C.W. Kreidel.

Schileyko, A. A. (2013). Family Helicidae excluding Helicinae (Gastropoda Pulmonata): morphology, taxonomy, and a catalogue of taxa. Ruthenica, 23, 127–162.

Schlickum, W. R. (1977). Die Gattung Josephinella F. Haas. Archiv für Molluskenkunde, 108, 57–58.

Schlickum, W. R., & Strauch, F. (1972). Vier Beiträge zur neogenen Landschneckenfauna Europas. Archiv für Molluskenkunde, 102, 77–84.

Schmidt, A. (1855). Der Geschlechtsapparat des Stylommatophoren in taxonomischer Hinsicht gewürdigt. Abhandlungen des naturwissenschaftlichen Vereins für Sachsen u. Thüringen in Halle, 1, 1–52.

Scholz, H. (1986). Beiträge zur Sedimentologie und Paläontologie der Oberen Süßwassermolasse im Allgäu. Jahrbuch der Geologischen Bundesanstalt, 129, 99–127.

Schütt, H. (1976). Zur Molluskenfauna der unterpliozänen Süßwasserkalke von Attika. Archiv für Molluskenkunde, 107, 35–61.

Subai, P. (2005). Revision der Gattung Codringtonia Kobelt 1898 (Gastropoda: Pulmonata: Helicidae: Helicinae). Archiv für Molluskenkunde, 134, 65–119.

Thiésse, J. (1884). Nouvelle hélice de Thessalie. Bulletins de la Société Malacologique de France, 1, 271–272.

Truc, G. (1971). Helicidae nouveaux du Miocène supérieur bressan; réflexions sur le genre Tropidomphalus (Gastropoda: Euthyneura). Archiv für Molluskenkunde, 101, 275–287.

Welter-Schultes, F. (2012). European non-marine molluscs, a guide for species identification (p. 674). Göttingen: Planet Poster Editions.

Wenz, W. (1923). Fossilium Catalogus I: Animalia. Gastropoda extramarina tertiaria (Vol. 18, pp. 353–736). Berlin: W. Junk.

Wenz, W. (1933). Zur Land- und Süßwassermolluskenfauna der subalpinen Molasse des Pfändergebiets. Senckenbergiana, 15, 7–12.
Acknowledgements
We are grateful to Herbert Binder (NHMW) for taxonomic discussions and Ursula Göhlich (NHMW) for collecting the present samples. Many thanks to Sigrid Hof (SMF) and Alice Schumacher (NHMW) for taking the pictures. The constructive reviews by Eike Neubert (Natural History Museum Bern) and Dietrich Kadolsky (Sanderstead, Surrey) improved an earlier draft of the manuscript.
Funding
T.A.N. was supported by an Alexander-von-Humboldt Scholarship.
Ethics declarations
Conflict of interest:
The authors declare that they have no conflict of interest.
Additional information
This article is a contribution to the special issue "The drowning swamp of Gračanica (Bosnia-Herzegovina) - a diversity hotspot from the Middle Miocene in the Bugojno Basin"
This article is registered in Zoobank under urn:lsid:zoobank.org:pub:67990878-306D-4221-85E6-8D3C0CCFA850
About this article
Cite this article
Harzhauser, M., Mandic, O., Nordsieck, H. et al. A new Helicidae (Gastropoda) from the Middle Miocene of Bosnia and Herzegovina, with a revision of the genus Paradrobacia. Palaeobio Palaeoenv 100, 551–559 (2020). https://doi.org/10.1007/s12549-018-0344-1
Received:

Revised:

Accepted:

Published:

Issue Date:

DOI: https://doi.org/10.1007/s12549-018-0344-1
Keywords