Abstract
Two fossil March flies (Insecta, Diptera, Bibionidae) are recorded from open lake deposits of the middle Miocene Gračanica mine near Bugojno in Bosnia and Herzegovina. These two fossils represent the first insects found in this outcrop. One specimen is described as Plecia sp. indet, the other as Bibio sp. indet. The incomplete preservation does not allow for species descriptions, but the specimens seem not to be conspecific with any known fossil bibionids. The habitus and colouration of the Bibio specimen is very similar to the recent species Bibio hortulanus (Linnaeus). The presence of the genus Plecia is considered to indicate warm climate, while Bibio points more to a temperate climate. But for reliable conclusions on the climate, much more records of bibionid fossils would be needed.
Access options
Buy single article
Instant access to the full article PDF.
US$ 39.95
Tax calculation will be finalised during checkout.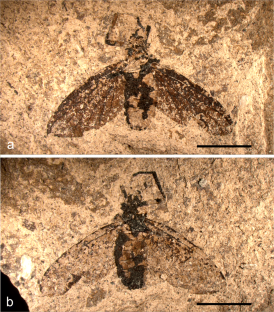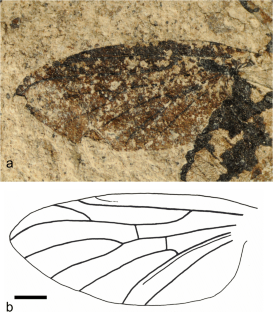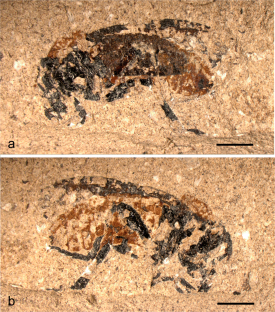 References
Beaury, B., Krogmann, L., & Nel, A. (2017). The first fossil insect from the deep-water marine early Miocene of Zillerleite, Germany (Diptera: Bibionidae). Palaeontologica Electronica, 20(3), 58A.

Collomb, F. M., Nel, A., Fleck, G., & Waller, A. (2008). March flies and European Cenozoic palaeoclimates (Diptera: Bibionidae). Annales de la Société Entomologique de France, 44(2), 161–179.

Fitzgerald, S. J. (2004). Evolution and classification of Bibionidae (Diptera: Bibionomorpha) (Doctoral dissertation, Oregon State University, Corvallis, OR, 385 pp). http://ir.library.oregonstate.edu/concern/graduate_thesis_or_dissertations/n296x180b. Accessed 08 Feb 2018.

Gentilini, G. (1991). Bibionidae (Diptera: Nematocera) from the Upper Miocene of Monte Castellaro (Marche, Central Italy). Bolletino del Museo Civici di Storia Naturale di Verona, 15, 425–446.

Hardy, D. E. (1950). A monographic study of the African Bibionidae (Diptera) part I: Introduction and genus Bibio Geoffroy. Journal of the Kansas Entomological Society, 23, 137–153.

Hardy, D. E. (1965). Superfamily Bibionoidea. In A. Stone, C. W. Sabrosky, W. W , Wirth, R. H. Foote & J. R. Coulson (Eds.), A Catalog of the Diptera of America North of Mexico (pp. 191–196). Washington D. C. (U. S. Government Printing Office).

Hardy, D. E. (1981). Bibionidae. In McAlpine et al. (Eds.), Manual of Nearctic Diptera 1 (pp. 217–222). Ottawa: Research Branch Agriculture Canada Monograph No. 27.

Hardy, D. E. (1989). Superfamily Bibionoidea 5. Family Bibionidae. In N. L. Evenhuis (Ed.), Catalog of the Diptera of the Australasian and Oceanian regions (pp. 122–124). Honolulu: Bishop Museum Special Publication 86.

Harzhauser, M., Mandic, O., Nordsieck, H. & Neubauer, T.A. (in press). A new Helicidae (Gastropoda) from the Middle Miocene of Bosnia and Herzegovina, with a revision of the genus Paradrobacia. In U. B. Göhlich & O. Mandic (Eds.), The drowning swamp of Gračanica (Bosnia-Herzegovina) - a diversity hotspot from the middle Miocene in the Bugojno Basin. Palaeobiodiversity and Palaeoenvironments 99. https://doi.org/10.1007/s12549-018-0344-1 [this issue].

Heer, O. (1849). Die Insektenfauna der Tertiärgebilde von Oeningen und von Radoboj in Croatien. Zweiter Theil: Heuschrecken, Florfliegen, Aderflügler, Schmetterlinge und Fliegen. Leipzig: W. Engelmann.

Krivosheina, N. P. (1986). Family Pleciidae, family Hesperinidae, family Bibionidae. In A. Soos & L. Papp (Eds.) Catalogue of Palaearctic Diptera, 4, Sciaridae, Anisopodidae (pp. 315–330). Budapest.

Mandic, O., De Leeuw, A., Vuković, B., Krijgsman, W., Harzhauser, M., & Kuiper, K.F. (2011). Palaeoenvironmental evolution of Lake Gacko (NE Bosnia and Herzegovina): impact of the Middlle Mio-cene Climatic Optimum on the Dinaride Lake System. Palaeogeography, Palaeoclimatology, Palaeoecology, 299, 475–492. https://doi.org/10.1016/j.palaeo.2010.11.024.

Mandic, O., Göhlich, U.B., Krijgsman, W., de Leeuw, A. & Hrvatović, H. (2016). Lake Bugojno – three lacustrine cycles. In O. Mandic, D. Pavelić, M. Kovačić, K. Sant, N. Andrić, H. Hrvatović (Eds.) Field trip guide-book. Lake - basin - evolution, RCMNS Interim Colloquium 2016 & Croatian Geological Society Limnogeology Workshop, 19–24 May 2016 (pp. 64–68). Zagreb, Croatia: Hrvatsko geološko društvo / Croatian Geological Society.

Merz, B. & Haenni, J.-P. (2000). Morphology and terminology of adult Diptera (other than terminalia).– In L. Papp, & B. Darvas (Eds.) Contributions to a Manual of Palaearctic Diptera (with special reference to flies of economic importance). General and Applied Dipterology 1. (pp. 21–51). Science Herald, Budapest.

Rice, H. D. A. (1959). Fossil Bibionidae (Diptera) from British Columbia. Geological Survey of Canada Bulletin, 55, 1–37.

Skartveit, J., & Nel, A. (2012). Fossil Bibionidae (Diptera) from the late Oligocene of Bes-Konak, Anatolia, Turkey. Zootaxa, 3329, 51–63.

Skartveit, J., & Nel, A. (2017). Revision of Bibionidae (Diptera) from French Oligocene deposits. Zootaxa, 4225, 1–83.

Skartveit, J., & Pika, M. (2014). Revision of Bibionidae described by Oswald Heer from the Miocene of Öhningen, Southern Germany. Mitteilungen der schweizerischen entomologischen Gesellschaft, 87, 103–134.

Skartveit, J., Grímsson, F., & Wappler, T. (2017). Bibionidae (Insecta, Diptera) from the late Miocene of Hrutagíl (Mókollsdalur), Iceland. Paläontologische Zeitschrift, 91, 195–205.

Statz, G. (1943). Neue Dipteren (Nematocera) aus dem Oberoligozän von Rott. I. Familie Bibionidae (Haarmücken). Palaeontographica (A), 95, 1–65.

Wedmann, S. (1998). Taphonomie der Bibionidae (Insecta: Diptera) aus der oberoligozänen Fossillagerstatte Enspel (Deutschland). Neues Jahrbuch für Geologie und Paläontologie Monatshefte, 1998, 513–528.

Wedmann, S. (2000). Die Insekten der oberoligozänen Fossillagerstätte Enspel (Westerwald, Deutschland). Systematik, Biostratinomie and Paläoökologie. Mainzer Naturwissenschaftliches Archiv, Beiheft, 23, 1–154.

Zhang, J. (1989). Fossil insects from Shanwang, Shandong, China (original title in Chinese). Jinan: Shandong Science and Technology Publishing House.
Acknowledgements
For her help and coordination, we thank Priv.-Doz. Dr. Ursula Göhlich, Natural History Museum Vienna, Austria. For the loan of the fossils and for various information, we thank Dr. Davit Vasilyan, Porrentruy, Switzerland. We sincerely thank Dr. Scott Fitzgerald and Dr. Andre Nel for reviewing the manuscript and Dr. Oleg Mandic for further comments.
Ethics declarations
Conflict of interest
The authors declare that they have no conflict of interest.
Additional information
Publisher's note
Springer Nature remains neutral with regard to jurisdictional claims in published maps and institutional affiliations.
This article is a contribution to the special issue "The drowning swamp of Gračanica (Bosnia-Herzegovina)—a diversity hotspot from the middle Miocene in the Bugojno Basin"
About this article
Cite this article
Wedmann, S., Skartveit, J. First record of March flies (Insecta: Diptera: Bibionidae) from the Miocene Gračanica mine (Bugojno, Bosnia-Herzegovina). Palaeobio Palaeoenv 100, 585–591 (2020). https://doi.org/10.1007/s12549-018-00369-w
Received:

Revised:

Accepted:

Published:

Issue Date:
Keywords
Insecta

Diptera

Bibionidae

Miocene

Gračanica