Abstract
The Upper Norian (Late Triassic) red-beds of the Knollenmergel (Trossingen-Formation) are famous for their richness in prosauropod dinosaurs. Among the most productive localities, the Obere Mühle (Rutschete) at Trossingen (SW Germany) stands out for the large number of skeletons found in the early 20th century and the wide stratigraphic range of finds within a 12-m sequence of monotonous floodplain mudstones. New excavations at the original site have been carried out since 2007, aimed at securing taphonomic, sedimentological and palaeopedological data on the formation of the deposit. Based on the findings of the present and earlier excavations, the following conclusions can be drawn. (1) The Obere Mühle yields at least two different types of vertebrate lagerstaetten: (1) miring deposits, preserving numerous articulated skeletons in "life-like" postures and all stages of subsequent decomposition and (2) more regular sheet flood deposits, producing only a few skeletons (e.g. turtles), which were disarticulated into body parts and single elements, or in bonebeds. (2) The deposits were laid down in numerous successive cycles of sedimentation, interrupted by pedogenic phases. A broad range of pedologic features is recognised, leading to the interpretation of the deposits as paleo-vertisols and aridisols. This indicates a long depositional history for the whole section, interrupted by arid phases in which few vertebrates were preserved and life was probably less rich. (3) The occurrence of vertebrate skeletons correlates with more humid periods and traces of intense vegetation. (4) Weathering played a significant role in some beds of the Trossingen section. The absence of smaller tetrapods could be caused by intense weathering.
Access options
Buy single article
Instant access to the full article PDF.
USD 39.95
Price includes VAT (USA)
Tax calculation will be finalised during checkout.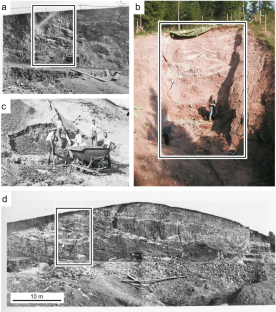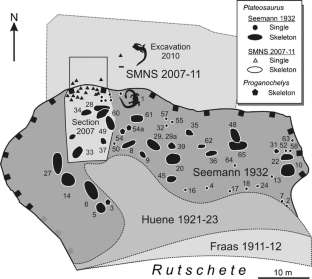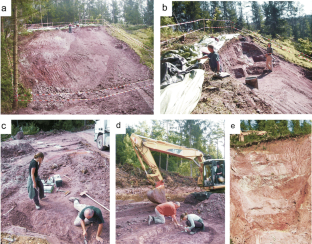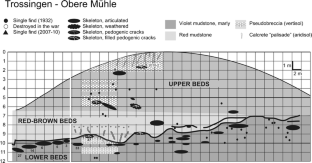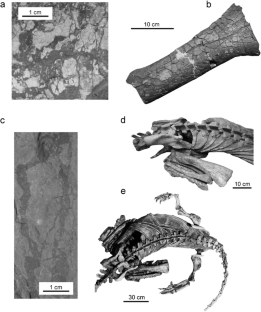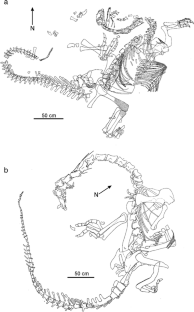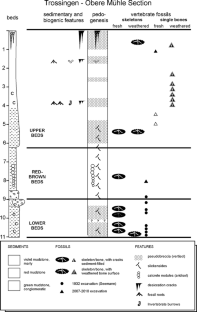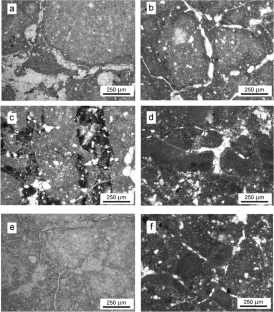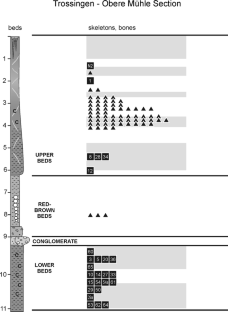 References
Abel O (1922) Lebensbilder aus der Tierwelt der Vorzeit. G Fischer, Jena

Bailly F, Felix-Henningsen P, Klassen H, Stephan S (2000) Synsedimentäre Paläo-Vertisole im Oberjura des westlichen Wiehengebirges. Osnabrücker Naturwiss Mitt 26:15–46

Behrensmeyer AK (1978) Taphonomic and ecologic information from bone weathering. Paleobiology 4:150–162

Behrensmeyer AK, Damuth JD, DiMichele WA, Potts R, Sues HD, Wing SL (1992) Terrestrial ecosystems through time. Chicago University Press, Chicago

Berckhemer F (1931) Die Saurierfunde aus den Keuperablagerungen der Baar. Bosinger, Tuttlingen

Beutler G (2005) Lithostratigraphie. In: Deutsche Stratigraphische Kommission (ed) Stratigraphie von Deutschland IV: Keuper. Schweizerbart, Stuttgart, pp 65–84

Beutler G, Nitsch E (2005) Paläogeographischer Überblick. In: Deutsche Stratigraphische Kommission (ed) Stratigraphie von Deutschland IV: Keuper. Schweizerbart, Stuttgart, pp 15–30

Beutler G, Hauschke N, Nitsch E (1999) Faziesentwicklung des Keupers im Germanischen Becken. In: Hauschke N, Wilde V (eds) Trias—eine ganz andere Welt. Verlag Dr. Friedrich Pfeil, Munich, pp 129–174

Blodgett RH (1985) Paleovertisols as indicators of climate. Bull Am Assoc Petr Geol 69:239

Brewer R (1964) Fabric and mineral analysis of soils. Wiley, New York

Brewer R, Sleeman JR (1964) Glaebules: Their definition, classification and interpretation. J Soil Sci 15:66–78

Buol SW, Southard RJ, Graham RC, McDaniel PA (2003) Soil genesis and classification. Iowa State Press, Ames

Driese SG, Foreman JL (1992) Paleopedology and paleoclimatic implications of late Ordovician vertic paleosols, Juniata Formation, southern Appalachians. J Sed Petr 62:825–841

Driese SG, Mora C (1993) Physico-chemical environment of pedogenic carbonate formation in Devonian vertic palaeosols, central Appalachians, USA. Sedimentology 40:199–216

Driese SG, Mora CI, Cotter E, Foreman JL (1992) Paleopedology and stable isotope chemistry of Late Silurian vertic paleosols, Bloomsburg Formation, central Pennsylvania. J Sed Petr 62:825–841

Dubiel RF, Parrish JT, Parrish JM, Good SC (1991) The Pangaean megamonsoon—evidence from the Upper Triassic Chinle Formation, Colorado Plateau. Palaios 6:347–370

Etzold A, Schweizer V (2005) Der Keuper in Baden-Württemberg. In: Deutsche Stratigraphische Kommission (ed) Stratigraphie von Deutschland IV: Keuper. Schweizerbart, Stuttgart, pp 214–258

Etzold A, Franz M, Heunisch C (2010) Die Forschungsbohrung Trossingen (Baden-Württemberg) und Ausführungen zum Knollenmergel und Oberkeuper der Umgebung. LGRB-Informationen 25:105–142

Faux CM, Padian K (2007) The opisthotonic posture of vertebrate skeletons: post-mortem contraction or death throes? Paleobiology 33:201–226

Feist-Burkhardt S, Götz AE, Szulc J, Borkhataria R, Geluk M, Haas J, Hornung J, Jordan P, Kempf O, Michalík J, Nawrocki J, Reinhardt L, Ricken W, Röhling HG, Rüffer T, Török A, Zühlke R (2008) Triassic. In: McCann T (ed) Geology of Central Europe, vol 2. Geology Society, Bath, pp 749–821

Fraas O (1879) 1. Phalanx des Zanclodon laevis. N Jb Miner Geogn Geol Petrefakt 1879:863

Fraas E (1888) Die geognostische Profilirung der Württembergischen Eisenbahnlinien. VII. Die Gäu- und Kinzigbahn von Stuttgart nach Schiltach. Metzler, Stuttgart

Fraas E (1896) Die schwäbischen Trias-Saurier nach dem Material der Kgl. Naturaliensammlung in Stuttgart zusammengestellt. Schweizerbart, Stuttgart

Fraas E (1913) Die neuesten Dinosaurierfunde in der schwäbischen Trias. Naturwissenschaften 45:1097–1100

Freytet P, Plaziat JC (1982) Continental carbonate sedimentation and pedogenesis—Late Cretaceous and Early Tertiary of Southern France. Contrib Sed 12:1–213

Gaffney E (1990) The comparative osteology of the Triassic turtle Proganochelys. Bull Am Mus Nat Hist 194:1–263

Galton PM (1973) On the anatomy of Efraasia diagnostica (Huene) n. gen., a prosauropod dinosaur (Reptilia: Saurischia) from the Upper Triassic of Germany. Paläontol Z 47:229–255

Galton PM (1984) Cranial anatomy of the prosauropod dinosaur Plateosaurus from the Knollenmergel (Middle Keuper, Upper Triassic) of Germany. I. Two complete skulls from Trossingen, Württ. With comments on the diet. Geol Palaeontol 18:139–171

Galton PM (2001) The prosauropod dinosaur Plateosaurus Meyer, 1837 (Saurischia: Sauropodomorpha; Upper Triassic). II. Notes on the referred species. Rev Paléobiol 20:435–502

Galton PM, Upchurch P (2004) Prosauropoda. In: Weishampel DB, Dodson P, Osmólska H (eds) The Dinosauria, 2nd edn. University of California Press, Berkeley, pp 232–258

Geyer M, Nitsch E, Simon T (2011) Geologie von Baden-Württemberg, 5th edn. Schweizerbart, Stuttgart

Goldbery R (1982) Palaeosols of the Lower Jurassic Mishhor and Ardon Formations ('Laterite Derivative Facies'), Makhtesh Ramon, Israel. Sedimentology 29:669–690

Gray MB, Nickelsen RP (1989) Pedogenic slickensides, indicators of strain and deformation processes in redbed sequences of the Appalachian foreland. Geology 17:72–75

Gruszka B, Zieliński T (2008) Evidence for a very low-energy fluvial system: a case study from the dinosaur-bearing Upper Triassic rocks of Southern Poland. Geol Quart 52:239–252

Gustavson TC (1991) Buried vertisols in lacustrine facies of the Pliocene Fort Hancock Formation, Hueco Bolson, West Texas and Chihuahua, Mexico. Geol Soc Am Bull 103:448–460

Hungerbühler A (1998) Taphonomy of the prosauropod dinosaur Sellosaurus, and its implications for carnivore faunas and feeding habits in the Late Triassic. Paleogeogr Paleoclimatol Paleoecol 143:1–29

Jaekel O (1913) Über die Wirbeltierfunde in der oberen Trias von Halberstadt. Paläontol Z 1:155–215

Joeckel RM (1994) Virgilian (Upper Pennsylvanian) paleosols in the upper Lawrence Formation (Douglas Group) and in the Snyderville Shale Member (Orcad Formation, Shawnee Group) of the northern Midcontinent, USA: Pedologic contrast in a cyclothem sequence. J Sed Res A64:853–866

Khadkikar AS, Chamyal LS, Ramesh R (2000) The character and genesis of calcrete in Late Quaternary alluvial deposits, Gujarat, western India, and its bearing on the interpretation of ancient climates. Paleogeogr Paleoclimatol Paleoecol 162:239–261

Klein N, Sander PM (2007) Bone histology and growth of the prosauropod dinosaur Plateosaurus engelhardti von Meyer, 1837 from the Norian Bonebeds of Trossingen (Germany) and Frick (Switzerland). Palaeontology 77:169–206

Kraus MJ (1999) Paleosols in clastic sedimentary rocks: their geologic applications. Earth Sci Rev 47:41–70

Kraus MJ, Aslan A (1993) Eocene hydromorphic paleosols: Significance for interpreting ancient floodplain processes. J Sediment Petrol 63:453–463

Kutzbach JE, Gallimore RG (1989) Pangaean climates: Megamonsoons of the megacontinent. J Geophys Res 94:3341–3357

Laemmlen M (1958) Keuper. In: Pruvost P, Bentz A, Laemmlen M; Congres Geologique International (eds) Lexique Stratigraphique International. Volume 1. Europe. Fascicule 5. Allemagne. Fascicule 5 d 2. Keuper . CNRS, Paris

Lanson B, Sakharov BA, Claret F, Drits VA (2009) Diagenetic smectite-to-illite transition in clay-rich sediments: A reappraisal of X-ray diffraction results using the multi-specimen method. Am J Sci 309:476–516

Lippmann F, Zimmermann M (1983) Die Petrographie des Knollenmergel, Mittlerer Keuper, Trias. Geol Rundsch 72:1105–1134

Machette MN (1985) Calcic soils of the southwestern United States. In: Wiede DL (ed) Soils and Quaternary of the southwestern United States. Spec Pap Geol Soc Am 203:1–21

Mack GH, James WC, Monger HC (1993) Classification of paleosols. Geol Soc Am Bull 105:129–136

Marriott SB, Wright VP (1993) Palaeosols as indicators of geomorphic stability in two Old Red Sandstone alluvial sites, South Wales. J Geol Soc Lond 150:1109–1120

Martin RE (1999) Taphonomy—a process approach. Cambridge Palaeobiol Ser 4. Cambridge University Press, Cambridge

Matzke AT, Maisch MW (2011) The first aetosaurid archosaur from the Trossingen Plateosaurus Quarry (Upper Triassic, Germany). N Jb Geol Paläont, Abh 262:354–357

Merten U, Schnitzer WA (1981) Zur Genese der "Karbonatknauern" in den Letten des fränkischen Sandsteinkeupers. Jb Mitt Oberrhein Geol Ver NF 63:181–199

Meyer HV (1837) Briefliche Mitteilung an Professor Bronn gerichtet über Plateosaurus engelhardti. N Jb Miner Geogn Geol Petrefakt 1837:316

Moser M (2003) Plateosaurus engelhardti Meyer, 1837 (Dinosauria: Sauropodomorpha) aus dem Feuerletten (Mittelkeuper, Obertrias) von Bayern. Zitteliana B24:1–188

Neal JT, Motts WS (1967) Recent geomorphic changes in Playas of Western United States. J Geol 75:511–525

Neal JT, Langer AM, Kerr PF (1968) Giant desiccation polygons of Great Basin playas. Geol Soc Am Bull 79:69–90

Nitsch E (2005) Paläoböden im süddeutschen Keuper (Exkursion E am 31. März 2005). Jb Mitt Oberrhein Geol Ver NF 87:135–176

Nitsch E, Seegis D, Vath U, Hauschke N (2005) Sedimente und Sedimentationspausen im deutschen Keuper: Wie vollständig ist die Überlieferung der späten Triaszeit? Newsl Strat 41:225–251

Paik IS, Lee YI (1998) Desiccation cracks in vertic paleosols of the Cretaceous Hasandong Formation, Korea: genesis and paleo-environmental implications. Sed Geol 119:161–179

Parrish JT (1993) Climate of the supercontinent Pangea. J Geol 101:215–233

Petersen-Krauß D, Krumm H (1977) Vermikulit im oberen Feuerletten am Westrand der Weißenburger Schwelle. Geol Blätt Nordost-Bayern 27:92–96

Plieninger T (1857) Belodon plieningeri H. v. Meyer. Ein Saurier der Keuperformation. Jh Ver vaterländ Naturk Württ 8:389–524

Prieto-Márquez A, Norell M (2011) Redescription of a nearly complete skull of Plateosaurus (Dinosauria, Sauropodomorpha) from the late Triassic of Trossingen (Germany). Am Mus Nov 3727:1–58

Reisdorf AG, Wuttke M (2012) Re-evaluating Moodie's opisthotonic-posture hypothesis in fossil vertebrates Part I: Reptiles—the taphonomy of the bipedal dinosaurs Compsognathus longipes and Juravenator starki from the Solnhofen Archipelago (Jurassic, Germany). In: Wuttke M, Reisdorf AG (eds) Taphonomic processes in terrestrial and marine environments. Palaeobio Palaeoenv 92:119–168

Retallack GJ (1990) Soils of the past. Unwin Hyman, Boston

Retallack GJ (2001) Soils of the past, 2nd edn. Blackwell, Oxford

Richter DK (1985) Die Dolomite der Evaporit- und der Dolcrete-Playasequenz im mittleren Keuper bei Coburg. N Jb Geol Paläont, Abh 170:87–128

Sander PM (1992) The Norian Plateosaurus bonebeds of Central Europe and their taphonomy. Paleogeogr Paleoclimatol Paleoecol 93:255–299

Sander PM (1999): Die Plateosaurus—"Friedhöfe" im Keuper: Belege für einen Massentod? In: Hauschke N, Wilde V (eds) Die Trias–eine ganz andere Welt. Verlag Dr. Friedrich Pfeil, Munich, pp 419–425

Sander PM, Klein N (2005) Unexpected developmental plasticity in the life history of an early dinosaur. Science 310:1800–1802

Schoch RR (2011) Tracing Seemann's dinosaur excavation in the Upper Triassic of Trossingen: his field notes and the present status of the material. Palaeodiversity 4:245–282

Seegis DB (1993) Die lakustrin-palustrine Fazies des höheren Knollenmergels (Mittlerer Keuper, Obertrias) in Südwestdeutschland: Sedimenttypen und Genese. N Jb Geol Paläont, Abh 189:309–332

Seegis D (1997) Die Lehrbergschichten im Mittleren Keuper von Süddeutschland—Stratigraphie, Petrographie, Paläontologie, Genese. Hennecke, Remshalden-Buoch

Seegis D (2005) Muscheln und weitere Invertebraten. In: Deutsche Stratigraphische Kommission (ed) Stratigraphie von Deutschland IV: Keuper; Schweizerbart, Stuttgart, pp 61–64

Seegis DB, Goerigk M (1992) Lakustrine und pedogene Sedimente im Knollenmergel (Mittlerer Keuper, Obertrias) des Mainhardter Waldes (Nordwürttemberg). Jb Mitt Oberrh Geol Ver NF 74:251–302

Seemann R (1932) Verlauf und Ergebnis der Trossinger Sauriergrabung. Jh Ver vaterländ Naturk Württ 88:52–54

Seemann R (1933) Das Saurischierlager in den Keupermergeln bei Trossingen. Jh Ver vaterländ Naturk Württ 89:129–160

Seemann R (1941) Merkwürdige Lebensspuren in den Trossinger Keupermergeln und ihre Bedeutung für die Erklärung des Saurischierlagers. Jb Mitt Oberrh Geol Ver NF 30:42–47

Smoot JP, Lowenstein TK (1991) Depositional environments of non-marine evaporites. Dev Sed 50:189–347

Upchurch P, Barret PM, Dodson P (2003) Sauropoda. In: Weishampel DB, Dodson P, Osmólska H (eds) The Dinosauria, 2nd edn. University of California Press, Berkeley, pp 259–322

Urlichs M (1966) Zur Fossilführung und Genese des Feuerlettens, der Rät-Lias-Grenzschichten und des unteren Lias bei Nürnberg. Erlanger Geol Abh 64(1):42

Varricchio DJ, Sereno PC, Zhao X, Tan L, Wilson JA, Lyon GH (2008) Mud-trapped herd captures evidence of distinctive dinosaur sociality. Acta Palaeontol Pol 53:567–578

Viohl G (1969) Die Keuper-Lias-Grenze in Südfranken. Erlanger Geol Abh 76:1–81

Vollmer T, Ricken W, Weber M, Tougiannidis N, Röhling HG, Hambach U (2008) Orbital control on Upper Triassic Playa cycles of the Steinmergel-Keuper (Norian): A new concept for ancient playa cycles. Paleogeogr Paleoclimatol Paleoecol 267:1–16

von Huene F (1908) Die Dinosaurier der europäischen Triasformation mit Berücksichtigung der außereuropäischen Vorkommnisse. Geol Paläontol Abh 1:1–419

von Huene F (1923) Exkursion nach Trossingen. Paläontol Z 5:569–573

von Huene F (1926a) Vollständige Osteologie eines Plateosauriden aus dem Schwäbischen Keuper. Geol Paläontol Abh 15:139–179

von Huene F (1926b) Einige Schildkrötenreste aus der oberen Trias Württembergs. Centralbl Miner Geol Paläont 1926:509–514

von Huene F (1928) Lebensbild des Saurischier-Vorkommens im obersten Keuper von Trossingen in Württemberg. Palaeobiologica 1:103–114

von Huene F (1932) Die fossile Ordnung Saurischia, ihre Entwicklung und Geschichte. Monogr Geol Paläontol 4:1–361

Weigelt J (1927) Rezente Wirbeltierleichen. Max Weg Verlag, Leipzig

Weishampel DB (1984) E. Fraas, F. v. Huene, R. Seemann, and the "Schwäbische Lindwurm" Plateosaurus. In: Westphal F, Reif, WE (eds) 3rd Symp Mesozoic Terrestrial Ecosystems. Attempto, Tübingen, pp 249–253

Weishampel DB, Chapman RE (1990) Morphometric study of Plateosaurus from Trossingen (Baden- Württemberg, Federal Republic of Germany). In: Carpenter K, Currie P (eds) Dinosaur systematics, approaches and perspectives. Cambridge University Press, Cambridge, pp 43–51

Weishampel DB, Westphal F (1986) Die Plateosaurier von Trossingen. Attempto, Tübingen

Wilson JW (1964) Vegetation patterns in an unusual gilgai soil in New South Wales. J Ecol 52:379–389

Wright VP (1990) Estimating rates of calcrete formation and sediment accretion in ancient alluvial deposits. Geol Mag 127:273–276

Wright VP, Tucker ME (1991) Calcretes: An introduction. In: Wright VP, Tucker ME (eds) Calcretes, vol 2. Blackwell (IAS Reprint Series), Oxford

Yaloon DH, Kalmar D (1978) Dynamics of cracking and swelling clay soils: displacement of skeletal grains, optimum depth of slickensides, and rate of intra-pedonic turbation. Earth Surface Proc 3(31):42

Yates AM (2003) The species taxonomy of the sauropodomorph dinosaurs from the Löwenstein Formation (Norian, Late Triassic) of Germany. Palaeontology 46:317–337

Ziegler B (1986) Der schwäbische Lindwurm— Funde aus der Urzeit im Museum am Löwentor. Thesis. University of Stuttgart. Stuttgart
Acknowledgements
Norbert Adorf and Isabell Rosin (SMNS) organised and conducted the field work and prepared the material. Volker Neipp (Heimatmuseum Auberlehaus Trossingen) was an invaluable asset for this project. This work was supported by numerous people in Trossingen: the mayor Dr. Clemens Meyer and the city council, Willi Walter and Thomas Rüdinger (Walter Straßenbau KG), Rita Benzing, Bernd Messner and Achim Hamm. Martina Battenstein, Olav Maass, Christiane Schott, Janina Dynowski and Ulrike Jäger joined the field work. We thank Andreas Matzke and Michael Maisch (Stuttgart) for discussion, help in the field and unpacking and moving a large part of the Seemann collection. Edgar Nitsch (Freiburg) contributed greatly by discussions on pedogenesis and deposition, and Andreas Etzold (Freiburg), Frank Ullmann (Unterrot) and Ben Pabst (Zurich) were helpful in various discussions. We thank the two reviewers, Raymond Rogers and David Eberth, for their most helpful suggestions, as well as Sinje Weber for further help.
About this article
Cite this article
Schoch, R.R., Seegis, D. Taphonomy, deposition and pedogenesis in the Upper Triassic dinosaur beds of Trossingen. Palaeobio Palaeoenv 94, 571–593 (2014). https://doi.org/10.1007/s12549-014-0166-8
Received:

Revised:

Accepted:

Published:

Issue Date:
Keywords
Aridisol

Bonebed

Fossillagerstätten

Miring

Vertisol

Weathering