Abstract
The Permian coal-bearing formations of the South African Karoo Basin play a crucial role in the study and interpretation of Gondwana's climate history and biodiversity in this time of major global changes in terrestrial and marine ecosystems. Here, we report on new palynological data from the No. 2 coal seam of the Witbank coalfield, documenting the switch from icehouse to greenhouse conditions in the Early Permian. The studied postglacial fluvio-deltaic deposits of a highly proximal setting comprise coarse-grained to pebbly sandstones, partially with an abrupt upward transition into fine-grained sediments and coal, trough cross-stratified medium- to coarse-grained sandstones and horizontally laminated fine- to medium-grained sandstones and siltstones. The sedimentary organic matter content clearly documents stratal changes in the palynomorph assemblage and variations in the amount and in the type, size and shape of plant debris. Generally, palynofacies is characterized by a high amount of opaque phytoclasts. Amorphous organic matter is characteristic of laminated siltstones and coals. The palynological record indicates a cold climate, fern wetland community, characteristic of lowland alluvial plains, and an upland conifer community in the lower part of the coal seam. Up section, these communities are replaced by a cool-temperate cycad-like lowland vegetation and gymnospermous upland flora. The data presented herein, provide important information for (1) reconstructing palaeoenvironmental and climate change within the Lower Permian of the NE part of the South African Karoo, (2) intercontinental comparison of palaeofloral diversity patterns in adjacent sub-basins and (3) intra-Gondwanic correlations of coal-bearing basins (e.g. Australia), recording a major postglacial change associated with climate amelioration.
Access options
Buy single article
Instant access to the full article PDF.
US$ 39.95
Tax calculation will be finalised during checkout.
Subscribe to journal
Immediate online access to all issues from 2019. Subscription will auto renew annually.
US$ 79
Tax calculation will be finalised during checkout.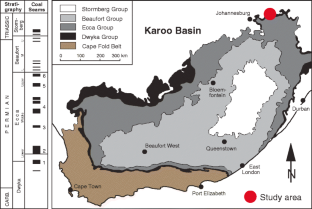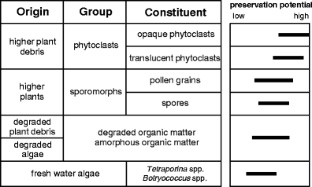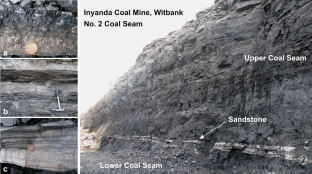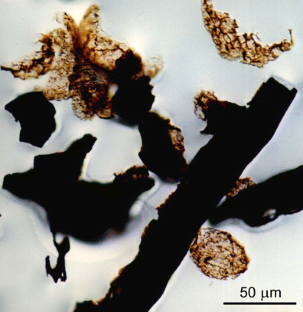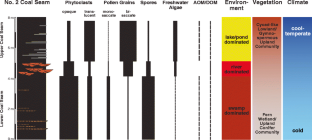 References
Aitken GA (1994) Permian palynomorphs from the No. 5 seam, Ecca Group, Witbank/Highveld Coalfields, South Africa. Palaeontol Afr 31:97–109

Anderson JM (1977) The biostratigraphy of the Permian and Triassic. Part 3. A review of Gondwana palynology with particular reference to the northern Karoo Basin, South Africa. Mem Bot Surv S Afr 4:1–33

Backhouse J (1991) Permian palynostratigraphy of the Collie Basin, Western Australia. Rev Palaeobot Palynol 67:237–314

Catuneanu O, Bowker D (2002) Sequence stratigraphy of the Koonap and Middleton fluvial formations in the Karoo foredeep, South Africa. J Afr Earth Sci 33:579–595

Catuneanu O, Elango HN (2001) Tectonic control on fluvial style: the Balfour Formation of the Karoo Basin, South Africa. Sed Geol 140:291–313

Catuneanu O, Hancox PJ, Rubidge BS (1998) Reciprocal flexural behaviour and constrasting stratigraphies: a new basin development model for the Karoo retroarc foreland system, South Africa. Basin Res 10:41–439

Catuneanu O, Wopfner H, Eriksson PG, Cairncross B, Rubidge BS, Smith RMH, Hancox PJ (2005) The Karoo basins of south-central Africa. J Afr Earth Sci 43:211–253

Cole DI (1992) Evolution and development of the Karoo Basin. In: De Wit MJ, Ransome IGD (eds) Inversion tectonics of the Cape Fold Belt, Karoo and Cretaceous Basins of Southern Africa. A.A. Balkema, Rotterdam, pp 87–99

d'Engelbronner ER (1996) New palynological data from Karoo sediments, Mana Pools basin, northern Zimbabwe. J Afr Earth Sci 23(1):17–30

De Wit MJ, Ransome IGD (1992) Regional inversion tectonics along the southern margin of Gondwana. In: De Wit MJ, Ransome IGD (eds) Inversion tectonics of the Cape Fold Belt, Karoo and Cretaceous Basins of Southern Africa. A.A. Balkema, Rotterdam, pp 15–21

Falcon RMS (1989) Macro and micro-factors affecting coal-seam quality and distribution in southern Africa with particular reference to the No. 2 seam, Witbank Coalfield, South Africa. Int J Coal Geol 12:681–731

Falcon RMS (1986) A brief review of the origin, formation and distribution of coal in Southern Africa. In: Anhaeusser CR, Maske S (ed) Mineral deposits of Southern Africa, vol 2. Geological Society of South Africa, Johannesburg, pp 1879–1898

Falcon RMS, Pinheiro H, Sheperd P (1984) The palynobiostratigraphy of the major coal seams in the Witbank Basin with lithostratigraphic, chronostratigraphic and palaeoclimatic implications. Comunicações dos Serv Geol Portugal 70:215–243

Götz AE, Ruckwied K, Barbacka M (2011) Reconstruction of Late Triassic (Rhaetian) and Early Jurassic (Hettangian) palaeoecology and palaeoenvironment of the Mecsek Coal Formation (S Hungary): implications from macro- and microfloral assemblages. Palaeobio Palaeoenv 91(2):75–88

Iannuzzi R, Souza PA, Holz M (2007) Lower Permian post-glacial succession in the southernmost Brazilian Paraná Basin: stratigraphy and floral (macro and micro) record. In: Díaz-Martinez E, Rábano I (ed) 4th European Meeting on the Palaeontology and Stratigraphy of Latin America. Cuadernos del Museo Geominero 8:207–212

Johnson MR, Van Vuuren CJ, Hegenberger WF, Key R, Shoko U (1996) Stratigraphy of the Karoo Supergroup in southern Africa: an overview. J Afr Earth Sci 23(1):3–15

Johnson MR, Van Vuuren CJ, Visser JNJ, Cole DI, Wickens HD, Christie ADM, Roberts DL (1997) The foreland Karoo Basin, South Africa. In: Selley RC (ed) Sedimentary basins of Africa. Elsevier, Amsterdam, pp 269–317

Johnson MR, Van Vuuren CJ, Visser JNJ, Cole DI, Wickens HD, Christie ADM, Roberts DL, Brandl G (2006) In: Johnson MR, Anhaeusser CR, Thomas RJ (eds) The Geology of South Africa. Geological Society of South Africa. Council for Geoscience, Pretoria, pp 461–499

Lindeque A, De Wit MJ, Ryberg T, Weber M, Chevallier L (2011) Deep crustal profile across the southern Karoo Basin and Beattie Magnetic Anomaly, South Africa: An integrated interpretation with tectonic implications. S Afr J Geol 114(3/4):265–292

MacRae CS (1988) Palynostratigraphic correlation between the Lower Karoo sequence of the Waterberg and Pafuri coal-bearing basins and the Hammanskraal plant macrofossil locality, Republic of South Africa. Mem Geol Surv S Afr 75:1–217

Millsteed BD (1993) Palynological evidence for the age of the Permian Karoo coal deposits near Vereeniging, Northern Orange Free State, South Africa. S Afr J Geol 97:15–20

Millsteed BD (1999) Palynology of the Early Permian coal-bearing deposits near Vereeniging, Free State, South Africa. Bull Counc Geosci S Afr 124:1–77

Modie BN, Le Hérissé A (2009) Late Palaeozoic palynomorph assemblages from the Karoo Supergroup and their potential for biostratigraphic correlation, Kalahari Karoo Basin, Botswana. Bull Geosci 84(2):337–358

Nyambe IA, Utting J (1997) Stratigraphy and palynostratigraphy, Karoo Supergroup (Permian and Triassic), mid-Zambezi Valley, southern Zambia. J Afr Earth Sci 24(4):563–583

Ruckwied K, Götz AE, Pálfy J, Török Á (2008) Palynology of a terrestrial coal-bearing series across the Triassic/Jurassic boundary (Mecsek Mts., Hungary). Cent Eur Geol 51(1):1–15

Snyman CP (1998) Coal. In: Wilson MGC, Anhaeusser CR (ed) The mineral resources of South Africa. Council for Geoscience handbook vol 16. Council for Geoscience, Pretoria, pp 136–205

Stephenson MH (2008) A review of the palynostratigraphy of Gondwanan Late Carboniferous to Early Permian glacigene successions. GSA Spec Pap 441:317–330

Stephenson MH, McLean D (1999) International correlation of Early Permian palynofloras from the Karoo sediments of Morupule, Botswana. S Afr J Geol 102:3–14

Stephenson MH, Osterloff PL (2002) Palynology of the deglaciation sequence represented by the Lower Permian Rahab and Lower Gharif members, Oman. AASP Contrib Ser 40:1–41

Stephenson MH, Leng MJ, Vane CH, Osterloff PL, Arrowsmith C (2005) Investigating the record of Permian climate change from argillaceous sediments, Oman. J Geol Soc Lond 162:641–651

Tankard A, Welsink H, Aukes P, Newton R, Stettler E (2009) Tectonic evolution of the Cape and Karoo basins of South Africa. Mar Pet Geol 26(8):1379–1412

Veevers JJ, Cole DI, Cowan EJ (1994) Southern Africa: Karoo Basin and Cape Fold Belt. In: Veevers JJ, Powell, CMcA (ed) Permian–Triassic Pangean Basins and fold belts along the Panthalassan Margin of Gondwanaland. GSA Mem 184:223–279

Visser JNJ (1996) Controls on Early Permian shelf deglaciation in the Karoo Basin of South Africa. Palaeogeogr Palaeoclimatol Palaeoecol 125:129–139

Wopfner H (1999) The Early Permian deglaciation event between East Africa and northwestern Australia. J Afr Earth Sci 29:77–90

Wopfner H, Diekmann B (1996) The Late Palaeozoic Idusi Formation of southwest Tanzania: a record of change from glacial to postglacial conditions. J Afr Earth Sci 22:575–595
Acknowledgements
This work is based on the research supported by the National Research Foundation of South Africa (Grant No. 85354). We kindly acknowledge Exxaro Resources, South Africa for giving us permission to sample the No. 2 coal seam exposed in the Inyanda Mine. We thank Stuart Clague (Exxaro) and Wlady Altermann (University of Pretoria) who encouraged us to work on the South African Gondwana coals and supported our field campaign in 2011. The constructive comments of Susanne Feist-Burkhardt (SFB Geological Consulting & Services, Germany) and an anonymous reviewer are gratefully acknowledged.
Additional information
This article is a contribution to the special issue "Green planet—400 million years of terrestrial floras. Papers in honour of JHA van Konijnenburg van Cittert.
About this article
Cite this article
Götz, A.E., Ruckwied, K. Palynological records of the Early Permian postglacial climate amelioration (Karoo Basin, South Africa). Palaeobio Palaeoenv 94, 229–235 (2014). https://doi.org/10.1007/s12549-013-0134-8
Received:

Revised:

Accepted:

Published:

Issue Date:
Keywords
Palynology

Climate Change

Permian

Witbank Coalfield

Karoo Basin

South Africa