Abstract
Objective
The aim of this study was to assess the association between mandibular torus and its size with the presence of bruxism and other variables related to parafunctional activity (e.g. anxiety, wear facets, self-perception and family members perception of bruxism, headache and/or muscle fatigue).
Materials and methods
Subjects included in the study were examined and interviewed and they completed a questionnaire on anxiety. The subjects were divided into two paired groups according to age and gender with the case group formed by 100 individuals having mandibular torus and a control group formed by individuals without. Each group had 33 men and 67 women with ages ranging from 20 to 62 years old (mean age 41 years).
Results
The results showed that patients with bruxism are 4 times more likely to have mandibular torus compared to those patients without bruxism. The presence of wear facets increases the risk of mandibular torus by 20 times. Only the variables bruxism and wear facets had relatively strong correlations with the size of mandibular torus.
Conclusions
There was a strong association between mandibular torus and presence of both bruxism and wear facets. Such correlations were positive thus indicating an important trend in which a higher degree of bruxism is related to an increased size of the mandibular torus. The other variables, despite their statistical significance, had poor correlations and thus were not found to be clinically important.
Access options
Buy single article
Instant access to the full article PDF.
USD 39.95
Price excludes VAT (USA)
Tax calculation will be finalised during checkout.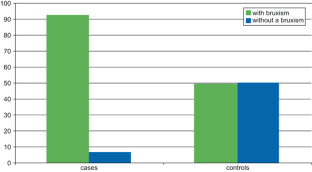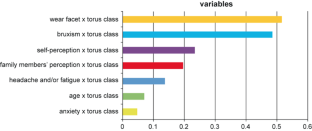 References
Pinzón RT. Prevalencia de torus palatino y mandibular en los pacientes que assistieron a las clínicas de la facultad de odontología de la universidad de cartagena durante el periodo 1995–2004. 2007. http//:encolombia.com/odontologia. Accessed 15 Sept 2008.

Ponzoni D, Guarino JM, Perez AP, Souza RM de, Paro RF. Remoção cirúrgica de toro palatino para confecção de prótese total convencional—indicações de diferentes incisões. Rev Fac Odont. 2008;13:66–70.

Springer J. Tori mandibulari with speech impediment. Oral Surg Oral Med Oral Pathol. 1954;7:1270–2.

Shimahara T, Ariyoshi Y, Nakajima Y, Shimara M, Kurisu Y, Tsuji M. Mandibular torus with tongue movement disorder: a case report. Bull Osaka Med Coll. 2007;53:143–6.

Martins MD, Lata SP, Martins MAT, Bussadori SK, Fernandes K. Toro palatino e mandibular: revisão de literatura. ConScientiae Saúde. 2007;6:57–62.

Takasugi Y, Shiba M, Okamoto S, Hatta K, Koga Y. Difficult laryngoscopy caused by massive mandibular tori. J Anesth. 2009;23:278–80.

Bernaba JM. Morphology and incidence of torus palatinus and mandibularis in Brazilian Indians. J Dent Res. 1977;56:499–501.

Sirirungrojying S, Kerdpon D. Relationship between oral tori and temporomandibular disorders. Int Dental J. 1999;49:101–4.

Dosumu O, Arotiba JT, Ogunyinka AO. The prevalence of palatine and mandibular tori in a Nigerian population. Odont Stomatol Tropic. 1998;21:6–8.

Furtado ACN, Leite AK de M, Albuquerque RA de, Sobral APU. Correlação entre a presença de exostoses e disfunção temporomandibular. Revista Brasileira em Promoção da Saúde (RBPS). 2008;21:174–9.

Igarashi Y, Ohzeki S, Uesu K, Nakabayashi T, Kanazawa E. Frequency of mandibular tori in the present-day Japanese. Anthropol Sci. 2008;116:17–32.

Bukhari S, Qasi SS, Awan TM, Azad, AA, Zeeshan M. Prevalence of torus palatinus among 300 Indonesian patients. Pak Oral Dent J. 2007;27:89–92.

Grandi G, Maito FDM, Rados PU, Santana Filho M. Estudo epidemiológico das lesões ósseas diagnosticadas no serviço de patologia bucal da PUCRS. Rev Cir Traumatol Buco-maxilo Fac. 2005;5:67–74.

Kerdpon D, Sirirungrojying S. A clinical study of oral tori in southern Thailand: prevalence and relation parafunctional activity. Eur J Oral Sci. 1999;107:9–13.

Nascimento Filho E, Seixas MT, Mazzoni A, Weckx LLM. Osteomas exofíticos múltiplos de ossos craniofaciais não associados à Síndrome de Gardner: relato de caso. Rev Bras de Otorrino. 2004;70:836–9.

Serra V de BR, Campos MI da C, Guimarães JP. Prevalência de tórus mandibular e palatino em pacientes bruxômanos. Rev Serv ATM. 2005;5:20–5.

Serra V de BR, Campos MI da C. Correlação entre bruxismo e tórus mandibular e palatino: caso clínico. Rev Serv ATM. 2005;5:60–3.

Hoz-Aizpurua JL, Diaz-Alonso E, LaTouche-Arbizu R, Mesa-Jiménez J. Sleep bruxism. Conceptual review and update. Med Oral Patol Oral Cir Bucal. 2011;16:e231–8.

Spilberger CD. Manual for the state-trait anxiety inventory (STAI: Form y). Palo Alto: Consulting Psychologists Press; 1983.

Torres IA, Varandas ET, Guimarães SMF. Pseudotoro mandibular e toros mandibulares. Rev Gau Odo. 1999;47:47–50.

Hosmer DW, Lemeshow S. Applied logistic regression. New York: Wiley.

Gimeno SGA, Souza JMP. Utilização de estratificação e modelo de regressão logística na análise de dados de estudos caso-controle. Rev Sau Pub. 1995;29:283–9.

Eggen S, Natvig B. Relationship between torus mandibularis and number of present teeth. Scan J Dent Res. 1986;94:233–40.

Nakamura K, Masumi S, Andoh S, Takeuchi T, Kubo M, Yasomoto K. Relationships between mandibular torus and occlusal force, occlusal contact area and parafunction. J Kyushu Dent Soc. 2007;61:77–81.

Çagirankaya LB, Hatipoglu MG, Kansu O. Is there an association between torus mandibularis and bite force? J Hacettepe Fac Dent. 2005;29:15–7.

Clifford T, Lamey PJ, Fartash L. Mandibular tori, migraine and temporomandibular disorders. Br Dent J. 1996;180:382–4.

Pechenkina EA, Benfer RA Jr. The role of occlusal stress and gingival infection in the formation of exostoses on mandible and maxilla from Neolithic China. Homo. 2002;53:112–30.

Shiho T, Masami M, Tatsuhiko Y, Takehiro T, Yasuo M, Kaouru S. Survey of attrition and bone torus based on the observation of study casts. J Tokyo Dent Coll Soc. 2000;100:203–9.

García-García AS, Martinez-Gonzales J, Gomez-Font R, Soto-Rivadeneira A, Oviedo-Roldan L. Current status of the torus palatinus and torus mandibularis. Med Oral Patol Oral Cir Bucal. 2010;15:e353–60.

Hugoson A, Bergendal T, Ekfeldt A, Helkimo M. Prevalence and severity of incisal and occlusal tooth wear in an adult Swedish population. Acta Odontol Scand. 1988;46:255–65.

Bruce I, Ndanu TA, Addo ME. Epidemiological aspects of oral tori in a Ghanaian community. Int Dent J. 2004;54:78–82.

Eggen S, Natvig B. Variation in torus mandibularis prevalence in Norway. A statistical analyses using logistic regression. Community Dent Oral Epidemiol. 1991;19:32–5.

Apinhasmit W, Jainkittivong A, Swasdison S. Torus palatinus and torus mandibularis in a Thai population. Sci Asi. 2002;28:105–11.

Johnson CC, Gorlin RJ, Anderson VE. Torus mandibularis: a genetic study. Am J Hum Genet. 1965;17;433–42.

Jainkittivong A, Langlais RP. Buccal and palatal exostoses: prevalence and concurrence with tori. Oral Surg Oral Med Oral Pathol Oral Radiol Endod. 2007;90:48–53.

Eggen S. Torus mandibularis: an estimation of the degree of genetic determination. Acta Odontol Scand. 1989;47:409–15.

Uysal S, Çagirankaya BL, Hatipoglu MG. Do gender and torus mandibularis affect mandibular cortical index? A cross-sectional study. Head Face Med. 2007;3:37.

Hosoi T, Yoda T, Yamaguchi M, Amano H, Orimo H. Elderly women with exostoses had higher bone mineral density. J Bone Miner Metab. 2003;21:120–2.
Conflict of interest
The authors declare that there are no conflicts of interest in this study.
About this article
Cite this article
De Luca Canto, G., Torres de Freitas, S., Schuldt Filho, G. et al. Association between mandibular torus and parafunctional activity. J. Stomat. Occ. Med. 6, 43–49 (2013). https://doi.org/10.1007/s12548-012-0064-5
Received:

Accepted:

Published:

Issue Date:

DOI: https://doi.org/10.1007/s12548-012-0064-5
Keywords
Torus

Bruxism

Anxiety

Masticatory stress

Case control